WWE: What about Drew? by Marc Madison
On Saturday, November 18th, 2017, at NXT Takeover: War Games, Drew McIntyre lost the NXT championship to Andrade 'Cien' Almas. Near the end of the match, McIntyre suffered a torn bicep which would keep him out for months. As of this writing, it has been over four months since McIntyre has been out of action. His return to WWE was much heralded because of what he achieved in WWE previously, not to mention his accomplishments post-WWE on the independents and in TNA. When he initially came into the company, he was dubbed 'The Chosen One;' what did that mean for Drew? It meant that much was expected from the then 23-year-old Scotsman. His character and push changed over time, however. It seemed like the need to push this young, strong and talented performer faded and he became forgettable.
It wasn't always this way, however. He was highly touted and heralded for having all the qualities of a champion. He was a tall, fit, fresh-faced, clean-shaven Scotsman that was quickly pushed as a mid-card champion, facing the best the division had to offer including Matt Hardy, Christian, and Sheamus. In fact, at one time he was a tag team champion alongside 'Dashing' Cody Rhodes. He was being mixed in with another young talent that was equally dedicated to being the best they could be as part of the Smackdown brand.
When he was moved to Raw it seemed as though any upward trajectory completely stalled. He was rarely seen, appearing mostly in dark matches. His push continued to decline and it was perplexing to see. After his time on Raw dwindled, McIntyre was moved to WWE's developmental territory, Florida Championship Wrestling. At that time FCW was in the midst of being rebranded as NXT, and he was added to a tournament to determine the first ever NXT champion. He wasn't successful, but that didn't mean the company didn't have other plans for McIntyre.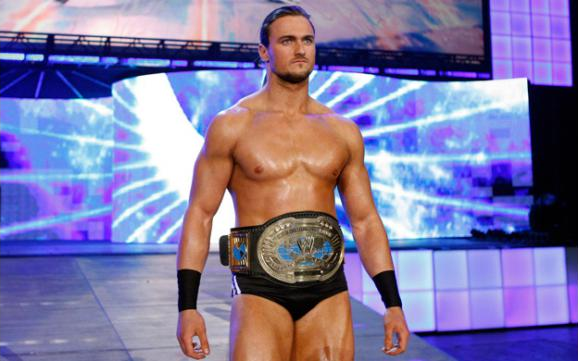 After a short time in NXT, he returned to Raw to form a new alliance with Heath Slater and Jinder Mahal in 3MB. As part of 3MB, McIntyre did what was asked of him, and for that, he should be commended. However, with each loss and each head-scratching exchange with Hornswoggle, Drew was made to look silly. It became less about being a talented in-ring character that had fantastic matches against Cody Rhodes, Kofi Kingston, and Dolph Ziggler; that character was a distant memory and it was replaced with someone that was a comic relief heel persona.
A few months after competing in the Andre the Giant Battle Royal at Wrestlemania XXX, it was announced that Drew was released from his contract on June 12th, 2014. While competing for WWE is the dream for many, it was time for McIntyre to walk away and re-emerge in a position he could be happy with. The 23-year-old neophyte was gone and in his place was a grizzled 28-year old that needed to showcase just how good he was. When a credible character is then made to look comedic, regaining that serious tone can be a challenge. He needed to be in a different environment where he could show that he was every bit as good as he ever was before. He also began using his given name, becoming Drew Galloway once again.
He competed for promotions such as ICW, Evolve, House of Glory, and arguably the second largest promotion in North America in TNA, now Impact Wrestling. His time in TNA, while short-lived, was meaningful as he competed for multiple championships. He also competed for Pro Wrestling Guerilla in front of smaller crowds, but that didn't matter because it was all about his passion. Competing for multiple promotions after departing WWE also allowed him to show his growth as a wrestler and a performer.
That all changed once again when, at NXT Takeover: Orlando the day before Wrestlemania, Galloway was shown in the crowd, announced once again as Drew McIntyre, much to the excitement of those in attendance. Would this mean exactly what fans had hoped it would mean? And indeed, after the event went off the air it was made official that he had returned to the promotion. The return meant a new opportunity and a fresh start to his career in WWE. During his time away, McIntyre developed a variety of skills, including his ability to strike with precision. It also appeared as though he had gained more muscle mass, and it was clear that his time away meant a rekindled passion for the business, and a desire to regain his place at the top of the promotion. The comedy act was gone after it had been such a disappointing end to his time in WWE. McIntyre returned with a fire and a passion that reflected the person he had become.
"Yeah, I'm great…. it's obviously not ideal, I became NXT Champion, I came back and I was flying high and I showed the world Drew Galloway/Drew McIntyre was ready to be the flag bearer, was ready to take on the responsibility I wasn't ready for the first time, and then I got hurt and I lost the title. That wasn't ideal, I was obviously pretty upset at first, but then I came home, I sat with my wife and evaluated things and I realized I hadn't had this time off in 17 years that I've been wrestling.
This is the first time I've had three months off in my entire career. I've had the chance to sit down, reflect, take a look at how I can better myself and I've really come up some good ideas. If I was a champion and I was able to take myself to the level I was able to take myself to before, the way I'm thinking now, the way I'm going to come back now, I'll be a whole different animal and anyone who is in that building can take one look at me and see if I'm ready to return because I've got my sights on New Orleans." – Drew McIntyre discussing his injury and current recovery– 2/18/18
Though a veteran of seventeen years, Drew is not going to rest on his laurels and has learned from each experience, each match, and each exchange. He wants to show how much he has evolved in what was just a few years between stints, in WWE. He not only came in to make a difference, but he rose to prominence once again when he captured championship gold by defeating Bobby Roode for the NXT championship. However, the challenges for him in NXT had only just begun. As the top man on the brand, all eyes were on him. The focus had changed and the hunter became the hunted. This was made clear only moments after he won the championship, as he was attacked by Kyle O'Reilly, Bobby Fish, and a debuting Adam Cole in a three on one beat down. McIntyre had barely had an opportunity celebrate his accomplishment before a target was put on his back. His next major championship match was at the next NXT Takeover, dubbed WarGames, and his aforementioned loss to Andrade 'Cien' Almas.
Since that evening McIntyre hasn't been in the ring. Rumor has it that the decision was that the loss occurred in order for him to be moved to the main roster. Would that have happened had he has not been injured on this evening? There is no confirmation, and in the wake of that injury, clearly, those plans didn't materialize. What is a certainty is that for the better part of four months McIntyre has had to work to rehabilitate his bicep, after surgery. The injury could easily be seen as a setback, much like his time away from WWE was seen.
"I've been a wrestler over half my life, spent a third in America and lived at more addresses than I can remember, but, there has always been one constant I could call home."
With everything in life, there are ebbs and flows, highs and lows. McIntyre has seen the highs and lows of competition, and come out the other side with a sense of awareness. His injury could be labeled a disappointment because it has slowed down his progression, but maybe that injury occurred because he was meant to be in a better place in a different role. It would be easy to question his booking, but McIntyre was beaten down by three men after winning the NXT championship and continued to show his versatility in the ring with his matches.
"When I got the surgery they predicted five to six months. I will tell you this now, I've got my sights set on New Orleans. And those who are there for the biggest party of the year at ICW, the only night of the year I'll be able to return to ICW, it will be a very special night, and those who are there can take a look at my bicep for themselves and tell me how it looks."
This injury won't define Drew's career or the success of his return to NXT, but rather only act as motivation for him to reclaim his status and show that he is every bit the chosen one that he always was meant to be.
Feel free to follow me on Twitter @TheMarcMadison and Instagram @themarcmadison
Feel Free to like my Facebook page Pro Wrestling Post
Feel Free to check out my blogThe Wrestling News Hub Magazine including interviews with ROH top prospect tournament entrant, Curt Stallion, Sebastian Suave, Ring of Honor's Frankie Kazarian, "All Good" Anthony Greene, 'The Green Machine' Mike Orlando, Josh Briggs, ROH top prospect finalist John Skyler and current rising Ring of Honor star Flip Gordon with interviews with Tyson Dux, Ivelisse and Madman Fulton (former WWE NXT superstar Sawyer Fulton) and former WWE referee Jimmy Korderas.