WWE: The Building Of A Brand by Marc Madison
Ohio Valley Wrestling, Heartland Wrestling Association and Florida Championship Wrestling were all developmental systems that the WWE used to groom its talent. Trainers such as Les Thatcher, Danny Davis and Rip Rogers mentored that talent, taking pride in their work, and the talent that came from these systems greatly benefitted. Over the course of the last twenty years, these promotions have become prominent in building the talent that we see today in the WWE. While these promotions may not be affiliated with the WWE anymore, two continue to operate independently while one was able to evolve into something more. Talents such as Dean Ambrose, Seth Rollins, Roman Reigns, Bray Wyatt, and Luke Harper all came from the Florida Championship Wrestling promotion, which changed into what we see today with NXT.
In order for the WWE to continue to grow, it needed to take steps like it has done with NXT to create a feeder system of talent. This feeder system provides up and coming talent the means by which to achieve. Previous developmental territories didn't provide the same opportunities as there are today. A state of the art training facility, the WWE Performance Centre, is among the biggest changes made to help NXT become something more.
When stars such as Rollins discuss their time in FCW, they share how the conditions of the arena and facility weren't ideal, and often seemed to run down. The company was very small and didn't offer much in the way of opportunity, and those involved were very new to the opportunities that laid ahead of them. But as time has passed, it has become something that fans clamour to watch, eager to see what will happen next.
My first exposure to NXT came when it first aired on regular television. During that time I saw the debuts of Adrian Neville, Bo Dallas, Corey Graves and The Wyatt Family. Each of these characters had something special about them that made them stand out. In fact, it's those special qualities each one possessed that NXT developed ensure they succeeded. The early belief about NXT was that it was simply intended to be a feeder system like HWA, and OVW before that. The difference here was that a buzz began to build that hadn't happened before when it came to the WWE's developmental systems. Fans would hear about guys named Prototype or Leviathan, names that were gimmicky and easily forgettable. All fans knew was that in order for the wrestlers behind those names to succeed they needed to improve their ability in the ring. While working on various skills has been essential for the talent to succeed, it appears as though developing the whole character of a performer in NXT is much more crucial than ever before.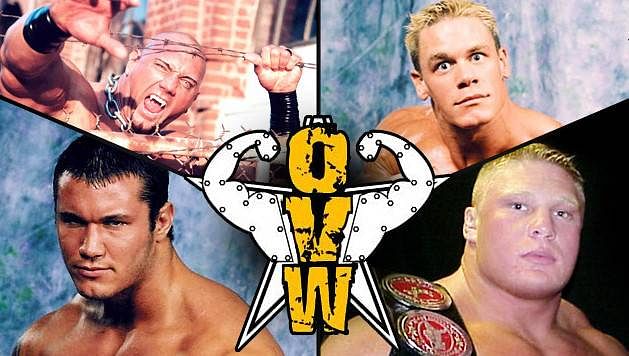 At one time Ohio Valley Wrestling boasted talent such as Dave Batista, John Cena, Randy Orton, and Brock Lesnar. Each of them had an amazing set of skills that stood out from others that remained there. However, if you look at the talent that came up back in 2002-2003 they had relatively similar frames. Everyone that came to the main roster was tall, muscular and fairly athletic. But that's not the sole focus today, with the emphasis on developing the entire character. Given the shape and frame of a Bray Wyatt or Kevin Owens, they wouldn't have been used to the best of their ability like they are today.
Where OVW remained focused in developing one aspect of a character, the WWE today has invested a great deal of time teaching its performers about a number of different aspects. Performers discuss promo classes, ring work, and how to prepare for television. Whether it was Finn Balor or Neville, a number of the men and women that have come into NXT have had to readjust to how to position themselves in relation to the cameras; something they would never have thought of at any other time.
Developing talents is all about making sure performers, and their characters, are already prepared for what lies ahead of them when they make it to the main roster. For example, it is easy to see how Eva Marie's heat isn't something she is fully prepared for. She often will appear rattled, and unnecessarily reacts to the audience when she comes out to the ring. This is what fans at times forget when they watch NXT: the idea that it still is a developmental system, where performers are learning their craft on the job. While segments can be edited or modified, the performer is still learning their craft in front of a live audience. The reactions are real, and often the responses will throw the performers off.
Some talents have had lots of time to grow and improve since they have spent an incredible amount of time down in NXT preparing themselves for the main stage. For example, Tyler Breeze was down in NXT for a number of years, and was just recently called up. It took time for him to develop his craft and character, and figure out the ins and outs of what will allow him to succeed. Sure, the 'model' gimmick has been done before, but when Breeze does it there is a modern twist. It may at times seem over the top, but he takes himself very seriously and is dedicated to the character. When you think of Bray Wyatt and how articulate he is, it took time for his character to grow and develop. His character's cryptic monologues work for him because he is able to make fans believe he is a prophet that will lead an army and take over the world; he at times appears larger than life in all that he says and does. Developmental is an investment, where those involved have to sacrifice a great deal in order to achieve. These stories are reflected in the current WWE network series Breaking Ground. The focus isn't just the successful stories, but the ones that show a wrestler's inability to overcome the odds.
While it is no surprise that not everyone is able to reach the next level, it seems as though NXT is more than just a proving ground. Finn Balor,HideoItami,SamiZayn, James Storm, or Samoa Joe: all of these athletes are world traveled and are not new to wrestling. The company needs to have even the most notable of independent wrestlers come through their system and show just what they can do. They are starting in developmental and working their way to the main roster. Or so we would think. But is that what they are all striving to do? Of course there is the desire to be elevated to the main roster because it's seen as a marker of success. What if success isn't necessarily being called up, but rather being built up as a mainstay in NXT? With the recent influx of talent to the NXT roster, made up of current and former champions, could NXT be used as a means to create an alternative brand?
The argument as to whether NXT is not just developmental, but its own brand tends to be circular among fans. Many fear that, if the idea of it being a developmental system is taken away, the focus will be changed to bringing in established and seasoned talent, which could impede the talent still developing. The counter argument could be that the more experienced talent can be brought in to help further develop the younger talent that maybe there is more to be learned while going through the motions with someone who has years of experience. There has been some speculation as to whether former TNA stars such as Samoa Joe or James Storm were brought into NXT to do just that. To some extent that does appear true, as Samoa Joe's program with Baron Corbin certainly gave the younger talent an opportunity to thrive by being in the ring with someone as capable as Joe.
Another prevailing argument is that maybe these talents are brought in because the talent that is being pushed aren't able to succeed without someone who is more experienced working in the ring with them. If you consider the complete overhaul of the NXT women's division, experienced talent such as Bayley and Emma have to lead a roster that is virtually unknown, and still aren't at the level of those that have moved to the main roster. Talent such as Billy Kay and NiaJax are among those that will need time to develop before being elevated.
The WWE NXT brand is really in an interesting predicament. On one hand, fans want to see it grow and achieve, and on the other hand they want to keep this very special smaller entity from becoming too big. Success breeds change. In order for NXT to continue to thrive, it needs to grow. How exactly does NXT grow? How do you please both fans and ownership? That's complicated because it won't be a case where everyone will be pleased. What would be ideal would be if there was a way to keep it both big and small, if that makes any sense. It's big enough that they have featured seasonal events, but not big enough where they have a weekly network television program (NXT is currently only accessible by watching the WWE Network).
By Triple H's own admission, NXT was intended to be a developmental system. He has stated he doesn't know why some things connect with fans, but they do connect with some of the characters. The NXT brand resonates with the hardcore fan that loves wrestling. It appeals to the avid fan that wants to watch independent talent become something more, and that's great to see. Will NXT ever be something more? It seems it already is, and the future forNXT as a brand is certainly now.
Check out my podcast with John Curry on TheMemNetwork We will have a TLC Preview show this Sunday @ 430pm ET. Also check out our regular Wednesday podcast @ 8pm ET). Our interview this week will be a pre-recorded interview with Global Force Wrestling owner and former WCW champion and WWE Intercontinental Champion Jeff Jarrett.
Feel free to follow me on Twitter @TheMarcMadison as well.