Why I'm Excited for WWE No Mercy and Beyond by Mike Sanchez
I'm penning this column on Saturday night, the evening before the Smackdown No Mercy event due to air Sunday night (or early Monday morning where I am). In writing this, I'm genuinely looking forward to it, probably the most I've looked forward to a PPV since Wrestlemania. The reasons why are clear for us to see, and something touched on by a few contributors on this site; good build, good storylines, good talent.
While I don't wish to give a list of predictions for the matches, I would like to discuss both the upcoming event and also the aftermath, namely for several wrestlers.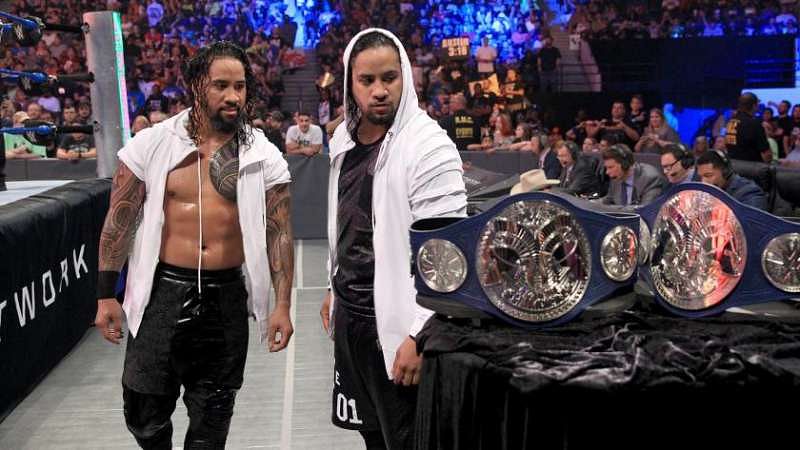 The Usos
Win or lose, the Usos have turned a corner in recent weeks. Slight changes to their appearance, move set and entrance have revitalised what many called a stale unit. While I fear for the immediate future of Slater and Rhyno should they drop the belts, I'm intrigued to see the continuation of the Uso story. Perhaps having them just miss out on the titles would give the guys an extra impetus or drive, perhaps helping them to the next step of heels? Whatever the outcome, a lengthy title reign can't be too far in their distant future.
Dolph Ziggler
Will he or won't he? Will there be a Dolph Ziggler to write about after Sunday? Would WWE do that to us? I certainly don't want to predict this outcome, but that's why I love it. The unpredictability and 'what if' factor was turned up a notch with the stipulations on Tuesday's programme. Should Ziggler claim the gold, then is the feud over, or will it be better with Miz as the heel champ? What if Dolph loses, what then? A free transfer to Raw even though Miz said he can't go to Raw? Would that be in his best interests? I'm intrigued.
The Miz
Up there with AJ Styles as the best performers of 2016, the Miz has everyone talking and we're right to do so. A tremendous run as IC champ (although with not many defences – which is a small gripe I have), he's a focal point of the show and has become a must-see segment. What if he loses on Sunday? Will he complain to all about being screwed over? Will the feud continue? Would it be better to have him keep the title? Remember how Paul Heyman reminded us at every opportunity that Brock was the only man to defeat Taker at Wrestlemania? The Miz could transfer that to himself about how he retired Ziggler. The crowd would hate him even more. Does Miz have a bad outcome from this match, win or lose?
John Cena
Think back to the Rock's last run with the WWE title. While the whole point of it was to elevate the belt and raise the WWE brand outside of the wrestling community, a lot of fans (myself included) felt not having the belt on TV hurt the product. The same was the case with Brock. Now, if Cena was to walk away with the gold and tie Ric Flair's record, then I fear history may repeat itself. Don't get me wrong, Cena is a workhorse, but there's no guarantee he'd be on every Smackdown with the belt, such is his busy lifestyle. I fear for the title's prestige if Cena wins and can't be there every week.
Dean Ambrose
Ambrose, to me, at least, is better when chasing the belt. I've liked his title run and his attitude of taking on all comers is admirable and something I like to see from champions. However once someone has reached the peak of the mountain, there's only down. Ambrose winning would curtail a decent AJ Styles run, but may stunt his own character in the short term. A couple more months of feuding and another title match at a big PPV (Rumble?) would build his momentum for a great match.
AJ Styles
The face that runs the place. I hope AJ keeps the gold for a long time. All this build, all this hype and work that's gone into his character since he arrived at the Rumble, more so since he was drafted to Smackdown, would be wasted if he loses. Like I've said, Ambrose, the face, is suited to being the chasing guy – similar to Ziggler. AJ is one of the best wrestlers on TV right now. The showdown with Ambrose and Cena was intense and personal. He held his own against two fan favourites. An AJ loss this early into his title reign would worry me.
In closing, I'm hyped for No Mercy. There are other matches that I'm also looking forward to (Becky Lynch is awesome), so I'm quietly confident I won't be disappointed. It's also got me wondering about the following Smackdown and the aftermath of the PPV. That's good booking. That's good storytelling. That's good wrestling.
What do you think? Are you looking forward to No Mercy? Will it matter if the Miz wins or loses? Isn't Becky Lynch awesome? Will Cena swipe the belt and tie Flair's record? I'd love to hear your thoughts. Thanks for reading.