TJRWrestling WWE WrestleMania 35 Preview
John: Welcome to the TJRWrestling WWE WrestleMania 35 Preview. It's a show that has 16 matches advertised, so if you plan on watching the two-hour Kickoff Show (5pmET start) and the main show (7pmET start), it's expected to last about seven hours total.
I feel like if you read my Raw and Smackdown reviews every week, plus the weekly WrestleMania News and Rumors column I did over the last few weeks, you probably know most of my picks by now.
The one point I did want to make here is that when it comes to WrestleMania, a lot of matches look like obvious wins for babyface wrestlers. Most fans think that faces are going to win titles and most of the matches because this is the end of a lot of storylines especially with WWE shaking things up with the Superstar Shakeup on April 15 and 16. All I'm saying is there are going to be some surprise finishes because frankly, they happen every year. Was anybody picking Brock Lesnar to retain against Roman Reigns in the WrestleMania main event last year? I didn't see that coming, but Lesnar won. Some of my predictions will be me picking the faces because it makes sense, but there are going to be surprises too.
My prediction for John Cena is he'll interrupt the Elias musical performance, shut him up, they'll have a three minute match where Cena hits his usual moves and gets the win.
As always, you can watch the show on Sunday night on WWE Network. Joining me for the preview are Mike Holland and Matthew J. Douglas. This preview is presented by Snickers and ICOPRO. Why? Because you gotta want it, pal!
(Note: All graphics are from WWE. The banner up top is courtesy of our friend Melo Man.)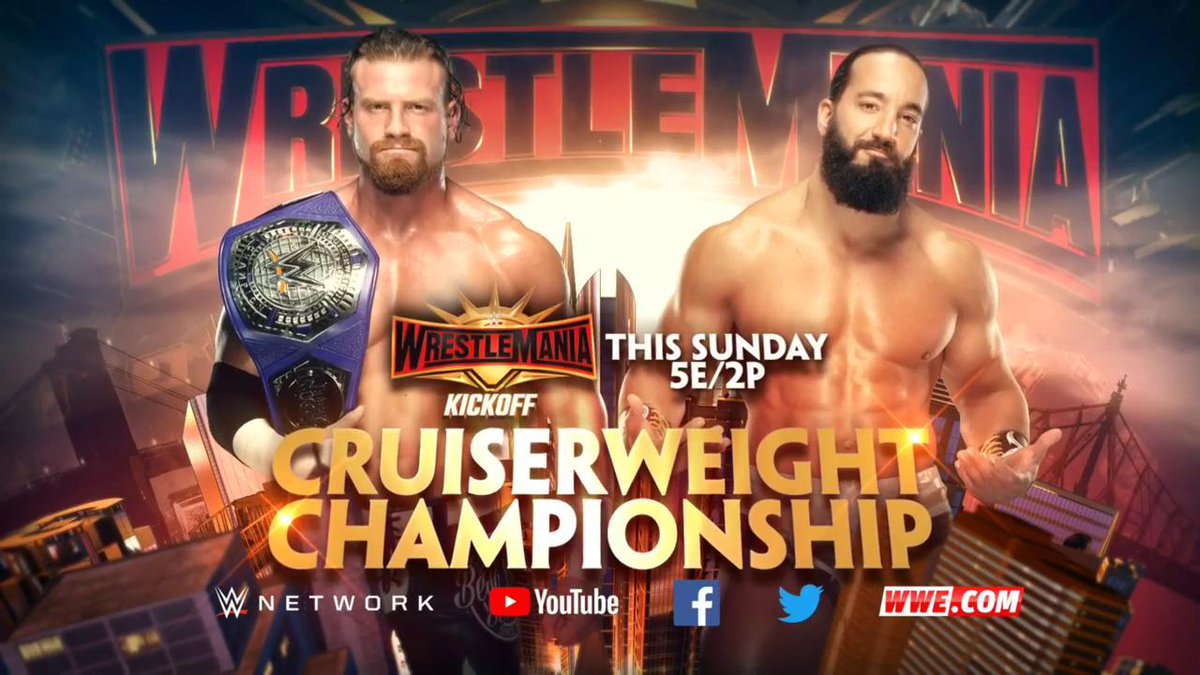 Cruiserweight Championship: Buddy Murphy (c) vs. Tony Nese (KICKOFF SHOW)
Mike: For all the potential challengers for Buddy Murphy's Cruiserweight gold, Tony Nese is in my mind the least interesting. Consider my whelmage undered. Nese is decent enough in the ring and sports a hometown advantage in this contest, but that's about the extent of what I can muster to make you excited for this conflict. Nese won yet another in a series of unending tournaments to get this opportunity, and was promptly attacked right after by the champion. It's a textbook way to try to make something out of not very much at all, but I'm severely doubting its effectiveness.
I am usually all in on cruiserweights, but this feels like a preshow match to me, which of course is exactly where it will be. No reason to take the title from Murphy at this point.
Winner (and STILL Cruiserweight Champion): Buddy Murphy
Matthew: I feel like I say the same thing every time about these 205 Live feuds and Title Matches on every preview, but here it goes: I don't watch this show, so I don't know that much about the story here outside of the title being on the line. I've gathered that they were allies at some point and now are enemies. I'm assuming Nese is the babyface here and "Body" Murphy is the heel. I'd love nothing more than for Nese to win so Buddy "The Body" can become a staple on Raw or Smackdown. The guy is really good from what I've seen, and Buddy "The Body" Murphy is just a perfect name for a run with the big boys (while you're at it, call up Cedric Alexander and let him and Mustafa Ali form the tag team "Heart and Soul").
That said it doesn't seem like they have any inclination of changing the title in this match. I'm sure it'll be good for how long it lasts. These matches always are. Not much else to say.
Winner and Still Cruiserweight Champion: Buddy "The Body" Murphy (because I think he has to carry 205 Live a while longer)
John: They could have done a better job of building up a face contender for Murphy. They only set the wheels in motion a few weeks ago when Murphy attacked Nese. I'm surprised they didn't plan it better. I'll go with Nese getting the win because Murphy has had a long title reign for over six months. I think Murphy could be used on the main roster on Raw or Smackdown post-WrestleMania.
Winner and New Cruiserweight Champion: Tony Nese
WrestleMania Women's Battle Royal (KICKOFF SHOW)
(Here are the women announced for the Battle Royal: Asuka, Carmella, Naomi, Lana, Mandy Rose, Sonya Deville, Nikki Cross, Dana Brooke, Ruby Riott, Liv Morgan, Sarah Logan, Mickie James and Zelina Vega. There will be more names added.)
Mike: Considering we're not positive on everyone that is in this match, it would normally be tough to pick a winner. I will go on record as saying that if Lacey Evans is in it, I think she clearly wins. The stupid angle where she comes down to the ring and leaves is just too ridiculous not to pay off, and if not here, then where?
Should Evans not come to the ring (or, as you'd imagine, be announced and never actually get into the match so the joy continues), the only real question left to wonder regarding this match is why Asuka keeps working so hard to get crapped on. Rarely have I seen talent so woefully mismanaged since its introduction to a main roster, and this is just the latest example. If you win a battle royal with nothing announced on the line while everyone's in the concession line, did you actually win? Did anyone?
Winner: Asuka
Matthew: I can try to pretend that I care…but I don't. There's not much that they can do here that'd get a rise out of me. I'll likely be snacking during both Battle Royals, only tangentially paying attention to the screen at the Wrestlemania Party I'm attending. I guess I'll derive mild enjoyment if I look up from my plate of Dolph Twizzlers and Cross Face Chicken Wings to see that Asuka has won the Battle Royal. It'll be short lived though as I'll likely need a refill on my Booker Iced Tea.
Winner: Asuka (because she stands a better chance of winning than most of the ladies involved)
John: It's a shame that WWE didn't care about this match to promote more than one segment on Smackdown this week. Why should the fans care if WWE has shown little interest in this match? Picking Asuka to win seems like a popular choice after she lost the Smackdown Women's Title recently. I would rather see them go in another direction. I was going to pick Lacey Evans to win this, but I have an unlisted winner for the men's battle royal. That's why I'm going with Mandy Rose. I can see it where Mandy is in the final three with Asuka and her best friend Sonya Deville. When Sonya is trying to eliminate Asuka, have Mandy turn on Deville instead of helping her, which would lead to Mandy eliminating both women to win the match. My sleeper pick would be Alexa Bliss, who is only the host of WrestleMania, but I think she could be in the match too.
Winner: Mandy Rose
Andre the Giant Men's Battle Royal (KICKOFF SHOW)
(Here are the names announced for the men's battle royal: Braun Strowman, Colin Jost & Michael Che of SNL fame, Andrade, Apollo Crews, Titus O'Neil, Tyler Breeze, Jinder Mahal, No Way Jose, Bobby Roode, Chad Gable, Kalisto, Gran Metalik, Lince Dorado, Bo Dallas, Curtis Axel, Heath Slater, Rhyno, Viktor, Konnor, Ali, Shelton Benjamin, Luke Gallows, Karl Anderson, Matt Hardy, Jeff Hardy, Otis, Tucker, EC3. There will likely be more names added.)
Mike: WrestleMania always contains its generally putrid celebrity angles, and this year's is no exception. Therefore witness two talents from the latest version of Saturday Night Dead (the law of staying power vs. diminishing returns weighs heavily here) occupying the same space as Braun Strowman and a host of also-rans. Because it's WWE, there is always a chance they do the seemingly impossible and have the SNL fella eliminate Braun for the lulz. Lest you forget, this is the company that had the "Monster Among Men" procure a child as a partner on the grandest stage of them all. Nothing is beyond their scope, sadly.
Of the other announced talents, nobody jumps off the page as being a winner here. Strowman is another guy who is nearly always in a match like this, some big showy moment far removed from anything of importance where he can show up to a mega reaction and do his thing. He surely deserves an Andre trophy, because Vince had a lot of the same problems booking him.
Winner: Braun Strowman
Matthew: See my preview for the above match. The thoughts are almost entirely the same.
I couldn't care less about Braun and the SNL guys story going into the match here. I hope it plays out in a fun way but I'm not holding my breath. I guess it'd be nice if Apollo won. I still think that guy has a lot to offer.
Winner: Apollo Crews (because who knows, maybe I can will that outcome into existence)
John: If the goal of this match was to make me feel sorry for Braun Strowman as the most poorly booked male wrestler on the main roster, then mission accomplished. I don't care about the SNL guys or the lame comedy spots that they may be a part of. I'm not going to Braun. I think what we'll see here is the debut of Lars Sullivan as a new dominant heel that will eliminate 8-10 guys in the match and he'll eliminate Strowman to win it.
Winner: Lars Sullivan
Raw Tag Team Championships: The Revival vs. Curt Hawkins & Zack Ryder
Mike: Confirmed pretty late to the mix is this ragtag bout for Raw's tag belts. There's not a ton in the way of build here, but nice all the same for Ryder and Hawkins to get a WrestleMania moment not involving a battle royal appearance. Matches like this one make me wonder if it's better to just show up and collect your check or get a match with little serviceable build buried on an overstuffed card.
The Revival seem to have finally gotten their run with the gold presumably due to the potential of departure to greener pastures, but I expect that will be the rumor du jour with nearly every underutilized talent moving forward for the near future. I could see WWE giving Hawkins his WM moment (and "first" win) purely for the uniqueness of it just to have Revival take back the titles Monday night.
Winners (and NEW Raw Tag Team Champions): Ryder & Hawkins
Matthew: I know that ideally you get all the titles onto this card. Unfortunately, I'm just not feeling this match. I guess the rationale is that the match won't get much time, so it is actually better it be between these two teams. That way nobody will feel cheated out of the potential killer match that could have been. At least I hope this is the rationale.
Winners and Still Raw Tag Team Champions: The Revival (because while I know there is a chance that they do a feel good moment where Hawkins breaks his losing streak here, I seriously don't think most people care, so why bother?)
John: I have no problem with this match being on the card since it's a title match. I just think WWE has done a poor job of setting this up. They teased it happening a few months ago, then Zack and Curt have barely been on TV, yet here they are after a challenge after Raw on WWE's Youtube channel. It's weird. Why not devote to a match that you know was coming at WrestleMania? Weak booking. Anyway, I know it would be a nice story for Curt and Zack to win in their hometown (or close enough to home), but I don't think there should be a title change.
Winners: The Revival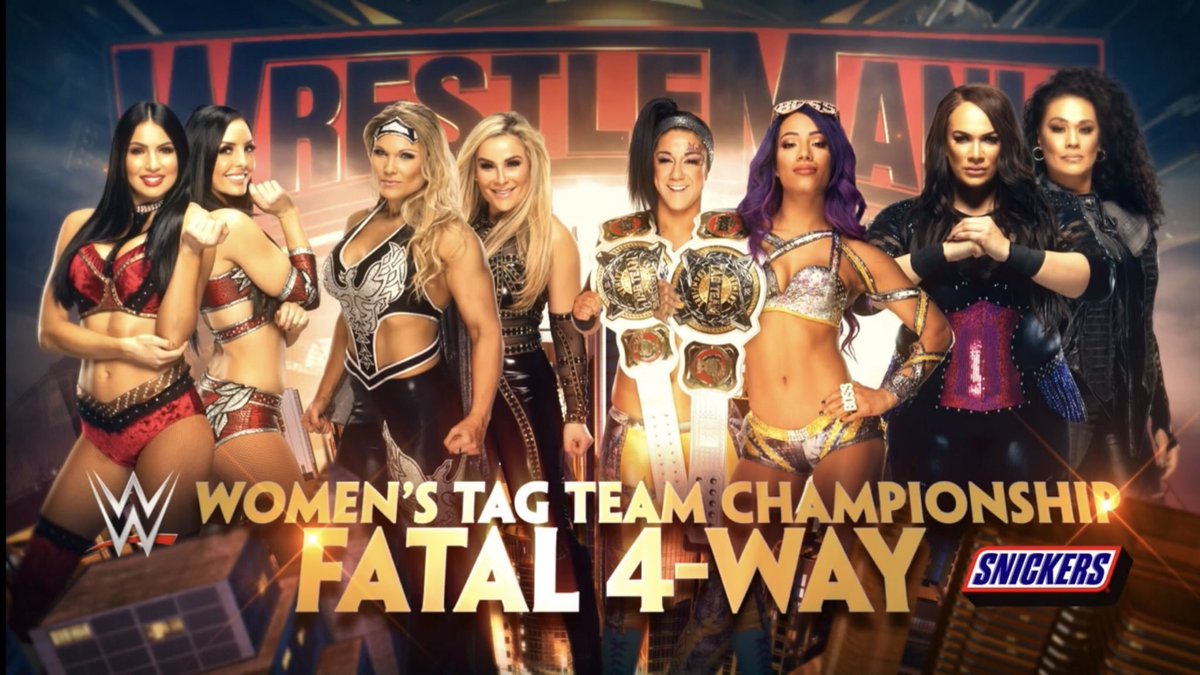 Women's Tag Team Championships: (Boss N Hug Connection) Sasha Banks and Bayley (c) vs. Tamina and Nia Jax vs. (Divas of Doom) Natalya and Beth Phoenix vs. (The IIconics) Peyton Royce and Billie Kay
Mike: Where is it written that we have to endure a Tamina and Nia Jax title shot at every major event? Two more that would be better off botching in the battle royal with cheese than getting involved in this mess, which already has enough going on. The retro Beth Phoenix and Natalya combination is nice for everyone, and of course they could win, but I don't see Phoenix working regularly enough to bother with it.
I am fully ready for Royce and Kay to claim the belts here. They deserve it, and they are another shining example of people brought up to acclaim and left to flounder once that happened. I get that injuries and personnel changes can derail the creative process, but eventually one does board another train, no? These talents are left waiting on the proverbial platform until they are blue in the face and you've forgotten they ever existed.
At the end of the day, ain't no quo like a status in Titan's Tower. Boss & Hug continue their mantra as fighting champions and the wrestling world collectively yawns.
Winners (and STILL Women's Tag Team Champions): Sasha Banks & Bayley
Matthew: This match can be really fun. You have a wide array of talent in this match, all with different strengths and weaknesses. The IIconics are great characters. Wonderful heels that are truly annoying, but also at times pretty humorous. They bring some level of cheeky fun to the proceedings. You have Jax/Tamina as the plodding bruisers who teams will have to consider teaming up to cut down to size. You have the older steady hands of Natalya and Beth Phoenix (who looks pretty great!) there to provide the technical proficiency and nostalgic feel good. And of course we have the Champions, Sasha and Bayley who I truly don't expect to see lose the titles, but who I am excited to see mix it up with Natalya and Beth!
This match has a lot going for it in my eyes, and I think it's been one of the better built matches on what feels like a rather rushed card. I'm optimistic!
Winners and Still Women's Tag Team Champions: Sasha and Bayley (because I think you keep the titles on them for much longer than a couple months to really establish the belts)
John: My interest in this is pretty low because when you have two 4-way tag team matches on the same show it's hard to get excited about either match. Plus, Jax and Tamina are involved. They bore me as much as any two people in WWE right now. If they were good heels then that's fine, but they just make me want to fall asleep. The IIconics are okay in the ring, but not that interesting. At least they are an actual team, though. Natalya and Beth together one more time has been cool. If they had a regular tag match with Sasha and Bayley it would be better than a four-way match. I think the champs will retain because they might as well establish them as the leaders of this division for a few months more.
Winners: Sasha Banks and Bayley
Smackdown Tag Team Championships: The Usos (c) vs. The Bar (Sheamus and Cesaro) vs. Aleister Black and Ricochet vs. Rusev and Shinsuke Nakamura
Mike: Just when you thought it was safe to go back in the water, we have another ramshackle championship match where we tossed nearly every available hand into it until there isn't room enough for a lap, let alone the backstroke. The Usos will defend their belts against two teams that have no business collecting gold right now and the only other possible winner, the Aleister Black and Ricochet tandem. Both have done a more than solid job since getting their call up, although the team itself is oddball for anyone routinely watching NXT. They've also gotten about thirty-five title shots across both brands in the last month, which is the cowardly way to usher in a "new era" while ensuring you remain firmly status quo.
Black and Ricochet clearly deserve to win here, which is never good news in topsy-turvy wrestling logic land. The Usos, meanwhile, have landed a major extension with WWE after much flapping of feathers regarding a potential jumping of the ship, and I don't know that you celebrate that with an immediate title loss. I look for the two NXTers to fight valiantly and come up short through no real fault of their own.
Winners (and STILL Smackdown Tag Team Champions): The Usos
Matthew: I'm not sure why or how these became the teams that would be competing for the Smackdown Tag Team Titles, but here we are I guess. Personally, I would have preferred The Usos vs The Hardys straight up, but I guess you get more faces on the card this way. This is a prime example of this card feeling a little like the essay a kid tries to write the night before it's due. Some solid ideas in here, but most of it seems incoherent and lacks substance.
There is not much to draw hype from heading into this match other than that these teams (3/4 of which lost to The New Day in a gauntlet match… The New Day who are inexplicably left out of this Championship match) are all comprised of great wrestlers. The match should be fun despite it not getting as much time as I'm sure we would all love for it to get in an ideal world.
Winners and Still Smackdown Tag Team Champions: The Usos (because they just signed new deals. Let them get a big W at Wrestlemania and look cool while they do it!)
John: This could have been built better, which is something you could say about most of this card. I think Black/Ricochet are really just here to get them on a WrestleMania card. I don't see them as a long-term tag team. It was just a way to introduce them to the audience and once the Superstar Shakeup begins, they'll go their separate ways as singles guys. The Bar are consistently good, so they can win at any time and I would have no problem with that. I wonder if they split up in the Shakeup too.
I know the good news out there is that The Usos got a new deal, so people might think they are going to keep the titles. My issue with that theory is that I think they'll be moved over to the Raw brand when WWE does the Superstar Shakeup on April 15/16, which means they'll probably drop the titles soon. It might as well be here. There's this crazy stat about Rusev losing 17 straight PPV matches over two years. After taking a pin on Smackdown, I think Rusev gets a win to become a tag team champion with Shinsuke Nakamura.
Winners and New Smackdown Tag Team Champions: Rusev and Shinsuke Nakamura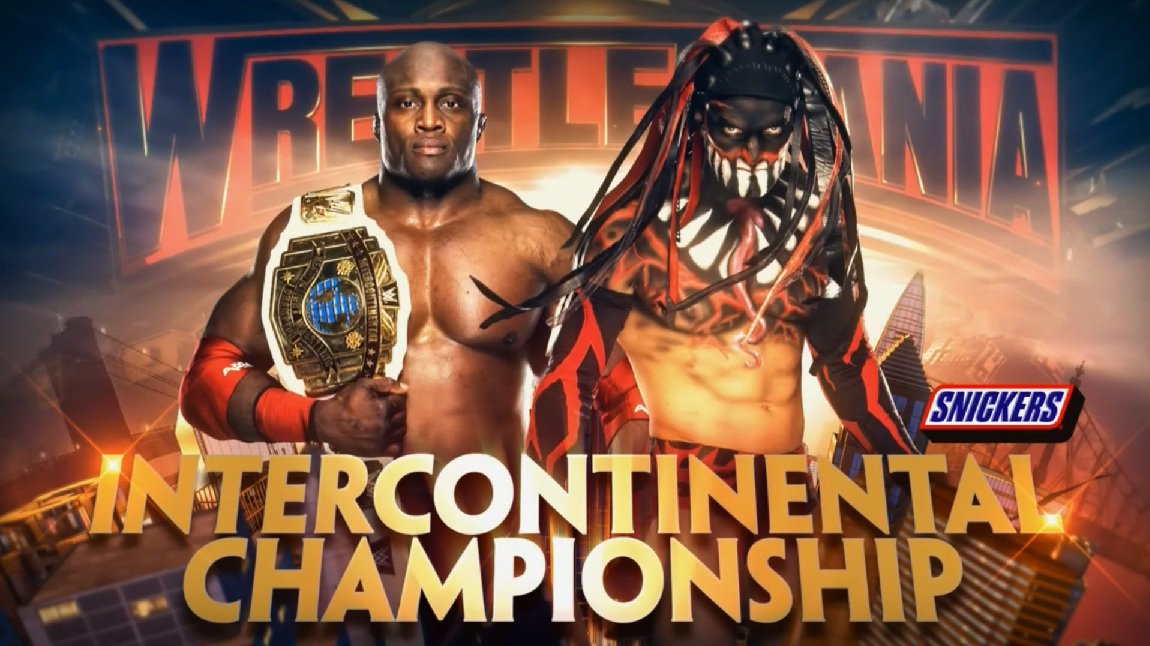 Intercontinental Championship: Bobby Lashley (c) vs. "Demon" Finn Balor
Mike: I'm not sure what to make of this whole Lashley v. Balor deal. The Lash isn't very good at being very bad, and even the ever-entertaining hypeman Lio Rush hasn't sold it for me. I will acknowledge he's not any worse than he was as a face, but the lack of personality makes it akin to supporting a coma. Balor continues his seesaw routine with the office, champion one day and chumpion the next. This match hasn't done anything for me the other sixty times I've seen it, and it's unlikely to start now.
Balor will be dusting off the Demon persona for this match, and that means an automatic win as we all know. It won't make this dreck any better. Rehashing the same ingredients can make a decent dish, but when it's all you eat…
Winner (and NEW Intercontinental Champion): Finn Balor
Matthew: I don't have a whole lot to say about this match. I like both guys in their own ways and this is a fine use of both of them on this show. I hope they put this match on later as a buffer between main event matches. Mostly because I prefer it be dark by the time "The Demon" makes an appearance.
Winner and New Intercontinental Champion: "Demon" Finn Balor (because The Demon will have to look strong!)
John: If there's one match that happens that runs five minutes or less then it's probably this match. Balor won the title, then lost it back to Lashley and now Balor is going to use the "Demon" Balor look. The one thing we know about the Demon look is Balor has never lost using it, so it should be an easy win for Balor.
Winner and New Intercontinental Champion: "Demon" Finn Balor
United States Championship: Samoa Joe (c) vs. Rey Mysterio
Mike: This is really the first match in the breakdown that catches my attention, because we're finally getting two solid performers in a scenario that feels remotely fresh. How much Mysterio's injury hampers his ability to execute (if at all) is of course a passing concern, but I'm of a mind that he puts on a clinic as we've come to expect. I'm of course a big proponent of Samoa Joe finally getting a main roster run as a champion, which is something that should have happened a long time ago. This will be an interesting combination of styles and allows Rey to perform his high-octane offense in an uphill climb against a much bigger opponent. Exactly the type of match both men do well with.
This has "steal the show" potential written all over it, depending on how long they're slated to go and how well Mysterio holds up. It's more than possible his son is involved in the payoff here (not the first time he's been involved in this way!), but regardless I don't think Joe drops it this quickly.
Winner (and STILL United States Champion): Samoa Joe
Matthew: Hoping Rey can go this Sunday after tweaking an ankle in a pointless match against Baron Corbin on Monday. But even if he can't, there's room for an angle here. Maybe Rey tries to compete but the ankle is too badly injured. His son Dominic throws in the towel to protect his father from torture at the hands of Joe. Joe refuses to relent, making Dominic enter the ring to protect his fallen father, only to find himself choked out by Joe.
Great heat for Joe. Interesting angle that will be memorable amidst an absolutely bloated card. In any case, I don't see Joe dropping the title.
Winner and Still United States Champion: Samoa Joe (because if Rey is dealing with an injury, I don't think putting the title on him here makes much sense)
John: This match is "questionable" right now due to Mysterio having a right ankle injury. There's no update on his availability. I think if he's unable to wrestle they could sub in somebody like R-Truth or maybe even Kevin Owens. They could even have both of them and maybe add Andrade to the mix. I was hoping for Andrade vs. Mysterio at WrestleMania, but I am happy that Joe gets to finally have his WrestleMania debut this year.
I think Joe retaining his title makes the most sense. He should have won the WWE Title last summer, so I guess being the US Champion is a nice consolation prize. If Rey is able to go then they'll probably have Joe slap Rey's son Dominick at ringside as a way to have Joe get in Rey's head and then Joe will beat him after that.
Winner: Samoa Joe
Kurt Angle vs. Baron Corbin (Angle's Retirement Match)
Mike: It's just a thoroughly awful thing to type, isn't it? Like "I just kicked Lassie" or "I love the New York Rangers," it removes any veneer of what is good and decent and exposes you to the dark underbelly of anguish and despair. We have all seen for ourselves that it's time for Kurt Angle to call it a career. He has provided one hell of a litany of moments in and outside of the WWE, but he's struggling to get through a match at this point and he's got the ability to be successful in the business outside of active competition. Having someone like that have to battle the bland and listless Baron Corbin is worse than no match at all.
I have no idea if WWE will listen to the masses and allow for a more worthy challenge for Angle after this one concludes, but I honestly doubt it. John Cena will be busy with interrupting Elias and anyone not named Shelton Benjamin suffers from taking an Uber straight out of left field. As much as that would be nice, this is what we get. Welcome to WWE Network Land. Thanks for the memories, Kurt.
Winner: Kurt Angle
Matthew: I've come to the decision that this is the perfect match for Kurt's retirement at this point in his career. Sure, ideally this match could have taken place a few years ago when Kurt could still move. In this ideal world I would have loved to see his final opponent be somebody like Cena, or even Brock. Unfortunately, we live in this world, where Kurt can barely move around without making me wince. Let him beat a guy the audience legitimately doesn't like, in a match with very little expectations, and get a nice pop as he rides off into the sunset (hopefully to become the on-screen trainer of an up and coming superstar!).
Winner: Kurt Angle (because Corbin winning would suck)
John: I'm not surprised that fans were pissed off when WWE picked Corbin for this spot. I understand wanting a bigger name opponent for Angle because Ric Flair got to wrestle Shawn Michaels in his last WWE match (it was not his actual last match), then Michaels got to wrestle The Undertaker in his last WWE match (until Crown Jewel eight years later) and now Angle gets a lesser name like Corbin. However, Corbin is also a heel that WWE has high hopes for, so the idea is that Corbin could get a rub from beating Angle because he can brag about it for years. The problem with Corbin is he has "turn off the channel" and "boring" heat rather than good heel heat.
When a wrestler has a retirement match, I would normally pick that person to lose, but in this case, a win for Angle would make fans happy that are so mad that WWE picked Corbin against him. Post match, they could do something where Corbin tries to attack Angle and somebody make the save. I'd rather just see Angle salute the crowd, which will be giving him a standing ovation. There will probably be tears too. I may even cry when I see that standing ovation on Sunday.
Thank you Kurt Angle for an amazing in-ring career. He was one of my favorites. I'm glad he's not going to put his body through any more bumps.
Winner: Kurt Angle
Falls Count Anywhere Match: The Miz vs. Shane McMahon
Mike: Now we're getting to the nitty gritty. In terms of build, this match is right up there with the best of them. We knew Miz and Mac would implode, I even knew Shane would be the choice for the heel role, but the physicality with Miz's father and their intense emotion since then have been very good. This is not a shock when you consider that everything with Shane is pretty great until he gets into the ring. It's that moment when you remember that someone more deserving should have this spot (again) and we say this every single year without fail.
Falls count anywhere is about as good as you can do here, and to say that telegraphs whatever insanely dangerous stuntman move Shane will break out understates Morse's invention. Shane will un-impress until he very much impresses, and the result will be another WrestleMania moment that adds up to a bunch of cell phone pictures and not much else. Miz has a reality show to shill, and that show (much like this one) must go on. If I never see another winded Shane-O-Haymaker again, it would be far, far too soon.
Winner: The Miz
Matthew: Of the matches on this card, this might be the one with the most consistent and continuous build. This started back at Crown Jewel and has led us all the way to Wrestlemania. The Shane turn was a delightful departure from the expected tale we would watch unfold, although it doesn't make all that much sense, particularly from The Miz. His decree that he needed to win the Tag Team Titles with Shane to make his dad proud of him seemed laughable on its face because he is a former WWE Champion that Main Evented a Wrestlemania. If his dad wasn't proud of him for that, I didn't see what the Tag Team Belts were gonna do for him in that regard. Needless to say I thought it was a ruse on his part, and if it wasn't, I was hoping that his father would play a bigger role in everything that followed the Shane turn.
All that being said, this match has a build up and history that 75% of this card is lacking so kudos to them on that. I've always been a Miz fan and I expect some kind of Shane stunt here too. I actually think this is a great use of both of them on this card. I'm torn on who I think wins though.
Winner: Shane McMahon (because I figure that all his stunts cost him his matches as a babyface, so maybe they finally work out for him now that he's a heel)
John: I agree with my buddies above that the build for this has been good since it started in early November. Is it any surprise that a match with Vince's son has a long build? No. I wish they cared about some of the other matches as much as this. The story has worked in terms of making Miz a babyface and he should do better in the role than when they tried it a few years ago and he failed miserably at it. With that said, if 49-year-old Shane O Mac wrestled less moving forward that would probably be a good thing. He's in good shape and makes his daddy proud, but let's get younger, full-time talent on the WrestleMania card.
The Falls Count Anywhere stipulation will likely lead to some crazy spot where Shane jumps off an object that is 10-15 feet in the air and goes crashing through a table. We've seen it many times before, so when they announced Falls Count Anywhere, that's what came to mind. I think Miz winning is one of the biggest locks on the show. It's revenge for Shane attacking Miz's dad at Fastlane (I expect Miz dad to punch Shane during this match too) and Miz is the full-timer too, so he should get the win.
Winner: The Miz
Randy Orton vs. AJ Styles
Mike: This was one rumored for quite a while, and I'm glad to see it was in fact reality. I thought the job these two did promo wise setting the table for this one-on-one was very good, and as with most of my favorite wrestling storylines it combined the reality and the popular version seamlessly. Orton is the perfect choice to look down upon someone who didn't cut his teeth in the WWE, and Styles is the "reformed" indy darling who wants to show Randy that he's not as good as he believes himself to be simply because of his station. This is simple, potent storytelling and the two men have pulled it off. Well done.
The match should also be predictably solid, though it's obvious everything hinges on the placement and efficacy of the RKO. I think Styles is enjoying the heck out of himself these days, and he's been rightly regarded as a hero by the majority of the fanbase. This match will give any remaining naysayers another opportunity to right the ship. Either guy could get the win, but I like Orton to land a memorable RKO and push this build to a proper frenzy.
Winner: Randy Orton
Matthew: I didn't think that this would be a match I'd be looking forward to, but here we are and I'm definitely looking forward to it. I always thought these two going head to head would be a solid bout. I was sure they'd put together a pretty great match with some inventive spots, and I was happy it was happening because it's a fairly fresh pairing (Orton seems to be the last guy on Smackdown for AJ to feud with), but man oh man did these guys sell the hell out of this match with their promos. The things they said about each other, and what they have to prove in this match became very apparent as they spoke. So yeah, now I'm excited about this match.
Winner: AJ Styles (because I'm trusting my gut… but it really could go either way)
John: The build for this match has been pretty good. They haven't had a lot of time to do promos, but when they were in the ring at the start of Smackdown this week, I thought both guys made some great points and the crowd was really into it. They'll probably come up with some innovative spots. Sometimes Orton isn't that motivated, but working with Styles will be great for him because Randy is at his best against a smaller, athletic. Think of Rollins, Bryan and even Christian from earlier in the decade as some of Randy's best opponents.
I'm going with Orton for the win because too many faces are probably going to get wins on this show. It would be cool if the finish saw AJ going for a 450 Splash and Orton counters it into a RKO. It might be too similar to the spot they did on Smackdown. Anyway, we need some heel victories too! I also expect a rematch between them soon. Both could get moved to Raw in the Superstar Shakeup in a couple of weeks since they have been on SD for the last three years.
Winner: Randy Orton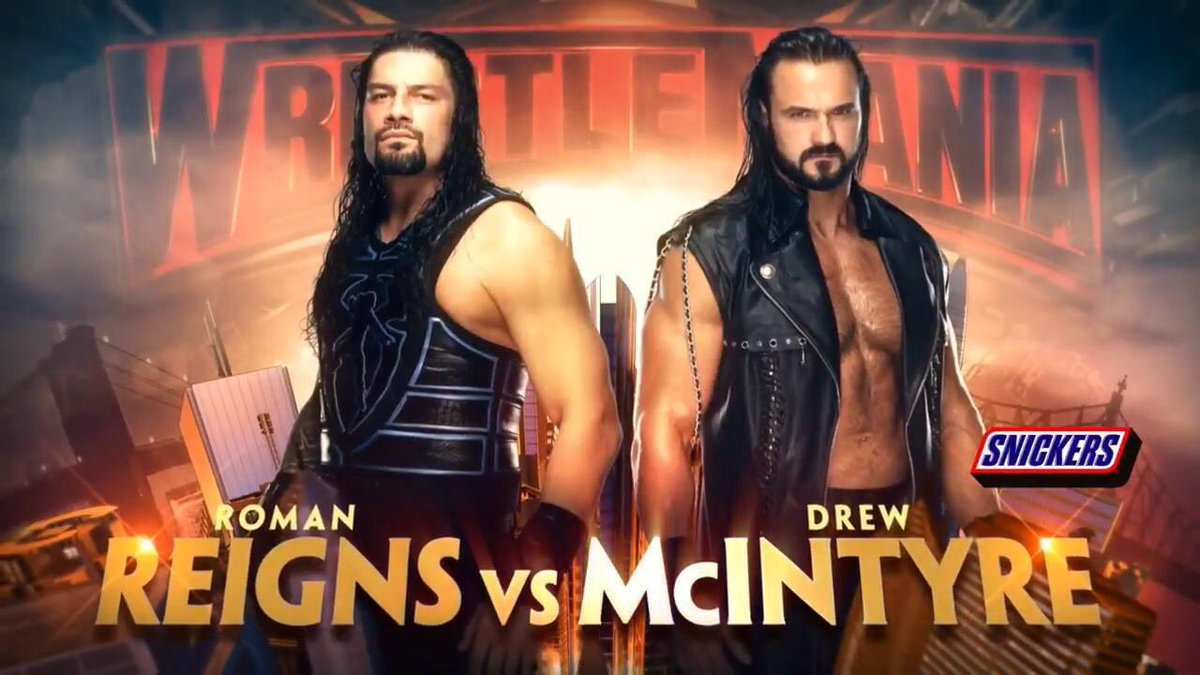 Roman Reigns vs. Drew McIntyre
Mike: How WWE plays this match will tell you a lot about how successful this do-over with Roman Reigns will go down. So far, it's been as expected: Roman returns for another reunion with his Shield brothers and overwrought, wildly popular theatrics ensue. It's emo turned to eleven. The next stage, however, is far more critical: If we've truly turned the corner with the Ambrose chapter of things, Reigns has to be kept occupied while Rollins unseats Brock. That means Roman can't be elevated to that level again right away to avoid confrontation between the two. Enter the terrific Drew McIntyre, more than qualified to deliver the goods.
McIntyre has somehow been even better since he returned to WWE, wearing his sneering heart on his lack of sleeves and presenting himself as a viable public enemy number one with his attitude toward Roman's admittedly emotional personal backstory. Standard WWE playbook would tell you to let Reigns have his big moment here, and there's something to be said for that. The smarter move, however, is to give Reigns a bigger hill to climb this time and therefore ensure his success will be taken much better the second time around.
Winner: Drew McIntyre
Matthew: This rivalry/match feels a tad forced. From the constant mentioning of Roman's Leukaemia diagnosis and battle to the beatdowns we've witnessed along the way, it all seems like they are haphazardly trying to add heat to a feud that doesn't have much. You can microwave a frozen chicken, but it's probably not going to cook all the way through. I'm happy to see Roman back and able to work and Drew is pretty phenomenal, so the match itself will be fine I reckon. I just wish they had more to work with as they built up to this match. In many ways, this match is a microcosm of the majority of Wrestlemania card this year. It should be a good match, but the way we got here was less than stellar.
Winner: Roman Reigns (because I feel like he has to get the feel good win here)
John: The build has been solid here as WWE has booked McIntyre very strong over the last month. McIntyre beat Roman's good buddy Dean Ambrose twice in dominant fashion, he also beat up Reigns repeatedly and even got a pin on Seth Rollins after a distraction. Does that mean Roman is an obvious pick to get revenge? In theory yes, but it may not be that simple.
The next WWE pay-per-view after WrestleMania is Money in the Bank and if I had to pick one guy on the roster to win the men's briefcase then I'd pick McIntyre. With that in mind, should he win this match and then continue his momentum to win MITB or can he lose this match since he's a MITB favorite? That's why this match is hard to pick. I'm leaning towards Reigns due to the revenge factor. If Drew wins, though, it wouldn't surprise me. They can tell the story that while Reigns looks like he's in great shape, he may not be 100% yet and McIntyre beating Reigns would put Drew over huge with the biggest win of his career. I'm picking Reigns, but I'm not sure about this one.
Winner: Roman Reigns
No Holds Barred Match: Triple H vs. Batista (Triple H Must Retire if He Loses)
Mike: Can they both retire regardless of who loses? That's the question I am asking myself anyway. Pretending that the stakes of Triple H's career matter is tough enough in a business where retirement ends upon the next selfie, but to couple that with a matchup against a confirmed Hollywood talent looking to shutter the doors on his involvement in the business compounds things in a way less than pleasant. There's no doubt these two will do a serviceable job, but does it need to happen? Were fans clamoring for this and I missed it?
I feel like this match exists in a world entirely in the egos of the parties involved, which are sizable. Batista's attack on Flair felt shamefully exploitative (I never thought I'd say that!) because it led to the reality that Big Dave just wants to beat up the guy who never beat him. While it's led to some solid promo work from Trips, I just don't see the payoff. Even Batista's casual disdain seems forced. For an actor, you'd expect them to be able to promote their character better. This thing will just…happen. Nothing much to see here.
Winner: Triple H
Matthew: I hate to say it, but after getting off to a very heated and interesting start, this feud really lost steam for me in a serious way. I wanted them to expand upon the Flair attack, but that was really it. Listen I never had high hopes for the match itself, but I wanted more from the build after it started so great. Maybe have Batista go to NXT and attack some of Hunter's NXT kids? I don't know exactly what I was expecting, but I am sure I wanted more inventive ways to escalate things between these two former allies turned long term rivals. With all that said Batista's outfits and demeanor have been on point the entire time and I truly will miss him aesthetically once this is over. In a WWE world of such sameness, he has a look that is unique to him.
I don't think this match will be all that great, but maybe there will be some shenanigans involved. I'm expecting the beginning of a McMahon Civil War that will take us through the summer, with Shane and Vince trying to wrestle control away from Stephanie and Hunter. Maybe this match will deliver the inciting incident for the coming power struggle.
Winner: Triple H (because I'm sure this is far from his last match… not that losing it would mean that either)
John: The combined age here is 99 years old since Batista turned 50 in January and Triple H turns 50 in July. They're in great shape for their age, of course, so they should have a good enough match. I think doing a No Holds Barred match will allow them to brawl around ringside and break some tables along the way to make it a more interesting match. Fans don't want to see these guys grabbing rest holds. They'll probably do the respect/hug thing after the match too.
I think the result here is obvious with Triple H winning to avoid retirement. It's not like Triple H should keep wrestling for that long, but we all know he'll be wrestling into his 50s since he's one of the guys running the company. This is likely Batista's last match since he has said he wanted one final match with Triple H and this is it. Plus, Batista's movie career is going well, so it's not like he needs to keep wrestling. I would pencil in Batista for the headline name at next year's Hall of Fame too.
Winner: Triple H
WWE Championship: Daniel Bryan (c) vs. Kofi Kingston
Mike: For starters, let's make it clear: Great moment and much deserved for Kofi Kingston. This is one of my favorite things about wrestling, when fans organically get behind someone the company largely hasn't and drives them directly into a main event we never saw coming. Daniel Bryan, of course, knows all about this. It happened to him, too. To think all of this came out of an injury is almost mind-blowing, and we should enjoy what this means almost as much as watching it happen.
The bigger overlying question is whether Vince and friends actually pull the trigger on this, or just use the opportunity to toy with the fans. I've liked how we've gotten here, with McMahon taking both the perceived and the very real challenges that exist in the business and baring them, warts in all, in the never-ending quest for the almighty dollar. Kingston seems over his head because WWE wants us to believe that, even when we don't. The fact that he, actually to some extent is, is as ironic as it is delightful. If even a couple of the matches on this bloated card had a fifth of this complex intrigue, it would be amazing.
I've gone back and forth over the outcome here. At the end of the day, I think the correct result of the last few weeks is a Kingston win. Bryan has been a tremendous heel champ and I imagine Kingston will get a nice run before silently being dumped back on the pile. It's the nature of the beast. There's no need to have New Day interfere or any of that nonsense. Two guys get in the ring, put on a whale of a match, and the challenger gets his hand raised in a moment that defies convention and expectation. That's what I want to see, and that's what I hope we'll see.
Winner (and NEW) WWE Champion: Kofi Kingston
Matthew: This is far and away my favourite thing on this card and it isn't relatively close at all. I've loved every second of this run that Kofi has been on since stepping in to replace the injured Mustafa Ali at Elimination Chamber. Sure, I could quibble with a decision here or there, but the tone, the emotional notes that they are hitting, it's been an utter delight to watch unfold.
Kofi has been amazing! His mic work, his ring work, his facial expressions and his passion have shone! Big E and Xavier Woods have been amazing as advocates for the calm (but intense) Kofi Kingston. They were the fiery ones decrying his unfair treatment, which is important because to have Kofi whine about being treated unfairly makes him look like a crybaby… having advocates see the unfair treatment and speak on it actually comes across so much better. Their brotherhood has shone through so beautifully throughout these weeks, and The New Day have transcended the silliness that they are most associated with. I'm not going to lie, I shed real man tears during some of their interview segments on dot com during this story.
Daniel Bryan has played his part perfectly as well. Being a perfect foil. He has had some wonderful zingers and has demonstrated why this heel turn was perfect for him right now. I'm just so excited for this. Not just because of Kofi getting this shot, which I've wanted for 5 years now! I'm excited because this is the perfect match for a Wrestlemania. Kofi nailed it on Thursday when he said that Daniel Bryan is scared, because he's been where Kofi is. He rode the wave of support and he knows what comes next. That's what this is. A story of two men, one experiencing a groundswell of support that bolsters his conviction and another who was in his shoes and knows just how powerful that wave can be. For the love of everything that is beautiful in this world, I hop Kofi wins… but more importantly, I hope Big E or Xavier don't turn on this brotherhood on Sunday. I can live with a turn later. I actually think it's smarter to transfer support for Kofi to Big E at some point down the line. But I'm praying they don't ruin KOFIMANIA!
Winner and New WWE Champion: Kofi Kingston (because I need to try to will this into existence with everything I have in my soul)
John: This is my favorite match on the show along with the main event. I don't know if saying this whole thing was "organic" in terms of the build because it was WWE that chose to have Kingston replace Ali in the Gauntlet Match prior to Elimination Chamber. It was also WWE that booked Kingston last one hour in that match, which is what really got the fans behind him. Then at Elimination Chamber, Kingston was booked to last until the end of the match as the fans chanted for him repeatedly when Bryan beat him. That's when Fastlane was changed from Bryan vs. Kingston to Bryan vs. Owens because WWE listened to the fans. All I'm saying is give WWE credit for booking Kingston the right way to get the fans behind him because if Kingston was in that Gauntlet Match for five minutes and lost, then none of this likely would have happened. Good booking led to the opportunity, which is why Smackdown is superior to Raw. Kofi's performances have also helped him get here because if the crowd wasn't responding to him as well as they are, then things might be different.
As for Daniel Bryan, he's my favorite guy in WWE and I am so entertained by his heel shtick. Bryan isn't just one of the best in-ring performers in WWE, he's become one of the best talkers too. I would love to see Bryan continue this reign as champion with Rowan serving his role as Bryan's buddy very well, but it also feels like the perfect time for a title change too.
Put Kofi over. Make him the WWE Champion. I don't even care if the title reign lasts only one month or two months and the title goes back to Bryan at that point. I just want to see Kofi get that moment that he deserves. Watching these two work at Elimination Chamber showed how much chemistry they have and it will only grow from there. I think they're going to have a 20-25 minute match that will probably be around four stars or more because they're too good not to reach that level. I don't want Big E or Xavier Woods to turn heel either. Keep New Day together forever. It's better than doing a turn. This will be Kofi's big moment and I want Big E and Woods to celebrate with him because they deserve that just like Kofi does.
If Bryan retains then a lot of online wrestling fans are going to be pissed off. I don't think I will be because Bryan's the best performer in the company (in my opinion), but I think it's important to strike while the iron is hot and it's the right time to put Kingston over.
Winner and New WWE Champion: Kofi Kingston
Universal Championship: Brock Lesnar (c) vs. Seth Rollins
Mike: It's been a long, strange trip indeed for Seth Rollins, who not so long ago cashed in his opportunity and stole the belt away from Brock Lesnar in a surprise finish. We've traveled a lot of miles since then, and Rollins has carried the mail more than admirably. Every time Paul Heyman reminds us that Rollins can't possibly get it done despite all evidence to the contrary, a wrestling angel gets its wings. Lesnar's part-time status has become a wrestling meme to the point where even the WWE itself acknowledges it nearly every show. What he may or may not do with UFC has far more to do with his desires than his eligibility. If we've learned one thing when it comes to big Lesnar matches in WWE, it's that you can't ever be sure of the result. They still regard him as a sales driver in the box office and that's what matters.
I feel that the only reason not to make this overdue move is to preserve the story that was supposed to be told from the beginning, that of Roman Reigns pinning Brock and decisively proving his dominance. The twists and turns that road took has made it impassable in my view, and this new course correction shouldn't be held up due to that eventuality. It's high time that we saw the Universal championship factored more heavily into storylines, and that can't be done with Lesnar as champion.
I wouldn't mind waiting a long while for the next Brock match. I don't have an issue with them largely, as he performs his role well enough. I just kind of feel like his lack of physical presence affects the ability to tell a coherent story, even with the best mouthpiece in the biz. Rollins can and should burn it down Sunday. Out of the ashes of that arson will hopefully arise a bit of a new era in WWE.
Winner (and NEW Universal Champion): Seth Rollins
Matthew: I'm not going to talk about this match as much as I talked about Kofi/Daniel Bryan. Mostly because I don't find it nearly as interesting. It will, in all likelihood, be a really solid match. Seth is a fantastic performer and Brock is no slouch when he tries.
Truth is, I just don't care that much about either competitor. I've been over Brock for some time and Seth doesn't really move the needle for me as a character these days. Great performer and worker, but leaves a whole lot to be desired as a TV character that I want to see succeed. The WWE Championship match has my emotion. This match has mildly captured a portion of my interest.
Winner and Still Universal Champion: Brock Lesnar (because if Kofi gets a happy ending, Seth has to have the sad one)
John: I think this will be a very good match since Rollins is a similar type of wrestler to Styles, Bryan and Balor as he mentioned in the build up to this match. Rollins is bit bigger than them too, so I think his style will work well with Lesnar. They've also worked together in the past although not that much. I remember the Royal Rumble 2015 match with Lesnar, Cena and Rollins being amazing. When they had a singles PPV match later in 2015, the Undertaker interfered and that ended quickly.
Picking a winner here is tough. If Lesnar wins it wouldn't surprise me because if I had to rank Kofi, Seth and Becky as face challengers that *need* to win their matches, I would rank Seth in third out of that group (the order would be Becky, Kofi and Seth for the record). I'm not sure how many more matches Brock Lesnar has left in WWE and I find all of the Lesnar "contract" reports to be silly because we all know they can agree to extend the deal like they have done many times in the past. I expect Lesnar to work the next Saudi Arabia show in early June, so maybe there's where Lesnar drops the title and then Lesnar can move on to a rumored UFC fight with Daniel Cormier in August.
Crowning Rollins as "The Guy" on Raw would be cool, but it also wouldn't shock me if he gets moved to Smackdown after WrestleMania as well. With Fox wanting Smackdown to be more of an athletic, sports show then a guy like Rollins would be a perfect fit there. Maybe I'm overthinking things, but I'm trying to use some logic to justify my pick. Plus, Rollins got the upper hand on Lesnar on the last Raw before WrestleMania. The "stand tall on TV, lose on PPV" theory isn't as strong as it was, but I think it might apply here.
I'm going with Lesnar to retain. It's not what I want. It's what I think WWE will do.
Winner: Brock Lesnar
Raw and Smackdown Women's Championship (Winner Takes All): Ronda Rousey (c) vs. Charlotte Flair (c) vs. Becky Lynch
Mike: We could have had it so much better. I am aware of this match's historic proportions (how could you not be when you're reminded every second?) and I fully embrace and support what it means and why it's here. I also think it's a fantastic coronation in a way for Ronda Rousey, who has immersed herself in the business tremendously and largely done a credible job. It's not easy when it's the only thing you do, and it has to be harder when you already have a public persona and long standing in another field. It's certainly not apples to apples, regardless of where you buy your fruit.
That this coronation comes in a match where she is destined to lose is exactly what makes pro wrestling so appealing and difficult to explain simultaneously. I disagree with a good bit of what's gotten us to here, from the inclusion of Charlotte in order to make things go more smoothly to the "everyone gets arrested" ridiculousness of Monday's closing moments to the obscure machinations that got us to a triple threat to begin with. I don't even fully understand a winner take all match in a situation where the one who very obviously will win isn't bringing anything at all to the table. And I suppose I don't care.
Becky Lynch has earned this moment and that is what matters to me as a viewer and a fan. There is no guarantee, naturally, that she wins. Most seem to attribute the odds of that to whether Rousey is taking time off or not. I would argue that this result matters even more if she does not. Rousey's whole build has been that she is far more dominant than other options. In order to cement her heel persona, she simply must lose here. This has been a crazy rollercoaster of a build that has seen every person in the match switch allegiances, sometimes seemingly over the course of a week. Don't let the cacophony of the ride distract you from the satisfaction of the end. There aren't many more worthy in the park.
Winner (and NEW Raw and Smackdown Women's Champion): Becky Lynch
Matthew: This is probably the best built match on this card (2/3 of it anyway) as far as a long term set up. They made this the obvious direction to go in back in November and they have followed right through to Wrestlemania, where it'll main event as it in many ways rightfully should.
I like most people am a little annoyed by Charlotte's inclusion in this match. The heat here is on Becky and Ronda. We've wanted to see these two fight each other since the build up to Survivor Series. I would have preferred to see them duke it out 1-on-1, but we aren't getting that so no need to belabour that point. In truth Charlotte has held her own to the best of her ability here and I think she'll add to the match (even though I worry we won't see Becky vs. Ronda 1-on-1 now).
There were definitely bumps in the road here. Things got needlessly convoluted and overbooked, between selling fake injuries and taking away shots and adding shots and and forfeiting belts and adding belts, etc. But as wonky as things got, I tried to hold on to the most important thing… I want to see these gals beat each other up. I think they will definitely deliver on Sunday.
Winner and New Raw and Smackdown Women's Champion (Taker of All): Becky Lynch (because she is the WWE's hottest act and I firmly believe you put her over here!)
John: I'll begin with some birthday wishes for Charlotte Flair, who is 33 years old today. Lynch and Rousey are 32 years old, so they are all around the same age and have taken different paths to get here. I think Charlotte and Becky being best friends has made both of them better too. When you know somebody that well, you know strengths and weaknesses better than other people. They work together so well. I'm glad they get to be on that WrestleMania stage together…and Ronnie too.
The journey to this match hasn't been great, but it's also a match I'm very much looking forward. What I think should have happened is Flair should have turned heel before the Royal Rumble and she should have been the Smackdown Women's Champion earlier in the story. Whether that was at the Rumble or soon after, I would have put the title on Charlotte earlier. That way, they could have had Lynch do a promo after her Royal Rumble saying that she wanted to face Rousey for the Raw Women's Championship AND Charlotte for the Smackdown Women's Championship because then Lynch could prove to the world she's the best woman in WWE. Instead of that, they had Lynch sell that knee injury for way too long, there was the lame suspension angle, then Flair was put into the match without winning a match all year (until she beat Asuka for the title a few weeks ago) and here we are. I think it was the right call to include Flair because as I said she's close with Becky, their careers are going to be linked forever as rivals and since Flair is going to be in WWE for many more years along with Lynch, it's smart for them to make history together. Plus, I think the match will be better with Charlotte as part of it because she's got a lot of big match experience and rarely disappoints.
This is probably Ronda's last match for a while. I believe the stories of her wanting to walk away from WWE to start a family of her own are true, so if she gets pregnant later in the year then that means whenever she gets back to WWE it will be as a part-timer.
If Becky doesn't win this match then it would be a terrible decision by WWE. I mentioned above that fans would be really mad if Kofi loses. If Becky wins then the anger will be unlike anything I've ever seen among online fans after writing about this business for 20 years. Becky absolutely should win, and she should tap out Rousey to do so. They could even do a storyline where Rousey doesn't tap out willingly, but Lynch ends up "breaking" her arm and Rousey passes out to give Lynch the win. I expect the match to go around 20 minutes. It will probably be outstanding too.
I think the final sight at WrestleMania will be Lynch celebrating with the Raw and Smackdown Women's Title while fireworks go off in the air at midnight (or even later) at MetLife Stadium. As for the future, maybe Becky is on both shows defending the titles or she's assigned just to Raw, then gives up the Smackdown Women's Title and they go from there. Sunday night is Becky's moment and I'm so incredibly happy for her.
Winner and New Raw and Smackdown Women's Champion: Becky Lynch
BONUS TOPICS!
The Match I'm Looking Forward To The Most
Mike: Bryan/Kingston. Stuff wrestling dreams are made of.
Matthew: Kofi Kingston vs. Daniel Bryan.
John: I'll go with Bryan vs. Kingston slightly ahead of the Lynch/Rousey/Flair match.
The Match I Care About The Least
Mike: Both battle royals. It's not cute anymore.
Matthew: The Revival vs. Ryder and Hawkins.
John: The women's battle royal.
Longest Match
Mike: Styles/Orton should be lengthy, but I'll go with the Women's Championship match.
Matthew: Shane vs. The Miz (adding the minutes it'll take Shane to set up his big stunt).
John: Daniel Bryan vs. Kofi Kingston for about 25 minutes.
Shortest Match
Mike: For all that is holy, let it be Angle/Corbin.
Matthew: Demon vs Lashley or Revival vs. Hawkins and Ryder.
John: Balor vs. Lashley around five minutes. Angle/Corbin might be the shortest too.
Excitement Level on a Scale of 1-10 (1 being low, 10 being high)
Mike: WrestleMania is a tough one, because it's a wrestling buffet where we all eat too much. The quality of the appetizers is pretty bad here, but the main courses largely deliver. I'll give it a charitable 6 1/2.
Matthew: For Kofi my excitement is at 11! Everything else is about a 5. So I'm decently excited, though I feel I should be more excited for Wrestlemania. Oh well, they can only exceed my expectations… I think.
John: I'll go with a 7 because there are several matches that I expect to be over four stars out of five including Bryan/Kingston, Lynch/Flair/Rousey, Lesnar/Rollins and Styles/Orton. Perhaps another match will be at that level too. My point is when you have four matches at that level on the same show then that's pretty cool, so that's something to get excited about. The negative thing is that it's going to be tough to sit through 16-17 matches over seven hours. It's just too much and I'd like to see WWE narrow it down in the future. Maybe do the two-day WrestleMania idea. I don't know what the best course of action is, but this format is too much.
Final Thoughts
John: I'll be back with a review of WrestleMania on TJRWrestling.net live on Sunday night, so check that out during the show or after it's over.
Mike – @DharmanRockwell
Matthew – @MJDP_GSE
John – @johnreport
If you want to send an email, send it to me at mrjohncanton@gmail.com as well. Thanks for reading.