TJRWrestling WWE "The Horror Show" at Extreme Rules 2020 Preview
John: Welcome to the TJRWrestling WWE The Horror Show at Extreme Rules preview. If you read my content regularly then you know that I think it's a terrible name. Why not just go with Extreme Rules? We don't need the extra words. In fact, it probably does more harm than good with a lot of fans laughing at how stupid it sounds. I feel bad for the wrestlers who have had to awkwardly say things like "When I face you at The Horror Show at Extreme Rules" because I'm sure they think it's ridiculous too even though they can't really admit to that. Should we give a bit of a break to the creative team for having to book shows with no actual fans and dealing with the health crisis? Yeah, we should, but that doesn't mean they have to give a horrible name to the PPV. It could be a lot better is what I'm saying.
The lineup is okay, but not great. I feel like there's less buzz about this show than any WWE PPV in years and I've reviewed them all in the last 11 years, plus many more before that. There are a lot of factors involved like the pandemic going on, there are less people watching Raw and Smackdown than ever before and the month of July is often slow for the wrestling business because people are enjoying summer. With that said, part of the lack of excitement is WWE's own booking. If you told me Seth Rollins was facing Rey Mysterio in a PPV match after two months of build I would love to see that match because they're both great wrestlers. However, the "Eye for an Eye" stipulation makes me worry it's going to be awful to watch. It's not that hard to set up good matches. I feel like WWE is hurting themselves by trying to be too silly of late.
Another thing hurting this show is a lot of talented wrestlers aren't in matches. Part of the strategy for WWE of late is to put bigger matches on Raw and Smackdown. AJ Styles had a great IC Title match with Matt Riddle on Smackdown, but there's no Styles match here. The Jeff Hardy and Sheamus feud is leading to a Bar Fight on Smackdown, not Extreme Rules. Meanwhile on Raw, Randy Orton faces Big Show on Monday instead of Sunday. I don't mind doing those bigger matches on TV, but it does make the PPVs feel like less of a big deal. I think when we get to SummerSlam next month we'll see more of the bigger names in matches on that show although there was a recent report that there's no Brock Lesnar there. I think the rumored Drew McIntyre vs. Randy Orton match would be a pretty good main event, though.
Joining me for the preview are Alex Podgorski and Mike Sanchez. Here are some thoughts from Alex and Mike, then we'll get to the preview.
Alex: This is going to be one of the most bizarre WWE PPVs ever. Without fans, they're desperate to get any attention from wider society, even if it's bad. That's why they're going with these weird stipulations and over-the-top concepts. And now, after Vince McMahon once said that WWE would never resort to any sort of 'blood and guts' wrestling, here they are selling an "Eye for an Eye" match. Hypocrisy aside, we're in for never-before-seen levels of weirdness, so best get ready be shocked. Whether that means being shocked in a good way or in a bad way is open to interpretation.
Mike: Extreme Rules usually meant matches taken to the next level; No DQ, Cage, Cell, etc. But the 'Eye for and Eye' stipulation is strange, and to be honest, a bit silly. Hopefully 'Horror Show' won't be the description of the PPV beyond a tagline. As per usual for WWE this year, the card consists of a real mixed bag; some matches look great and I am looking forward to them, yet others don't interest me at all. You'll no doubt be able to guess which as the predictions proceed.
(Note: All graphics are from WWE.)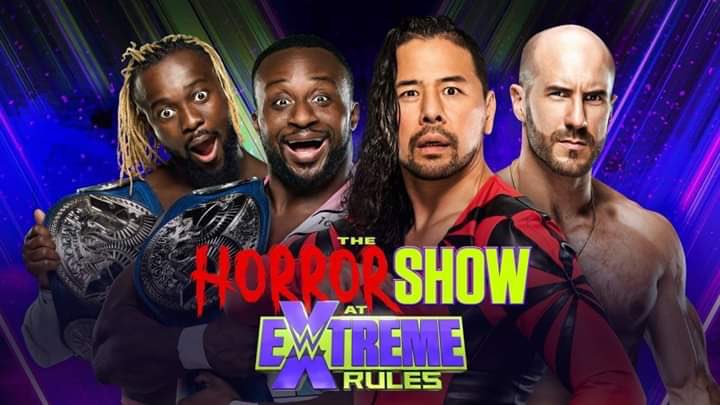 Tables Match for the Smackdown Tag Team Championships: The New Day (Big E and Kofi Kingston) (c) vs. Cesaro and Shinsuke Nakamura
(Note: There is no Alex prediction here because his part was written before Smackdown and the match was made official on Smackdown. Alex did predict everything else on the show.)
Mike: I really like the chemistry between these guys. Their interactions are always very physical and hard-hitting (especially given the styles of Cesaro & Nakamura). The New Day continues their run and remain one of the most popular teams/stables in recent memory and perhaps in WWE history. On Smackdown this week, Cesaro defeated Big E to choose the stipulation and they chose a tables match. I've no problem with New Day retaining here as I'm a big fan of the trio, but I haven't predicted one title change, so I'll go for it here. Expect the feud to continue and that's a good thing.
Winner and NEW Smackdown Tag Champions – Cesaro & Nakamura
John: The New Day guys have lost non-title to the challengers and then they got beat up in the last two weeks, so that would suggest a victory here. I think a Tables Match is smart to do when there are actual fans to pop for the table spots. I'm sure the wrestlers in the crowd will react to it the right way, but it's not like the same as when fans are there. These teams work well together since Cesaro has been working against New Day for years going back to when he was teaming with Tyson Kidd and then Sheamus as well. If Cesaro and Nakamura got pushes as singles wrestlers that would be nice to see too.
I think New Day retains the titles while noting that even if they do lose the titles, they'll be in the title picture anyway because they're always in the title picture. That's not a complaint because I like New Day. It's just an example of how thin the tag team division is right now.
Winners: The New Day
United States Championship: Apollo Crews (c) vs. Montel Vontavious Porter
Alex: This is the first PPV of the 'Bruce Prichard era', now that Paul Heyman has been removed from a position of creative authority. And Prichard's first act in this role…was to make MVP a title challenger. It seems like instead of pushing someone young and new with a title shot, Prichard thinks its better to take a 46-year-old part-timer whose heyday was over a decade ago and have him challenge for the title. So much for being patient with creating new talent. Rant aside, this will be a mildly-competitive, twelve-to-fifteen-minute contest for the new US title belt (read: the toy version). MVP may talk a big game, but making another older wrestler at the expense of someone younger and healthier just doesn't seem like the right decision.
Winner and STILL US Champion: Apollo Crews
Mike: I liked MVP in WWE during his initial run and I'm glad to see him back on our screens. He suits his role as a manager well and this should be decent. Apollo Crews was for so long sidelined and forgotten about, but hopefully can gain traction and establish himself as a long-running champion, even if it is with a 'lesser' title (although I like the look of the new belt). I don't expect a change here.
Winner and still United States Champion – Apollo Crews
John: This should be decent with the older former champion MVP putting over the current younger champion. I think they made a mistake by having Crews not on TV in the last two weeks because his presence would have helped. Maybe it was a health reason that I don't know about, but I think this rivalry has lost a lot of steam going into the match. The guess here is that Crews wins this match, leaves with the new US Title and then they do Crews vs. Lashley at SummerSlam with Lashley winning the US Title there.
Winner: Apollo Crews
Smackdown Women's Championship: Bayley (c) vs. Nikki Cross
Alex: Cross won a Fatal-4-Way match to earn this match. Yet despite her gaining upward momentum, I just don't see her as champion material. As far as I can remember, her entire shtick is being Alexa Bliss's gullible ally. That's not someone that has a chance against a villainess like Bayley. Unlike Cross, Bayley has her ally in her corner and is more than willing to use any underhanded tactics to win. So no matter how much Cross screams and runs around while pretending she's the Ultimate Warrior, she won't be able to overcome Bayley and Banks on her own this Sunday.
Winner and STILL SmackDown Women's Champion: Bayley
Mike: Yeah, nothing like some crazy Nikki Cross in a title match. I'll always have a soft spot for the brits in WWE, so I'm glad Nikki gets a title shot here. Sadly, I don't see her getting her hands on the gold. Even if Bayley doesn't have Banks in her corner, I still think she's too much for Cross. Then again, should Alexa Bliss, Cross' buddy, be at ringside, the odds may favour the diminutive Scot. I'm going with form on this.
Winner and still Smackdown Women's Champion – Bayley
John: They have done enough things going into the match that they *might* think about putting the Smackdown Women's Title on Cross. A reason why I mention that is because Bayley cheated to beat Cross on Smackdown in a tag team match, so historically speaking that sometimes means the person that was cheated will win at the PPV. However, I'm not confident enough to make that official prediction. Bayley has worked with Cross a lot in the last few months, mostly in tags, so it should be a solid match. I feel like the one that ends Bayley's long title reign is Sasha Banks when they do the split (whenever fans are back) and there's no reason to do a title change before that.
Winner: Bayley
Eye for an Eye Match: Rey Mysterio vs. Seth Rollins
(Note: This is expected to be a WWE cinematic match with editing and some CGI effects to make it look like an eye is being pulled. Yes, it's ridiculous.)
Alex: WWE did a Boneyard match at WrestleMania and it was better than it had any right to be. Then they did a cinematic 'race-to-the-top' MITB match and it was pretty good, if not slightly illogical. Now, they're going to have a match in which someone's eye has to be gouged out to win. Did someone remind Vince that this isn't PG? Granted, stage actors do this all the time in Shakespearean plays, but is something this dumb really needed to catch fan's eyes (again, pun intended)?
I expect twenty minutes of unrelenting weirdness here followed by a much hammed up closing sequence in which Rollins pulls out Rey's eye to win. Rollins just seems like the guy that'll win based on how important he is to the roster, while Rey's in the twilight of his career. And while the logical thing here would be for Dominick to help his dad beat one of RAW's top stars to elevate that rookie, I find it hard to believe WWE's powers-that-be will follow that direction.
And yes, this as a stipulation is still very, very stupid.
Winner: Seth Rollins
Mike: This could be garbage or the surprise of the night. If the eye stipulation wasn't a factor, and the match was going to be cinematic a-la Undertaker vs AJ Styles in a Boneyard match, I actually think WWE could pull off something really great here. I think the match itself will be pretty good initially as Rollins and Mysterio are amazing talents. It's the finish that concerns me as to how they're going to do it. Frankly, it's stupid. I watch the PPVs with my son who is only young, so not sure if this will be suitable for him. I think the Mysterio masks in the WWE online shop will need a patch going forward.
Winner – Seth Rollins
John: There are a lot of unknowns here. Is it going to take place in a ring or some other location? We don't know the answer to that. We do know it's likely a cinematic match where they are using CGI effects to make it look like somebody will lose an eye. With the way this story has been, you would think that Mysterio should get the win because Rollins injured him by attacking the right eye two months ago, but based on this stipulation, it makes sense for Rollins to win.
They can probably say Rey lost his eye and it was put back in or something like that. Since Rey wrestles with a mask, they can put some visor over the eye, which would prevent the audience from seeing the "torn" eye and Rey can wrestle that way. There have also been reports that Rey might not have a contract with WWE right now, so this is a way to write him out until they come to some deal to bring him back…if he comes back. I feel like Rey will agree to something and that his son Dominick will be wrestling regularly in WWE as well, but that's not a sure thing right now. Did I overthink all of this? Probably. I'll go with Rollins here.
Winner: Seth Rollins
Raw Women's Championship: Asuka (c) vs. Sasha Banks
Alex: I must've missed the memo, but apparently Sasha Banks is now on RAW. That won't stop her from helping Bayley in the latter's title match since everyone's on the same show for this event anyway. As for Sasha herself, I think she will put up a valiant effort to dethrone Asuka, only to come up short. WWE has something special with Asuka and I want to see how far she can go as champion. I predict these women will get at least fifteen minutes and will have a better-than-average match. That's not meant to be a knock against either one of them. I just don't see them expending so much effort to put on an epic match (which they could do) when all the people in attendance are being paid to be there.
Winner and STILL RAW Women's Champion: Asuka
Mike: Now we're talking! As you can tell by my subtle excitement, this is the match I'm looking forward to most. Asuka is freaking awesome and Banks has risen to the top once again to be a contender. I don't want Asuka to lose the belt, but I think it's a distinct possibility here – especially if Bayley is nearby.
My concern with this is if Banks & Bayley hold all the belts, then what? Does Asuka switch to Smackdown and challenge Bayley or is the time right to bring up or utilise some of the underused talent on the roster – Bianca Belair singles run, please! I think there's still some serious legs in Asuka being the champion and WWE needs the vulnerable babyface to stand against the heels on TV. I'll stick my neck out and hope that WWE think the same.
Winner and still Raw Women's Champion – Asuka
John: I think Asuka and Banks are two of the best women's wrestlers in WWE and you could even say two of the best in the company, man or woman. Both women have been working at a high level for many years and they are two of the people I have enjoyed the most in the last four months of shows with no actual fans in attendance. Asuka lost two tag team matches this past week although in both matches, she wasn't the one that was beaten. That's a way to protect her as a champion. Is there a logic flaw with Smackdown's Sasha Banks getting a title shot against a Raw champion? Absolutely. I know Banks is there because she's a Women's Tag Team Champion, but it shouldn't mean she gets a title shot. Anyway, it's not something worth complaining about that much because now we get a potentially great match.
It should be an awesome match with Banks coming close to winning several times, but I expect Asuka to retain the title. I wonder if Asuka will win via submission with the Asuka Lock because if she does that it would make Banks look weak and I think WWE wants to keep Banks strong. I'll go with Asuka winning by pin where she uses some kind of cradle or counter move to win. After this, I would expect Asuka to defend against Nia Jax or Shayna Baszler or both of them. There's also Charlotte Flair if she's back by SummerSlam, but that's not known right now. Anyway, I expect Asuka to retain here.
Winner: Asuka
WWE Championship: Drew McIntyre (c) vs. Dolph Ziggler
(Note: Dolph Ziggler gets to pick the stipulation, which will be announced before the match begins.)
Alex: I'm going with an unusual pick here and predict that Ziggler will win the WWE Championship. Not because I want this to happen, but because I think this is how WWE will book things. Drew is probably the top star in the company right now, but the people at the top care more about numbers and ratings. And the ratings since WrestleMania have been in a freefall. Those at the top don't have the balls to blame themselves for their mistakes, so they'll pick Drew as a scapegoat.
As such, Ziggler will be booked to win (despite peaking as a fan favorite wrestler seven years ago) in the name of the almighty swerve to get people talking. If anything, this'll be WWE's attempt to replicate what NJPW did with EVIL: take someone completely out of left field and make them champion. The difference being that EVIL as champion has potential given his personal relationship with his now-former LiJ stablemates. Meanwhile, Ziggler comes off as the flavor of the month who, as Kevin Owens once put it, should've been the guy and was, but wasn't.
As for the actual match type, this'll likely be some kind of Extreme Rules match (because you gotta get those hashtags trending on Twitter, pal). Ziggler will use this to beat McIntyre down over time and will probably bring someone to help him win. Because villains have to all be underhanded and use the numbers game, instead of winning in a personal, more nuanced way.
Winner and NEW WWE Champion: Dolph Ziggler
Mike: I'm genuinely intrigued as to what the stipulation will be, although if we're thinking about Ziggler's character, it'll be something underhanded. I doubt he'll want a cage, last man standing, or weapons in case Drew gets a hold of him. 1 against 2 with Ziggler being champ if Drew loses? Gauntlet match? Who knows? What we do know is that Ziggler can sell like a star and will make McIntyre look fantastic. Like I said before, I have a soft spot for my fellow Brits so going with McIntyre to retain. He's just passed 100 days with the title and I think he's done a great job in difficult circumstances. Ziggler doesn't stand a chance, but it's another opportunity for McIntyre to cement himself as a dominant champion.
Winner and still WWE Champion – Drew McIntyre
John: This seems like an easy match to predict with Ziggler there to put over McIntyre in a pretty good match that is competitive. It reminds me of Ziggler being put in this same spot against Kofi Kingston to have some solid matches while putting over the WWE Champion. The problem with this match is that Ziggler hasn't won a singles match on television since mid-April when he beat Tucker on Smackdown. I haven't mentioned that many times in the last month because I was hoping somebody in WWE might see that and think maybe this guy should win a meaningful match. Nope. Anyway, as for the stipulation I think they might do something like Drew can't do a Claymore Kick or Drew can only win by submission and in the end, Drew will find a way to win. As mentioned in the intro, I expect WWE to go with McIntyre vs. Orton at SummerSlam.
Winner: Drew McIntyre
Wyatt Swamp Fight (Non-Title): Braun Strowman vs. Bray Wyatt
(Note: This is expected to be a WWE cinematic match that was filmed in some outdoor location on Thursday evening that is supposed to be like Wyatt's swamp where he lived.)
Alex: We're going to have to some math for this contest (no, not Steiner math).
Take the Wyatt Family vs. New Day Compound match, add the Wyatt vs. Orton House of Horrors match from Payback 2017, multiply that by the truckloads of cocaine it takes to survive a creative meeting with Vince McMahon, and boom, you have a Swamp Match.
I expect this to be an inferior version of the Boneyard Match. There will be lots of camera shots of Strowman looking confused as he walks through a literal swamp. Wyatt won't appear right away; instead his voice will echo throughout the 'swamp' while taunting Strowman. Then Wyatt will appear in his various forms and incarnations, only for Strowman to overcome them in some way. Then finally, The Fiend will appear and choke Strowman out with the Mandible Claw. This is a non-title match, after all.
Given WWE's track record with the Wyatt character, I'm not going into this with the highest of expectations. I think this'll be interesting and unique, but somehow I think that in trying to make this 'stand out' WWE will miss the forest for the trees and just create something forgettable instead.
Winner: 'The Fiend' Bray Wyatt
Mike: Where Drew McIntyre has excelled, Braun Strowman has stagnated, so perhaps a stagnant swamp is the most apt location for this match. Strowman has been in desperate need of challengers to establish himself as a dominant champ and with Wyatt back in the mix, this could be just what he needs. Even though the location is new and the match unpredictable, it should be enjoyable to watch – especially if WWE produce it like previous cinematics. Will The Fiend make an appearance and Braun finds himself in a 2 on 1 situation? Weirder things have happened. I think Strowman's character needs a kick up the ass here, to show him as vulnerable and he needs to be involved in a tough match to make him earn his status as top dog on the blue brand. Though I don't see him prevailing here, it won't be easy for Braun and hopefully if the match is a success, the latest installment on what could be a fun feud. With no title on the line, I'm going to go against the form book.
Winner – Bray Wyatt/The Fiend/Husky Harris – who knows?
John: I'm not sure if this will be the actual main event, but it might be what is shown last. My interest level in this is very low. I think Strowman has been booked very poorly since he won the Universal Title three months ago.
It's hard to predict the cinematic matches. Most likely what's going to happen is that Strowman is going to beat up Bray Wyatt and it will look like Braun won, but then Wyatt will turn into The Fiend and beat Strowman. I don't expect there to be a pinfall or anything like that. I just think something happens to make Wyatt the winner.
I think in terms of the storyline we'll see a win for Wyatt because Strowman beat him at Money in the Bank in May. Plus, it's a non-title matchup since it's not a traditional match, so that suggests a win for Wyatt as well. By having Wyatt win this match, it would set up Strowman vs. The Fiend at SummerSlam for the Universal Title. I'm really not that interested in this storyline or rivalry, but that's where we are for Smackdown's main title right now.
Winner: Bray Wyatt
BONUS TOPICS!
The Match I'm Looking Forward To The Most
Alex: Drew vs. Ziggler. This might end up being the most competitive match on the card, and I want to see if my unusual prediction comes true. After all, I was right with Goldberg in Saudi Arabia when everyone else predicted the opposite.
Mike: Asuka vs. Sasha Banks (always have time for Asuka).
John: I think Asuka vs. Banks will be the best match, so that's my pick. If Rollins vs. Mysterio was a regular match then I might have picked that.
The Match I Care About The Least
Alex: Bayley vs. Cross or Crews vs. MVP. Both of these feel like thrown-together storylines, and there just isn't enough excitement about them for me to really care.
Mike: Apollo Crews vs. MVP.
John: Strowman vs. Wyatt in a Swamp Fight. I'm just not that interested.
Longest Match
Alex: Bray Wyatt vs. Braun Strowman. This'll be the longer of the two 'cinematic matches' because it's being shot on location. I think they'll go between 25 and 30 minutes while making the most out of this opportunity to shoot some really weird stuff.
Mike: Braun Strowman vs. Bray Wyatt.
John: I'll go with Asuka vs. Banks around 20 minutes.
Shortest Match
Alex: Apollo Crews vs. MVP. It'll be a semi-decent show opener. Won't go more than eight or nine minutes.
Mike: Bayley vs Nikki Cross.
John: I'm going with Crews vs. MVP going around ten minutes. Everything else should be longer than that.
Excitement Level on a Scale of 1-10 (1 being low, 10 being high)
Alex: 5.5 – While the cinematic matches sound interesting on paper, I'm just not as excited for this show as I should be. There's something about WWE's desperation through insane headlines that makes me think, 'man, it's almost like they're begging people to tune in.' And so while I admire their determination to come up with something unique with this show, I don't think it'll be that memorable even a year from now.
Mike: About a 6. The women's title matches should be good, but the cinematic and CGI matches could be the downfall or success depending on how they pan out.
John: I'm around a 6 as well. I think it's a predictable card that's going to be hurt by having two cinematic matches that will look goofy rather than helping the product. I am looking forward to Asuka vs. Banks and McIntyre vs. Ziggler to a lesser extent, but it's not a great card from top to bottom. There just isn't a lot of interest going into Extreme Rules. I don't blame any fan for losing interest in the product at this point. They need fans back at shows badly and need better creative as well.
In Closing
John: I'll be back with a review of WWE Extreme Rules on TJRWrestling.net on Sunday, so check that out after it's over.
Our Twitter handles are: Mike Sanchez @MikeSanchez1878 – and John Canton – @johnreport.
If you want to send an email, send it to me at mrjohncanton@gmail.com as well. Thanks for reading.