TJRWrestling WWE Survivor Series 2018 Preview
John: Welcome to the TJRWrestling WWE Survivor Series preview. It's the 32nd edition of Survivor Series and it's taking place at the Staples Center in Los Angeles, which is where WWE will hold four straight nights of shows with NXT Takeover WarGames II, Survivor Series, Raw and Smackdown. There are seven Raw vs. Smackdown plus the Cruiserweight Title on the line, so expect WWE to say the phrase "brand supremacy" all night long. The card is okay, but it doesn't feel like it's going to be a PPV of the year contender or anything like that.
My comments are going to be brief because I'm burned out from all the writing I have been doing in the last few weeks. There's no break for me coming with four straight nights of reviews coming up. My apologies for being brief, but you can also blame WWE for only spending two weeks to promote this show.
Joining me for the preview are Mike Holland and Matthew Douglas.
(Note: All graphics are from WWE. The banner up top is courtesy of our friend Melo Man.)
KICKOFF SHOW – Tag Team Elimination Match: Team Raw (Bobby Roode & Chad Gable, Lucha House Party, The Ascension, The B Team and The Revival) vs. Team Smackdown (The Usos, New Day, Sanity, Luke Gallows & Karl Anderson and The Colons)
Mike: One of the biggest issues to pitting parts of the entire roster of each brand against each other is that you get to see without a doubt how uneven the talent level is at times. While that frequently is an issue of how folks are booked, it's not the case here. Team Smackdown is far better both on paper and in reality. The blue brand's representation features no less than THREE solid championship-level squads in The Usos, The New Day, and Gallows & Anderson. Raw's red roster counters with a comedy squad, a team that maybe has won two matches on television all year long, a criminally overlooked and underutilized team in The Revival, a team with two guys who have been a hair away from turning on each other since they basically started, and who or whatever a Lucha House Party is. You see the disparity here.
While those elements don't in themselves necessarily mean Smackdown wins (heaven knows we've all watched enough of WWE's multiple personality booking to know better), this event always comes down to wanting to preserve both sides long enough for winner to take all at the end. This affair is an easy way to give Smackdown a tenuous advantage. In terms of who survives, the obvious choice to me on the blue side are The Usos. They can have an excellent match with any team and they are no strangers to getting big wins on "PPV". They also shape up as better challengers to The Bar right now in my mind.
On the Raw side of the ledger, I would look for the Gable & Roode pairing to be the most successful. I could completely anticipate them being on the brink of getting it done when Roode finally snaps and mercifully goes heel. It's long overdue.
Winners: Team Smackdown (Usos survive), Smackdown leads Raw 1-0
Matthew: My god the disparity between these two shows' Tag Team divisions is staggering. Hard to pretend that I'm looking forward to this match, considering the amount of humanity that will be occupying the ring apron when the bell rings. It's just a lot of people in one match that means absolutely nothing at the end of the day.
That being said, Smackdown has to win this one right? They have better Tag Teams up and down their roster, outside of The Revival.
Winners: Team Smackdown (because Team Raw winning is truly inconceivable when you actually compare the teams… just look at the captains and that tells you what you need to know)
John: I think the right decision is to put over the show with the better teams and that's clearly Smackdown thanks to the presence of The Usos and New Day. The Raw side is awful right now. Perhaps WWE may want Roode/Gable to survive to try to elevate them as a viable team, but I don't see it going that way. I think The Usos and New Day will survive.
Winners: Team Smackdown (Usos and New Day)
Cruiserweight Championship: Buddy Murphy vs. Mustafa Ali
Mike: I truly hope this match does get time on the main card, because I expect it to be more than solid and potentially an upset match of the night candidate. It's no surprise that it features nobody from the main roster and is the only bout where a championship is on the line. I fully expected Buddy Murphy to win the Cruiserweight Title in his home country of Australia, and he did so in spectacular fashion. For anybody who hasn't witnessed what he's been doing in NXT and 205, it's been nothing short of excellent. Murphy is a great worker and you could feel the emotion when he cashed in against a solid opponent in Cedric Alexander.
All of that said, you could argue many of the same things regarding Murphy's challenger on Sunday, Mustafa Ali. Just about everything I've seen him in has been above average, and Ali to me possesses that "it" factor that can turn a solid worker into something magical. It is not a question to me whether Ali has the tools to win this belt, but when it happens. There is simply no reason not to do it, and between his moveset and charisma it's going to be a home run when it goes down.
Does that happen here? It's entirely possible. I see this match to some degree as a pick-'em. Both guys are evenly matched and either could pull it out after a back-and-forth breathtaking affair. To me, it's just too soon to pull the trigger on ending Murphy's championship run. Ali will have his moment as I mentioned, but there's little need to do it now. Let Murphy build up his time as champ and it will mean all the more when he finally cedes it. Ali will have his day, but not yet.
Winner (and STILL Cruiserweight Champion): Buddy Murphy
Matthew: I don't pay too much attention to 205 Live. There's a lot to watch as far as wrestling is concerned, not to mention I work and have a social life. Some things need to be cut for time, and 205 Live simply doesn't make the list of things I have time for. That said, I know they have a great roster and often put on some of the best matches any given week in the WWE.
I'm a fan of both these guys and think either would have success on the main roster given the chance. Maybe one day. Buddy "The Body" Murphy (just a nickname that I know nobody is using for him but definitely should be) just won the Title not too long ago, so I don't see him dropping it here, but it wouldn't completely shock me, considering Mustafa Ali would make for a fun and interesting Champion. The match will be really good. That's all these guys can really do, is keep delivering in-ring.
Winner and Still Cruiserweight Champion: Buddy "The Body" Murphy (because his reign is in it's infancy and I'm going to will Buddy The Body into existence)
John: This will be a great match that the crowd won't care about early on, but as it gets going the fans will get into it if they get something like 10-15 minutes. These two have put on some classic matches already this summer with Ali really impressing me as more than just a guy that can do cool moves and Murphy is very well rounded too. I feel like they can do it again. Sleeper match of the night. Will the Cruiserweight division ever really grow in WWE? Probably not. It continues to exist and that's really it. I'll go with Murphy to retain since he's only been champion for a little over one month.
Winner: Buddy Murphy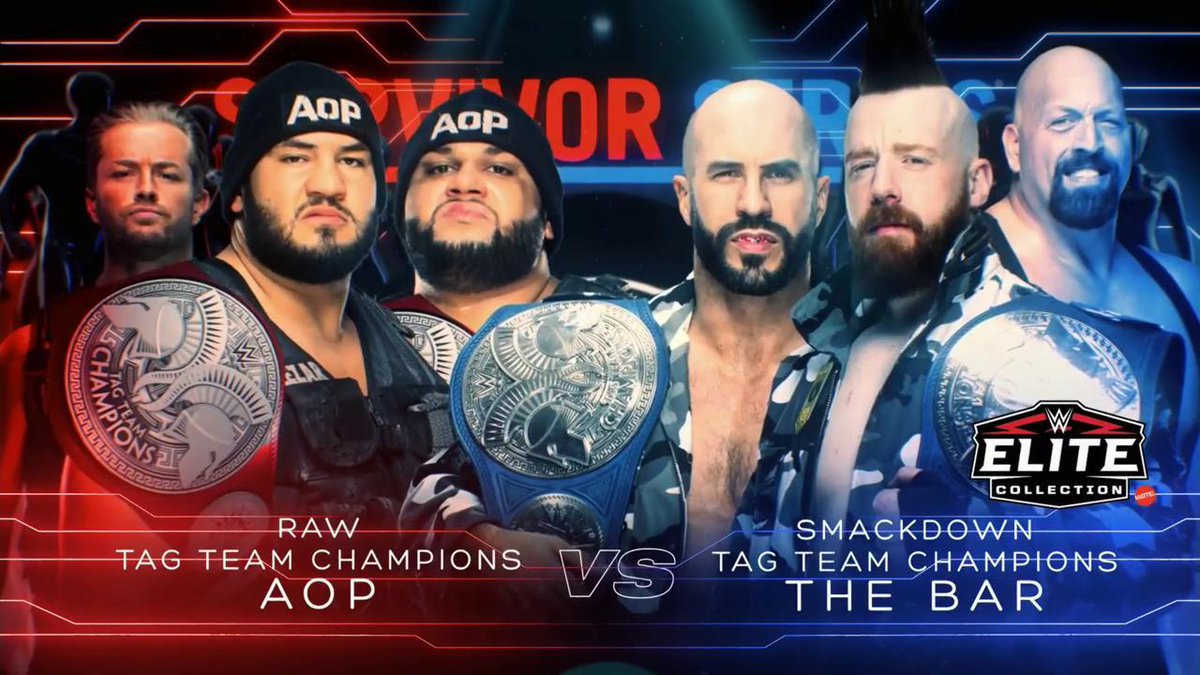 Raw Tag Team Champions AOP (Akam & Rezar) vs. Smackdown Tag Team Champions The Bar (Sheamus & Cesaro)
Mike: Let's be thankful that many of these matches are at least worthy of consideration for being interesting, with this champions versus champions matchup being an easy example. The injury bug has wreaked havoc up and down this card, and this showdown is no exception. Dean Ambrose's painfully evident heel turn had to be dialed up to eleven when Roman Reigns made his emotional announcement, and that left his former Shieldmate Seth Rollins without a true partner. That led to Rollins gamely competing against the heavyweight Authors of Pain, in a smartly booked match that allowed Rollins to continue shining while putting the belts on a team that needed the rub. AOP was stuck in neutral a bit, and the belts got them back on track as the dominant monsters they need to be in storyline.
As for The Bar, they are solid as always. I am a bit amazed Sheamus and Cesaro are still together, but they seem to be having such fun with their characters that I can see why. I will always support Cesaro as champion, so if tethering Sheamus to him is necessary to make the medicine go down, count me in. Big Show is now in their corner as a pseudo-manager type, and that adds a unique dynamic.
Speaking of unique, I love Drake Maverick on 205 Live, but he's horribly miscast here. It's sad to me that WWE dumped Paul Ellering as soon as AOP got called up, ostensibly because they hate main roster managers, and then oddly inserted one shortly thereafter. I get it, particularly because Maverick is a good talker and eminently hate-worthy, but I'm not in favor of the decision. Smackdown is winning the other tag team match, and The Bar look to be heavy favorites, so I think AOP surprise and keep their run strong.
Winners: The Authors of Pain, Raw ties Smackdown 1-1
Matthew: This could be a good match. I know they haven't had the opportunity to show it on the main roster, but when they were in NXT, AOP would consistently turn in pretty great matches, especially when paired with experienced and talented opponents. Despite my growing disillusion with The Bar, Cesaro and Sheamus are great guys to throw in with AOP to have them deliver their first memorable main roster bout. I'm also hoping that they have something fun planned for the size disparity in each teams managers. Big Show and Drake Maverick can each add something to this match for sure. It could be cool to watch, despite it's meaninglessness.
Winners: AOP (because they need the win more to get over)
John: I don't think a heel vs. heel tag team match is a good idea. The crowd may not care about the match at all because of that reason. Perhaps they will support AOP more since they are the team on the rise while The Bar are more established. I'll go with AOP just based on them needing the win more. This match and the other match with tag teams is the least anticipated of the night. Please improve your tag team division, WWE. Just put a little more effort into it, please.
Winners: AOP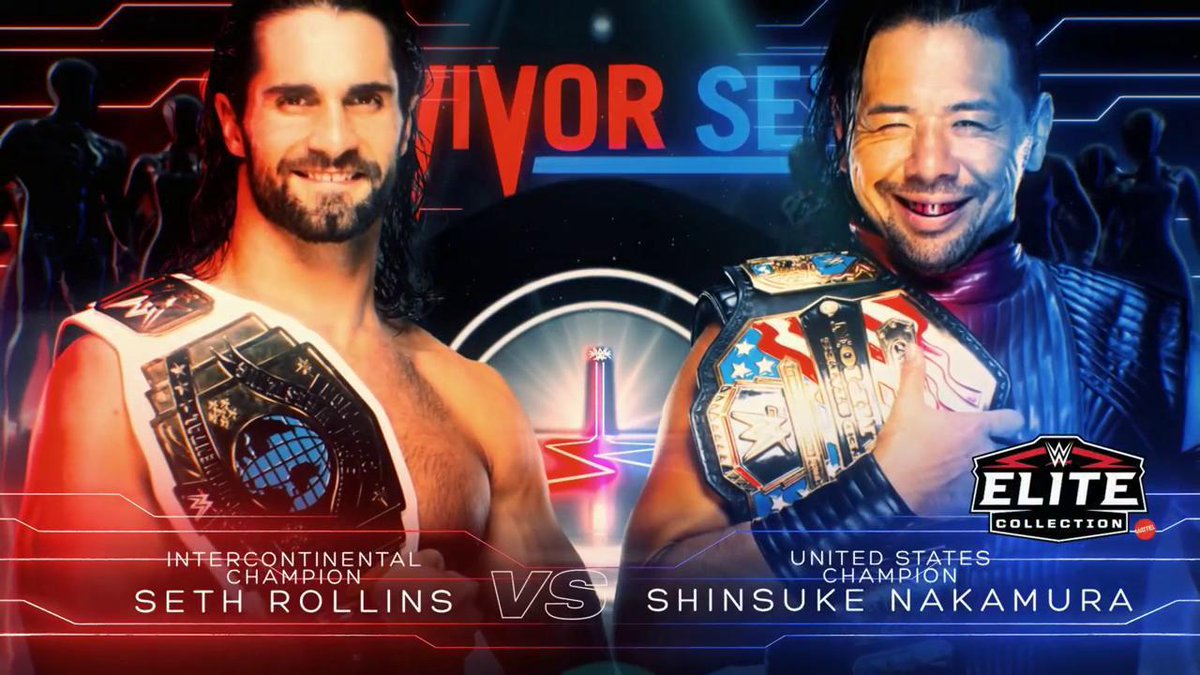 Raw's Intercontinental Champion Seth Rollins vs. Smackdown's United States Champion Shinsuke Nakamura
Mike: Speaking of Seth F'N Rollins, he's up next in the preview and continuing the now-yearly tradition of having Raw's Intercontinental Champion take on Smackdown's United States Champion, this time in the form of Shinsuke Nakamura. On paper, this is as much of a dream match as anything. Rollins has had a whale of a year and if it wasn't for some guy named AJ Styles, he might be the best thing going in the WWE right now. Nakamura's feud with Styles ended up being a bit underwhelming, though I would argue it had far more to do with WWE's poor creative choices than the series of matches themselves. WWE has really had a lot of problems presenting Nakamura correctly, and while you wonder if that will ever truly change, having him as a secondary champion might be the best we can do right now under the circumstances.
Unfortunately for all of us, I can't see this match being the straight up classic it could be under better conditions. Nakamura has been prone to the "cheap" win more than once, and while it fits with his current character it tends to hamper otherwise solid outings in the final stanza. It's hard to think of what you just saw as a five-star affair when it ends with a low blow. In addition to that history, Rollins has a much bigger problem on his hands with Ambrose, who has funneled his off-kilter crazed act to new heights with his utter demolition of Seth. I guess it's been long enough for us to feel bad for Rollins even though he did the same thing to Ambrose not too long ago?
Ambrose will continue to be a thorn in the side of Rollins for a good long while, and that matters here more than this match itself. He will turn up and wreak havoc, even to the detriment of his own brand.
Winner: Shinsuke Nakamura, with help from Dean Ambrose; Smackdown leads Raw 2-1
Matthew: This match has an opportunity to steal the show. I've been looking forward to these guys getting in the ring with one another, and only wish there had been more time to build it up. I would have loved a story about Seth being pre-occupied with the betrayal of Dean over the course of several weeks with Shinsuke also providing sneak attacks and lamenting his disappointment at not having his Survivor Series opponent's full attention or respect. You could have done a few cool things with it, but Crown Jewel really screwed things up as far as timing and storytelling didn't it.
There's not much else to say as far as story goes. I think it should be a really fun match. Has a chance to be the best WWE match of Shinsuke's career. I expect some kind of Dean Ambrose involvement and hope it's something cool.
Winner: Shinsuke Nakamura (because Dean will end up costing Seth to further that rivalry)
John: This should be a fun match with Rollins getting the crowd behind him as usual while Nakamura has done well as a heel. I don't expect a different finish from my buddies up above because Dean Ambrose showing up to cost Rollins is the logical conclusion to the match. Whether that means Ambrose will physically attack Rollins or just distract him, Nakamura is going to win because of Ambrose. Here's hoping they get 15-20 minutes before the interference at the finish.
Winner: Shinsuke Nakamura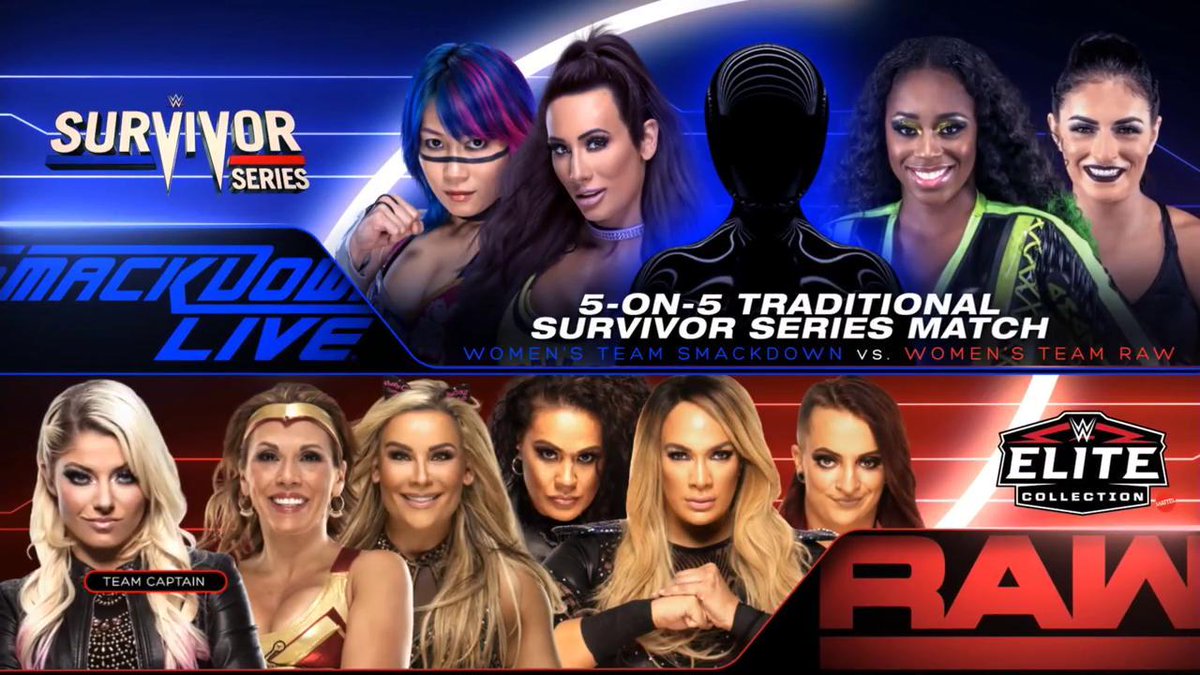 Women's 5-on-5 Elimination Match: Team Raw (Nia Jax, Mickie James, Tamina, Natalya, Ruby Riott) vs. Team Smackdown (Asuka, Carmella, Naomi, Sonya Deville, ????)
Mike: The women's side of the ledger looks awfully similar to the earlier tag match, as Smackdown's side boasts a reasonably solid squad with the dreaded mystery partner while Raw's group resembles a dumpster fire. While Alexa Bliss's unfortunate concussion situation has resulted in her moving to the sidelines for now as a heel authority type (just what these shows need!), she is much better on the microphone than in the ring and that's what makes her selections all the more puzzling. I get that she's a heel, but putting four baddies in the ring with Natalya and thinking that will work out makes sense? She needs to be a bit smarter than that.
I have no clue who turns up as the mystery entrant, but the smart money seems to be on Mandy Rose. Whether it's her or someone else (Lana, Vega), it's not really relevant to the result in my mind. The clear one to watch on blue's side is Asuka, who was really robbed of her time to shine after her Royal Rumble victory and tossed in the closet with last year's fashions. I look for her to have a very big night here.
On Raw's side, it's a simple enough equation. The heels will have too much in-fighting to press their advantage, and while I could very much see them taking an early lead, I don't see them carrying it through. The obvious pairing to last until the end would be Nia Jax and Tamina, as their recent bond has gotten plenty of airtime on WWE programming. Nia is being groomed as Ronda's next Raw challenger, so it would make sense to do that. I didn't see her winning before she knocked Becky Lynch out of the true main event, and I don't like her chances any better now.
Winner: Team Smackdown, with Asuka as sole survivor; Smackdown leads Raw 3-1
Matthew: After Monday's Smackdown invasion of Raw, this match could be some fun. The thing that I like about this one is that neither team really needs to win it more than the other, which makes the actual outcome more difficult to predict. I'm not sure who the final member of Team Smackdown will be, but Mandy Rose is as good a choice as any other. I am disappointed that there is not Bayley or Sasha here, as they definitely would have added something here. But their exclusion is kind of what puts the outcome more in doubt. Hoping for a fun competitive match.
Winners: Team Raw with Nia and Tamina surviving (because the heat could be fun and Vince loves to troll us)
John: I remember last year when WWE had Raw win the men's and women's elimination match. I don't like when they do that although in Vince McMahon's mind, it probably doesn't matter. Regarding Smackdown's mystery fifth person, I would hope that it will be Mandy Rose, but it's possible they call up a woman from NXT or slot Nikki Cross into that spot since she wrestled Becky Lynch on Smackdown a few weeks ago.
The obvious finish is for Nia Jax to be on the winning team because she dominates all the time. The Raw team has four heels plus the face Natalya, so it will be easy for the fans to root for the Smackdown side. I feel like this is the right time for Asuka to get back to the spotlight, so I'll roll with Asuka and Naomi to win because both women could use it.
Winners: Team Smackdown (Asuka and Naomi)
Raw Women's Champion Ronda Rousey vs. Smackdown's Charlotte Flair
Mike: I could dwell on the harsh reality that this match ISN'T the one most of us were obviously looking forward to, that being Rousey/Lynch, but I'm going to deviate from the norm and take the positive approach. Lynch was going to be a true test for Rousey because she's been protected from a booking standpoint thus far in her matches. In just about all cases, she was going up against someone unproven or frankly not very good. Lynch is not only super solid, but she's had a hell of a year. From mic work to social media, she's been absolutely tearing it up. I've loved every second.
The Jax gaffe was unfortunate, but give WWE credit that they did the right thing and inserted Charlotte Flair. They could have taken the easy road (and made this match much easier to predict) by having Rousey take on someone far further down the ladder, but instead they hit reset and gave us this presumed WrestleMania match early. I've always appreciated Charlotte's abilities, and I think this maintains the "uphill climb" story WWE has tried without a ton of success to implement regarding Rousey's character. Charlotte will have to adapt to Rousey's MMA hybrid style, but Rousey will likewise have to contend with someone who knows how to beat people in a wrestling ring quite handily and thoroughly.
In addition, this just makes the eventual Lynch/Rousey match much more exciting. Think of all the build we'll have between now and when it goes down. They are getting raw emotion and major fan reaction in a way that all WWE's semi-lip service empowerment cannot. That also plays into the outcome of this match for me. You can protect Rousey and Charlotte with a Lynch run-in. I think a no contest after a very good match makes sense here. Usually not a fan of that outcome, but it makes sense from a story perspective.
Winner: No Contest due to Becky Lynch interference; Smackdown leads Raw 3-1
Matthew: I was so utterly disappointed that we wouldn't be getting Becky vs. Ronda this Sunday. It was the coolest thing they had built for this show and 100% deserved to go on last. Silver lining, now they can go toe to toe on a grander stage if you catch my drift.
That said, let's address the match at hand. After being forced out of this match, Becky selected Charlotte to represent Smackdown against Raw's Champion Ronda. This is what I expected as a Wrestlemania main event, so colour me surprised that we are getting to see it here on only a few days notice. This is definitely an anticipated matchup and I'm hoping they deliver.
Logistically this might be tough, because Ronda is still quite new at all this, and given reports often has her matches rehearsed for weeks ahead of a show. The sudden change of opponent could throw off whatever match they had been working on for weeks and could be a great test for her. I'm sure they'll put on the best match they can. I'm certainly cautiously optimistic.
Winner: Ronda Rousey (because it makes all the sense in the world to keep her looking strong)
John: It is a shame that Rousey vs. Lynch isn't happening, but I don't think anybody is going to complain about it in a few months if it's the main event of WrestleMania. The injury to Lynch will turn out to be a blessing in disguise. This Rousey vs. Flair match reminds me of last year when Finn Balor vs. AJ Styles happened with just two days notice due to a schedule change caused by illness. Lynch will probably watch the match from ringside, but I don't expect her to get physical with Ronda. Maybe there's a staredown after the match. That's it.
I'm going with a Rousey win because of the two women, she is booked stronger. Yes, Charlotte is booked strong and protected often, but no woman in 2018 is pushed the way Rousey is. I've been impressed with Rousey against other women including Nikki Bella. Charlotte's another level, though. Charlotte is a better athlete than pretty much any woman in the company, so as long as they plan it out like most Ronda matches, they should be able to produce something pretty cool. I expect a few "wow" moments and in the end, Rousey wins via armbar.
Winner: Ronda Rousey
Raw's Universal Champion Brock Lesnar vs. Smackdown's WWE Champion Daniel Bryan
Mike: So this happened. I'm not entirely sure how to feel about this match, and I'm equally unsure if that's good or not. I am, however, completely willing to give it a go. Both titleholders have had an odd series of events leading up to this match. Lesnar's "surprise" win over Braun Strowman has left a bad taste in the mouths of many a wrestling fan, myself included; it really seems WWE missed an opportunity to give Strowman a shot after months of build and instead we regressed to Brock the Part-Time champion. I cannot argue that Lesnar vs. Bryan doesn't have the potential to be a fantastic match, but they could have told a similar story with Braun/Bryan if they chose. Lesnar is a far better worker, but he's very inconsistent. I wouldn't assume anything here.
As for Daniel, his once-unthinkable return to greatness is complete. It happened in a very unlikely way, but it happened, and for that we should be thankful. Lesnar was booked in a rematch against AJ Styles all the way up until this week's Smackdown, when Bryan became champ and heel in one fell swoop. It's interesting that they chose now to go into this direction, but perhaps Vinnie Mac looked at the same matchup two Series in a row and felt he had painted himself into a corner. You can't have Brock decisively win against the same opponent again, but Brock doesn't lose.
The X-factor here is that of course Bryan is now a heel, and despite that you can expect him to be cheered heavily against Lesnar. That should make for an odd environment to tell a story. There could unquestionably be developments on the equally-bizarre Shane McMahon front here, but I figure some sort of cheap match where Bryan toys with what the fans want to see and then takes his belt and goes home. If you want us to even think of booing D-Bry, that's what he'll have to do.
Winner: Brock Lesnar, possibly by countout or intentional DQ; Smackdown leads Raw 3-2
Matthew: I commend the WWE for trying here. I'm on board for the new wrinkle of a devilishly heel Daniel Bryan. I can't wait to see where that goes and what he can bring to the show as the WWE Champion. I'm also happy for him, as this is a match that he really wanted to have and now he gets to. That said I'm not excited, because Brock Lesnar.
It may be different for others, but Brock Lesnar has disappointed me too many times to get me excited for a match ever again. If it's a great match, I'll be happy. I'll enjoy it and give it the praise it deserves. With Daniel Bryan it is certainly a possibility. But my near certainty that a Brock Lesnar match will disappoint, overrides my optimism that Daniel Bryan can deliver.
Winner: Brock Lesnar (I don't really need to explain why right?)
John: This is a match I would have loved in 2014 and I'll still like it today, but who knows if Brock Lesnar is going to want to sell for Bryan. If this is like Lesnar vs. Ambrose a few years ago then it's going to disappoint us. If it's like Lesnar vs. Styles, which was a tremendous match that was evenly booked, then it could be the match of the night. Please Brock, don't hurt Daniel Bryan with your sloppy suplexes. Lesnar and Bryan have both been pro wrestlers for nearly 20 years, so here's hoping they are smart when it comes to planning some of the spots in this match.
It would be a surprise if Lesnar lost although Bryan finding a way to win would be great to see. I think the most likely story of the match is Bryan will escape the F5 attempts all match long and then Lesnar will finally hit it to get the win after 17 minutes or so. Post match, I think AJ Styles will show up, kick Daniel Bryan in the balls for revenge and drop him with a Styles Clash leading to Bryan's feud with Styles continuing to TLC while Lesnar disappears until Royal Rumble in two months.
Winner: Brock Lesnar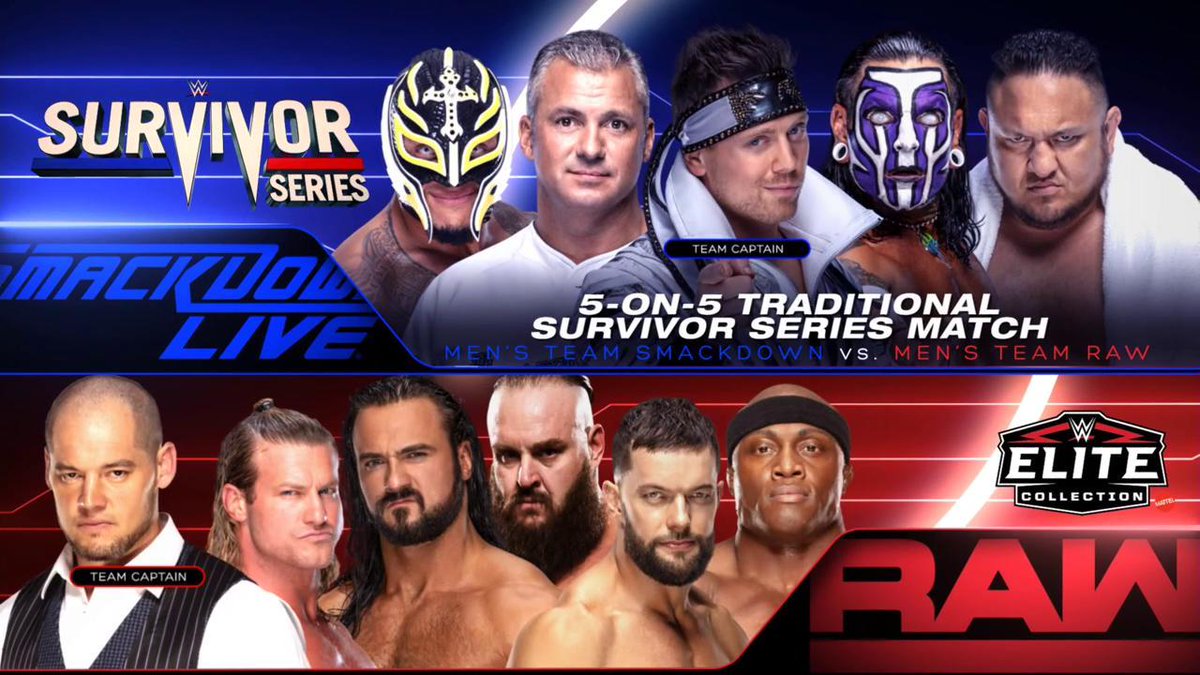 Men's 5-on-5 Elimination Match: Team Raw (Drew McIntyre, Dolph Ziggler, Braun Strowman, Finn Balor, Bobby Lashley) vs. Team Smackdown (The Miz, Shane McMahon, Rey Mysterio, Samoa Joe, Jeff Hardy)
Mike: What was believed to at one point be a match featuring Kurt Angle and Daniel Bryan has now morphed into this, a reasonably solid collection of (mostly) first-rate talent and…Shane McMahon. Whenever joys in life are experienced in the wrestling world, it simply can't be long before someone with that last name shows up and ruins it. You're getting everything you asked for and then…tube socks. Every year. Thanks, Uncle Vince.
Shane's blatantly stupid "Best in the World" World Cup win aside (I get that it's for some kind of long-term reason, but it's just idiotic), he is the only weak link in a match featuring plenty of talent. Raw's side of the equation has two guys thought to be on the cusp in Braun Strowman and Drew McIntyre, and I think they did a decent job of giving Strowman motivation to play well with others with Stephanie's segment this past Raw where she promised Braun a shot at Lesnar and revenge. Everyone else on Team Raw is competent enough but ultimately cannon fodder. We could see a furthering of the teased Ziggler/McIntyre break as well.
On Smackdown's side, Bryan's developments have put Jeff Hardy in the match. He's a good choice since he is more than capable of delivering some high spot moments, but his best miles are behind him. That's a common thread here, as the returning Rey Mysterio is fun and talented but over-the-hill. Even Samoa Joe is toothless to the average fan after losing to AJ six hundred straight times, leaving just The Miz (oddly enough) as the go-to guy for Team Blue. Miz deserves the rub, don't get me wrong, but not in this fashion.
I don't see any scenario where Strowman gets his shoulders pinned to the mat, so I expect Shane McMahon to continue whatever heel build he's currently working on. Maybe he's been in league with Stephanie all this time and kicks Smackdown right in the feels at the final moment? Raw gets it done here and leaves us with a tie, which considering the WWE right now is probably exactly what it should be.
Winners: Team Raw (Strowman & McIntyre survive); Raw and Smackdown finish 3-3
Matthew: This is certainly a match. I stared at the list of names included in this match and hoped something clever or interesting of fun might come to mind, but honestly, with two weeks build, there isn't much meat on this bone. I mean they are going to try to sell this as being some kind of Team Raw search for vengeance for Crown Jewel (but literally who could give a damn about anything that happened on that farce of a show?). They are going to lean heavily on Braun dissension on Team Raw, and I'm guessing Mysterio and Miz could have tension on Team Smackdown too. There's also the Shane of it all (I still haven't the slightest clue where they are going with that).
I'm trying to talk myself into caring, but I don't. It's amusing actually, the degree to which this match doesn't inspire any emotion in me. I hope it's good. I think it will be mostly good. I expect the stars to shine and can only wish for something interesting to happen during it.
Winners: Team Raw with Drew McIntyre as the Sole Survivor (because he's got the ball right now, let him run with it!)
John: This feels like it is easy to predict with the Smackdown match really lacking in terms of having a guy in this match that you could make a case for winning. Two years ago, when Bray Wyatt and Randy Orton won for Smackdown it fit their story as unlikely allies that eventually broke up. Last year, Braun Strowman made sense as the winner and Triple H was in there as a winner because…well…he married well? Sure. There was no follow up story to it.
The two names that stick out the most on the Raw side are Strowman and McIntyre. I think with Baron Corbin as the captain of the team, perhaps Strowman will get eliminated due to attacking Corbin. I'd rather see Strowman booked as a winner, though, so I expect a typically dominant performance from Strowman. Drew McIntyre will also be a survivor because he's on the verge of a big push, which is certainly fine with me. Last year's men's elimination match went about 33 minutes and two years ago was 53 minutes, so I can see this in the 40 minute range.
My predictions led me to 3 picks for Raw and 3 picks for Smackdown going into this match. Put this match on last (since there's no Rousey vs. Lynch) and that will end the night with Raw getting the 4-3 advantage to win.
Winners: Team Raw (Braun Strowman and Drew McIntyre as the survivors)
BONUS TOPICS!
The Match I'm Looking Forward To The Most
Mike: I'd love to say Lesnar/Bryan, but too much iffiness there for me. I'll go Rousey/Charlotte. A more than suitable replacement that will show us a lot about Rousey.
John: It's Lesnar/Bryan and Rousey/Flair about the same. I like the elimination matches too because they can be booked in so many ways.
The Match I Care About The Least
Mike: The Raw/Smackdown 5-team tag. Far too one-sided.
John: AOP vs. Sheamus/Cesaro because heel vs. heel is a bad idea.
Longest Match
Mike: The 5-on-5 men's match. Lots of big names, lots of story to tell.
John: The men's Raw vs. Smackdown match is the safe pick.
Shortest Match
Mike: This is pretty tough. I think Murphy/Ali gets more time than AOP/Bar in a squeaker.
John: AOP vs. Sheamus/Cesaro.
Excitement Level on a Scale of 1-10 (1 being low, 10 being high)
Mike: I can't go higher than a 5. There is only one championship on the line and the overtones of brand versus brand are more than played out. The saving grace is the uncertainty surrounding a bunch of the bigger matches on the card. Reading a recap (certainly John's: cheap pop!) will likely be enough.
John: 6. The match quality should be pretty good, but storylines are weak due to the Raw vs. Smackdown factor that prevented the wrestlers from interacting on the road to these matches. Also the lack of title matches hurts because fighting for "brand supremacy" really isn't a big deal at all.
Final Thoughts
John: That's all for us. I'll be back with a review of Survivor Series on TJRWrestling.net likely on Monday rather than a live review.
Mike – @DharmanRockwell
Matthew – @MJDP_GSE
John – @johnreport
If you want to send an email, send it to me at mrjohncanton@gmail.com as well. Thanks for reading.