TJRWrestling WWE Super Showdown 2019 Preview (The Undertaker vs. Goldberg)
Welcome to the TJRWrestling WWE Super Showdown. I'm going to do this one solo because frankly, this doesn't feel like that big of a show even though WWE claims that it is. We know it's going to be a very profitable show for them.
Super Showdown takes place in Jeddah, Saudi Arabia even though WWE has refused to say "Saudi Arabia" on their television shows. They have said Jeddah at least. It's because of the controversy that exists with Saudi Arabia. The reason WWE is there is because of the ten-year deal with the Saudi Arabian General Sports Authority that pays WWE something like $80 million per year for two shows. Easy money for WWE. Some companies have pulled out from their deals with Saudi Arabia, but WWE marches on.
The start time of Super Showdown is 9pm local time in Jeddah, which is 2pmET here in my time zone, that's 11amPT and it's 7pm for my friends in the United Kingdom and Ireland. It's similar to Greatest Royal Rumble and Crown Jewel last year. I like having an afternoon show to write about. That's why I wish there was a UK PPV.
There is some controversy surrounding the show because some male wrestlers in WWE are not going to take part. Daniel Bryan and Kevin Owens have chosen not to go. Aleister Black isn't going because of some tattoos on his body that may upset people in Saudi Arabia. Sami Zayn is not going perhaps because it is his choice, but also because he is Syrian and there are safety concerns. Zayn announced that he is partnering with the Syrian American Medical Society (SAMS) to launch a mobile clinic in Syria to bring medical aid to those in desperate need. The fundraiser is going to start on Friday at 2pmET, which is when Super Showdown starts. Check it out on Sami's Twitter account. Good for him for doing that. AJ Styles, who is on the banner up top, isn't wrestling because he's dealing with a sore back and is going to miss about one month of action. That means five of WWE's most talented wrestlers will not be there.
The card currently has ten matches with one more possibly being added. As I noted yesterday, Natalya and Alexa Bliss flew over to Jeddah with the WWE crew because they might have a match. One of the main issues that WWE fans have the company doing these Saudi Arabia shows is that women's matches were banned last year, but apparently, this match may be allowed now. There have been other women's sporting events held in Saudi Arabia, so it's not like WWE would be the first. However, I'm sure that if it does happen, Stephanie McMahon will brag about it because that's what she does. Anyway, I hope Natalya and Alexa get to have the match.
That's enough rambling from me. I'm not going to write as much as usual because this show feels like a glorified WWE live event in a lot of ways. I'm not that excited about it, but covering WWE is what I do, so I'll be watching and reviewing it.
(Note: All graphics are from WWE.)
The Usos vs. The Revival (Kickoff Show)
Before I start, can we get the Raw Tag Team Champions Zack Ryder and Curt Hawkins a storyline? They have had nothing to do for the past month. These teams always have great matches, so it should be the usual solid effort between them. The bad comedy skits have stopped because WWE probably realized that they weren't helping either side. This is about finding out who the better team is. I think The Usos will get the win here although there will probably be more matches between them in the months ahead, so the outcome doesn't matter that much.
Winners: The Usos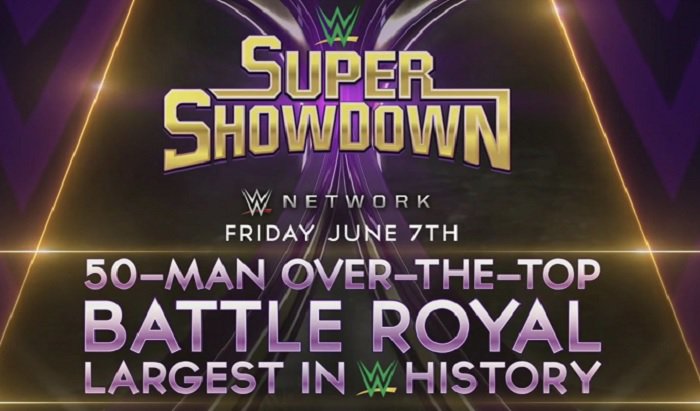 50-Man Battle Royal
My interest in this match is very low and WWE hasn't tried very hard to promote it. Wrestlers aren't doing promos about how they want to win. There's no reward for the winner as far as we know. It's just the "largest battle royal" in WWE history or however they want to promote it. Since I'm here to pick a winner, I'll go with a babyface wrestler. My pick will be The Miz because he could use a win. Ricochet would be a cool choice too.
Winner: The Miz
Lucha House Party (Kalisto, Gran Metalik and Lince Dorado) vs. Lars Sullivan
It's the first official match on the main roster for Sullivan. He's not going to lose. It should be a match where the Lucha House Party trio gets in a decent amount of offense, but then Sullivan will dominate and win. Keep it under five minutes. If Lars Sullivan loses a match on television this year I would be surprised. I hope they get him a manager soon because his promo on Smackdown wasn't good.
Winner: Lars Sullivan
Intercontinental Championship: "Demon" Finn Balor (c) vs. Andrade
This will be one of the best matches on the show and it should be great to watch. They have wrestled a few times in the last two months. They clearly have a lot of chemistry together because they are both experienced guys that can work different styles. If they get 15-20 minutes, then they will probably have one of the best matches of the night. If it's closer to ten minutes, then I'll be disappointed. Anyway, Balor is the "Demon" gear so that means he'll get the win. I think Andrade has a very good chance of being the next Intercontinental Champion and I'd like to see it, but it's not happening here.
Winner: Finn Balor
Braun Strowman vs. Bobby Lashley
Please keep this short. It's not that complicated. Lashley gets in some offense for a few minutes, Strowman makes the comeback with some yelling and gets the win with the Powerslam. Lashley had the advantage on Raw, so it makes sense for Strowman to win here. It's amazing how inept WWE's creative team is as far as Strowman goes because he's a popular guy, yet they never seem to want to push him. He has had nothing interesting to do this year.
Winner: Braun Strowman
WWE Championship: Kofi Kingston (c) vs. Dolph Ziggler
I think the build for this match has been pretty good for the last three weeks. Ziggler returned as a surprise because he's been on a "WWE vacation" as he's called it for most of the year. Ziggler's issue is that he felt it should have been him in the WWE Championship spot at WrestleMania and because it was Kingston, he wants revenge. Simple enough. Ziggler was brought back apparently because WWE realized they couldn't book Kingston against Kevin Owens or Daniel Bryan since they refused to work this show. As a result, WWE needed a heel to face Kingston and that led to Ziggler coming in.
These two guys have wrestled so many times that WWE released a playlist of 27 televised matches between them. That's just televised. Add in all the house show matches and they have wrestled dozens of times by now. The good thing is that they haven't wrestled recently, so it will feel fresh. Anyway, I'll go with Kofi Kingston here in what should be a pretty good match that gets around 15-20 minutes.
There is something to remember about this match also. Brock Lesnar said he would cash in the Money in the Bank on Friday, but that doesn't necessarily mean it will be on Seth Rollins. It could be on Kofi Kingston. I don't think it will happen. I'm just throwing it out there as a possibility.
Winner: Kofi Kingston
Triple H vs. Randy Orton
Triple H will turn 50 years old next month and he's only had one match this year when he beat Batista at WrestleMania. Randy Orton is 39 years old, which might be younger than some people think because he started on the main roster when he was only 22 years old. These guys have wrestled dozens of times, but like with Kingston/Ziggler, it has been a long time since their last match. It will probably be fine as a three-star level match that gets around 10-15 minutes.
I'm going with Orton for the win. Last year at the first Saudi Arabia show, Triple put over John Cena clean. This year, I think it's Randy Orton's turn to beat Triple H clean. I can see WWE wanting Orton to get the win and perhaps it will lead to him getting a push against Roman Reigns
Winner: Randy Orton
Roman Reigns vs. Shane McMahon
I'm so tired of Shane McMahon getting pushed and being in featured matches. He has had a match at every WWE PPV this year. The guy is 49 years old. I realize that in this case, WWE is using Shane to try to help Drew McIntyre and Elias get more heat. However, in doing so, it makes those guys look like Shane's lackeys instead of looking like bigger stars because Shane is hanging out with them. Anyway, this should be kept simple with Reigns winning after ten minutes. McIntyre will probably try to help Shane win, but Reigns should win and then Reigns has the match with McIntyre later this month at Stomping Grounds.
Winner: Roman Reigns
Universal Championship: Seth Rollins (c) vs. Baron Corbin
Speaking of people I'm so tired of, here's Baron Corbin getting a Universal Championship match. The storyline is that Rollins got his ass kicked by Brock Lesnar on Monday's Raw, which led to Rollins getting taken away in an ambulance to sell the devastating injuries. That should lead to a match where Corbin is on offense for 90% of it, the announcers will talk about how Rollins can't come back and of course, the babyface Rollins finds a way to come back and win.
Winner: Seth Rollins
Will Brock Lesnar successfully cash in the Money in the Bank briefcase here? My prediction is no. I honestly think that if it happens, then it will be later this year at SummerSlam or perhaps the first Smackdown on Fox in October. Those shows are more important. This is a glorified house show. There is no need to take the Universal Title off Rollins right now when he's only held the title for two months. Give Rollins more of a chance as Universal Champion. I think WWE will do that.
What they might do here is tease the Lesnar cash in, but Rollins will find a way to fight him off and Lesnar won't cash in. They can follow up with Heyman getting mad at Lesnar for not cashing in on Monday's Raw when he had a better chance to do it. If I had to guess, August or October is more likely for Lesnar's cash-in attempt and I think it will be the WWE Title. Could I be wrong? Of course. I'm just offering up my guess.
The Undertaker vs. Bill Goldberg
This match between the 54-year-old Undertaker and 52-year-old Goldberg has been hyped up as the main event of the show. Whether it goes last or not, I'm not sure, but it makes sense to put them on last because it's the attraction match. Some people might call it a "dream" match although I can't say I dreamed about this match. There's not much to say storyline wise, but I liked the end of Smackdown with their staredown.
They have had a lot of time to prepare for this match and both guys look to be in pretty good shape. The Undertaker has lost weight, which is good for a guy that's had hip and knee issues for many years. Goldberg hasn't had a match in two years, so obviously he's going to be rusty, but he has known about the match for at least or month or two. I think he'll do fine. They'll keep it simple, brawl around ringside a bit and probably go about 7-10 minutes at most. I'll pick Undertaker to win because he's more likely to keep wrestling while this may be the end for Goldberg…but it's wrestling, so does anybody ever retire? It never stops. Anyway, here's hoping it doesn't suck.
Winner: The Undertaker
BONUS TOPICS!
The Match I'm Looking Forward To The Most
Finn Balor vs. Andrade.
The Match I Care About The Least
50-Man Battle Royal. I just don't care.
Longest Match
Kofi Kingston vs. Dolph Ziggler. Around 20 minutes.
Shortest Match
Braun Strowman vs. Bobby Lashley.
Excitement Level on a Scale of 1-10 (1 being low, 10 being high)
I'm at about a 5 for this show. I don't expect a great show. The lineup just isn't that strong, but I hope the weak matches are better than I think and that the better matches live up to the hype.
Final Thoughts
I think I'm writing a live review, but it may be later on Friday. I don't know yet. Check back to TJRWrestling on Friday to find out.
Thanks for reading. My contact info is below. Go Toronto Raptors and Toronto Blue Jays.
John Canton
Email mrjohncanton@gmail.com
Twitter @johnreport
Personal Facebook and TJRWrestling on Facebook