TJRWrestling WWE Royal Rumble 2019 Preview
John: Welcome to the TJRWrestling WWE Royal Rumble preview to officially kick off the Road to WrestleMania that includes a lot of pointing and staring at the WrestleMania sign. It's the 32nd edition of the Royal Rumble and you can watch it on Sunday night on WWE Network.
The Royal Rumble lineup consists of the men's and women's Rumble matches that should go about one hour each and then there are seven title matches. Two title matches are on the Kickoff show, so that leaves five matches on the main card. The main PPV will probably four hours (or more) and if you watch the Kickoff Show then that will be about six hours. The crowd at Chase Field in Phoenix is expected to be around 40,000 people. They'll be tired during such a long show, but a lot of fans are traveling from a long distance to be there, so I expect it to be a good crowd for most of the night.
Joining me for the preview are Mike Holland and Matthew J. Douglas.
(Note: All graphics are from WWE. The banner up top is courtesy of our friend Melo Man.)
Cruiserweight Championship: Buddy Murphy (c) vs. Akira Tozawa vs. Kalisto vs. Hideo Itami (KICKOFF SHOW)
Mike: To the surprise of very few, the Cruiserweight Championship match has every ability to be a match of the night contender. To the surprise of even less than very few, it's on the preshow. Does WWE truly not get the patently obvious idea that putting more eyeballs on what this division is doing would be a good thing? When a card is stretching into the six-hour mark, you can't blame the fans for getting their chow and taking some selfies instead of paying any attention to this very solid bout.
Murphy has been booked correctly since winning this belt, and his work has spoken for itself. When you take a champion like that and place him in a 4-way, you can bet the general plan is to quietly remove the title from him without having him look bad in a loss. WWE has "promised" to adjust some of these stale trends in 2019, so Murphy could very well get the duke and head into WrestleMania as champ. If he's losing, though, there's only one of the three that makes sense to me.
That competitor is Hideo Itami, woefully overdue for a run. WWE has to be aware of known talent looking to the greener grass, and Itami is high on that list in my view.
Winner (and NEW WWE Cruiserweight Champion): Hideo Itami
Matthew: I can't pretend like I know much of the story going into this match. The WWE floods the market with so many hours of programming that something's gotta give, and pretty much every week it's 205 Live that I end up skipping to get work done. That and, you know, live my life. With that said, 205 Live seems to regularly produce matches that I need to go out of my way to catch, and I can't say I expect any less here. The match will be good, if nothing else. Unfortunately knowing that doesn't much help me in the realm of predictions.
Winner and STILL WWE Cruiserweight Champion: Buddy "The Body" Murphy (based on pretty much zero information other than the great nickname he should adopt immediately)
John: I watch 205 Live most weeks although I don't review it, so sometimes I fast forward through parts of it. It's tough for these guys to really win over the crowd when they are constantly put on the Kickoff Show of these major shows. A 4-Way match is typically pretty exciting with a lot of high spots, so I think this will be very good. I'll go with Murphy to retain just because he's doing well as a heel champion. If anybody else wins, it would probably be Itami to try to give him some momentum in the division.
If they really wanted Murphy to get over more as a heel, he should brag about being engaged to Alexa Bliss. Most of the male audience will hate him for that!
Winner: Buddy Murphy
United States Championship: Rusev (c) vs. Shinsuke Nakamura (KICKOFF SHOW)
Mike: I certainly think Rusev did enough in 2018 (and got enough support from the fan base in general) to merit a better fate than kickoff show material, but it might be for the best because this feud feels manufactured at best and desperate at worst. Haven't we already had enough bouts for the sake of Lana? Every time the company pretends to be giving her some sort of fair shake in the ring, we revert back to the overplayed chivalry-isn't-dead-dammit angle.
Rusev unseating Nakamura during the holidays was a bit of a surprise, but this title couldn't really mean less right now. Shinsuke suffered through some nonsensical booking last year, and being a champion just gave the company more opportunities to make him look weak in winning. When the epitaph is written on the headstone of Nakamura's WWE career, I hope for everyone's sake it's a lot better than what was written for him while there. It started out with such energy and promise and it's devolved into this.
Rusev is having a moment and I'll choose to focus on the positive of that. I don't see any chance of Nakamura defeating him and expect he'll be post-WWE post haste.
Winner (and STILL United States Champion): Rusev
Matthew: What a difference a year makes. Shinsuke won The Royal Rumble last year and announced that he would be challenging AJ Styles, setting up the bout the fans were dying to see in a WWE ring. This year he's on the Kickoff Show in a match most fans probably forgot was on the card.
Shinsuke has lost a lot of steam in the latter half of 2018 and I do not know where to start rebuilding him, or whether doing so serves a purpose at this point. He's certainly salvageable as a TV presence. I can't say I'm much more excited about Rusev. Since splitting with Aiden English, Rusev Day has lost its charm and appeal. I'm sure we can agree that if this match had any desire of being interesting, English would cost Rusev the title and align with Nakamura, becoming a mouthpiece for the King of Strong Style as well as the singer of the United States of Nakamerica's National Anthem. But why would WWE want to be interesting?
Winner and STILL United States Champion: Rusev (because he won the belt less than a month ago and I don't know what Shinsuke's contract status is going forward)
John: These guys had a great match on the Christmas Smackdown with Rusev beating Nakamura for the title and then they didn't do much after that. It's hard to get excited about a title match when the creative team barely pays attention to it. I'll go Rusev to keep the title while a new challenger steps up, which will most likely be somebody like Andrade or perhaps Samoa Joe to get some gold on him. It's a shame to see how far Nakamura has fallen after winning the Rumble one year ago.
Winner: Rusev
Smackdown Tag Team Championships: The Bar – Sheamus and Cesaro (c) vs. The Miz and Shane McMahon
Mike: There's no way that a solid and seasoned team like The Bar can lose to some slapped-together silliness of a tag team heavily featuring a non-wrestler, right? Tell that to Braun Strowman and Nicholas and get back to me. The copious and ghastly stench of that decision lingers all over this match. Not to be too dismissive of Shane McMahon, but when is enough enough? I'm all for whatever it takes to make the product fun, but his character is uninteresting and this entire slog has dragged on through multiple continents without ever approaching anything resembling logic. No mas!
WWE loves certain tropes for time immemorial, and one of those is definitely the reluctant tag team champs that can't get along. I'm not sure what any of this is building to (nor, I suspect, is WWE creative), but if it's a reverse where Miz ends up being an appreciated family fan face for a while Shane-O-Mac regains his sneer as a manipulative scion, I'm pretty okay with that. The Smackdown Tag Team Division has flourished for a while, especially compared to the mess on Raw, but it needs a bit of a shakeup. Let the WM build begin.
Winners (and NEW Smackdown Tag Team Champions): The Miz and Shane McMahon
Matthew: There are two schools of thought here. Either they are setting up for Shane vs. The Miz at Wrestlemania, which could mean that they are going to The Miz turn on Shane-O-Mac on Sunday to set up their rivalry or this Shane and Miz thing is for real and they win the belts. I mean, they could always do the turn later. I can't pretend the idea of Miz and Shane as Tag Champs isn't morbidly intriguing. It would certainly freshen up the Tag Team scene for a little bit. I say they should go for it and have them win!
Winners and New Smackdown Tag Team Champions: Shane McMahon and The Miz (because it could be fun)
John: I'm sure there are people bitching about a "rookie" tag team like Miz and Shane getting a title shot so soon. There are valid reasons for those complaints, but I don't mind the story because it's been entertaining. It has actually made Miz into a face at least temporarily. I think long term we'll see the true colors of The Miz as he turns on Shane to go back to being a heel, but that will come after a title reign. The Bar are fine as champions and Smackdown has a lot of other great teams too, but I think there's going to be a title change here. It should lead to a fun moment with Miz overreacting a lot while the 49-year-old son of the boss Shane O Mac wins some gold.
Winners and New Smackdown Tag Team Champions: The Miz and Shane McMahon
Smackdown Women's Championship: Asuka (c) vs. Becky Lynch
Mike: It's a bit of a pity that this championship match is largely overshadowed by the suppositions of what's to come after. Most of those whispers have turned into a deafening roar over the not-very-well-kept secret that Becky Lynch's impending showdown with Raw's title holder Ronda Rousey will be money for WWE, both figuratively and literally. We're all aware that Lynch's social media savvy and general character build has been straight fire for months upon months, and the logical conclusion to that story is her facing Rousey. That road gets a bit more muddled should Lynch win this match, assuming WWE doesn't just pull a fast one from their bottomless bag of tricks and run roughshod over previous regulations regarding Rumble winners.
It's not a certainty, therefore, that Asuka comes out the victor here. That said, I love the idea of Lynch getting in the Rumble and can't see WWE seriously not doing that. Her being frustrated over this match can easily lead to her taking someone out and getting into the bigger match before the end of the evening. I don't see this getting a legitimate finish, so I'd expect a disqualification with either Charlotte or Rousey preventing Lynch from getting the gold while protecting Asuka as champ.
Winner (By DQ): Becky Lynch, Asuka retains the SD Women's Championship
Matthew: I anticipate this match being pretty bad ass. These two ladies can put on a show. They can beat the holy hell out of each other. They might be two of the most over acts in the entire company too. I like everything that Becky has been giving us since Summerslam last year. She's figuratively on fire and shows no signs of cooling off any time soon.
Asuka for her part has a lot to prove here, as she will want to show that her win at TLC wasn't all because of Ronda. She wants to prove that she's a legitimate Champion by beating the former champ one-on-one. It's a simple and effective story to tell and I'm here to see the way that they choose to tell it in the ring on Sunday Night!
Winner and STILL Smackdown Women's Champion: Asuka (because losing a slugfest here won't hurt Becky, especially if her night doesn't end here)
John: This is a tough match to predict. I think Asuka will remain the champion, but I can't see WWE having Becky lose…at least not clean. I'll go with the double disqualification finish when the women brawl on the floor and don't stop, which leads to weapons getting involved. That can lead to Lynch being angry about what happened, then she gets a spot in the Royal Rumble (maybe she beats up somebody backstage for it) and her night can continue from there.
From a pure match standpoint, I'm looking forward to this because they are very good in-ring performers. I know they have been doing triple threats at live events with Charlotte, so they are very familiar with eachother. I can see there being a rematch due to the cheap finish as well. Maybe Becky will win the title if they meet again.
Match Result: Double disqualification or double countout (Can I pick two? Sure I can!)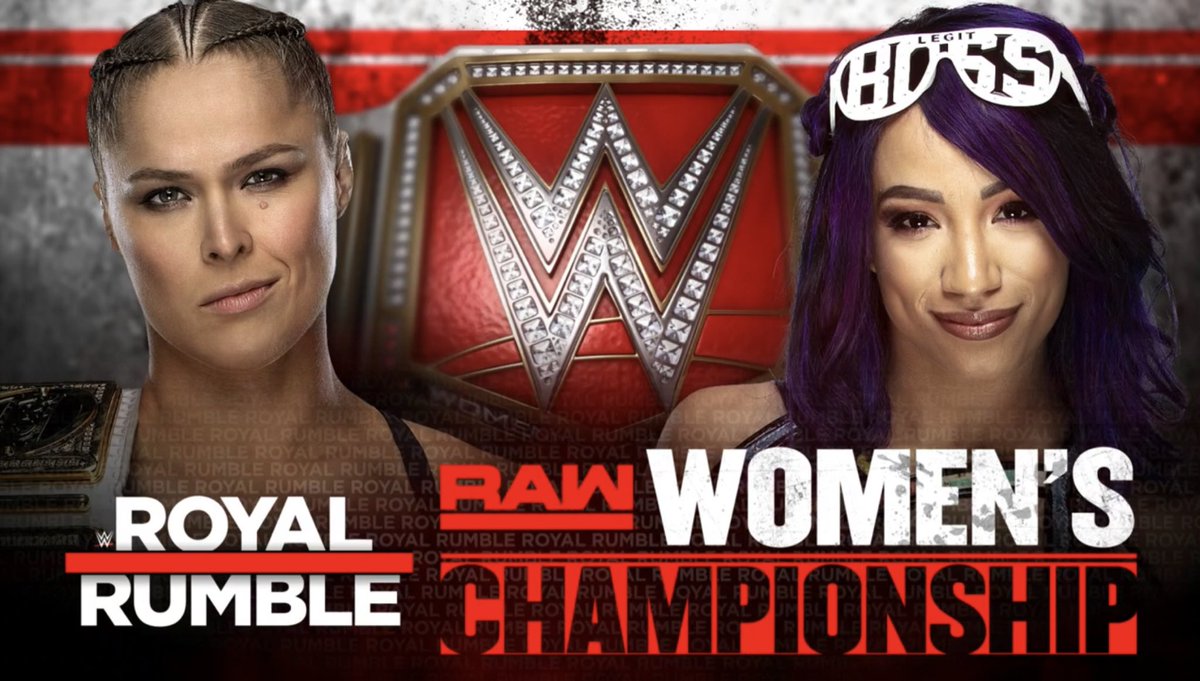 Raw Women's Championship: Ronda Rousey (c) vs. Sasha Banks
Mike: The internet is buzzing over what will happen with Ronda Rousey, and whether you subscribe to the theory that she's imminently departing Titan Tower or not, there's enough smoke to indicate to me that she's at the very least taking a sabbatical in short order. I for one think her weaknesses thus far have been far outweighed by what I've seen in the ring. Nobody expected this transition to be easy and we've seen plenty of opportunities dissipate when heralded athletes took a turn or two in the ring and failed spectacularly. This is far from that, and I appreciate it immensely.
We would expect, then, that her remaining near term dates are limited, and that makes Sasha Banks a very good choice for this match in which the outcome is all but assured. Banks had a brutal 2018 by all accounts, and her odd stop-and-start frenemy status with Bayley is the stuff of modern nightmares. It might be tempting to forget all the stellar work Banks has done both in NXT and on the big shows, and that would be a tactical mistake. Banks is a top-tier competitor and has the chops to make this thing special. Enjoy.
Winner (and STILL Raw Women's Champion): Ronda Rousey
Matthew: I'm happy that Sasha is getting this opportunity. I know that I should talk a bit about Ronda, but I feel like I don't have much to say that hasn't been said about her. She's had a phenomenal run and I don't expect it to end here. But I need to big up Sasha here because despite being somewhat miscast as a babyface, I think a lot of us forget how damn good she is.
She and Bayley have been forgotten trailblazers in the last year or so. They in many ways kicked off this change in what we expect from a Women's match in the WWE. While it's very likely true that they are the frontrunners to be the first women wearing the new Women's Tag Team Titles, they have been on the back burner for too long and I hope that Sasha reminds everybody that she can put on absolutely kick ass matches when given the chance to.
Winner and STILL Raw Women's Champion: Ronda Rousey (because she is destined to walk into Wrestlemania Champion)
John: This should be a good match like most of Rousey's PPV matches have been. Banks hasn't been in the title spotlight for most of the last year, so she's likely going to be eager to want to impress in this match even though it seems obvious she is going to lose. They did the story on Raw where Natalya tapped out to Banks in a tag match where Rousey tagged with Natalya, so technically that the first loss of Rousey's career in WWE. The Rousey/Banks feud is a typical WWE story for face vs. face matches where one of them (Banks in this case) feels disrespected, so she wants to prove herself.
I expect them to get something like 12-16 minutes in an even match where Banks comes close to winning a few times, but it will end with a Rousey armbar submission. What I don't know is if we see Becky Lynch or Charlotte Flair (or perhaps both of them) show up to attack Rousey after the match as payback for Rousey costing them the Smackdown Women's Match at TLC. It hasn't been teased much recently, but there should be some payback for that.
Winner: Ronda Rousey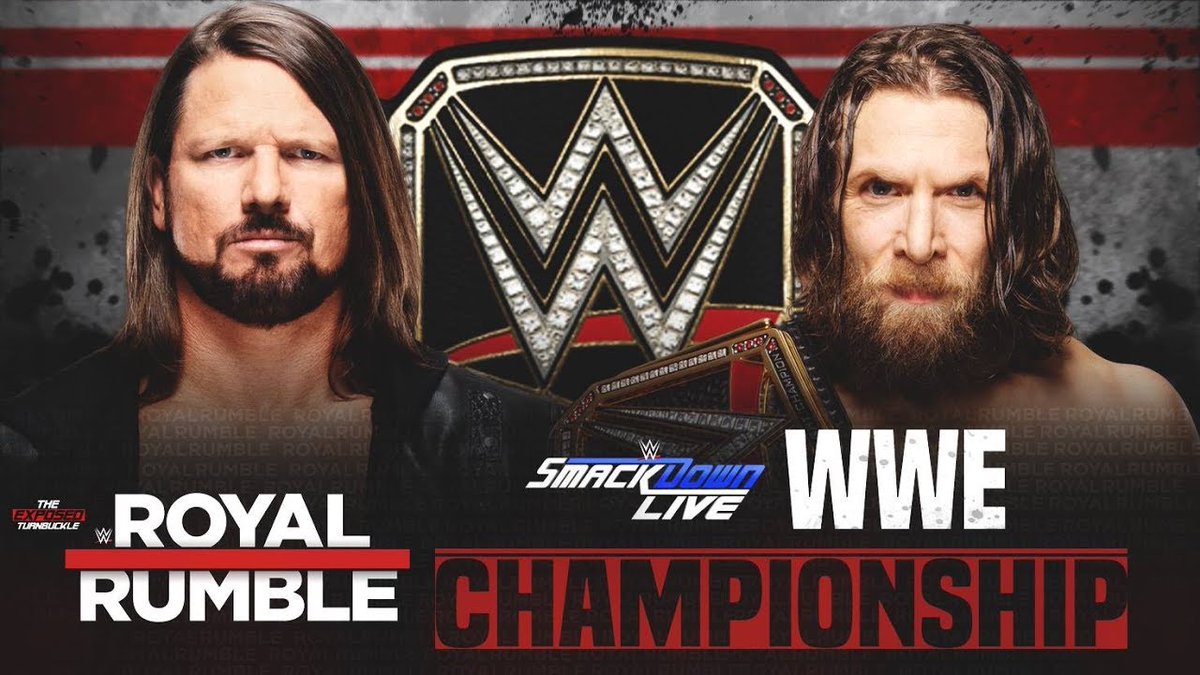 WWE Championship: Daniel Bryan (c) vs. AJ Styles
Mike: I'm all for variety being the spice of life, but I also know that when you've had a great dish, you don't mind going back to it again and again. Bryan v. Styles is that great dish, a super strong entrée on a wrestling menu that too often overpromises on bells and whistles and underdelivers on flavor. Put simply, this would be something to tune in specifically for even without any semblance of a story. The polarizing development of Daniel Bryan as a heel attuned for the North American audience has been a very solid choice and in my mind further cemented the idea that D-Bry naysayers (assuming there are, in fact, any left) are missing what's fairly evident to me: Bryan is the type of wrestler that can do it all. His aggrandizing promos have brilliantly played off his previously appreciated mannerisms, and taken the social conscience we all appreciated and turned it right on its bearded head. It works because he looks like he believes what he is saying, as all the best wrestling promos do. The fact that he is one of the best wrestlers in the world is somehow not the opening statement here. Remarkable. It's a daily gift that he was not forced into early retirement, and that gift is on display again Sunday.
For Styles, it's a tougher spot at the moment. He had an unbelievable 2018, and is fully capable of stealing any show on which he appears, but his character's sudden aggression is slightly ill-fitting and stalemates with Daniel are clinically stellar but stuck in neutral. I would expect part of this story to be setting up AJ's next opponent, which if rumors are to be believed is Randy Orton. That will be a heck of a match, although not as good as this. Bryan is red hot right now and deserves to hold this title at minimum until Mania.
Winner (and STILL WWE Champion): Daniel Bryan
Matthew: Daniel Bryan is a wonderful man. He's a spectacular performer. I'm in awe of him each week. And he happens to be right about everything, and thus, not a heel in my eyes! #DanielBryanIsAHero #NotAHeelInMyEyes.
"The New" Daniel Bryan, The Planet's Champion, is the best character on WWE TV. He's taken this ball and run with it, on the mic, on Twitter and in the ring. As much as I love AJ Styles as a wrestler, I'm rooting against him in this rivalry because of how good Daniel Bryan has been for the last several weeks. Oh and this match will be incredible, I have no doubt. How could it not be?
Winner and NEW WWE Champion: AJ Styles (because I see something in the works here, but in many ways, I hope that I'm wrong)
John: This will be an awesome match like their previous matches, but I was hoping for something a bit different this time around. I'm not sure why this is a regular match. This should be No Holds Barred or a Street Fight since they already had a regular match at TLC last month with Bryan winning clean. If they had that kind of match, I honestly think they could have a match of the year contender. Doing a regular match again will likely see them hit around the four star level (out of five stars), but I think if it was more of a brawl it could have been fun. It could be changed in terms of the stipulation and I hope that's what happens.
Bryan is on fire in his heel persona as the Planet's Champion. Like I write about in my Smackdown reviews every week, it's not necessarily what he says that makes people want to boo him, but how he says it. When you're yelling at people, nearly anything you say is going to get you booed. Bryan knows that and it's working really well. Styles is very likable while also being the perfect in-ring opponent since they are among the best in-ring performers in the last 20 years.
I think Bryan retains and I'd be shocked if AJ got the title back. I don't know Bryan's plans for WrestleMania yet, which is fine because there's over two months to go. I'm just happy he's back in the ring performing as the best in the world like he has been in the past. It feels right.
Winner: Daniel Bryan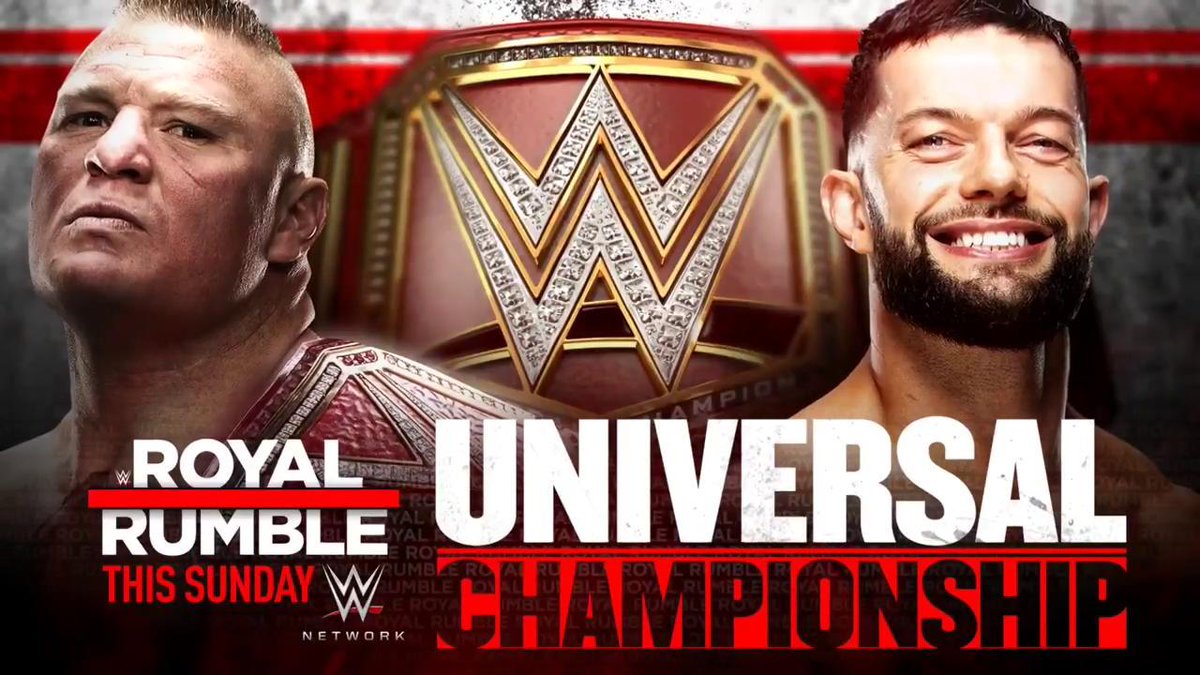 WWE Universal Championship: Brock Lesnar (c) vs. Finn Balor
Mike: I love that this match, broken as it seems to be, has managed to attract a lot of attention and enthusiasm to the Universal Title picture, something that's been more than difficult with Brock Lesnar's very part time status. First it was expected to be Roman Reigns, of course, then Braun Strowman, but with unfortunate situations and injuries lurking around seemingly every corner the powers that be finally made the call to resume a story that never really had a proper resolution. That story, naturally, is the abbreviated Universal Title reign of one Finn Balor.
We all know the details of how that played out, and nobody should ever be deprived a second chance because of injury. Whether you believe Vince McMahon took it as evidence that Balor would never be "his guy" or not is up to you, but I'll give you a big hint: it really doesn't matter. The very fact that this mantra is out there and at all believable means it's served its purpose already. McMahon's reappearance on television is far from accidental and he's smartly leveraged that into continuing the idea that he's at best unsold on Balor as his brand representative. That's a huge leap in the right direction for Finn, as he's been mired in feud after uninteresting feud since just about forever.
I would really like to buy into the idea that WWE keeps the underdog thing going and allows The Demon to overtake Lesnar and fully insert himself into the championship picture, but I don't think that's how this is destined to play out. Balor will do better than anyone would have thought possible a few short months ago, but the Beast will come out the winner to set up the inevitable showdown with…well, read on.
Winner (and STILL Universal Champion): Brock Lesnar
Matthew: I'd love it if Finn won here. It would be my favourite thing in wrestling this year. I would be ecstatic. I would be over the moon. I would weep tears of joy! But who am I kidding?
Lensar dominates early. Brock gets cocky. Balor withstands onslaught and mounts a bit of a comeback taking advantage of Brock's arrogance. He knocks Brock down. Balor hits his finisher. Brock kicks out of a near fall. He regains control, F-5, Brock wins. I saved you all 8 minutes.
Winner and STILL Universal Champion: Brock Lesnar (do I even have to say why?)
John: I would support anybody that says Finn should win this match and the title. It would be awesome to see. I just don't think it's happening because just like last year, Vince McMahon is deadest on Lesnar carrying that red title into WrestleMania as the champion.
I'm tired of Lesnar as the champion although I will give him credit for having a great match with Daniel Bryan at Survivor Series two months ago. That's an encouraging sign about this match, which will likely be very good because Lesnar apparently requested the match with Balor since he likes him. It will probably be a competitive match that goes around 15 minutes with Balor coming close to winning a few times, but ultimately it's going to be an F5 from Lesnar that wins him the match.
If you like Balor, don't be too frustrated by the loss. It's not about wins/losses. It's about getting over against the bigger names and it doesn't get much bigger than Lesnar, so if Balor is impressive against him, WWE management is going to realize the fans want to get behind Balor as much as anyone. They are using him better over the last month, which is an encouraging sign going forward.
Winner: Brock Lesnar
30 Woman Royal Rumble Match – Alexa Bliss, Natalya, Bayley, Ember Moon, Ruby Riott, Sarah Logan, Liv Morgan, Mickie James, Alicia Fox, Mandy Rose, Sonya Deville, Zelina Vega, Charlotte Flair, Naomi, Tamina, Peyton Royce, Billie Kay, Dana Brooke, Lana, Nia Jax, Lacey Evans, Nikki Cross, Carmella (#30).
Mike: Let me clear up a couple things right away, and much of it won't be news to anyone who's watched a Royal Rumble ever: 1) Most of the list you just read is cannon fodder for the one or two real threats to win this thing. 2) No Bellas is good for everyone. 3) This particular Rumble match hinges just as much on who's not announced in it as it does the roster above.
To me, Charlotte jumps off the page immediately as the rather obvious winner. She would be equally comfortable facing either reigning champion, and as she did not participate in last year's debut due to having gold of her own, it would add to her personal story. Nia Jax is always a threat to win something like this, and had a very solid showing last time around, but the combination of her botch on Becky Lynch and general lack of development means she exists in this match to be brutal and rack up eliminations.
Alexa Bliss is another intriguing name, as she hasn't wrestled much since her recent injuries and also is making her Rumble debut. I'm not entirely convinced she's ready to do battle, yet, and will be interested to see if it's her spot that ends up being claimed by Becky Lynch for any of a variety of storyline reasons. WWE clearly wants Bliss on the mic, which is a smart decision, and this would go a ways further to establishing that.
Lynch is most certainly appearing in this Rumble as a surprise entrant of some kind, and all that remains is to determine if she wins it straight up or if they want Charlotte booked in the match as well. We've seen previous Rumble finishes with more than one winner, so that bag of tricks is far from fully exploited at this point. I imagine Charlotte and Becky are simultaneously eliminated by each other and that sets up either Charlotte/Asuka and Lynch/Rousey or a triple threat with Ronda for the Raw belt. Either way, this sets up nicely to add to Lynch's nuclear heat going into the big dance.
Wrestler That Lasts The Longest: Ruby Riott. Highly underrated and deserves a push.
Most Eliminations: Nia. And it's all for naught. Bonus points for WWE if Lynch eliminates her with elbow.
Final Four: Carmella, Charlotte, Becky Lynch, Natalya.
Winner(s): Charlotte and Becky Lynch
Matthew: As far as the Women's division has come in the WWE, and it has come oh so far, juggling multiple storylines is not something that it does particularly well still. There is no real Women's mid-card. You're either at the top, or you don't really have a story. Exhibit A: this match. Outside of Mandy Rose and Naomi having beef over Mandy trying to seduce Naomi's husband, there really isn't much going on here as far as rivalries to be explored.
I'm sure we'll see a lot of teaming up that'll foreshadow the upcoming race for the Women's Tag Team Titles. Nia/Tamina, The Iiconics, The Riott Squad, Mandy/Sonya, Naomi/Lana (possible pairing), could all team up at various points in the match setting up their teams as threats for the Tag Championships.
Mostly we'll see Charlotte Flair lasting a long time in this match. We'll see Nia be the monster that needs to be vanquished. We'll see Bayley have a strong showing for herself. We'll see a few blasts from the past, a few NXT names, and of course I believe we'll see The Man herself.
Wrestler That Lasts The Longest: Charlotte Flair
Most Eliminations: Nia Jax
Final Four: Bayley, Charlotte Flair, Alexa Bliss, Becky Lynch
Winner: Becky Lynch! (who will challenge Ronda Rousey)
John: The women impressed me in last year's Rumble match, so I'm optimistic that they'll do well in this match as well. Last year's winner was Asuka, who was the obvious choice, so will they go with an obvious choice this year? Probably. It's likely going to be Charlotte Flair or Becky Lynch and if it's anybody other than one of them that wins I'll be very surprised.
There might be some women from the past that are a part of the match like Trish Stratus, Lita, maybe Nikki Bella and a few others, but there will probably be less than last year because there are more current women stars this year.
I don't want to predict a tie finish because I think there are better ways to set up the Rousey vs. Flair vs. Lynch match at WrestleMania. Flair wins here, then maybe Lynch wins the Smackdown Women's Title from Asuka at Elimination Chamber and that leads to Flair challenging Rousey and Lynch in a triple threat WrestleMania. That sounds good to me.
Wrestler That Lasts The Longest: Bayley
Most Eliminations: Charlotte Flair
Final Four: Charlotte Flair, Becky Lynch, Nia Jax, Ember Moon
Winner: Charlotte Flair
30 Man Royal Rumble Match – Randy Orton, Dean Ambrose, Seth Rollins, Samoa Joe, Drew McIntyre, Kofi Kingston, Big E, Xavier Woods, Apollo Crews, Baron Corbin, Elias, Jinder Mahal, Jeff Hardy, Bobby Lashley, Titus O'Neil, Andrade, Rey Mysterio, Mustafa Ali, John Cena (questionable), R-Truth (#30).
Mike: Couple of interesting side notes on the men's side of the ledger, starting with whether John Cena was ever supposed to be in this thing or not. I'd wager he was not supposed to be in it, but I also think he will definitely at least put in an appearance. To me a smart way to go with what's rumored to be the original plan would be for Cena to get attacked on his way to the ring by a new face (Lars Sullivan or otherwise) and be unable to go as his "injury" gets "aggravated". Hopefully no anal bleeding, Cole! Cena could also actually get into the match before a new face surprisingly tosses him. (Hey, it worked for Maven, right? Oh.) Either way, he's not winning even if he's in there.
Just as with our other Rumble match, a big question is whether a competitor not listed gets in. You can make an excellent case quite easily for Braun Strowman to be that guy. The odd way in which he's been diminished to the sidelines while presumably healthy allows for WWE to attempt to sneak him in there with an element of largely true surprise. If Strowman enters this match, he is winning it. In addition to the ongoing story of him being a favorite in this type of thing, you don't bring him in here to fail. That sets up a battle of the giants at WrestleMania, and this time Braun doesn't job out to Lesnar. Hopefully.
A case can certainly be put together for Seth Rollins as well, who I imagine will be the favorite of most. It's a good pick, and he's been booked like a stud of late. I think this is the classic case of WWE putting it out there that Rollins makes the most sense from the list of who's in, and lulls everyone into a false sense of security before pulling the rug out. I realize I am picking two folks who aren't even in these matches (always a danger), but I think that's a mission of WWE right now: try to shake things up as much as possible and give fans the idea that this very calculated operation has gotten back to that devil-may-care anything-can-happen environment that the Monday Night Wars brought us. It's a good idea that I hope holds up.
Wrestler That Lasts The Longest: Andrade. Being booked excellently right now.
Most Eliminations: If Strowman is in, it's his to lose. If not, Samoa Joe.
Final Four: Strowman, Rollins, Ambrose, Elias.
Winner: Strowman
Matthew: Here is what I expect from this match:
Seth Rollins lasting over an hour in the match.
A Kofi avoids elimination spot.
Dissension within The New Day (I am against this for the record, but I'm expecting it.)
Rey Mysterio and Andrade doing that Canadian Destroyer spot again!
Elias and Baron Corbin to lead to one another's elimination.
Braun Strowman.
Braun and McIntyre going head to head with McIntyre prevailing.
A Titus O'Neil joke pertaining to his notorious slip.
R-Truth selling his #30 spot to somebody, or something silly like that.
The Velveteen Dream (if he doesn't appear I'll be sad!)
Wrestler That Lasts The Longest: Seth Rollins
Most Eliminations: Drew McIntyre
Final Four: Seth Rollins, Drew McIntyre, John Cena, Velveteen Dream (who will eliminate John Cena!!!)
Winner: Seth Rollins (who will go on to challenge AJ Styles!)
John: There's a lot to cover here, so I'm going to break it up into separate points.
* I think "surprises" will include Braun Strowman (not officially in the match), Lars Sullivan, Velveteen Dream, Aleister Black, Kurt Angle and Bray Wyatt. Do I have too many names? Probably. I hope Wyatt gets a big reaction since he's been off TV for several months and this will be his first run as a singles face. I'm not sure if there will be any "legends" other than Angle. Black seems like a good bet because he's probably losing the NXT Title match on Saturday. Since Dream isn't booked at Takeover, it's possible he'll be in this match.
* I don't believe Kenny Omega will be here. I think he's headed to All Elite Wrestling. Would I like him in WWE? Sure, but I'll be happy for him wherever he goes because he's an outstanding wrestler.
* If John Cena is in the match, which I think he will be, then I think Lars Sullivan will take him out to set up their feud. That was the plan and I think it will still be the plan for a WrestleMania.
* Strowman won't last until the end. I think what's going to happen is he'll eliminate Drew McIntyre and then after that elimination, McIntyre will go back in to get rid of Strowman. I don't know if they are set for a WrestleMania match, but I think it makes sense as a feud to do soon.
* Mustafa Ali should eliminate Samoa Joe since they have been feuding for a few weeks with Joe dominating their battles. It would give Ali some revenge in his first Rumble match.
* Titus O'Neil will probably have a scripted "slip" spot to mock him for the Greatest Royal Rumble fall that he had last April. It won't be as funny this time around, but I'm sure they'll be creative about it.
* Kofi Kingston will do his near-elimination save spot that he does every year. Those are always fun to watch.
* I have Elias as the guy that lasts the longest. I think he'll be in the first five, he'll last about 40 minutes and the announcers will push the idea that he had an impressive showing. I can see grooming him to win the IC Title at WrestleMania, so they will want him to have a good match in the Rumble.
* I don't think the star power is that great in this match. That's a problem with current WWE. They just don't have a lot of a big names that anybody would consider a huge draw. Yes, we love the Rumble match and it will be entertaining to watch. There just aren't a lot of names that jump out at me as a big deal.
* Seth Rollins is my pick to win because it's the right time to elevate him to the main event level where he should be. Rollins has the crowd behind him as the top face on Raw, he no longer has the IC Title holding him down and he's ready for that main event spotlight that he has been part of in the past. I think final two will be Rollins and Ambrose with Rollins getting the win.
Wrestler That Lasts The Longest: Elias
Most Eliminations: Drew McIntyre
Final Four: Seth Rollins, Mustafa Ali, Dean Ambrose, Rey Mysterio
Winner: Seth Rollins
BONUS TOPICS!
The Match I'm Looking Forward To The Most
Mike: Bryan/Styles. Not even close.
Matthew: Becky vs. Asuka to be honest.
John: I think Bryan/Styles will be the best in terms of my star ratings review after the show, but I'm such fan of the Rumble match that I would say the men's Rumble slightly ahead of everything.
The Match I Care About The Least
Mike: The Bar vs. Miz/McMahon. We could do better in a deep division.
Matthew: Shinsuke vs. Rusev.
John: Cruiserweight Title.
Longest Match
Mike: Men's Rumble is definite in my mind.
Matthew: Men's Royal Rumble.
John: Men's Royal Rumble will probably run a few minutes longer than the women.
Shortest Match
Mike: Rusev/Nakamura.
Matthew: Brock/Balor.
John: Asuka/Lynch – My reasoning in that Lynch is probably working the Rumble too, so having her go long seems like a poor decision. I don't think anything will be under 10 minutes.
Excitement Level on a Scale of 1-10 (1 being low, 10 being high)
Mike: I'm going to try to start the New Year off positively and score this a 6.5. The matches overall lack a bit of buzz, but storylines should develop nicely and I think we'll get some surprises and some new faces to boot. Rumbles are usually the best event of the year. I don't think this has the wattage to be one of the best, but well worth your time.
Matthew: Solid 7. Hard to go any lower than that for The Royal Rumble!
John: It's about a 7.5 for me. I'm excited about this show. The Rumble match is always one of my favorites and I like the undercard full of title matches too. Some of the booking decisions intrigue because I'm wondering how some of it is going to play out. To me, that's the sign of a well booked show.
Final Thoughts
John: I'll be back with a review of the Royal Rumble on TJRWrestling.net live on Sunday night, so check that out during the show or after it's over.
Mike – @DharmanRockwell
Matthew – @MJDP_GSE
John – @johnreport
If you want to send an email, send it to me at mrjohncanton@gmail.com as well. Thanks for reading.