TJRWrestling WWE Royal Rumble 2018 Preview
John: Welcome to the TJRWrestling WWE Royal Rumble preview featuring Raw, Smackdown and probably some NXT talent too. The show takes place this Sunday, January 28 from the Wells Fargo Center in Philadelphia.
The two Rumble matches are clearly the main reasons to be excited. I think the undercard could be a lot better. A triple threat match with an obvious outcome and a Handicap match for the WWE Title just aren't as appealing as singles matches. The good thing is the two Rumbles should go about one hour each, which means the four title matches will have two hours to fill and there's plenty of time for them.
Joining me for the preview are Kurt Zamora, Mike Holland and Matthew Phillips. Please vote in the polls we set up for all the matches. I'm very interested to see the results.
(Note: All graphics are from WWE.com. The banner up top is courtesy of our friend Melo Man.)
On Friday afternoon, WWE realized that they needed matches on the Kickoff Show. Here's what they announced on WWE.com.
Bobby Roode's United States Championship Open Challenge

Luke Gallows & Karl Anderson vs. The Revival

Kalisto, Lince Dorado & Gran Metalik vs. TJP, Gentleman Jack Gallagher & Drew Gulak
We already wrote the rest of the preview, so we're not going to preview those matches in-depth. I think Roode will be challenged by Mojo Rawley and Roode will win. The Revival will win since Gallows & Anderson beat them on Raw. For the cruiser tag match, I'll go with the masked babyface team of Kalisto, Dorado and Metalik for the win.
Smackdown Tag Team Championships 2/3 Falls: The Usos vs. Shelton Benjamin & Chad Gable
Kurt: I can't imagine that the original plan for this storyline was for The Usos to be the babyface. I would think that WWE wanted the veteran that has many good highlights in his career with the plucky upstart that had had some really good singles matches with the top stars, would be a team the fans would get strongly behind. The Usos' greatness changed all of that. I'm hopeful that Jey's recent arrest doesn't derail anything that the Usos have going. They are so great and in the peak of their career.I want to see them FINALLY get a marquee spot on WrestleMania because if there is ever a year they deserve it, it's this year. With all the great tag teams on Smackdown, they should get the ladder match spot this year at Mania.
My prediction may not be a popular one, but in order to give this storyline more legs, I think it's going to be a draw. Both teams tied at one and then a double pin in fall 3 that leads to more anger from Gable/Benjamin.
Prediction: DRAW (The Usos Retain)
Mike: A couple of key subtractions have made the undercard both ends of that double-edged sword, as it's nice and concise with important matches but lacking some depth. To the rescue comes Smackdown's very solid tag team scene, as The Usos defend against Shelton Benjamin and Chad Gable. Has anyone noticed the irony that Gable and Jason Jordan will be in tag title matches on the same big show with different partners? Not exactly how we expected it to go down when they got the call.
I'm not entirely sold on the idea that WWE has any clue what they are doing with Shelton and Chad as a team. A month or two ago it looked like they were already planting the seeds for a heel turn, and now they are suddenly hot and scoring singles wins against the Brothers Uso. This match is a solid sleeper because everyone in it can go, and that's good enough to make me forget how irritating 2-out-of-3-falls matches are in general since they always go three falls.
At the end of the day, it's a great way to make everyone look good when all is said and done. Especially the champs.
Winners (and STILL Smackdown Tag Team Champions): The Usos
Matthew: These two teams have put together some really great matches of late, and it isn't in the least bit surprising. The Usos may just be the class of the WWE's entire tag team landscape and Gable and Benjamin aren't slouches themselves. It's taken a while for Benjamin and Gable to build a fluidity and familiarity but they're hitting their stride (I for one hope each gets a singles run before all is said and done, as Benjamin has looked great and Gable never fails to impress).
It's probably time to get the belts onto Shelton and Chad, even though it means taking them off the best tag team in WWE right now. This feud will likely continue and winning the titles legitimizes the Benjamin and Gable tag team that seemed an afterthought when initially paired together. I'm excited to watch this one for sure.
Winners and NEW Smackdown Tag Team Champions: Gable and Benjamin (because if not now, it's probably never)
John: This should be an awesome match like their other matches have been. I think sometimes with 2/3 Falls it hurts the match a bit because the crowd won't care as much about the first two falls. They should build it up well with plenty of nearfalls. Gable and Benjamin are really working well together as a cocky heel team. The Usos heel run was amazing, but I don't blame WWE for making them faces again.
I think Jey Uso recently being charged with a DWI is going to lead to a title change here. Jey isn't suspended by WWE for the infraction, but it looks bad on the company when something like that happens. I also think Gable/Benjamin were going to win anyway. I'm going with new champs here too.
Winners and New Smackdown Tag Team Champions: Chad Gable & Shelton Benjamin
Raw Tag Team Championships: Seth Rollins & Jason Jordan vs. The Bar – Sheamus & Cesaro
Kurt: There's clear chemistry between them, but if I never saw another match with some sort of incarnation of Seth & a partner vs. The Bar, I would be thrilled. It just feels like beating a dead horse at this point. Jason Jordan doesn't do anything for me right now, I don't even find him clever as a budding heel. I just want The Bar to win and move on to other teams like Gallows and Anderson or The Revival, etc. If it leads to Rollins vs. Jordan, so be it. That would at least be fresh, compared to this matchup.
Prediction: New Raw Tag Team champions, The Bar
Mike: On the Raw side of the ledger, I'll give WWE credit for at least finding a way to make Jason Jordan less objectionable by pairing him with a hell of a hand in the "Architect," Seth Rollins. When Dean Ambrose got derailed with an injury, it majorly stalled the Shield reunion momentum and stuck a spork in the proposed plan to have him repay Rollins with a devastating turn rolling into WrestleMania season. All of that said, are they seriously prepared to have Rollins wrestle a tag match on the biggest card on their calendar? Likely not.
That's why it's the perfect time to have The Bar unseat the champs at the Rumble, of course. Jordan is dealing with nagging injuries and is making the best of a tough gimmick. He's got the type of heat you don't want, that being "holy crap this is lame" heat instead of "I want to charge the ring and attack you" heat. How do you get the latter heat? Turn on a fan favorite. The seeds were already sown for this outcome on Monday's Raw and pretty much since they got lumped together. Rollins should prepare for Jordan (and Kurt?) come April.
Winners (and NEW Raw Tag Team Champions): The Bar
Matthew: I don't much care to see this match, nor do I care for the Seth trying to mentor Jason Jordan, or for their entire tag team dynamic. I'm not exactly excited about The Bar these days either, so this is pretty a thoroughly underwhelming contest for me and may be when I decide to check my phone or grab snacks at the Royal Rumble Party I'll be attending.
I will use my allotted word count for this match to praise Jason Jordan. He has been stellar these past few weeks and his embracing of his character has been nothing short of delightful to watch. He plays it equal parts corny and embarrassingly sincere that it's impossible not to be impressed. I'm seeing early day Kurt Angle mixed with some Rocky Maivia in him right now which is high praise to throw out there. I found myself transcribing his dialogue for a couple of weeks and found that there is nothing special about the way they are scripting him. This is all his performance and he's making it work. Kudos Jason Jordan!
Winners and NEW Raw Tag Team Champions: Sheamus and Cesaro AKA The Bar (because there isn't much left to mine from Seth and Jason as Tag Champs)
John: I'm not sure how many times Seth Rollins has been in a tag match against Sheamus and Cesaro in the last five months, but it's happened a lot. A title change makes a lot of sense because there will probably be some miscommunication spot with Jordan and Rollins leading to The Bar getting win. I think Jordan is going to fully turn heel either right after the match or possibly on Monday's Raw. It's obviously coming soon.
Winners and New Raw Tag Team Champions: Sheamus & Cesaro
WWE Championship: AJ Styles vs. Kevin Owens & Sami Zayn
Kurt: This is such a weird match to dissect. In a Triple Threat style match, I'd have no doubt these three would tear the house down. In a handicap setting, where I would assume Owens and Zayn will be tagging in and out, I suspect more a slow match with a lot of wearing down AJ. Add in Owens' apparent injury and I think we'll see much of what we saw on Tuesday between AJ and Zayn. That match was great, but we literally just saw it.
I think the co-champion story with Owens and Zayn would be a lot of fun to watch, but it's should be mandatory for AJ to go into WrestleMania as champion, so I can't see him losing the title. My dream is for Daniel Bryan to be cleared for Mania and it would be he and Shane vs. KO and Sami. That would be a lot of fun. I'm going to hope the finish gives me hope that that is still a possibility.
Prediction: AJ Styles retains
Mike: This match should be a fun one, and that's due to both the talent level of the trifecta involved and the build. The ever-increasing animosity between broskis Shane O-Mac and Daniel Bryan has been amusing to watch, as has the oddball (but real-life) buddy system incorporated by former rivals Kevin Owens and Sami Zayn. I'll be the first to admit that creative may have no idea where any of this is going, but look on the bright side: You wanted Zayn in a big title match, and you got it. Sort of.
I'll not waste space discussing the ridiculousness of what happens should O&Z win said title, because apparently they will be co-champions. I'm aware that WWE doesn't care about the importance of belts anymore, but this is a whole other very stinky kettle of fish. The reason those implications don't overly concern me is that it has very little chance of happening. Owens has been working injured and Sami and AJ had an excellent match Tuesday which Zayn won. What does that tell you?
If it tells you he's not winning Sunday, you won the WWE 50/50 raffle booking game. This is more about Bryan/Shane.
Winner (and STILL WWE Champion): AJ Styles
Matthew: I want to be able to say that I'm excited about this bout given the names involved but last summer, Owens and Styles failed to live up to the lofty expectations set when a match between performers of their caliber is announced. And given that Owens is apparently nursing an injury, and the fact that this is a handicap match that will feature a lot of shenanigans, I'm just not quite looking forward to it. I won't lie, I'm also a lot salty about the idea of co-WWE Champions being used for Sami and Kevin, when it should obviously be a New Day storyline, but I digress.
Styles and Zayn carrying the match should be more than okay as far as in-ring quality is concerned. It's also pretty great to see Zayn in such a high profile match at a big PPV. Sami's heel work has been marvellous and quite frankly surprisingly so. He deserves this spot as much as about anybody. It just sucks that it'll be a back drop for more Daniel Bryan/Shane McMahon infighting/bickering/foolishness. It's hard to focus on a good match when those two are constantly diverting attention from it.
Winner and STILL WWE Champion: AJ Styles (because there will be no Co-Champs not named The New Day)
John: They are my three favorite male wrestlers in the WWE right now. For them to be in the same major match at a show like Royal Rumble is cool. However, the handicap match concept just isn't as interesting as it could be. I liked the idea they did on Smackdown this week where Styles beat Owens quickly and then lost to Zayn in an excellent match that went longer. Instead of doing a 2 on 1 match, WWE should have done the "AJ wrestles twice in one night" booking because that would lead to better matches with a more interesting story.
Owens has been off live events for the last few weeks because of a back injury. That's also why his match against Styles was kept short on Smackdown. After a few weeks off, Owens should be feeling better although it would make sense to protect him. The story of the match will be the heels on offense for 90% of it anyway, so it's not like Owens will have to bump around that much since they will be controlling the action a lot of the time.
It's going to be interesting to see where Shane McMahon and Daniel Bryan fit into this match. They could do something to cause the finish, which is likely a win for Styles. I'm not sure what it might be, but I am pretty confident in going with Styles retaining the title.
Winner: AJ Styles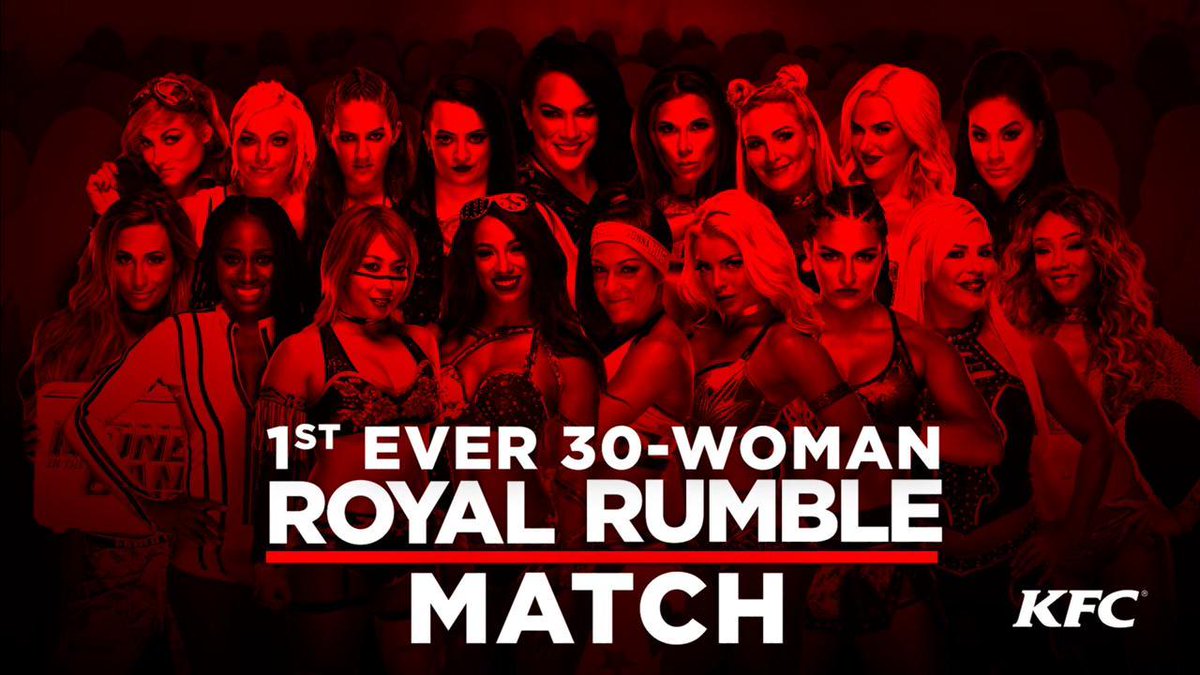 Women's Royal Rumble Match
There will be 30 women in the match. List of announced names from WWE.com: 1) Asuka, 2) Ruby Riott, 3) Liv Morgan, 4) Sarah Logan, 5) Sasha Banks, 6) Nia Jax, 7) Bayley, 8) Naomi, 9) Natalya, 10) Sonya Deville, 11) Mandy Rose, 12) Mickie James, 13) Tamina Snuka, 14) Lana, 15) Carmella, 16) Becky Lynch, 17) Dana Brooke, 18) Alicia Fox
Kurt: I want to start this write up by saying what a damn shame it is that Paige will miss this and looks to be now medically retired by WWE. She was always my favorite from the first time I saw her in NXT and my heart goes out to her. With that said, I am really excited for this match. Many of these firsts for the women seem forced or overhyped, but in this instance, I'm genuinely excited for the roster and hope they deliver something that is a lot of fun to watch.
I had every intention of picking Ronda Rousey to win this match, then mere minutes before starting to write this, she goes on TMZ and says she's headed to Colombia for a month and won't be at the Rumble. Of course, swerves happen all the time and I don't 100% believe she won't make the Rumble, but I believe it enough to where I'll change my pick.
I don't know where you'd feel on Asuka's undefeated streak if she were to be eliminated in this match, so maybe this is a scenario where she doesn't HAVE to win, but I think it's best that she does. She's such a unique enigma that has never been seen in the women's division. She has universal appeal and deserves a title opportunity at WrestleMania. My last thought, PLEASE let Stephanie McMahon not be overblown on commentary. She can ruin this match real fast if she's too much in character. Be Stephanie McMahon the mother, who is genuinely grateful for where the women are right now, and not Stephanie McMahon the authority figure who constantly cuts the characters off at their knees.
Wrestler That Will Last the Longest: Becky Lynch
Most Eliminations: Nia Jax
Final Four: Becky Lynch, Asuka, Nia Jax, Carmella
Winner: Asuka
Mike: This is a historic match, to be sure, and I for one will be excited to see it. It's high time that the women had their own Royal Rumble match, as often times their appearance in the men's has been very noteworthy but only for storyline purposes rather than authentic athletic ones. Never has a roster featured the breadth and width of talent that this current incarnation has, and therefore there's no reason this shouldn't become an annual event all its own. Good call, WWE.
The big question hanging over this match is whether Ronda Rousey is going to be in it. At press time, all indications were that she will not be. She said as much to TMZ, and Triple H has been mansplaining all the hiccups in their rumored meetings that he's starting to sound like a member of Congress. This is professional wrestling, home of the swerve, however, and everyone is aware Ronda's been training at the Performance Center. If Rousey appears, she will without a doubt win the match. She is a draw and a crossover, two things that Vinnie Mac loves almost as much as the XFL. I'm not sold that she shows up until WM, though.
That said, the natural favorite for this match is Asuka. She had a huge undefeated streak in NXT, and she's carried that momentum right through into her main roster run. All she has left to do is win Raw's belt from Alexa Bliss, and that day is approaching rapidly. She was also booked like the big winner on Monday's 25th anniversary show, not only winning the match with her team but tossing both of them overboard afterwards like a major heel. If you were pulling for Asuka to win Sunday, this was actually the worst news you could have had. "How can anyone eliminate Asuka?" quoth the announcers. Never listen to Booker T.
No Rousey and Asuka not winning doesn't necessarily mean you can't have a breakout moment, however. I like Nia Jax to dominate the competition and surprise the house by sending Asuka over the top. Asuka has a dominant showing and isn't pinned and Jax sheds the ridiculous Enzo Amore angle (hell of a lot easier to do NOW) to win a match she was quite frankly built for.
Wrestler That Will Last The Longest: Asuka
Most Eliminations: Nia Jax
Final Four: Asuka, Jax, Becky Lynch, Sasha Banks
Winner: Nia Jax
Matthew: This will be interesting to say the least. I'm happy they are doing it and have a roster with enough women to necessitate it. I'm fairly excited about the surprises that they have in store to fill out all 30 spots and what kind of stories they'll tell in this match. Nia will very likely play the role of Big Show, or Mark Henry, or Braun Strowman here, meaning she'll be a force to be reckoned with. She'll have the most eliminations and will have the announcers (including Stephanie McMahon) wondering how anybody will be able to eliminate her.
This match comes down to two people with Paige (she would have been my winner pick) not being in the mix. This match is Asuka's to win unless Ronda Rousey enters and is being set up for a Wrestlemania showdown with one of the WWE's Women's Champs. There are not nearly as many options as are available in the Men's Rumble, but no shortage of intrigue as we're not certain whether or not Ronda will even be participating. Time will tell.
Wrestler That Will Last The Longest: Becky Lynch
Most Eliminations: Nia Jax
Final Four: Asuka, Nia Jax, Bayley, Ronda Rousey
Winner: Asuka
John: This match is being sponsored by the words "making history." Yes WWE, we think it's cool you are doing a women's Royal Rumble after 30 years of not doing them, but maybe cut back on repeating the same thing over and over. Sadly, with Stephanie McMahon on commentary she's probably going to say it 20 times during the match. Hopefully she says, "what a maneuver" like her daddy Vince.
I'm excited for the women in the company that have busted their ass to earn this opportunity. I hope some of my favorites like Mickie James, Natalya and Becky Lynch get a lot of time in the ring because they are among the better women that will help the others that are less experienced. I'd like to see Sasha Banks eliminate Bayley because the "best friends" angle is boring and Banks needs to turn heel soon.
I really think Ronda Rousey is going to be in the match even though she flew to Colombia to finish filming a movie and said she hasn't signed with WWE yet. Keep in mind that the interview was done with TMZ, which means that it's very sketchy because they have worked with WWE in the past. This could just be a way to get people to think she's out of it, but when #30 hits and Rousey enters to win the match it will get WWE a lot more media attention than if anybody else wins. That's what WWE is after in a match like this. Make history sure, but get people's attention along the way as well.
There will probably be a few names from the past that are in the match and then anywhere from 7-9 women from NXT. That's fine because there's some talent there, but I think in some cases the crowd might die for some of it. The biggest challenge in a Rumble match is to keep fans interested for one hour. Sometimes it drags and that can hurt a match big time.
If there's no Rousey then Asuka and Nia Jax are clearly the favorites. I think Jax will come in late in the match, eliminate the most people and last until near the end. Asuka will be my official pick, though. Any time she's in a match it's smart to pick her because she's the one that is undefeated.
Wrestler That Will Last The Longest: Becky Lynch
Most Eliminations: Nia Jax
Final Four: Asuka, Nia Jax, Becky Lynch, Naomi
Winner: Asuka (But I really think it's going to be Ronda Rousey – just not confident enough to officially pick her because she may have been telling the truth.)
Universal Championship: Brock Lesnar vs. Kane vs. Braun Strowman
Kurt: I hope everyone remembers when Glenn Jacobs is announced as the new mayor of Knox county in May of this year, how he was somehow involved in a Universal Title match in the second biggest show of the year. The smart thing would be to give Braun the title, FINALLY. He should have won it at No Mercy, but they botched that completely. Luckily, the babyface turn has worked out well for Braun and he has rebounded nicely from that loss. A second loss though… I don't think the rebound will be as easy. I can almost guarantee he won't take the pinfall, but even still, he needs to come out looking the strongest after the match.
Brock's appeal has waned quite a bit and doesn't come across as the attraction WWE wants him to be. I think the fans are officially done with a Universal Champion that's not there every week. There's so much incredible talent on Raw that deserve the title, and it feels like a waste to have it on Brock. In an event that's full of surprises in the Rumble matches, and the moments that they want those winners to have, I can't see them having a title change here unfortunately. Hopefully Braun will be ok and we can all look forward to Brock vs. Roman.
Prediction: Brock Lesnar retains
Mike: Oh, right, there's a Universal Championship match! The setup for this three-way has been entertaining in much the same way as the Godzilla movies: if you like giant mutants smashing each other and stuff like cities and military vehicles, this one's for you! It's getting hard to keep track of which of these three giants tried to maul/maim/murder the others week to week, but one thing's for certain: Paul Heyman's promos about how Lesnar is great don't work so well when he gets bandied about like last week's recyclables moments later.
This match would have been so much better if WWE hadn't already burned its momentum with Strowman. He looked like a real threat to unseat Lesnar those many moons ago, but that match was thoroughly underwhelming and further demonstrated the lengths the company will go to keep Brock looking great until Roman rolls him over. Unless your name is Goldberg, don't bother applying. As for Kane, only WWE logic allows you to disappear in order to run for office after a largely thankless and ceremonial "corporate" semi-retired gig, only to return and get plugged into a match for the most important title on your show. I can see why politics would be attractive. It's the only area you can go to featuring more despicable characters and lapses in judgment.
This, in essence, had to involve three people because both Lesnar and Strowman have to be protected. Kane's here to perform some solid spots and eat the pin. My big question is who the company plots in to face Strowman at WrestleMania? I can assure you it's way more enticing than the outcome of this. Prepare for a crazy table spot or two and a bowl full of leftovers. Eat, sleep, conquer, reheat.
Winner (and STILL Universal Champion): Brock Lesnar
Matthew: I'm shocked at how little interest I have in a match whose build up saw a man crush his two opponents underneath scaffolding he pulled down with a grappling hook, but here we are and I'm not that interested. I love the over the top wackiness of Braun and his hijinks. If I'm to analyze what exactly it is about this match that I'm not responding to, it comes down to three things: Kane is involved, Brock is definitely going to win, and nothing that has gone into the build up for it matters. ¯_(ツ)_/¯
Winner and STILL Universal Champion: Brock Lesnar (because King Reigns needs an unstoppable opponent to dethrone in New Orleans)
John: I'm so tired of triple threat matches. They happen way too often in WWE. If it was up to me, they would never happen in TV matches and only on PPVs once every three months or so to allow them to feel unique. Since they happen so often, the appeal of these matches is so low that whenever one of them is announced I just groan.
This should be a short match that gets under ten minutes. If it's anything more than that it will drag. Kane looks old and slow at 50 years of age, which is why he has barely been in matches in the last few months. This is WWE throwing him a bone before he retires by putting him in a big match at a major PPV against Lesnar for the first time.
I think WWE missed a huge opportunity with Strowman. He should have won the Royal Rumble this year and then became Universal Champion at WrestleMania. I know Mr. "Alpha Entertainment" Vince McMahon had the plan of Lesnar vs. Reigns from last March, but sometimes plans should change and Strowman won over the crowd (like Maximus in Gladiator!) and WWE should have given the people who they wanted. Instead, Strowman's probably wrestling The Miz at WrestleMania, which is okay, but it's not winning the Royal Rumble and then winning a major title at WrestleMania.
Lesnar pins Kane, Strowman is protected by not getting pinned and Kane puts over Strowman in another match down the road. I like Lesnar, but this title reign has become boring.
Winner: Brock Lesnar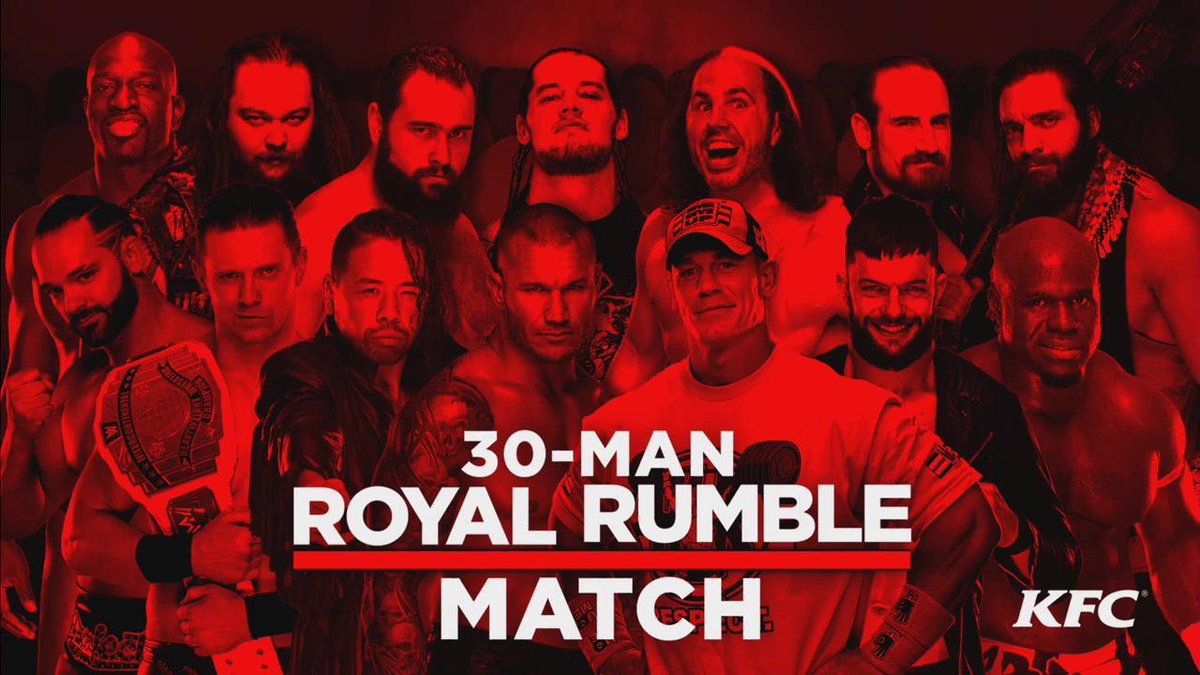 Men's Royal Rumble Match
There will be 30 men in the match. List of announced names from WWE.com: 1) John Cena, 2) Finn Bálor, 3) Randy Orton, 4) Shinsuke Nakamura, 5) The Miz, 6) Elias, 7) Baron Corbin, 8) "Woken" Matt Hardy, 9) Bray Wyatt, 10) Aiden English, 11) Rusev, 12) Titus O'Neil, 13) Apollo Crews, 14) Tye Dillinger, 15) Big E, 16) Kofi Kingston, 17) Xavier Woods, 18) Roman Reigns
BREAKING: #TheBigDog@WWERomanReigns is officially entering the 2018 Men's #RoyalRumble match!

— WWE (@WWE) January 26, 2018
Kurt: I know others are disappointed at the lack of push behind the men's side of the Rumble, but I haven't had a problem with it. The women's side clearly deserves more of the press being the first one ever, but this leaves us with a highly unpredictable Rumble for the men's side and I like that.
There are 13 spots still open at the time of this writing, but I don't suspect many major surprises. Roman, Taker, Roode, Jinder, are some that I expect to take some of those spots. Curt Hawkins will probably take a spot be the Santino spot where he's eliminated immediately. With 8 spots available, I see more guys like Mojo Rawley taking those spots than perhaps a Bobby Lashley. I hope that I'm wrong, though. The one "negative" about the lack of push for this Rumble is that I think that should temper our expectations for a big/surprise winner.
I don't think Roman will win because Raw still has the Elimination Chamber, but I do suspect they'll tease it quite a bit. I also don't see an obvious choice like Nakamura or a surprise like Undertaker. So that's where I get my pick of Baron Corbin winning. It's someone that's believable but not a sexy pick by any means. I suspect the Philly crowd will be fully behind Nakamura winning it but as I mentioned last month for the Clash of Champions show, I think we already know what WWE feels about Nakamura and they don't see the appeal of him vs. Styles like we do. Maybe they throw a bone to the die-hard fans that will be in attendance at WrestleMania and do give us that matchup, but I think someone like Corbin, who needs a win like this and would be an easy foil for Styles going into Mania, makes more sense from WWE's perspective.
Wrestler That Will Last The Longest: The Miz
Most Eliminations: Out of the 17 that are known at this point, Bray Wyatt
Final Four: Roman Reigns, The Miz, Baron Corbin, ??? (I'll leave this open for someone we don't know yet)
Winner: Baron Corbin
Mike: It seems to me like WWE announces less and less entrants for the big match every year, and I'm partially sure the reasoning is that it makes it that much harder to predict a winner. They also have a habit of tossing out more than a few surprises each year, although they've missed more than landed of late in my view. Given the major implications of winning this match, it's actually hurt it a bit in that any possibility of a longshot taking it down has dissipated completely. Of the seventeen men listed as officially being in this match, eleven have zero shot of winning, a field that unfortunately (and as usual) includes Bray Wyatt. In a match with thirty competitors, there's sure to be cannon fodder, but rarely has the dividing line been so obvious and so entrenched.
It's pretty hard to get into the "what-if" choices, although it is fun. The big name heading that list is of course Daniel Bryan, and while that would be a tremendous story it doesn't seem medically feasible at this time. That's not to say, naturally, that he can't be involved in some way, even physically. The usual suspects dominate the potential surprise slots, with The Undertaker and Batista heading the list. I would personally aim my sights a bit lower. I think this Rumble match follows the standard plan of the last five to eight years, which is a couple of big WM foreshadowing moments sandwiched around a very simple outcome.
I see a couple of contenders from each brand of the listed names that are varying degrees of viable options. From Raw, it's The Miz and Finn Balor. From Smackdown, it's Shinsuke Nakamura, Baron Corbin, and Randy Orton. We can't forget about "free agent" John Cena and former Intercontinental Champion Roman Reigns, not announced as a competitor as of yet, but most definitely in the match. Of those, Orton won last year (remember? I barely did), Reigns won here in Philly in 2015 to boos that couldn't even be contained by The Rock, and Cena landed the nod in 2013. Nope, nope, nope.
Reigns is one hundred percent going against Lesnar at WM when all is said and done, so we're left with matching up the remaining candidates against presumed WWE champ AJ Styles. Balor and Nakamura are both interesting choices, particularly given Balor's sudden Balor Club rise, but the easy call involves much less roster intrigue. Fans have been clamoring for Styles/Nakamura for a good long while now, and that match will bring a lot of eyeballs to WWE's biggest card. If you don't think Vinnie Mac paid attention to all the hubbub surrounding Chris Jericho and Kenny Omega, think again. He's looking for that kind of buzz, particularly with the other landmark match being intriguing more to his inner circle than your average mat watcher. As I said in my 2018 prediction piece here at TJR, the choice is Nakamura.
Wrestler That Will Last The Longest: Finn Balor
Most Eliminations: Roman Reigns
Final Four: Nakamura, Dolph Ziggler, Roman Reigns, Baron Corbin
Winner: Shinsuke Nakamura
Matthew: Fun fact: Two out of the last 11 Royal Rumble winners haven't held the WWE (or Universal) Championship prior to them winning the Royal Rumble. Two out of 11 (they were Roman Reigns in 2015 and Del Rio in 2011). I don't know how you guys feel, but that's pretty pathetic especially considering 4 of the last 5 winners were John Cena in 2013, Batista in 2014, Triple H in 2016, and Randy Orton in 2017.
The Rumble, to me, is supposed to represent an opportunity for somebody to achieve their dream. To emerge from a battle of 30 men to claim their prize, a Championship match that couldn't be achieved in any other fashion. In a perfect world, it's a chance at a title that has eluded them until that very victory. Nowadays, it just seems like a tool to enrich the already affluent. A means to reaffirm the existing power structure and reward the already rewarded. That's at least in part why the Royal Rumble winner hasn't felt special in some time. It was supposed to be a way for an underdog to buck the establishment and claim an opportunity they otherwise would never be given.
Which brings me to this year. I am praying that there is a new Rumble winner this year. Not only somebody that has never won the Royal Rumble, but somebody that has never won the WWE or Universal Championship before. I personally wish that Daniel Bryan had announced weeks ago that No Smackdown Superstar that had ever been WWE Champion before would be given a spot in The Royal Rumble, but that's neither here nor there.
This year's Rumble winner will emanate from Smackdown Live (just a hunch) and given that roster, there are a handful of names that come to mind. The one I'm settling on is Shinsuke Nakamura. I think he will be in the final 4 with Randy Orton, John Cena and Roman Reigns, and he'll outlast them all. Knowing who he'll face at Wrestlemania (AJ Styles), seeing him overcome 3 of the last 5 Rumble winners and most certainly three people the crowd will not want to see win on Sunday, he will be showered with admiration and loud cheers upon victory. His celebration will be a joyous occasion that will be remembered for years to come as the most satisfying and gratifying Royal Rumble finish since Rey Mysterio in 2006. Don't fight it WWE, let it happen.
Wrestler That Will Last The Longest: Finn Balor
Most Eliminations: Roman Reigns
Final Four: Shinsuke Nakamura, Roman Reigns, John Cena, Randy Orton
Winner: Shinsuke Nakamura
John: I'm going to offer up a few takes here point form style.
– John Cena will likely have a moment where he clears the ring (including eliminating Elias, who is a minor rival on Raw) and then the gong hits. It's The Undertaker. I think The Undertaker is going to eliminate John Cena from the match. The next night on Raw, Cena will do a promo and before he can really get far in the promo, Undertaker will interrupt and they will set up their WrestleMania match with Cena saying he's done it all in WWE, but he wants to go one on one with the Deadman at WrestleMania.
– I think EC3 will be in the match and have a pretty good showing. They will probably have him use the EC3 name because I don't think Derrick Bateman (his old WWE name) is really that valuable at this point. EC3 is a cooler name whether they want to call him Ethan Carter or not.
– Bobby Lashley will also be in the match. I'm not sure if he'll be face or heel or who he might feud with, but I can see him entering the match near the end. Perhaps he'll even be in the #30 spot to give him more of a memorable return. They could put him in a heel role for a feud with somebody like Randy Orton.
– The Raw guys like Elias, Finn Balor, Bray Wyatt and Matt Hardy should all have decent roles in the match, but I don't know if any of them will stand out that much. I am going with a Raw guy to start the match from 1 or 2 and last a long time. That man is The Miz.
– Dolph Ziggler will probably return here and get eliminated by Bobby Roode to restart their feud with each of them holding the US Title. It could set up a Ladder Match at WrestleMania for both US Titles.
– I doubt Daniel Bryan will be in the match. I like the guy as much anybody, but I doubt WWE is going to clear him to wrestle. Never say never, I guess.
– I'm going with Rusev for most eliminations. It may not be popular pick for that part of the match. I just feel like if he's not going to win the whole match then at least put him in a spot where he stands out from the pack. The way to book it is have him as one of the first people in the match, eliminate something like 7 guys and when he gets eliminated, the announcers can put over how impressive he was. Baron Corbin is another guy that could be in the most eliminations spot.
– My prediction for the final two is Shinsuke Nakamura and Roman Reigns. I think it would be a good idea because you know the crowd is going to hate Reigns since the Philly fans booed him so much when he won the Rumble three years ago. By putting Nakamura in the final two with Reigns, it puts Nakamura in a spot where the crowd will strongly be behind him. I would do it so Reigns comes very close to winning only for Nakamura to find a way to beat him and win the match to a huge ovation from the crowd. It also gives Nakamura credibility to beat the "Big Dog" at the end of the match. That would set up Nakamura vs. Styles at WrestleMania for the first time in a WWE ring in a singles match. As for Reigns, he can win Elimination Chamber next month to earn his Universal Championship match at WrestleMania. Reigns doesn't need this. Nakamura does.
Wrestler That Will Last The Longest: The Miz
Most Eliminations: Rusev
Final Four: Shinsuke Nakamura, Roman Reigns, Randy Orton, Bobby Lashley
Winner: Shinsuke Nakamura
BONUS TOPICS!
Match I'm Looking Forward To The Most
Kurt: Behind War Games, the Royal Rumble match is my favorite gimmick match, so it's a tie between both Rumbles.
Mike: I always look forward to the Royal Rumble match, and this year you get two for the price of one.
Matthew: Men's Royal Rumble.
John: Both Rumble matches, but I rank the men's Rumble ahead in terms of interest because I want to see Nakamura win.
Match I Care About The Least
Kurt: Raw Tag Title match. Jason Jordan just doesn't do it for me and I'm over Seth Rollins & The Bar in the same match at this point.
Mike: This is tough since they all mean something, but I'll go Universal Title. I don't expect the match to be as thrilling as the build.
Matthew: Brock Lesnar vs. Kane vs. Braun Strowman.
John: The Universal Title match doesn't interest me much at all.
Longest Match
Kurt: Men's Royal Rumble.
Mike: Men's Rumble.
Matthew: Men's Royal Rumble.
John: I'll go with Men's Rumble too. The last three men's Rumble matches went 62 minutes, 61 minutes and 59 minutes. It should be around 60 minutes again with the women's match going a bit shorter than that.
Shortest Match
Kurt: There's going to be time for every match it looks like, but I think with the Handicap rule attached to the match and KO possibly being limited by an injury, the WWE Championship match will be it.
Mike: This could also be Universal Title given the circumstances, but I'll go Rollins & Jordan vs. The Bar.
Matthew: Raw Tag Team Championship Match.
John: Universal Title match because the limitations involved with three big guys and doing plenty of nearfalls quickly. With that said, I'd still pencil it in around ten minutes, so nothing on the card will be that short.
Excitement Level on a Scale of 1-10 (1 being low, 10 being high)
Kurt: Simply because it's the Royal Rumble, it's high at like an 8. I love this event. It may end up sucking, but every year I go into it hopeful.
Mike: Two Rumble matches and some assured surprises up my normally conservative estimate to a 7.
Matthew: 9! I always get excited for the Rumble… hopefully I'm not let down as I have been in recent years past.
John: It's around a 7 to me. I think the men's Royal Rumble has been promoted poorly and the Universal Title match doesn't excite me at all. Last year's Rumble PPV was my PPV of the year largely because the undercard was so good. It's not as strong going into this year, but the addition of a women's Rumble match is interesting for sure.
Final Thoughts
Mike: The Royal Rumble is historically the biggest deal in World Wrestling Entertainment other than WrestleMania, and this card feels a bit bigger despite the shorter set list thanks to two Rumble matches and four title bouts. It's also a bit bigger for me personally since it's in my backyard, and like plenty of other Philly fans I am hoping for a delicious appetizer this Sunday before watching Tom Brady and friends flame out to the underdog Eagles in the Super Bowl. Nakamura is overdue for his moment, and my feeling is it's now or never. With this being the WWE (and Philly sports), though, I always prepare a contingency plan. It's called delicious bourbon. And more than one cheesesteak. Fly Eagles Fly!
John: That's all for us. Thanks to the crew for joining me once again. I will write a live review of the Royal Rumble on TJRWrestling.net on Sunday night, so check it out during the show or after it's over.
Kurt – @KTankTMB
Mike – @DharmanRockwell
Matthew – @MJDP_GSE
John – @johnreport
If you want to send an email, send it to me at mrjohncanton@gmail.com as well. Thanks for reading.