TJRWrestling WWE Payback 2020 Preview
John: Here we go again with another WWE PPV to preview. Welcome to the TJRWrestling WWE Payback preview.
Before we talk about wrestling, I want to send condolences the family, friends and millions of fans of actor Chadwick Boseman, who passed away yesterday at the age of 43 due to colon cancer. I'm going to watch Black Panther again today. Love that movie. I didn't know much about it when I first watched it and it was so freakin' cool even for somebody like me that was unaware of the story. The actors did an amazing job, led by Chadwick Boseman. He did great in the film "42" about Jackie Robinson and also in Draft Day. I really liked his portrayal of James Brown in Get On Up too. I know he was in Avengers films too although I haven't seen them all. Keep avenging, people. He was only 43. I say it again because it's so young. That's only a few years older than me. Gone way too soon. Rest in peace, Chadwick Boseman. Thanks for sharing your gift with us.
It's time for WWE Payback just one week after we watched SummerSlam last Sunday. While WWE hasn't offered up a reason why they are doing this show one week after SummerSlam, the general belief is that they had a lot of stories going into SummerSlam and only so much they could do in a three-hour show, so they felt the need to do Payback as well. As of this writing on Saturday morning, there are six official matches. Could they add more? Sure, but all we're going to preview as a team are the six matches. If they do add anything, I'll go back in here and edit this post with some quick thoughts on the additions.
I have mixed feelings about another PPV being so close. It's definitely too rushed and if they wanted to do another PPV close to SummerSlam then maybe go for September 13, but then it's too close to September 17. If they went with September 6 then it would be one day after AEW's All Out PPV, so it's a lot to ask wrestling fans to watch PPVs in back to back days. I also think WWE knows with the NFL back in September that the September 13 date would be against the first NFL Sunday and WWE likely wants to stay away from that. I'm a man that writes about WWE for a living and we do the best numbers whenever there's a PPV to review, so I'm all for it. Plus, it's not like WWE Network is expensive. It's $9.99 US or 33 cents a day. I don't care about spending three more hours writing about a WWE show. I don't expect a great show by any means, but I know the wrestlers will do their best as always. To sum all that up, I don't mind Payback being so close to SummerSlam. Frankly, WWE should have more WWE Network specials and do them on Saturday sometimes or a Sunday afternoon. Try different things out. Why not? It's your network. You can do what you want!
The big news going into Payback was from the end of Smackdown when Roman Reigns said that he was going to leave with the Universal Championship while noting that's not a protection, that's a spoiler. Familiar words, right? Yes, and there was the legendary advocate Paul Heyman by his side. That means Reigns is now a heel according to reports and he's got Heyman to manage him. That final 20-second scene on Smackdown made Payback's main event of Reigns vs. Wyatt/Fiend vs. Strowman that much more interesting.
Joining me for the preview are Alex Podgorski and Mike Sanchez. Here are some thoughts from Alex and Mike, then we'll get to the preview.
Alex: It seems weird to see a WWE PPV so close after such a big show. Yet here we are. I guess WWE realizes that it's easier to sell network subscriptions than physical tickets to events, so they're making the most out of the situation.
I'm trying my best to be excited for this show, but it's a bit hard. Only two matches really excite me. One of them is because it features one of my favorite wrestlers in WWE, and the other is because of the big surprise that took place at SummerSlam. Everything else is just…there. And while I don't think this will be an outwardly bad show, I really think this show would've benefitted from more build-up.
Mike: Wow, what a quick turnaround in PPVs. Last time round I predicted title changes and I was kind of right, but not totally accurate – well, I said Asuka would win one of her two matches. I think there will be title changes at Payback too. The speed at which this PPV has come about means that WWE are either continuing feuds or giving quick payoffs for stories started on Raw or Smackdown. SummerSlam was a pretty good show and though I don't think Payback will be as good, I still expect it to be a solid show.
(Note: All graphics are from WWE.)
The Kickoff Show was announced by WWE late on Saturday night.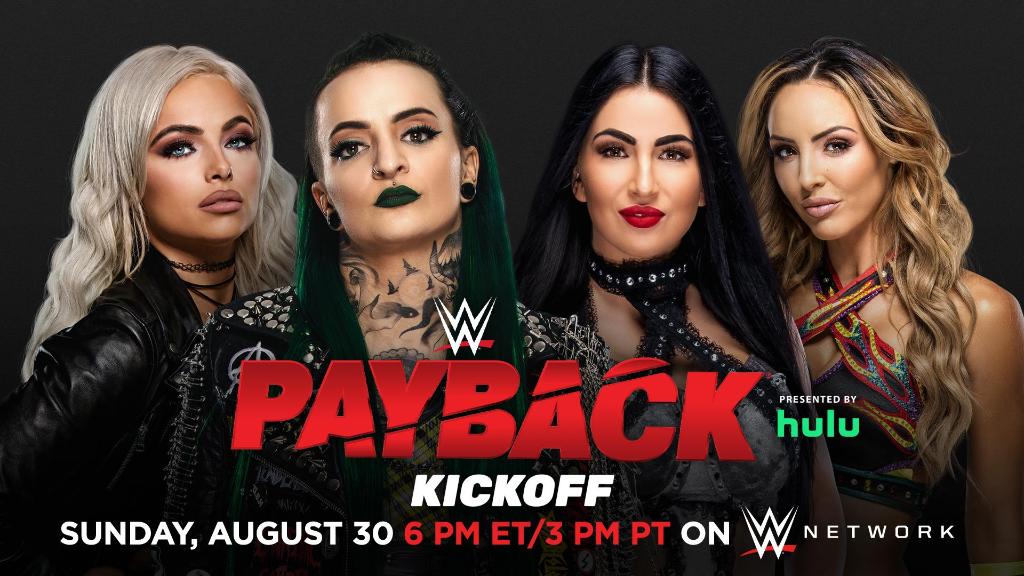 Ruby Riott and Liv Morgan vs. The IIconics
John: I think it will be a win for Riott and Morgan, who need to gain some momentum as a team. They need the win more than the IIconics do.
Winners: Ruby Riott and Liv Morgan
Saturday morning on WWE's Talking Smack show on WWE Network, they announced a new match has been added to the card.
Big E vs. Sheamus
John: I think Big E should win to continue his winning ways. If Sheamus wins then it slows down Big E's momentum and I don't like that. Keep Big E winning even if it's not in dominant fashion. The win is what matters in this case.
Winner: Big E
United States Championship: Apollo Crews (c) vs. Bobby Lashley
Alex: Apollo Crews has taken on one member of The Hurt Business and won, and now he's facing another. Honestly, there's not much of a story to sink your teeth into here. You know it, I know it, and WWE knows it. That's why this'll be on the pre-show yet again, and Apollo Crews will win again. Why? Because Lashley doesn't need a mid-card title when he's supposed to be a potential challenger for the WWE title at some point in the future. Once Apollo beats Lashley at Payback and then beats Benjamin on the following RAW, hopefully he can move into a more interesting role.
Winner and STILL United States Champion: Apollo Crews
Mike: Is this the match that should have happened at SummerSlam, rather than have MVP as challenger? This feud is beginning to bore me now and I want Crews to move on to something new. If WWE want to keep him and the title relevant and fresh, have him move on to different opponents rather than fight the same guys week after week. I'm going to hope WWE do this, but knowing them, Lashley will win and walk away with the title. I hope I'm wrong.
Winner and NEW United States Champion – Bobby Lashley
John: I think Apollo's run as the US Champion ends here. It's been great to see him holding a title for several months, but I wish he got to face some different people because it has felt repetitive. The reason I think the title reign is ending is because WWE has spent the past several months rehabbing Bobby Lashley's image as a dominant heel after he was hurt by how bad the storyline was with Lana/Rusev. Lashley nearly won the WWE Title, so I think now he's going to get the US Title to try to give him more credibility as a heel.
Winner AND NEW United States Champion: Bobby Lashley
Matt Riddle vs. King Corbin
Alex: This will probably be something in the middle of the card, a sort of filler match between two big matches to give fans a chance to breath. I can see two things happening here. First, Corbin will deliver a ton of big power moves on Riddle, which is something he's very good at. But staying in that comfort zone will end up being his downfall, as I also predict Riddle will simply out-grapple him and make him tap out quickly. Nothing too special here, just something for a midcarder and a relatively-new main roster star to do on a show that could use more hype and a better card.
Winner: Matt Riddle
Mike: Corbin fills an important role in WWE, much like Randy Orton in that he's an easy heel for fans to hate and can help get talent over. He's a good choice for Matt Riddle to feud with, but Riddle needs to be booked stronger, like he was in NXT where he'd destroy opponents with his speed, strength and ability – this includes Corbin. Corbin will do his usual repertoire with Riddle selling like a champ, but Riddle should come out on top to move on.
Winner – Matt Riddle
John: This should be a Riddle win and anything other than a Riddle win would be disappointing. Corbin is established as a heel that is at a certain level where WWE might see him as a main event talent at times, but they never seem to want to go all the way with him. That's why he's a good choice for Riddle to feud with in Matt's first main roster PPV match where Corbin can control most of the match and Riddle will make the comeback for the win. If Corbin wins it would be frustrating, but just from watching WWE for so many years, I can see them trading wins at some point leading to Riddle winning the blowoff match. I'd rather just see Riddle win here and move on to feuding with somebody else. The man that gets pyro for kicking off his flip flops wins…bro.
Winner: Matt Riddle
Women's Tag Team Championships: Sasha Banks and Bayley (c) vs. Nia Jax and Shayna Baszler
Alex: This is going to suck.
It should be pretty clear by now that Banks and Bayley will be losing the titles on Sunday. One of them lost her singles title to Asuka at SummerSlam while the other didn't. And if there's one trait that really defines pro wrestling storylines, it's jealousy. I can see Banks attacking Bayley after the match to setup their singles feud, reigniting something that first started back in 2015. But that rivalry has potential, provided that Banks and Bayley get at least some freedom to do the kinds of stuff they did NXT.
But the reason I say this'll suck is because it means Jax and Baszler will be champions, and I don't really like either one. Baszler is a poor woman's Ronda Rousey and Nia Jax is a poor woman's Awesome Kong. Neither one of them is especially captivating, and Jax is slowly turning into the Mabel of the WWE women's division.
So while the logic is there and the storylines going forward make sense, this will still be a difficult match to get through.
Winners and NEW Women's Tag Team Champions: Nia Jax and Shayna Baszler
Mike: The fracturing of the Bayley & Banks team continues and this will be a key milestone in that event. Fresh from Asuka capturing the Raw Women's Title from Banks, the pair now find themselves defending gold once again, this time the Women's Tag Titles. The team of Jax & Baszler will be formidable for the duo and if they become champs, will be difficult to dislodge. I'll be happy for Baszler to get a title on the main roster and I think she'll carry it well. Expect Banks to be pinned here, giving her two important losses in the space of a week. That will infuriate Bayley who will see Banks as the weak link in their team. The story will continue on.
Winners and NEW Women's Tag Team Champions – Nia Jax and Shayna Baszler
John: This is a weird match because they are four heels that aren't trying to act like good people at all. They're all jerks. The Jax/Baszler team didn't even do anything to earn a title shot, so that's frustrating because we should see people earning title shots. I would have loved to see Liv Morgan and Ruby Riott to beat Bayley and Banks to try to legitimize Liv/Ruby as a formidable duo. Instead, the Jax/Baszler team that aren't friends will be the ones to win the titles.
Last Sunday, Sasha Banks lost the Raw Women's Title. This Sunday, Sasha and Bayley will lose the Women's Tag Team Titles. I'm not sure if Bayley will lose the Smackdown Women's Title to Naomi in the near future or if Banks is the one that takes it from her, but the "Golden Role Models" are clearly falling apart. I just wish there was a crowd to react to all of it because it's been built up very well.
Winners AND NEW Women's Tag Team Champions: Nia Jax and Shayna Baszler
Dominik Mysterio and Rey Mysterio vs. Seth Rollins and Murphy
Alex: Dominik lost in singles competition against Rollins at SummerSlam, so now he's looking to even the score. This match makes complete sense since the original stipulation to the SummerSlam match made no sense (at least for Dominik). He played the brave fool taking on Seth while asking his dad to stay away. But he made both himself and his dad look like idiots since they should've known Murphy was going to interfere on Seth's behalf. To solve that problem, we're getting a nice rematch, this time in a tag team setting. I expect this match will be slightly shorter than the SummerSlam match but no less intense. Rey and Dominik will play the valiant heroes and Seth will, at some point, abandon Murphy after taking too hard a beating. That'll leave Murphy open for a double 619 (1238?) to get them the victory.
Winners: Dominik and Rey Mysterio
Mike: I had reservations about Dominik being thrust into WWE at such a young age and with limited experience, but it's been a pleasure to watch this young man in action. Credit must be given to Seth Rollins & Buddy Murphy for wanting to work with him and also the WWE top brass for having faith in his ability. It's wonderful to watch a young talent grow, and Dominik should come on leaps and bounds doing this week after week on Raw, working alongside the best in the business. As for the match itself, we could get a feel-good moment by having the Mysterios come out on top here. It'll be entertaining and fast paced. Should be fun.
Winners – Dominik and Rey Mysterio
John: I really enjoyed watching Rey and Dominik together in the match on Raw. I think if there was a crowd, they would be popping so loud for the father-son team especially when they do spots like the double-619 together. Rollins beating Dominik last week was fine because it was a "rookie" against a veteran, so that result made sense. I think at some point this year we should see Dominik beat Rollins in a singles match. For now, doing a tag match like this is a good idea where Dominik can win a match with his father right there with him. This should be really good and I think Murphy is there to take the pin as usual in a tag team match when his team loses. They always want to keep Rollins strong. Poor Murphy.
It's also worth noting that WWE is already advertising Rey Mysterio vs. Seth Rollins for Monday's Raw as well. Perhaps Rey gets his win back there too.
Winners: Dominik Mysterio & Rey Mysterio
Keith Lee vs. Randy Orton
Alex: Hell Yes, Keith Lee. I loved watching this guy on the independent scene, on YouTube, in NXT, and now on the main roster. And while most people are still busy talking about his clothes, I'm more interested in his match with Orton.
To be honest, I'm trying my best to be as optimistic as possible here. Lee is brand new to the RAW roster and has superstar written all over him. This is a guy that, last year, went toe-to-toe with Roman Reigns and looked like a million dollars, even in defeat. Now, he's facing arguably the biggest active star in the company and needs a huge win. Keith Lee is the future of WWE while Orton represents the past and the relatively stale present.
At the same time, I'm worried that WWE will have Orton win via shenanigans. The reason for this worry is because WWE are still planning a big Drew vs. Orton WWE title match on one of their upcoming shows. And in their twisted minds, Orton needs to maintain positive momentum going into that match.
As a result, I'm picking Keith Lee as the winner here simply because Lee is an absolute unit and needs decisive wins as much as possible. Orton can survive a loss to someone of Lee's size; he's Randy Orton, for crying out loud. He's been through much worse in the past and his star power is still relatively unblemished.
Winner: Keith Lee
Mike: Attire and entrance music aside, Keith Lee has landed a plum draw for his first feud on the main roster. Randy Orton is a name and reputation that can elevate Lee's career in the space of a few months. Orton must like Lee to work with him so quickly out of NXT and Lee must be thrilled Orton is his first PPV opponent. What I like about this is that I don't think it'll be a one & done match, and could last for a few months. It's for that reason that I think Orton goes over purely to build momentum for Lee to win at a later date. I think this will be a great match if given time.
Winner – Randy Orton
John: I really want Keith Lee to win and I think he should win, but the thought of Randy Orton losing clean on PPV on back to back Sundays seems unlikely to me. I think the only way Keith wins is they do a finish where Drew McIntyre shows up to get revenge on Orton for Randy punting him three times on Raw, which led to Drew doing a stretcher job. That attack by Orton on McIntyre obviously means that feud is still going on, so it would seem far-fetched to assume Orton is losing here. The reason Lee should win is because Raw needs some fresh faces, they need guys that the fans can rally behind and Lee is a likable (or even lovable) big man that's easy to root for because of how dominant he looks in the ring and because he seems like a happy guy. I think this will be one of the better matches that will go longer than the five minutes they got on Raw. I think Lee is going to get plenty of offense, he'll come close to winning a few times, Randy will do a nice job of selling Keith's power moves and then I expect Keith to make a mistake leading to an RKO OUTTA NOWHERE~! for the pinfall win. Then I'll have to deal with the social media complaints about Keith losing in his first PPV match on Raw as if I booked the thing. I don't want Keith to lose, people. I just think it's going to happen.
Winner: Randy Orton
Universal Championship No Holds Barred Match: "The Fiend" Bray Wyatt (c) vs. Roman Reigns vs. Braun Strowman
Alex: This was the big surprise that WWE pulled off at the end of SummerSlam. Reigns is back, looking leaner and meaner than ever. He came back sporting the watered-down, PG version of Steve Austin's 'Arrive, Raise Hell, Leave' t-shirt and made it clear he wants the Universal Championship. As much as I don't want this to happen, I'm picking Reigns to win the title. It makes sense in a twisted sort of way given how much time and effort has been put into making Reigns a star, and how much attention his return got.
From a creative perspective it does technically make sense, as Reigns was supposed to challenge for (and likely win) the Universal Title at WrestleMania 36. As for how the match will go down, I'm predicting that they'll make full use of the stipulation and turn this into the most brutal match of the night. Reigns and Strowman have history together. Remember back in 2017 when Strowman and Reigns destroyed each other, along with half the equipment backstage? It was over-the-top and ridiculous, but it was entertaining. And to protect The Fiend from losing, I predict this new Roman Reigns will do something equally savage to both of his bigger opponents. I'm not entirely sure what they'll do exactly, but you can be sure it'll involve lots of replays and clean-up afterwards.
Winner and NEW Universal Champion: Roman Reigns
Mike: Roman wins. His haters have been vocal on social media, but last week I wrote about how important Reigns will be for Smackdown going forward and none more so than getting the title away from this Strowman/Fiend feud. They don't need a title to make it interesting. Move the belt on so Smackdown can have multiple feuds to entertain fans. I think the Fiend/Strowman story is far from over, and will continue, but I fully expect Reigns to look dominant here and walk away champion. With Reigns now seemingly a Paul Heyman guy, this will add a different dynamic to his character. Heel, face or tweener from here on in, it'll still never satisfy some fans. Regardless, this could be the dawn of a new era in which Reigns dominates – again. Get used to it.
Winner and NEW Universal Champion – Roman Reigns
John: This is unquestionably the main event and the one that will create the most buzz for WWE after the show. I think in terms of match quality, the Strowman/Fiend matches have been disappointing. Strowman's best opponent has been Roman Reigns, so maybe putting them together with The Fiend will lead to a better match. I'm just intrigued by how they book it. If you really want Reigns to look better than ever than this needs to be a short sprint style match that's over within ten minutes. People want long main events going 20 minutes, but I think if the goal is to make Reigns the new Universal Champion (that's definitely my prediction) then having him do it in dominant fashion sends a clear message.
There's probably somebody reading this that will get mad that we're all picking The Fiend to have a one week title reign. It's not because I don't like The Fiend. I just think if you want to get people talking about Smackdown more and get them more invested in the show then a heel Roman Reigns as the Universal Champion with Paul Heyman as his advocate is the right way to go. This is probably going to be the start of a very long title reign for Roman Reigns that goes until WrestleMania or even longer. That would be about eight months long and I think it's realistic to expect Reigns to have a significant run as the champion since it's been two years since he had a Universal or WWE Title. I don't think The Fiend, as a character, really needs a title anyway. It doesn't fit his character that well. Welcome back to Roman Reigns and good health to him during this run as Universal Champion.
Winner AND NEW Universal Champion: Roman Reigns
BONUS TOPICS!
The Match I'm Looking Forward To The Most
Alex: Keith Lee vs. Randy Orton. It's Keith Lee. I just want to see him demolish Orton and become a big star.
Mike: Keith Lee vs Randy Orton should be good, as should the Universal Title match, but that may be because I don't hate Roman Reigns.
John: I'm going with Reigns vs. Fiend vs. Strowman just because I want to see how it's booked and what the result is. I think Lee vs. Orton will probably be the best match.
The Match I Care About The Least
Alex: Crews vs. Lashley. This feud just feels hollow to me. There's nothing really exciting about it, which is a shame.
Mike: Crews vs Lashley – The last one of these, please.
John: Sasha Banks and Bayley vs. Nia Jax and Shayna Baszler because it would have been nice if it was a regular team that became the tag team champions instead of two heels thrown together.
Longest Match
Alex: The Universal Title triple threat. This is going to be a lengthy demolition derby with lots of stuff getting smashed and people getting launched into, onto and through things. That'll be done to protect the two monsters, especially The Fiend. I think this'll go twenty to twenty-five minutes.
Mike: Strowman vs Fiend vs Reigns. This will be brutal with kendo sticks and tables aplenty.
John: Dominik Mysterio & Rey Mysterio vs. Seth Rollins & Murphy. I don't see anything going over 20 minutes.
Shortest Match
Alex: Crews vs. Lashley. I'll be shocked if this goes more than six or seven minutes.
Mike: Crews vs Lashley.
John: I'll join the party to say Crews vs. Lashley will probably be under ten minutes.
Excitement Level on a Scale of 1-10 (1 being low, 10 being high)
Alex: 5 – I'm only excited because Keith Lee is wrestling and the Universal Title storyline keeps getting more interesting. SmackDown ended with (SPOILER ALERT) Reigns and Paul Heyman side by side, which will likely play into the match on Sunday. Nothing else really matters to me, even though I wish it did. But that's just WWE's creative writing for you. Some matches will just fall by the wayside in terms of how compelling the stories are. So if you're undecided on whether or not you should tune in this Sunday, I suggest you do. At least for the novelty of seeing Keith Lee kick Randy Orton's ass and for the senseless destruction in the Universal title picture.
Mike: Lower than SummerSlam due to lack of build for most of the matches. I'll go with a 6 because I want to see the Bayley & Banks storyline progress. Reigns returning to action is a plus too. The card seems rushed and I hope some thought has gone into the matches rather than use them as filler.
John: 6 – The lineup isn't great considering how many talented wrestlers are sitting on the sidelines. If they were to add some good matches like Jeff Hardy vs. AJ Styles or Kevin Owens vs. Aleister Black then my interest would be higher. I'm intrigued to see how they book the Universal Title match as well as Orton/Lee. I think most of the rest of the matches are just average and predictable in a lot of ways too. Doing the Payback PPV is fine with me, but I wish the lineup was better. I'm also picking three title changes, so it might be newsworthy in that regard. As for show length, I'm expecting it to be around 2 hours, 30 minutes or so. It doesn't need to be longer than that. As a final point, will the Retribution group show up? I have no idea because it's hard to predict. I'm going to say yes to them showing up at some point to beat up some wrestlers after a match, but I don't know where. They weren't at SummerSlam or Smackdown, but they were at Raw. It's hard to really know what WWE is thinking with the group.
In Closing
John: I'll be back with a review of WWE Payback on TJRWrestling.net on Sunday that will most likely be live, so check that out during the show or after it's over.
Our Twitter handles are: Mike Sanchez @MikeSanchez1878 – and John Canton – @johnreport.
If you want to send an email, send it to me at mrjohncanton@gmail.com as well. Thanks for reading.