TJRWrestling WWE NXT Takeover: XXV Preview (Gargano vs. Cole, Tag Team Title Ladder Match)
Kurt: Welcome one and all to a special edition of the NXT Spotlight here at TJRWrestling as we preview the 25th edition of NXT Takeover. While the majority of us have seemingly soured on the main roster programming as of late, NXT is going as strong as ever with possibly their strongest roster ever. There is so much talent and strong storylines. As much as this Takeover feels rushed since they had to change from the original plans of being in San Jose in a couple of weeks, this is still a very strong five-match card. It's going to be hard to live up to the last Takeover during WrestleMania weekend, but I have no doubt this will be another solid effort by the brand. John, what are your initial thoughts on this card?
John: Congrats to the WWE NXT brand for reaching 25 Takeover events. That's awesome. I've reviewed nearly every Takeover since the first one and there's actually 26 total NXT PPV style events since the first one was called Arrival in February 2014, which was the first live broadcast on WWE Network.
I think it's a very good lineup, but it's not as good as NXT Takeover New York was. I gave that show a rare 10 out of 10 score because it was amazing. Like a typical NXT Takeover, though, it should be an above average wrestling show with several matches above the four-star range and the potential for another five-star main event match. I took a bit of an NXT break after WrestleMania mainly because I've been so busy writing about other wrestling content and consumed by the NBA/NHL playoffs (go Raptors), so I haven't seen every moment of every show. I do read Kurt's reviews and watch most of the key parts. My comments may not be as thorough as usual because of that reason. With that said, I am going to write the live review here on TJRWrestling on Saturday night since Kurt is on vacation in Las Vegas. Anyway, let's get to it.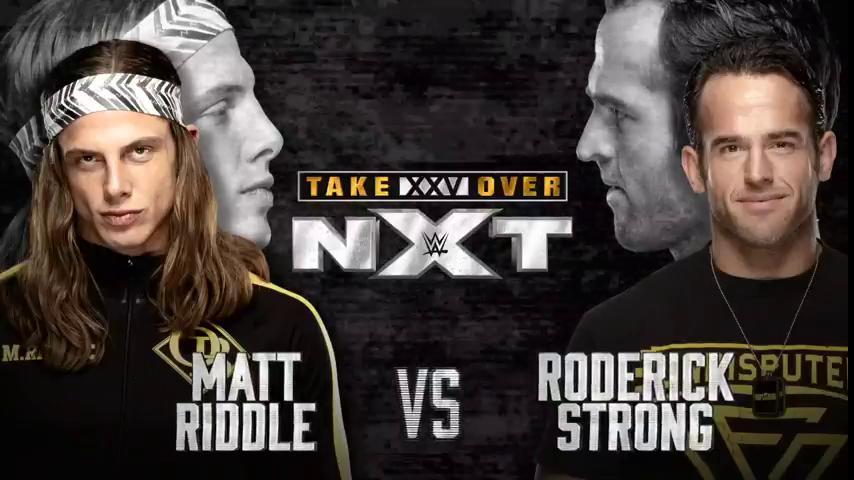 Matt Riddle vs. Roderick Strong
Kurt: Our only non-title match of the night. I mentioned on last week's TV recap that this match could potentially be the hardest hitting match of the year. These two are going to beat the hell out of each other and I can't wait to see it. Seeing Roddy go toe to toe with Johnny Gargano recently, it reminds you just how good he is in singles competition. I still say he should've won the NXT Title from Bobby Roode before ultimately turning heel, but there is no denying he's one of the top talents in NXT. He just hasn't been used in that role that often since joining the Undisputed Era.
Riddle is in the midst of a big push as one of the top three babyfaces in the brand with Gargano and Dream. This storyline has been a good way to keep him invested near the top despite not having a title opportunity handy for him. I'm tempted to say Roddy wins this one, just to give the Era a big win and based on how the main event plays off, give more fuel to the fire for his on again/off again bumping of heads with Adam Cole. However, I can't see them having Riddle lose back to back Takeover matches, so I think he'll outlast Roddy.
Prediction: Matt Riddle by Bro-Mission
John: I think Riddle winning is a lock. Riddle is on an ascending path and there are rumors that he'll be in the main event of NXT Takeover Toronto, which I will be at. It makes sense to push Riddle because he should get that kind of push in NXT before he gets moved up to the main roster (I would guess that happens in early 2020). Strong is a veteran wrestler that can have good matches with anybody, but he's not a guy that people are going to expect to win this match. This should be a very good, 15-minute match with a lot of great strikes from both guys and Riddle gets the win.
Winner: Matt Riddle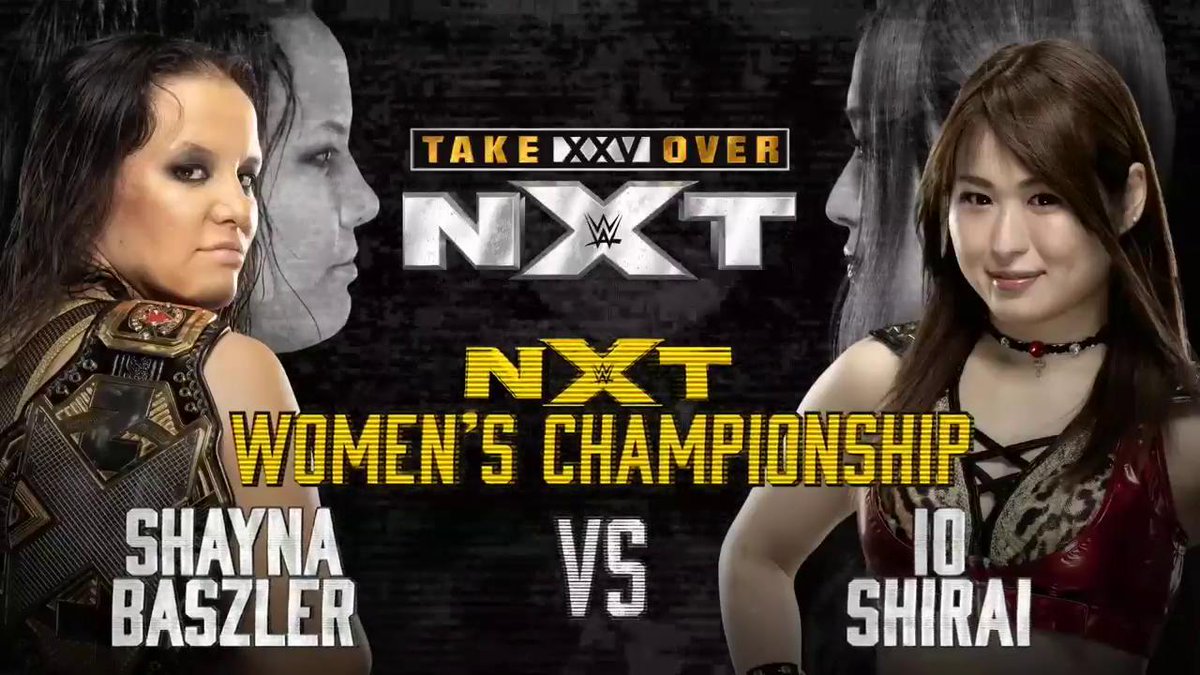 NXT Women's Championship Match
Shayna Baszler (c) vs. Io Sharai
Kurt: The first thing that comes to mind when I think of this match is, if not Io and not now, then who and when? I don't want to say Shayna has become stale, as I think Duke and Shafir has really helped keep Shayna strong despite their limitations. However, it's been time for Shayna to drop the title and have a new era start in the division. The only other woman that could potentially fit in that role is Candice LaRae, but I don't see Io being a one and done contender so I don't see that happening in the next Takeover.
Io has gotten stronger and more comfortable as every week passes and I loved the fire she showed last week as she saved Candice from that attack by the Horsewomen. I thought she showed a lot of nerves in the Mae Young Classic, missing her moonsault a lot, and I'm sure she felt a lot of pressure. That seems to have calmed down now and she's a lot of fun to watch in the ring. Obviously Asuka & Kairi Sane did just fine as champions and I think Io will do the same. We need something different in this division and so for the 3rd straight Takeover, I'm predicting a title change here.
Prediction: New NXT Women's Champion, Io Shirai
John: A title change seems likely although I admit that I have picked a lot of Baszler matches wrong in the past. I didn't think she would have a second NXT Women's Title reign, yet here she is again wrestling on another Takeover as the champion. Shirai has never been NXT Women's Champion like her buddy Kairi Sane, who is barely being used on Smackdown these days. Shirai wrestles an exciting style, she sells really well and I think they'll have an interesting match. A title change is certainly possible, but if that happens then what? I just get the feeling that Baszler is going to continue this reign. I'm not sure who the next champion will be whether it's Shirai, Bianca Belair, Mia Yim, Candice Lerae or somebody else. For this match, I'll go with the champ retaining.
Winner: Shayna Baszler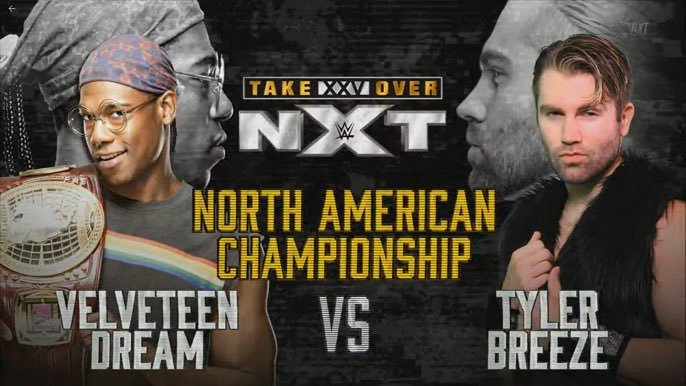 NXT North American Championship Match
Velveteen Dream (c) vs. Tyler Breeze
Kurt: Welcome back to NXT, Prince Pretty! It was such a joy to see him return home and be treated like the star he is. The main roster never knew what to do with him and it was such a shame as he's so talented. He cuts an entertaining promo and have tremendous matches with just about anyone. Some of his work with Fandango was entertaining, but it just wasn't him. This incarnation of Prince Pretty is what works best for him. I hope he's around for a little bit of time as he really does add to the roster and there are some fun matchups he can have with the new members of the roster.
As for the Dream, this quickly washed the stench off his first bomb with the promo he cut on Dominic Dijakovic doing his version of the National Anthem. That was just a total swing and miss. However, not even The Rock batted 1.000, so we move on from that and give something to Dream that just had magic written all over it. The promo these two cut in ring, it was quite apparent these two were meant for each other. I don't think a title change is coming, but since this match really will only have about two weeks of build, I hope this is a storyline that can continue into August for the next Takeover during SummerSlam weekend.
Prediction: Still NXT North American Champion, Velveteen Dream
John: It was announced by Triple H in his latest NXT conference call with the media that Breeze is considered a full-time NXT star again. I think he should feel revitalized in NXT because he was doing nothing on the main roster for a long time. The chemistry between Breeze and Dream has been great from the first time they interacted. Like Kurt said, these two appear to be meant for eachother because of their promos. Since we know NXT stars have the luxury of practicing their matches at the Performance Center weeks in advance, I expect a very good match as well. It seems like Dream tops himself at every Takeover while Breeze has a big chip on his shoulder to prove he should have been doing a lot more on the main roster. There is nobody more motivated to impress on this show than Breeze. I'm happy he's getting this opportunity.
A title change is possible because Breeze is sticking around NXT. However, I think what's more likely is that Breeze is going to come close to winning several times and take dream to the limit, but ultimately Dream will win. I think they could have a rematch at NXT Takeover Toronto or perhaps a multi-man match and if that happens, I would probably pick Breeze to win that.
Winner: Velveteen Dream
Fatal 4-Way Ladder Match For The Vacant NXT Tag Team Championship
Street Profits vs. Undisputed Era vs. Forgotten Sons vs. Oney Lorcan & Danny Burch
Kurt: It's simple, give The Street Profits the titles. I've said it time and time again, Montez Ford is a star and these guys as an act are legit near the top of the list of most entertaining in NXT. I LOVE the fire they've shown in their two battles against Viking Raiders. They may have come up short in both, but you can tell by the crowd reactions that they have been taken seriously as a team now, and not just as a comedy act. That's VERY important in the growth of a team like this. This show is in Bridgeport, Connecticut, which doesn't scream like a wrestling hot bed or anything, but I hope it's a smart crowd that's into NXT and is fully behind the Street Profits quest to become champions.
You can make a case for any of the four teams in this match. Forgotten Sons have obviously been pushed well with their showing in the Dusty Rhodes Tag Team Classic. Undisputed Era goes without saying as the top heel act and their quest to be, "draped in gold", would make sense if they recaptured the titles. Lorcan and Burch were so close to the titles last year before Lorcan got hurt and it's been a long climb back to get to this point of another title opportunity. But as I said for Io in the women's match, if not now then when for the Street Profits? I felt they were bungled a bit during Authors of Pain's reign, but they've steadied the ship and are as popular as ever, so give them the belts.
Prediction: New NXT Tag Team Champions, The Street Profits
John: I'm with Kurt on this one. When the situation happened with Viking Raiders going to the main roster, I thought it was time for The Street Profits to win the gold. I figured they would win it from them at a NXT TV taping, but WWE opted to go the route of having the champs vacate the titles and that led to this ladder match. I think it's certainly possible that The Undisputed Era wins the gold here in order to get the gold back on a heel team and then The Street Profits can chase them. However, it's probably to just have The Street Profits get the victory here and then they can feud with Undisputed Era as well as the Forgotten Sons for the rest of the year.
This should be an outstanding match even though I wouldn't say they are all elite workers. I just have faith in the NXT crew planning matches out and since they can practice the match at the Performance Center for several weeks, they'll be able to set it up with the big spots. There won't be that many boring moments when you have eight guys out there. For several of these guys, they rarely get to be on Takeover events too, so they will think of it as a breakout match for them. I'll go with The Forgotten Sons for the win although it's far from a sure thing.
Winners: The Forgotten Sons are the New NXT Tag Team Champions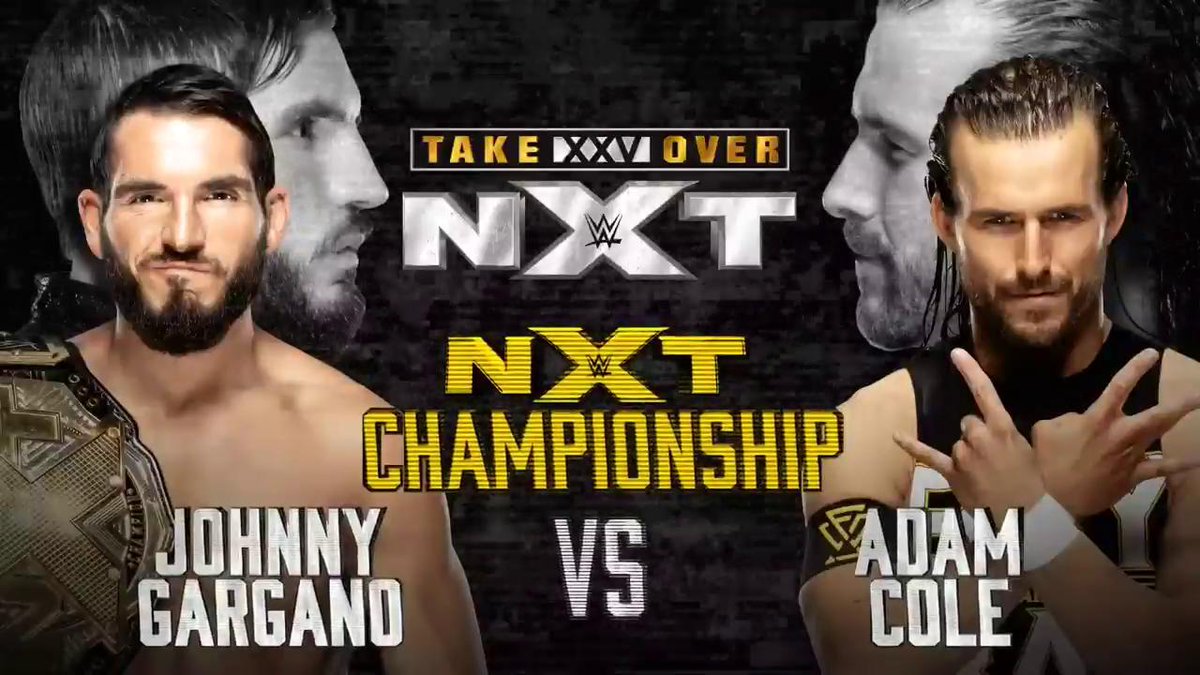 NXT Championship Match
Johnny Gargano (c) vs. Adam Cole
Kurt: It's very rare that the first encounter of a feud has a gimmick attached to it and the rematch doesn't. It just feels weird that they had a 2 out of 3 falls match at the last Takeover and they come back with just a standard match for the rematch. It makes it almost impossible to compete with the last match when they clearly won't have as much time and ability to do so. I think I would've made this an I Quit match, something along those lines. These two are at the top of their games though and the top talents on the roster, so I have no doubt they'll still put on a killer match.
With the way this feud has played out, I'm really leaning towards a title change here. The story has been that Cole knows he can beat Gargano because he took the first fall in their last match, but Gargano won the last two. If Cole wins this match and takes the title, he feels justified knowing that he really can beat Gargano. However, on the other end, in Gargano's eyes that would put them at 2-2 and would need a rubber match to get his title back. The only reason I'm hesitant to call for a title change is because it would seem odd for Gargano to fight for basically a year to get the NXT Title, only to lose it without a successful title defense at a Takeover. I think that would take some of the wind out of his sails. I'm going to stick with my gut and pick no title change and something will happen that leads to more of a fracture between Cole and Strong inside the Undisputed Era. However, if there is a title change, I will not be in the least bit surprised.
Prediction: Still NXT Champion, Johnny Gargano
John: Their last match at NXT Takeover New York was amazing. I gave it five stars and I don't know if there will be another WWE match this year that can top it. We have seven months to see if that happens. As Kurt said, it is weird to see them go from having a 2 out of 3 falls match to having just a regular match. I guess the reason to have this as a regular match is to make the Ladder Match stand out more. If you have multiple stipulation matches on the same show then the stipulations mean less. If you have only one match with a stipulation, it stands out. Makes sense, right? I think so.
I'm going with Cole to win the title in what should be an amazing match in the 20-30 minute range or possibly in the 30+ minute range again. I feel like with Cole as champion, there are more possibilities moving forward with Riddle and possibly Dream available as future babyface challengers later this year. They could always keep the title on Johnny, then do a 3-Way or 4-Way at the next Takeover with Cole winning the title there. I just feel like, with Gargano, the big moment was winning the NXT Title for the first time at the last Takeover. It doesn't mean that Johnny has to be a long term champion. Moving the title to Cole sets up more rivalries for down the road, so I'm going with Cole to win the NXT Title for the first time.
Winner: Winner and New NXT Champion Adam Cole…bay-bay!
John: That's all for this preview. I'll be back here on TJRWrestling on Saturday night at 7pmET for the live review of the show. You can contact Kurt on Twitter @KTankTJR and I'm @johnreport if you have any questions or comments. Thanks for reading.