TJRWrestling WWE NXT Takeover WarGames 2019 Preview
The WWE NXT tradition in the month of November is the Takeover WarGames event. This year's show takes place in Chicago during Survivor Series weekend. During the 2017 and 2018 WarGames events, there was just one men's WarGames match along with four other matches on this cards. This year, things have changed because we are going to see the history making, first ever women's WarGames match along with the men's WarGames match. Are two WarGames matches too many in the same show? Maybe, but I have faith in the NXT brand to deliver great matches all night long.
I think what hurts this show a bit is that there are no titles. Since The Undisputed Era hold the three men's titles and are in the WarGames match, that means no title matches there. Meanwhile, Women's NXT Champion Shayna Baszler is also in a WarGames match. I think fans want to see title matches on shows like these and when you don't have a title match, the show might feel less interesting to the average fan. I'm cool with it because I know we're going to get four outstanding matches. I'm just saying some people might not be as excited due to the lack of title matches.
Here are the rules for the WarGames matches that WWE posted last year.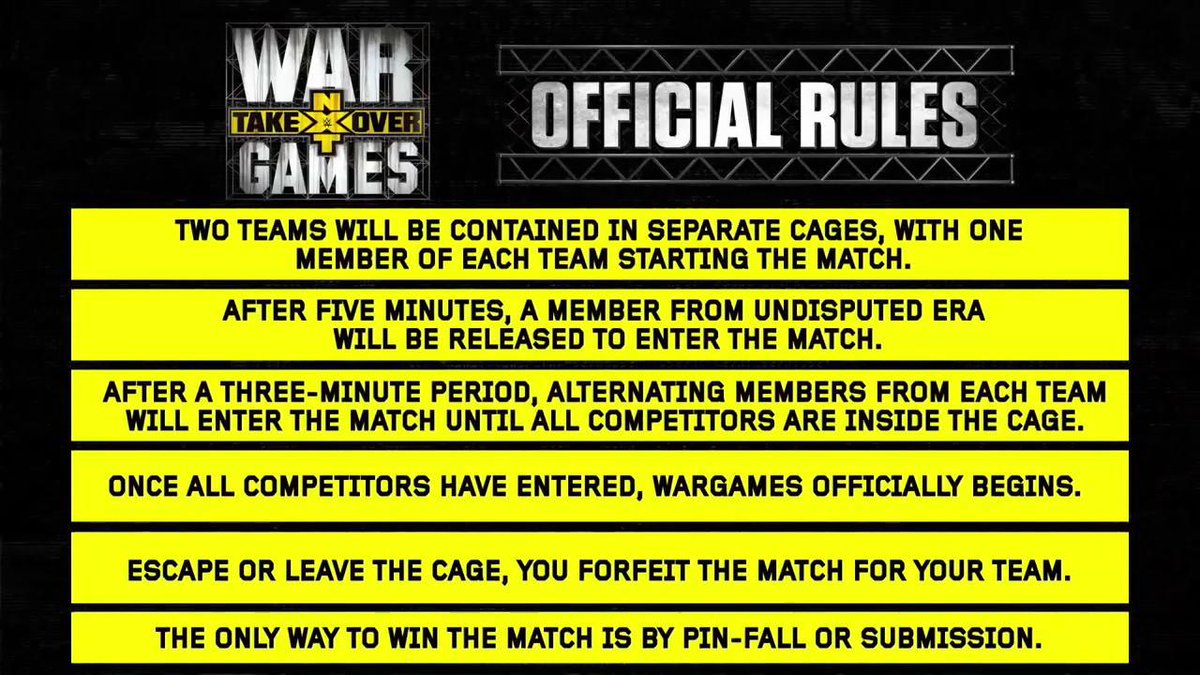 Now that you are reminded of the rules, let's get to the preview.
Pete Dunne vs. Killian Dain vs. Damian Priest
It's a triple threat match to determine the #1 contender for the NXT Championship, held by Adam Cole, at Survivor Series. I think the action should be pretty good although there are so many triple threat matches at Survivor Series that I think maybe they should have opted for a singles match here. When I saw the names in the match, my gut feeling was a win for Dunne, who is a babyface on the rise in NXT and I think it makes sense to have Dunne as a popular wrestler to challenge Cole at Survivor Series. That way, the fans will be more into the match at Survivor Series and that's going to leave a big impression on the fans that may not watch NXT regularly. Dain and Priest should have a good showing, but I'm going with Dunne.
Winner: Pete Dunne
WarGames Match: Rhea Ripley, Candice LeRae, Tegan Nox and Mia Yim vs. Shayna Baszler, Io Shirai, Bianca Belair, and Kay Lee Ray
I think when you have two WarGames matches on the same show, it's tough to decide who the winners might be. It makes a lot of sense for somebody on Ripley's team to get the win as the babyfaces and that way, the one that gets the win for the team can step up as Baszler's next challenger for the NXT Women's Title. I think that would make a lot of sense to build up Ripley or LeRae as that next title contender. However, I'm thinking the men's match ends with the faces winning, so I'm not sure who wins here.
There should be a lot of big spots in the match and I can see LeRae and Yim really standing out for their team while Shirai and Belair can impress with the way move around the ring. It seems like NXT really wants to push Io Shirai with good reason since she's so impressive in the ring and is getting some big reactions from the fans. I think Shirai is going to win for her team in what should be a 25+ minute match that is the biggest match in the careers of several of these women. If the faces win then LeRae might get the victory because that would set her up to feud with Baszler, which would be fresh and lead to some awesome matches.
Winners:Shayna Baszler, Io Shirai, Bianca Belair, and Kay Lee Ray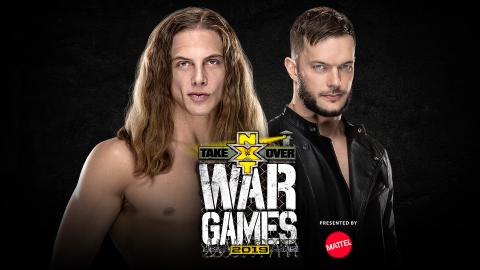 Matt Riddle vs. Finn Balor
This feels like a match to determine a number one contender to the NXT Title or maybe the North American Title although that hasn't been announced by WWE. It just seems like Riddle and Balor in a similar spot in the upper midcard. I don't know who is going to win, but I'm excited about it because they are two hard hitters that can wrestle any style and have awesome matches along the way. I know when Balor came back to NXT to turn heel, the original plan was a feud with Johnny Gargano. Due to injury, Gargano is out, but I think Riddle is fine as a replacement.
Does Finn come back to NXT to lose on his first Takeover? Sorry Bro, but I doubt Riddle will win this. I think Balor is going to win here, it's going to give him some positive momentum and they can still do the Balor/Gargano match whenever Johnny is ready. Riddle will be fine even if he loses. This should be an excellent match and maybe the match of the night depending on how the WarGames matches go. I don't know if anybody on this show is more motivated than Balor. You know this is a huge match for him after he went back to NXT, so I'm excited for the guy.
Winner: Finn Balor
WarGames Match: The Undisputed Era (Adam Cole, Bobby Fish, Kyle O'Reilly and Roderick Strong) vs. Tommaso Ciampa, Keith Lee, Dominik Dijakovic, and TBA
The fourth member of Ciampa's team is unknown right now. We will find out on Saturday night when the match begins according to Triple H's media conference call earlier this week. Triple H also said that Johnny Gargano was "day to day" during that same conference call, so I wonder if it's Johnny in that spot. Some people might be guessing Velveteen Dream, but he's currently dealing with an injury. I don't even know who it's going to be because I'm looking at the roster and everybody is accounted for while others have injuries. What they might do is have somebody from Raw or Smackdown in that spot. I think EC3 would be a good choice. I don't really know who it's going to be.
I really like everybody in the match. The Undisputed are one of WWE's best acts in the company this decade. I'm not going to say just NXT because it's the entire organization. The way the Undisputed Era works so well together really makes them stand out and I'm happy we get to see them in another WarGames match. It's also great to see Lee and Dijakovic in a main event spot, which they deserve based on the excellent work they have put in over the last year in NXT as well as before they were in NXT. As for Ciampa, he's awesome although my favorite version of Ciampa was when he was a heel. It makes sense for him to be a face right now, though, due to his return from major neck surgery.
The match times for the WarGames matches the last two years were 36 minutes in 2017 and 47 minutes last year. I'm expecting something in the 40 minute range this year. Also, The Undisputed Era won in 2017 and lost in 2018, so they're trying to get a winning record in WarGames matches.
I think the smart move would be to have Ciampa's team win. The Undisputed Era already holds all the gold, so there's no reason for them to go over. I'm expecting Ciampa to get the victory probably by beating Fish or O'Reilly and then we can get the Cole/Ciampa feud. I'm excited about this. It will be an outstanding match.
Winners: Tommaso Ciampa, Keith Lee, Dominik Dijakovic, and TBA
Final Thoughts
It should be an awesome show as usual for any Takeover. I think the lack of singles matches hurts it a bit and the lack of title matches as well. WarGames matches are usually great, though, so it's not like it will be a bad card.
NXT TakeOver: WarGames is streaming live tomorrow night at 7 ET/4 PT on the award-winning WWE Network.
I'll have a review of NXT Takeover WarGames on Saturday night. I don't know if it will be live on TJRWrestling, but it should be up that evening.
Thanks for reading. My contact info is below.
John Canton
Email mrjohncanton@gmail.com
Twitter @johnreport