TJRWrestling: WWE NXT Takeover Stand & Deliver 2021 Preview (April 7 & April 8)
John: Welcome to the TJRWrestling NXT Takeover Stand & Deliver Preview. It's a unique Takeover show that is stretching across two nights in the middle of this busy WrestleMania week. Here's the info on how to watch.
Night 1:Wednesday, April 7 at 8/7 C on USA Network and streaming on Peacock in the U.S. and WWE Network everywhere else. (USA Network would also include whatever channel you might watch NXT TV on every week.)
Night 2:Thursday, April 8 at 8/7 C streaming exclusively on Peacock in the U.S. and WWE Network everywhere else.
Since there are two straight nights of Takeover, there's a lot more to preview than usual, so there are ten matches. I think it's a strong card with several good to great matches on the show.
Joining me for the preview are two guys that used to write about NXT weekly for us on TJRWrestling: Kurt Zamora and Lance Augustine. Let's get to it.
(Note: All graphics are from WWE.)
NIGHT ONE – WEDNESDAY, APRIL 7

Gauntlet Eliminator for an opportunity at the NXT North American Title on Night 2 – Isaiah "Swerve" Scott vs. Leon Ruff vs. Bronson Reed vs. Cameron Grimes vs. Dexter Lumis vs. LA Knight
The rules:
Two men will start in the ring.
Every four minutes, another competitor will enter.
The only way to be eliminated is via pinfall or submission.
The last man remaining will challenge Johnny Gargano for the NXT North American Title on Night 2 of NXT Takeover: Stand & Deliver.
Entry order
(1) Isaiah "Swerve" Scott
(2) Leon Ruff
(3) Bronson Reed
(4) Cameron Grimes
(5) Dexter Lumis
(6) LA Knight
Kurt: Great way to get a lot of deserving guys on a Takeover card. Cameron Grimes is one of my absolute favorite acts in not just NXT, but all of WWE. The new "coming into money" gimmick has been highly entertaining and given the character a lot of personality. Swerve is just kinda there for me, he didn't do much for me in the cruiserweight division and this heel turn hasn't really resonated for me. Leon Ruff would be another just kinda there for me. I like Bronson Reed a lot as a big guy that can really move. His splash off the top rope looks really impressive. Dexter Lumis is probably the oddest babyface I've ever seen, but somehow it works for him. LA Knight has star written all over him. Love his promo skills and I was VERY surprised to see him lose his first match against Bronson. I would love for this match to be a launching pad for him, but Gargano and Lumis still have an unfinished storyline, so I think it's pretty obvious Lumis wins this match.
Prediction: Dexter Lumis
Lance: This should be an interesting match with some interesting ways they could go with it. We do know the winner of this match will go on to face Gargano on Night 2. With that stipulation added, I think there are some guys we can rule out because I can't see guys like Leon Ruff or Bronson Reed walking away with the victory here. I think both of them are fine, but they are going to want a bigger match for Night 2. Scott and Lumis have a chance to stand out and go deeper into the match, but I can't see them pulling out a victory right now, either. That leaves us with Cameron Grimes and LA Knight. Knight was Eli Drake in Impact and made his presence felt on NXT television a few weeks ago. He has the most momentum going into this match because it seems like they are going to push him and putting him on both nights would be a good way to do that. I like Grimes, but I feel like he had had his time in the title picture and there is much else they will do with him. This should be a good match either way and get plenty of time.
Winner: LA Knight
John: I think it's a unique match type that should be fun to watch at least to see how they book the eliminations. There's been a rivalry between Leon Ruff and Swerve Scott, so I would expect one of them to eliminate the other. I'll go with Scott eliminating Ruff, then Scott will celebrate and somebody like Bronson Reed will capitalize to beat Scott. While I would be fine with LA Knight, Bronson Reed or Cameron Grimes winning, the most likely winner is Dexter Lumis just due to the recent history with not only Johnny Gargano, but Johnny's buddy Austin Theory and I think that whole thing was to set up this title match. Knight and Grimes are heels, so they don't make as much sense as Lumis, who is a different type of face. Reed wouldn't be a bad choice because I like him as a face with a bright future too. I just think it's going to be Lumis.
Winner: Dexter Lumis
Kushida vs. Pete Dunne
Kurt: This should be a phenomenal match, and if not for the match I'm most looking forward to later on in the night, I would pick this match to steal the show. Dunne has been outstanding since he returned, both in physical shape, and in confidence with his promos and character. He looks like a legit killer now. Kushida has clearly gotten more comfortable in America and it's come across in his bigger matches over the last few months since he returned from a wrist injury. I don't expect this to be a long-term storyline. It's just something to get both of these guys on the card and keep Dunne looking strong moving forward.
Prediction: Pete Dunne
Lance: I like both of these guys a lot. Sentimentally, I wanted Dunne to beat Balor at the last Takeover event to win the NXT Title. I really like the gimmick and think Dunne is a hell of a worker. He didn't beat him though, obviously, and now he is taking on Kushida as the follow-up match. I can't complain. Typically, I have a love/hate for the Japanese wrestling style, but something about Kushida sticks out to me. He is super smooth in the ring and I totally believe him as a guy you can get behind and push to have great matches. I remember a match between him and Adam Cole a few months ago that got a lot of hype, that they very much lived up to it.
This should be a good back and forth battle with some stiff shots and believable near falls. This is one of those matches that have the potential to be sneaky good. I will go with Dunne here because I think the future is the brightest for him amongst the two in the match.
Winner: Pete Dunne
John: There isn't that much of a story here. Both guys have claimed they are the best technical wrestler in NXT and neither guy had anything else going on, so it's perfectly fine with me to put them in a match together. The lack of story doesn't bother me because I trust the NXT brass to give these guys 10 to 15 minutes to have a very good match, which they will do. Kushida will work on the arm most of the way because that's what he does while Dunne will probably pick on a body part like a knee. That's why they're good technical wrestlers. While I think Kushida could really use a big win at a Takeover, it makes more sense to give the younger guy Dunne since he's near a main event talent.
Winner: Pete Dunne
NXT Tag Team Championships Triple Threat Match: MSK (Wes Lee and Nash Carter) vs. Grizzled Young Veterans (Zack Gibson and James Drake) vs. Legado del Fantasma (Joaquin Wilde and Raul Mendoza)
(The NXT Tag Team Championships are currently vacant because former champions Oney Lorcan and Danny Burch had to forfeit the titles due to Burch suffering a shoulder injury.)
Kurt: Just a total bummer that Danny Burch got hurt and had to vacate the title with Oney Lorcan. Really loved those guys as a team, and although seemingly got a little lost in the shuffle once WarGames ended and Pat McAfee left, thought they had a lot left to offer as tag champs. I would've much rather preferred a Dusty Cup rematch between GYV and MSK instead of throwing Legado in the match. They're probably in here to take the fall so that GYV and MSK can continue feuding for the title afterwards. I think MSK would've ultimately been the ones to dethrone Burch and Lorcan, so might as well give them their moment now and build the tag division around them moving forward.
Prediction: New NXT Tag Champions, MSK
Lance: Danny Burch and Oney Lorcan had been the champions over the last few months, but they were forced to relinquish the titles after Burch injured his shoulder. That brings us to this match between three teams that all feel they are deserving to wear the gold. I have been high on The Grizzled Young Veterans for a long time now and actually predicted them to win the tag titles a few months back. MSK and Legado del Fantasma both have a lot going for them as well and this should be a great showcase of the NXT Tag Team division. I'm sure they will be some fast-paced action with some spots a little over the top, but nothing outrageous. I think it's time to crown The Grizzled Young Veterans as the main team in NXT moving forward.
Winner(s) and NEW NXT Tag Team Champions: Grizzled Young Veterans
John: I think triple threat tag team matches are hard to do and I thought they should have done MSK vs. GYV as the finalists in the Dusty Cup (which MSK won). I'm not sure that Legado del Fantasma needs to be in the match, but I give them credit for being hard workers that always have good matches. It's not like the presence of Legado del Fantasma is going to hurt the match by being there. A win by any of the three teams makes sense to me because MSK are a babyface team that NXT can build around for the future, GYV are traditional heels that would do well with the gold and Legado winning would be a bit of a surprise.
I'm going to go with GYV getting the win by pinning one of the Legado members so that MSK has an out to set them up as future title challengers. I don't think Grizzled Young Veterans are going to hold the titles longer than four months or so, but I think it would mean more if MSK beat a team to win the titles rather than win vacant titles. If MSK wins, it won't surprise me. It's a tough match to pick.
Winners AND NEW NXT Tag Team Champions: Grizzled Young Veterans
NXT United Kingdom Championship: WALTER (C) vs. Tommaso Ciampa
Kurt: Ten matches over two nights, but this is the one I'm most looking forward to. I do not need any convincing to watch Walter chop someone over and over and over again. It's great to see him back in America again, and hopefully he can stick around beyond this, win or lose. The storyline that led to this match was whether Timothy Thatcher would join his old group in Imperium and desert Ciampa, whom he developed a tag team out of respect with. We haven't seen Thatcher for awhile, which makes me think he's going to be involved in the finish of this match. This is the closest we've come to the Ciampa of old that was out there killing every Takeover main event and being the MVP of the brand. I'm expecting one hell of a battle between these two, one where the battle wounds are very visible on both men. I can't imagine Walter losing the UK Title to someone in America who's not on the NXT UK roster, so perhaps that means Thatcher does join Imperium.
Prediction: Walter retains the NXT UK Title
Lance: Walter is the man I have been waiting to make a return. Obviously, we haven't seen a lot of him during Covid because NXT UK didn't run many shows, but have since started back up recently. Our lasting image of Walter pre-covid was his standout match with Ilja Draganov that received rave reviews, with some people even calling it Match of the Year in 2020. Ciampa has a track record of having some of the best matches NXT has ever produced, including a series with Johnny Gargano that are just legendary.
Both of these guys are the real deal and this could be one of the matches that you end up remembering for years down the line. Now, I am not going to say we will, but it has the potential. These dudes are going to beat the hell out of each other, and neither will walk away unscathed. I do think they have been building Walter almost like a Bruno Sammartino in which we see him hold the title for longer than most champions these days. I know the title isn't defended as much as other titles, but with Walter holding it, it makes the title legit.
Winner and STILL NXT UK Champion: Walter
John: This should be a lot of fun. Walter just passed the two-year mark as the NXT UK Champion where he didn't really get to defend the title much last year due to COVID-19 issues pausing NXT UK shows for several months. I love when Walter comes to the US to work with the NXT guys because he has awesome matches no matter who the opponent is. The match with Ilja Dragunov last year really was spectacular, so much so that it was my WWE Match of the Year in 2020 in my Johnny Awards column. There are people reading this that may not know much about Walter and that's okay, but I really hope you can check out that match.
I think Walter should have an amazing match with Tommaso Ciampa as two veterans that aren't afraid to hit hard and tell a story of brutality. I'm sure Walter will deliver some huge chops to Ciampa, who won't back down and deliver painful strikes of his own. Walter matches are at their best when they go over 20 minutes, so I wonder if they get that kind of time here. If it's under 15 minutes I'll be disappointed. Anyway, it would be a major surprise if Walter lost to Ciampa although I certainly wouldn't hate it. I just think Walter is most likely to lose the title to somebody on the NXT UK brand rather than Ciampa. This is one of my most anticipated matches of the week. I'm really looking forward to it.
Winner: Walter
NXT Women's Championship:Io Shirai (C) vs. Raquel Gonzalez
Kurt: The route of Raquel Gonzalez is very similar to the route of "Big Daddy" Cool Diesel. The bodyguard that stepped out of the shadow of the person they were protecting, only to become champion themselves. I'm a little surprised that there hasn't been more of a story about how Dakota feels about this title shot. I would've expected more jealousy from her, which could plant seeds for a feud after this match, regardless if Raquel won or lost. Io has held the title for 300 days and has truly come into her own. The division is unbelievably stacked and to be champion that long with a roster this good, says a lot about her ability and star potential.
I thought their constant fighting throughout last week's episode of NXT was really well done, and I loved how Io picked her own challenger and how Raquel didn't come across nervous or scared of Io as champion. Raquel hasn't had a spotlight this bright before, but I'm highly intrigued by this match and I think they're going to have a hell of a match. I really want to pick Raquel to win the title, but I think Dakota is going to cost her the match. Whether purposely or inadvertently I'm not sure, but I think they'll feud moving forward and Raquel can come back to the title later in the year.
Prediction: Io Shirai retains
Lance: Io Shirai has had one of the most memorable Women's Title Reigns in NXT. Ever since she beat Rhea Ripley and Charlotte in the Triple Threat Match last year, she has been booked strong and successfully defending the title every time out. Raquel Gonzalez spent a lot of time with Dakota Kai since debuting, but has since branched out on her own. She is being pushed hard and has the opportunity to be a major player in the NXT Women's Division. This will be an interesting contrast in styles with Shirai being the speedier of the two and Gonzalez being the bigger and bringing a lot more power.
I assume this will close the first night of the two, and good for them. I have been shouting from the rooftops for the better part of a year that NXT has the best women's division in wrestling, and this should be another showcase of this. This is the same brand that once had Becky Lynch, Sasha Banks, Bayley, and Charlotte at one time. These two aren't quite at that level, but they can still have a pretty damn good match. I just think Gonzalez is getting a lot of love and it seems like putting her over Shirai here is the best move working towards the future.
Winner and NEW NXT Women's Champion: Raquel Gonzalez
John: The rise of Raquel Gonzalez continues. I have been writing since probably last fall around October or so that I think they were setting up Gonzalez as the one that beat Shirai to win the NXT Women's Title. I didn't know when or where, but here we go with Gonzalez getting the title shot. Back in December in the Women's WarGames match, Gonzalez pinned Shirai and I thought she'd get a title shot right away, but first she beat Rhea Ripley (with a bit of an assist from Dakota Kai) before Rhea left for Raw. That makes sense. Now that Raquel has dominated everybody, she goes after Shirai, who has held this title for over 300 days. NXT does a tremendous job of giving most of their champions meaningful title reigns. It's not a surprise to me since Triple H had a lot of long World Title runs in his career too, so now that he's the booker, he's going to book that sort of thing often.
I expect a title change to happen here, but it's hardly a lock. I just think it makes sense to put the title on Gonzalez after investing so much time in her as a dominant heel that is bigger than every woman she faces in NXT. I think long term they can tell the story that Gonzalez is a cocky heel champion, she'll develop a big ego to where she feels she doesn't need Dakota Kai anymore (even though Kai has helped Gonzalez become a bigger star) and then we'll see Kai as the babyface challenger against Gonzalez later in the year. I think it's very possible that Shirai is heading to Raw or Smackdown soon. Perhaps they will make her an ally of Asuka like Kairi Sane was or simply make her a star on her own. As for this match, I'm not sure if it will be some classic, great match because Gonzalez is still green in some ways and sometimes she feels lost out there. However, I have so much confidence in Shirai to deliver on a big stage. Shirai doesn't have bad matches, so I have confidence in them having a good match.
Winner and NEW NXT Women's Champion: Raquel Gonzalez
NIGHT TWO – THURSDAY, APRIL 8
NXT Women's Tag Team Championship:Shotzi Blackheart & Ember Moon (C) vs. The Way (Candice LeRae and Indi Hartwell)
Kurt: I think I would've rather had someone from NXT win the initial Women's Tag Titles that Nia & Shayna have, and defend them on all three brands, than adding yet another set of titles under the WWE banner. The NXT Women's division is incredible, and absolutely can handle a tag title/division, but I think it would've meant more to have someone defeat Nia & Shayna and be on NXT every week, while showing up on Raw and Smackdown as needed. Nonetheless, I love Shotzi and think she's going to be a huge star. Candice and Indy play their roles beautifully on The Way and I would love to see them win these titles to join Johnny as champions in the group. Although, based on how the group is presented, I think they're all going to come up empty handed and they'll be left to figure out where it all went wrong. That's not a complaint about The Way either, as I love everything the group does.
Prediction: Shotzi & Ember retain
Lance: Blackheart and Moon won the titles on the same night they were awarded to Dakota Kai and Raquel Gonzalez. Kai and Gonzalez were fresh off a win in the Dusty Tag Team Classic finals and were given the belts as a result. Blackheart and Moon becoming champions is a good thing in the sense that they are both good characters and should be featured in the forefront of the division. The team can have some legs if they wanted it to. LeRae and Hartwell are part of a stable that also includes Johnny Gargano and Austin Theory. It's got potential, but we will see. As far as this match goes, Moon and Blackheart have a lot of momentum going their way and it's hard seeing them switching newly announced titles twice so quickly.
Winner(s) and STILL NXT Women's Tag Team Champions: Ember Moon and Shotzi Blackheart
John: There isn't that much of a story here. They wanted to get these titles on the card, which is fine. Candice LeRae has been feuding with Shotzi Blackheart dating back to last fall, so there is plenty of history there. I think LeRae and Moon are excellent wrestlers, Blackheart is pretty much at that level as well because she has improved a lot and then Hartwell is not at the same level as the others. That's okay because they can probably hide her weaknesses and Moon/Blackheart are great at selling, so it should be fine. In terms of match quality, it's not going to compete with the best Takeover matches, but I think they'll get through it okay. Moon and Blackheart keeping their titles is the likely result here.
Winners: Shotzi Blackheart & Ember Moon
Ladder Match for the Undisputed NXT Cruiserweight Championship: Santos Escobar (C) vs. Jordan Devlin (C)
Kurt: I have no doubt that both men are going to try and be the show stealers of not just this night, but ALL of Takeover. Santos comes across as a big deal. I love his presentation and how seriously he takes being champion. He makes the Cruiserweight Division feel important. Devlin is one of my favorites in the NXT UK roster, and much like Walter, I'm very excited he could come back to America to be showcased on this level for this show. I hope he can stay long term, but if he's meant to be in the UK, then this match is obviously just a match to tie up loose ends and Santos can continue running the division. My only issue is that after this match, Santos is going to need more contenders set up, as he's seemingly run through everyone already.
Prediction: Santos Escobar retains
Lance: Devlin was catching fire pre-covid and looked to be positioned to have a nice run. He wasn't able to defend the title during Covid, so NXT held a match to crown an interim champion, which was won by Santos Escobar. He has been champion since that time and the match took place in mid-2020. Devlin has now returned and the two will clash to find out who the real champion is. I think that about sums up how we got here. I think Devlin is a good worker and Escobar has impressed me in the limited amount of time I have seen him. This should be good with smaller guys using their athleticism to tell the story. There will be some big bumps and if given a good amount of time, should be solid all around. It seems like Devlin was someone worth keeping your eye on, but as we stand right now, I feel like this is going to be a win for Escobar. It should be awesome either way.
Winner and Undisputed NXT Cruiserweight Champion: Santos Escobar
John: This should be an awesome match. There haven't been that many singles Ladder Matches in NXT history, so that will make it stand out right away. Escobar has been a dominant heel champion for nearly a year while Devlin has held his version of the title for over a year. I'm not sure what the long term plan is for Devlin, but I feel like he's probably going to stick around the American NXT brand, so I think Devlin should win this match. I think both guys can pull off some cool moves with the ladder, but Devlin will probably be a bit more spectacular in what he does. It may be hard to outshine some of the other matches due to how good others will be. However, having a Ladder Match will make them stand out too. I feel like they'll definitely get 15 to 20 minutes to have a great match and they will deliver. I'm excited to see it.
Winner: Jordan Devlin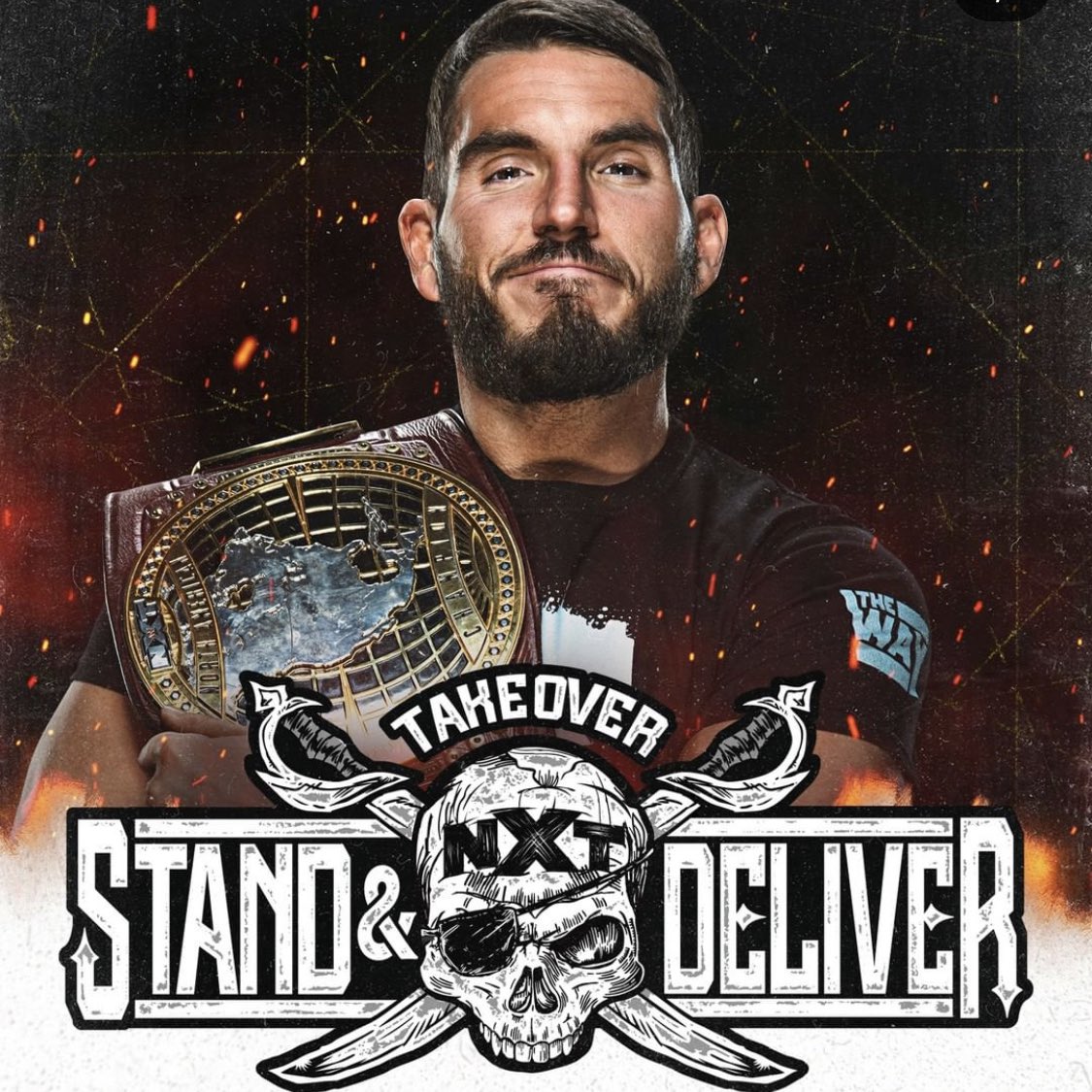 NXT North American Championship:Johnny Gargano (C) vs. Winner of Night 1 Gauntlet Eliminator
Kurt: Based on my prediction earlier, this will end up being Gargano defending against Dexter Lumis. Lumis and Gargano have had a pretty entertaining storyline going on, where Gargano acts like he's not scared of Lumis, Austin Theory may or may not be best friends with Lumis, and Indy Hartwell thinks Lumis is hot. So all of this should come to a head in this match. I don't think The Way will implode just yet. I could see a scenario where The Way was outsmarting Lumis the entire time and put their plan to action in this match, later revealing that they went into this assuming Lumis would win the gauntlet to fall into their plan. I think more likely though is Theory doing something to cost Gargano the match, whether on purpose to prove he and Lumis are friends, or accidentally that ends up leading Theory to be kicked out of the group. Either way, I think the next step in Lumis' elevation is to put some gold on him and make him the North American Champion here.
Prediction: New North American Champion, Dexter Lumis
Lance: Since I picked LA Knight to win Night 1, he would be the one taking on Gargano here. Gargano has been knee-deep in the NXT North American Title scene and is the only three-time winner of the title. LA Knight is the fresh guy in and obviously, they see something in the veteran. The guy can work that's for sure, and Gargano's has been known to be called Mr. Takeover. As I have mentioned before, Gargano is the leader of The Way which is a heel faction that might have some potential to it if booked correctly. With LeRae and Hartwell losing earlier in the night, I can't see them taking all the titles away from the faction. LA Knight probably won't be in NXT long, and he doesn't really need to have a title run anyway.
Winner and STILL NXT North American Champion: Johnny Gargano
John: My pick was Dexter Lumis on night one, so that means Gargano faces Lumis for the first time with the NXT North American Title on the line. I think we'll see a new champion in this match because Gargano has had a decent run with the title, but I don't know if he needs a very long run with it. Lumis has been gaining momentum as a dark, unique type of babyface wrestler and it might be the right time to put a title on him. I don't really see Lumis as a long-term champion either. I think a heel like Cameron Grimes or LA Knight should take the title off him at the right time. I just think for right now, Lumis is a good choice as the next NXT North American Champion. This might not be a long match either. If they want Lumis to look impressive as a new champion, keep it shorter than most matches on the show.
Winner and NEW NXT North American Champion: Dexter Lumis
Unsanctioned Match: Kyle O'Reilly vs. Adam Cole
Kurt: I know at least one of my colleagues is predicting Cole to lose here and for this to be his swan song in NXT. That makes a lot of sense, and all the pieces are there for it to happen. Undisputed Era break up, almost seemingly out of nowhere, O'Reilly is now primed to be pushed as a top star in NXT, and it's WrestleMania time where you're sure to see some call-ups after the big show. I just don't want to see it.
There's a reason Cole has been in NXT as long as he has, and it's not because of how great he's been in NXT. And make no mistake about it, he's been GREAT. He's a Rock star. He's everything you want in a top guy. Except he's not everything VINCE wants in a top guy, and that's why he's been in NXT this long. At this point, I'd rather Cole be a NXT lifer and know he'll be protected. I don't want to see everything NXT made about Cole, be undone in a couple of months as the track record with most NXT call-ups has shown. Sure, maybe he can avoid it like a Seth Rollins, but how many NXT people came to Raw and Smackdown on top and stay on top? That list is very, very short. There's a reason Vince goes back to the well for legends and part timers and it's because the NXT sure things he's given to be top stars, he buries them in record time and no one is truly "over." Sorry I didn't say much about the match, I just had to get that off my chest.
Obviously, Cole and O'Reilly have a TON of history with each other, know each other like the back of their hands and will have a kickass battle. Even though I don't think/want Cole to go to Raw or Smackdown, I think the right decision is to have O'Reilly win regardless.
Prediction: Kyle O'Reilly
Lance: This match will have the most emotion going into it. These two have been on the same side of the fence since debuting and only recently split up after Cole turned his back on The Undisputed Era. Cole is an absolute star and a much better heel than a babyface, although I can handle either. O'Reilly got a shot at Finn Balor and The NXT Title a couple of months ago and showed he can handle the big time. Whenever I hear an unsanctioned match, it harkens back to Shawn Michaels vs. Triple H at SummerSlam 2002. Now, I am not saying this match will be on that level, but you never know with the skill of these two.
This will be a wild brawl, full of ups and downs. I think Cole is destined for the main roster, sooner rather than later. He has done all he can in NXT and has been a cornerstone for the brand for the last couple of years. Let's see what he can do in the big time. O'Reilly is pretty excellent himself, and I just think this match will be above average at the lowest. Maybe I have too high of expectations, but I live for matches like this. I think with Cole possibly being moved up and O'Reilly looking to be a main event player, it might be time for Cole to do the job on the way out.
Winner: Kyle O'Reilly
John: This is my favorite match on either night. It has the best build of any Takeover match. I also think it will be the best match in terms of my star ratings for the matches. I know they have wrestled before in Ring of Honor when they feuded there and I saw some of those matches (as well as New Japan), but this is NXT after nearly four years of being on the same side. I'm expecting an outstanding match between two of the best wrestlers in all of WWE that know eachother very well.
You saw Kurt allude to a colleague predicting Cole leaving NXT after this and that's me. I let the guys know that was my prediction because I've been mentioning it a bit in my NXT reviews as well. I think Cole has done all he can really do in NXT from having the longest reign as NXT Champion to leading the Undisputed Era group that has now split up for good. If Cole puts over O'Reilly then there's not much else for him to do in NXT other than going after other titles he's already held. Cole is in the prime of his career. I want to see him facing guys like AJ Styles, Kevin Owens, Seth Rollins, Daniel Bryan, Roman Reigns and so many others. I don't really care if some NXT guys haven't lived up to the hype on Raw or Smackdown. You don't know unless you try and I want Raw/Smackdown to be better. Having Adam Cole on those shows will help those brands immensely because Cole can do it all even if he is undersized. There's a lot that can do.
This should be a long match in the range of 20-25 minutes with both guys going for a lot of submissions and using weapons throughout the match. There should be a lot of drama in the match, plenty of nearfalls and kicking out of big moves. A lot of Cole's signature moves are well known while Kyle's are not as a singles wrestler, so it will be interesting to see how they book those big spots. In the end, I think the babyface O'Reilly is going to get revenge for Cole turning on him. If Kyle doesn't win, I'll be very surprised.
Winner: Kyle O'Reilly
NXT Championship:Finn Balor (C) vs. Karrion Kross w/Scarlett
Kurt: I think this match is far more likely to have the loser of it get moved up to Raw or Smackdown. I think Kross and Scarlett need Raw or Smackdown more than Finn does. Their presentation is meant for a bigger production. Imagine that entrance taking place at WrestleMania this weekend instead of at Takeover. That's the one thing Raw and Smackdown can give superstars that NXT can't. Sometimes it doesn't matter, but in cases like Kross and Scarlett, it does. I think Finn is perfectly content on NXT, making it his brand. Even without live events and the travel that comes with it, I don't think he wants the grind of the main roster again.
A part of me thought Balor might pull out The Demon for this one, a dynamic that would've been interesting considering Kross' character traits and size. However, I love the fact that Balor doesn't need The Demon anymore. He exudes confidence and believes in himself more than ever before. It's unfortunate that Kross didn't get a real run with the NXT title, but I just don't think he's long for the brand. This will be a hell of a battle, probably the longest match of the night if not the entire Takeover. Balor finds a way to hang on & there is no shortage of challengers waiting for him.
Prediction: Finn Balor retains
Lance: Kross won the NXT Title last August, only to have to forfeit it the next night after suffering a shoulder injury that would keep him out for a few months. He is back now and looking to regain the title he had to give up. Balor has been on fire since returning to NXT and he has proven he is one of the best in WWE right now on any brand. I like the Karrion Kross character and have admitted in the past that I slept on him in the indies, but I am a fan now. I think the pairing with Scarlett is cool and the whole vibe is awesome which I am here for.
This is the first meeting of these two in NXT, but I think that will not make it any less solid. Both men are great workers and Balor has the ability to have a good match with everyone. It'll be interesting to see if he goes back up to the main roster eventually, but he seems to be content for now. The thinking with this match is going to be whether or not they pick up where they left off with Kross, or if Balor stays on top for a good chunk of this year. Kross is another one I could see being pulled up sometime this year and this match should be a great display for both men. I do think Kross has the goods to run with the ball and it'll be up to his body to see how far he can take it. This should be one of the better NXT Title matches they have had, and no matter who wins, I think there will be no loser.
Winner and NEW NXT Champion: Karrion Kross
John: This could go either way. I also think it's a match where the loser is likely going to be on Raw or Smackdown after WrestleMania. With that in mind, I feel like Finn Balor is in a comfort zone in NXT, he's performing at a very high level and I think WWE is going to want to keep him there as one of the top guys of the brand along with the likes of Johnny Gargano and Tommaso Ciampa. When I look at Karrion Kross, the whole package with Scarlett, the spectacular entrance and the menacing nature of his character, I feel like that's a guy that can be a bigger star on Raw or Smackdown. That's why I'm leaning towards picking Finn Balor to further establish him as a dominant NXT Champion.
I hope it's a great match, but I don't know if it will be. Some of the Karrion Kross matches in the past haven't lived up to the hype because of his style that is different than some of the other guys. Kross has had Takeover matches with the likes of Keith Lee and Tommaso Ciampa that were okay, but hardly memorable. I'm not trashing Kross or anything. I think he has the look of the star. I'm just saying the history of great matches isn't there, so maybe this is the time where he's with the right opponent to get him to that level. I've been reviewing Balor matches regularly for the last six years or so and I feel like he's as good as he's ever been right now. That's why I'm hoping they can have a match worthy of the NXT Title.
I'll go with Balor for the win in a match that gets around 15-20 minutes. I expect Kross to come close to winning several times and probably be in control for most of the match. However, Balor is my pick although it's definitely not a lock or a sure thing. It's a toss up, really, which is fine with me because I like the unpredictability.
Winner: Finn Balor
BONUS TOPICS!
The Match I'm Looking Forward To The Most
Kurt: Ciampa/Walter overall and Finn/Kross specifically for night two.
Lance: Cole vs. O'Reilly.
John: I think it's Adam Cole vs. Kyle O'Reilly overall. For night one, I'll go with WALTER vs. Tommaso Ciampa.
The Match I Care About The Least
Kurt: I would say a tie between the gauntlet match and women's tag title match, but I have things in both matches I'm specifically interested in, so there's not much to hate on this show.
Lance: I will go with the NXT Tag Team Title match, although there isn't a lot of fluff here. Every match on paper should deliver.
John: The Women's Tag Team Title match. I understand why it's on the card and I have no problem with it. I just think it's lacking in terms of storyline.
Longest Match
Kurt: Walter/Ciampa and Finn/Kross.
Lance: I would love for it to be The Unsanctioned Match, so I will go with that.
John: A lot of matches could go over 20 minutes, so it's tough to pick. I'll go with O'Reilly vs. Cole overall and WALTER vs. Ciampa on night two.
Shortest Match
Kurt: Both tag title matches on each night.
Lance: NXT Women's Tag Team Title match.
John: NXT Women's Tag Team Title match around 12 minutes. Maybe Lumis vs. Gargano will be even shorter.
Excitement Level on a Scale of 1-10 (1 being low, 10 being high)
Kurt: I'm going with a solid 9. Two nights is a lot, especially with two nights of Mania right after, but there are 10 damn good matches scheduled and a ton to be excited about. It should be one of the best Takeovers ever. If it's not, something has gone terribly wrong.
Lance: It's 8 for me. These two cards are absolutely stacked. I am looking forward to Night Two a tad bit more, but I am stoked on both. I love seeing the women getting a shot to close Night One. These are going to be two excellent shows.
John: I'll go with an 8.5 out of 10. Takeover shows rarely disappoint and I think there's a lot to like when there are ten matches to choose from. Some of the matches aren't going to live up to the hype because of a lack of time or how they are booked, but I think both nights will be awesome. If I had to guess about my star ratings for matches, I'd go with probably five matches hitting 4*+ level and when you have half the card at that level, that's pretty special. We didn't really predict any surprise debuts or returns, but I'd be all for that too. I'm looking forward to all of it.
In Closing
John: I'll be back with a review of WWE NXT Takeover Stand & Deliver on TJRWrestling.net on Wednesday and Thursday. I think I'll write live on Thursday for sure, but Wednesday might be a bit delayed.
Our Twitter handles are: Kurt Zamora – @KTankTJR, Lance Augustine – @CollectiveHeel and John Canton – @johnreport.
If you want to send an email, send it to me at mrjohncanton@gmail.com as well. Thanks for reading.