TJRWrestling WWE Greatest Royal Rumble Preview
The first ever WWE Greatest Royal Rumble takes place this Friday evening at the King Abdullah Sports City Stadium in Jeddah, Saudi Arabia. It's expected that there will be about 60,000 or so people in the outdoor stadium. The Greatest Royal Rumble has a start time locally in Saudi Arabia at 7pm. The event is being broadcast live on WWE Network for most of us and in select local markets as well. That means it's taking place at 12pm ET where I live, 9am PT for people on the west coast, 5pm for my friends in the United Kingdom and the rest of you can figure out your own time zones. There is a Kickoff Show that begins an hour before that, but I have no interest in the Kickoff Show. The expected run time of the card is five hours, so plan accordingly.
In a press release for the event that was released in early March, WWE said that "this event is part of a 10-year strategic multiplatform partnership in support of Vision 2030, Saudi Arabia's social and economic reform program." We won't know officially what WWE is getting paid for this show for a few months, but the rumors are that WWE is getting anywhere from $30 to $40 million, which means it will be a very profitable show for WWE.
This event is taking place under a cloud of controversy as well because there are no women's wrestlers on the show. That's because of laws that are in place in Saudi Arabia, so none of WWE's female talent is going to the show. I'm sure that a lot of WWE's women are upset about it even though they can't say it, but a lot of them might be happy to have a WWE break for five or six days depending on their schedule.
Triple H addressed the lack of women participants in an interview published by The Independent yesterday, which I covered here. Here's what he said:
"I understand that people are questioning it, but you have to understand that every culture is different and just because you don't agree with a certain aspect of it, it doesn't mean it's not a relevant culture. You can't dictate to a country or a religion about how they handle things but, having said that, WWE is at the forefront of a women's evolution in the world and what you can't do is affect change anywhere by staying away from it. While, right now, women are not competing in the event, we have had discussions about that and we believe and hope that, in the next few years they will be. That is a significant cultural shift in Saudi Arabia. The country is in the middle of a shift in how it is dealing with that – the position is changing, and rights are changing, as are the way women are handled and treated in society. We think that's a great thing and we're excited to be at the forefront of that change."
I think Triple H handled that about as well as he could. I don't like that WWE's women have to stay home or some of the things I've read about how women are treated in Saudi Arabia, but if this show is a step in the right direction like Triple H mentioned then that's a positive. If you watch WWE regularly, you know how much they push their women's division and for them to do a show without them seems odd. It's a business decision. The bottom line is WWE is trying to make money and this event is going to make them a lot of money. Some people aren't going to like it, but it's not like WWE can change the laws of a country. Maybe they should have passed on doing the deal. It's their choice and as fans, it's our choice to watch it. I'm going to watch and review because that's what I do.
Since this is not a traditional pay-per-view event, I'm going to write this preview solo. I'll be joined by my regular PPV preview crew next week for Backlash, which is on May 6.
That was a long intro because there was a lot I needed to cover. Let's get to it.
This is going to be GOOD! @CedricAlexander vs. @KalistoWWE for the #Cruiserweight Title THIS FRIDAY at #WWEGRR! #205Livepic.twitter.com/WalA7knmK2

— WWE (@WWE) April 25, 2018
Cruiserweight Championship: Cedric Alexander (c) vs. Kalisto
Kalisto earned the title shot with a win on 205 Live this week. There's no storyline to this match, so it's just a chance for two athletic guys to go out there for 10-15 minute and try to wow the crowd. I'm not sure if the Saudi crowd will see them as stars or if they will be quiet for the match. I'll go with Alexander retaining since he just won the title at WrestleMania a few weeks ago.
Winner: Cedric Alexander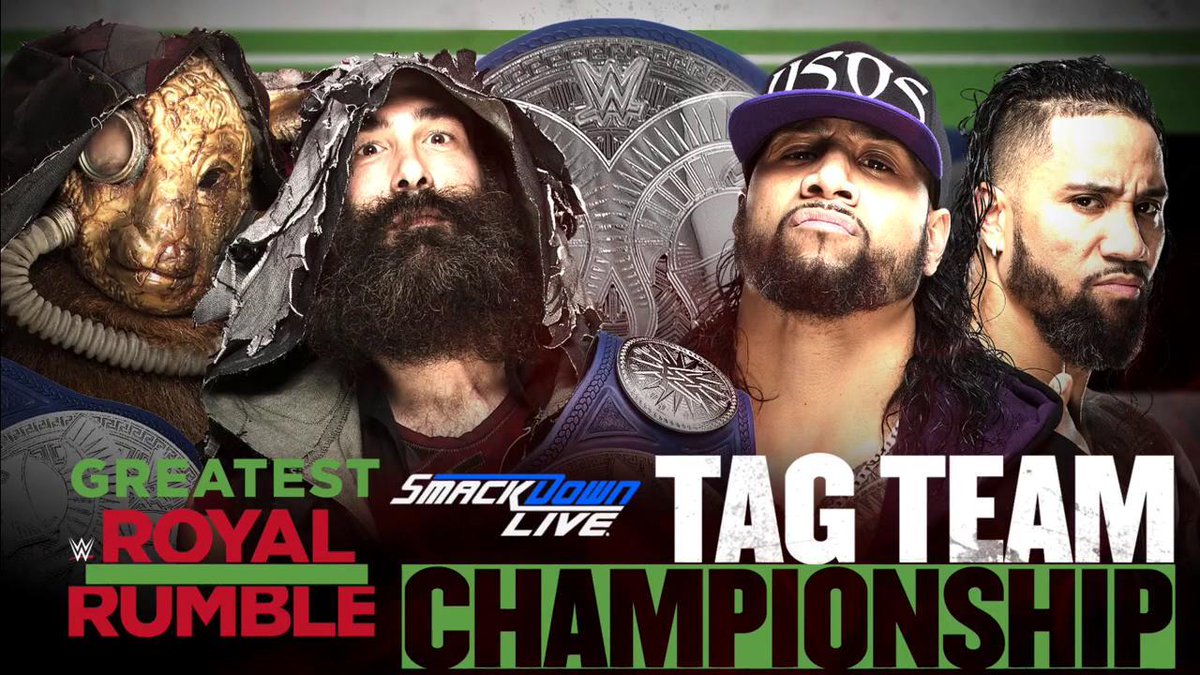 Smackdown Tag Team Championships:The Bludgeon Brothers (c) vs. The Usos
Most Bludgeon Brothers are short and that's what I expect here as well. They have been a dominant team on Smackdown since they returned in these new gimmicks and have beat up The Usos numerous times. Perhaps down the road The Usos will find a way to win as the underdogs, but this should be a win for the Bludgeon Brothers.
Winners: The Bludgeon Brothers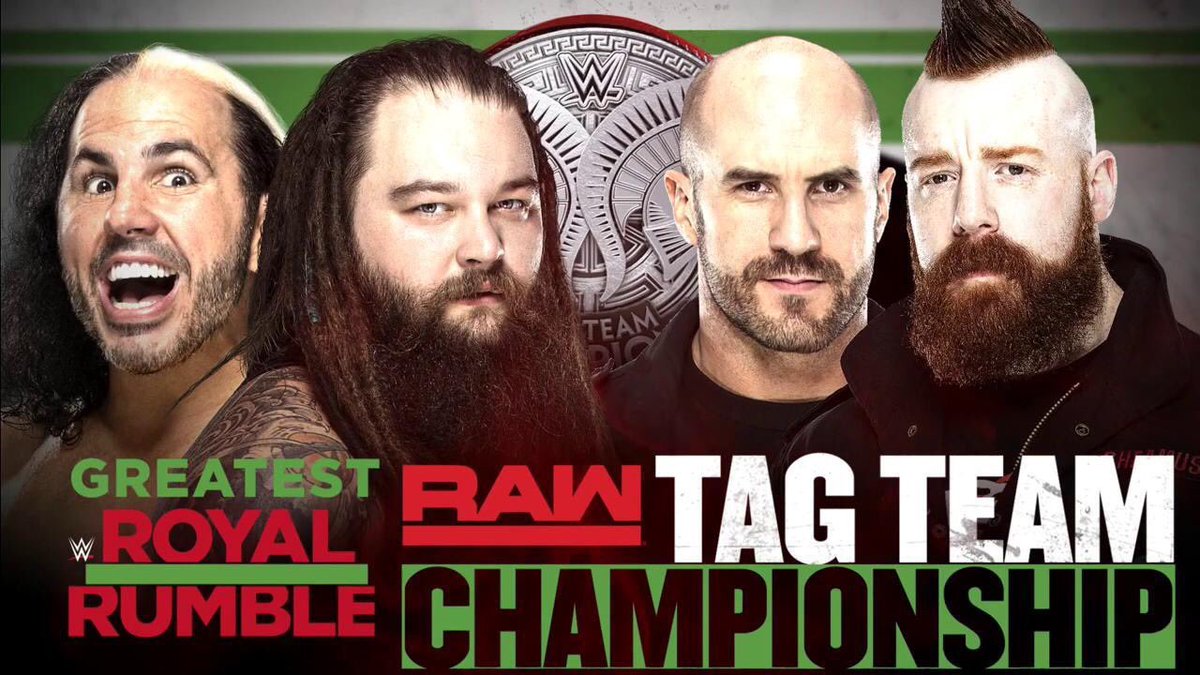 Raw Tag Team Championships (Titles are vacant): Bray Wyatt and Matt Hardy vs. Sheamus and Cesaro
This should be a win for Wyatt and Hardy. I know Sheamus and Cesaro mentioned on Smackdown that if they win the titles they will go back to Raw, but I doubt that's going to happen. The Wyatt and Hardy team is on fire right now as a unique pairing. A win here would give Wyatt a lot of momentum in the new face role that he is in. There's no good reason to put the titles back on Sheamus and Cesaro.
Winners and New Raw Tag Team Champions: Bray Wyatt and Matt Hardy
United States Championship: Jeff Hardy (c) vs. Jinder Mahal
It's possible there will be a title change here with Mahal winning the US Title back and taking it with him to Raw while somebody in the IC Title match that's on Smackdown could take that title to that show. It's hard to know what WWE is thinking since they change titles so often of late. I'd rather see Hardy have a title reign for a few months. Mahal can move on to other things on Raw. I'll go with Hardy keeping the title.
Winner: Jeff Hardy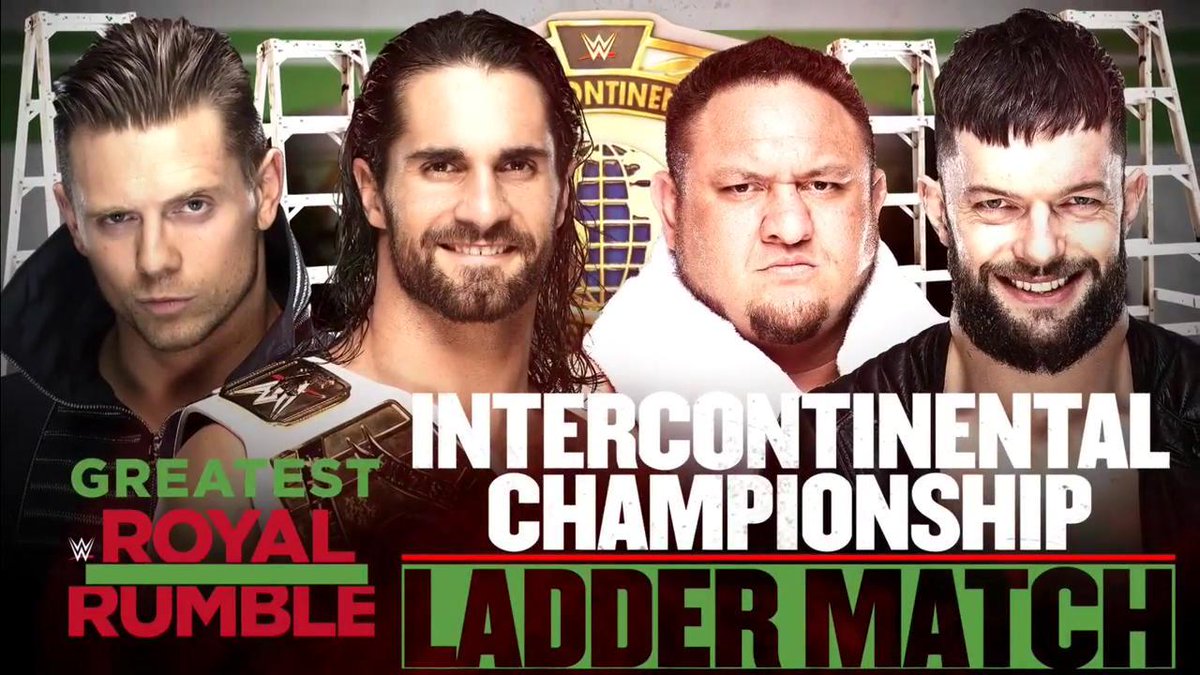 Intercontinental Championship Ladder Match: Seth Rollins (c) vs. The Miz vs. Finn Balor vs. Samoa Joe
This should be a very good match since all four guys are awesome performers and any time there's a Ladder Match with four or more guys involved you know it will be a lot of fun. I wonder if they will go all out to have a crazy match with a lot of bumps or if they play it safe with only a few big moments. They're all veterans with a lot of experience, do I don't expect anything too wild.
I'm leaning towards Rollins retaining his title or possibly Finn Balor winning it. Balor was my pick at WrestleMania and then I thought Balor would get moved to Smackdown, but he's still a Raw guy without a title. I know Miz has eight IC Title reigns and Jericho has the record with nine title reigns, but I don't think Miz is going to tie the record here. Miz still has plenty of years and they can tell that story down the road. I'm going with Rollins.
Winner: Seth Rollins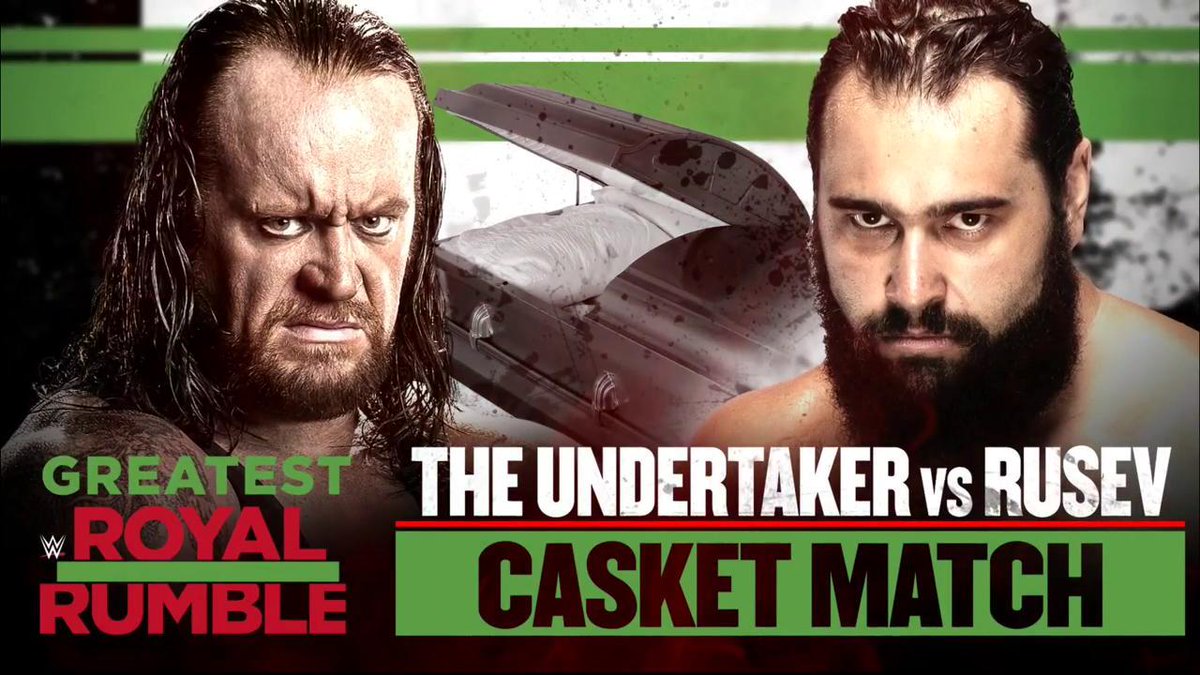 Casket Match: The Undertaker vs. Rusev
Normally in a match like this the easy prediction is to pick the guy in his early 30s over the guy that's in his early 50s, but not when it's a Casket Match with The Undertaker. I expect Aiden English to get involved, Rusev will come close to winning a few times and Undertaker will end up getting the victory. If it goes longer than ten minutes I'll be surprised. It's a win for Undertaker.
Winner: The Undertaker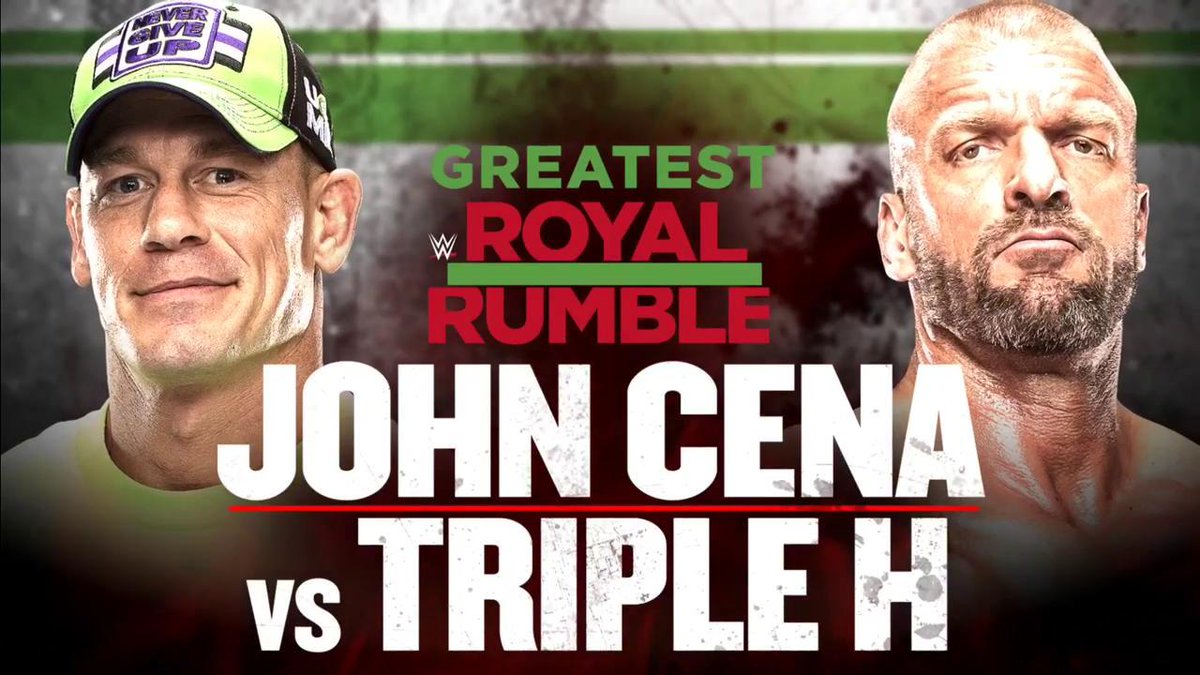 John Cena vs. Triple H
It's been advertised as their first match in nearly a decade. They have wrestled a lot in their careers, but not nearly as many times as each of them has wrestled Randy Orton. We also have no idea when either man is going to wrestle after this, so the "building momentum" thing means nothing in this case. Maybe Cena is back from movie commitments for SummerSlam. I'm not sure when Triple H would consider wrestling again. This is merely just a "Legends" match to entertain the fans that don't get to see these guys that often.
Picking a winner is difficult. It doesn't really matter with no storyline and no knowledge of this if this is leading to anything. I doubt it's leading to anything significant for them. I'll go with Cena just because Triple H wrestles less often and Cena is the younger guy, so he might as well go over.
Winner: John Cena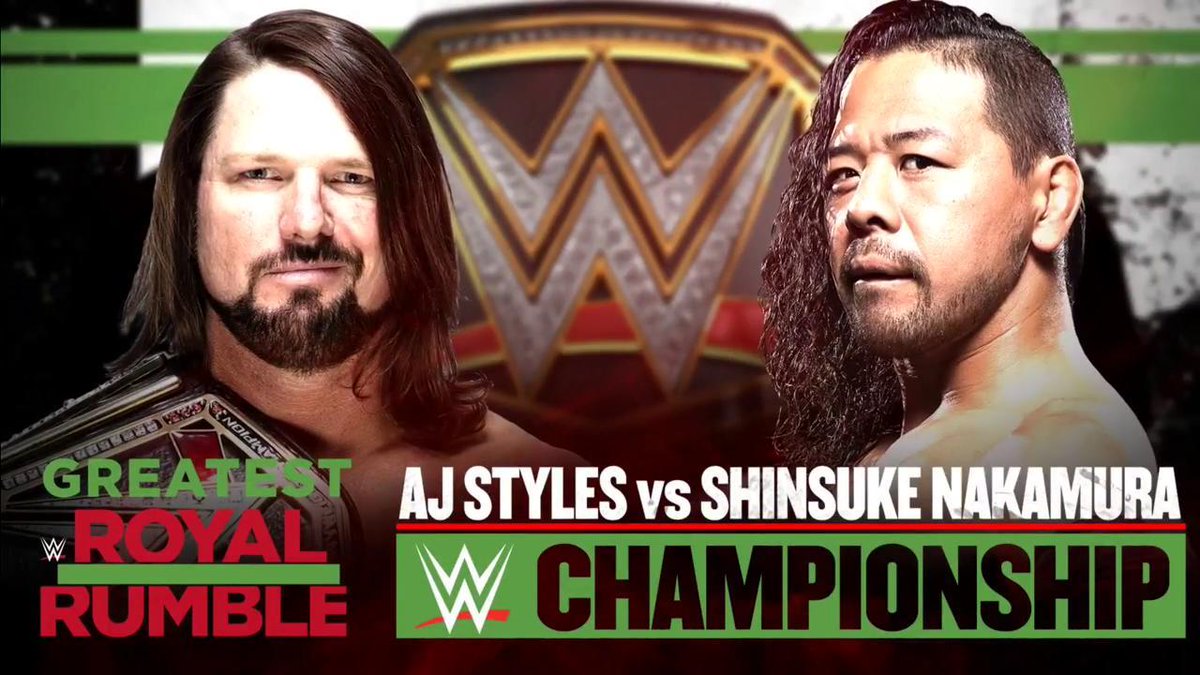 WWE Championship: AJ Styles (c) vs. Shinsuke Nakamura
I hope their second big match in WWE is better than the first match at WrestleMania, which was a bit disappointing. The good thing about this one is Nakamura is in full heel mode as the man that enjoys hitting Styles with low blows every week. I think the finish that makes sense is to have a ref bump, Nakamura can go for a low blow and Styles would reveal that he's wearing a cup. That is something that has happened in wrestling in the past and it might work in this scenario. I'm not sure if it's the best thing to do in front of the Saudi Arabian crowd, so maybe that's what they go for if they do this match at Backlash.
A title change is a possibility because I think they turned Nakamura heel to put the title on him. I just don't know if that title change is best suited for GRR or if WWE can wait until Backlash or another PPV style event. I'm going to lean towards a disqualification ending. It could be Styles gets disqualified because he hates Nakamura so much with the low blows that Styles ends up kicking him in the groin. It might be a stretch, but it sets up a rematch for them as well. I'll officially predict a Styles win. I think this match has the best chance to have a controversial finish.
Winner: AJ Styles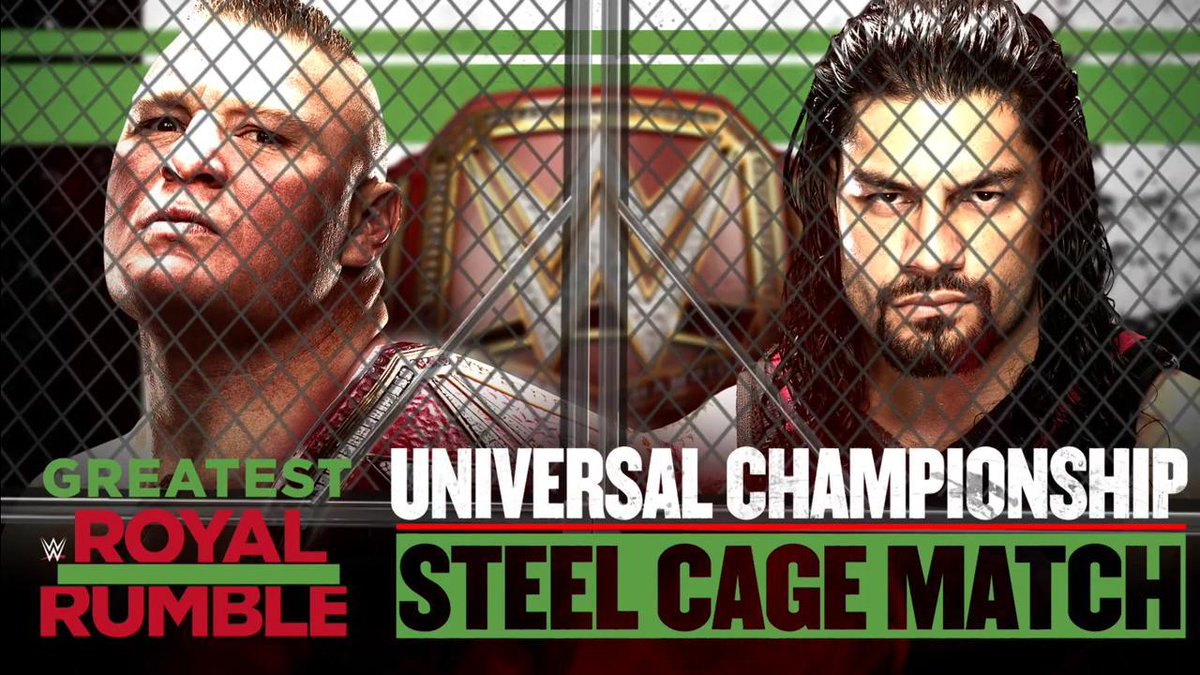 Universal Championship Steel Cage Match: Brock Lesnar (c) vs. Roman Reigns
I thought Roman Reigns should have won the Universal Championship and when he didn't win, I felt like that was a mistake. I realize that with the GRR show here that WWE may have felt like this is a better show to do a title change, but having Reigns come up short against Lesnar again makes Reigns look bad. It's likely that WWE felt that Reigns would be cheered more in Saudi Arabia, so when he does beat Lesnar it may be a better moment for Reigns. It also gives a memorable title change for this event, which again is a nice treat for the fans in Saudi Arabia.
I'm going with Reigns surviving the onslaught from Lesnar and leaving with the Universal Title to end this nearly 13-month reign of Lesnar as champion. I hope that WWE is willing to try the Reigns heel turn after this because with guys like Strowman, Rollins and Balor on the Raw roster, they are strong on the face side and weak on the heel side even though I like Kevin Owens a lot and hope they push Drew McIntyre too. I doubt that guys like Sami Zayn or Dolph Ziggler would be booked in a credible way against Reigns. I'm sure Vince McMahon loves the idea of Reigns vs. Baron Corbin, but I don't think the fans like it that much.
Winner and New Universal Champion: Roman Reigns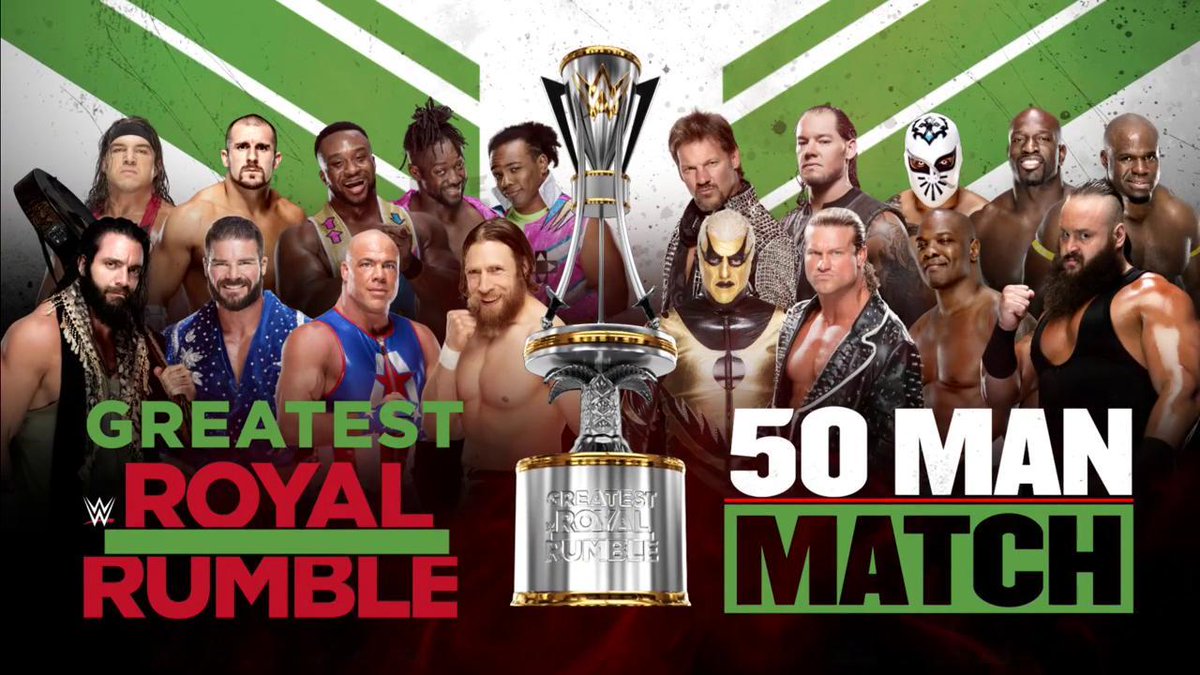 50-Man Royal Rumble Match
Names include: Daniel Bryan, Braun Strowman, Kurt Angle, Shane McMahon, Chris Jericho, Rey Mysterio, Kevin Owens, Sami Zayn, Elias, The Great Khali, Baron Corbin, Big E, Kofi Kingston, Xavier Woods, Apollo Crews, Shelton Benjamin, Sin Cara, Chad Gable, Goldust, Titus O'Neil, Mojo Rawley, Dolph Ziggler, Bobby Roode and more.
My concern with this match is that it's going to be too long. When WWE did the 40-man Royal Rumble in 2011 it was too much. There's just too much filler in the match and the excitement level goes away when you have to sit through a match that is that long. A typical 30-man Rumble match goes about one hour, which is fine. If they go with 90 second intervals like usual in this match then it's going to be 1 hr, 30 minutes in length and probably a bit longer than that. I understand wanting to do something big for Saudi Arabia by making it the biggest Royal Rumble match ever, but that doesn't mean it's going to be that much fun to watch. I'm sure moments will be great. Other parts of it will drag on, though.
What WWE has failed to do with this match is tell the fans what is the prize for the winner. At the annual WWE Royal Rumble in January, the prize is a WWE or Universal Championship match at WrestleMania. In this match, nothing has been announced officially although there have been online reports that the winner gets some trophy. They have hyped it up heavily on television with nothing announced for the winner. When WWE wants to get a message across they say it repeatedly, but when they don't want people to be disappointed by the lack of a prize they ignore it completely. Welcome to the WWE Universe.
I feel like the two most obvious choices are Braun Strowman and Daniel Bryan since they are the two most popular guys in the match. I'm leaning towards a Strowman win since he's such a dominant big guy on the Raw brand. Bryan has a current feud with Big Cass, plus he could get tossed by The Miz, Kevin Owens or Sami Zayn as past rivals of his. I think Strowman makes more sense as the winner.
This is going to be a long one. Good luck to the crowd staying hot for all of it because that's going to be difficult.
Winner: Braun Strowman
In Closing
That's the lineup and my thoughts on all the matches. I think there are some potentially great matches if the wrestlers go all out, but I'm not sure if they will do that since it's more like a televised house show that WWE is making a lot of money off of.
I plan on being here on Friday for a live review of Greatest Royal Rumble starting at 12pmET. Hopefully, I'm able to do it all live.
My contact info is below. Thanks for reading.
John Canton
Email mrjohncanton@gmail.com
Twitter @johnreport
Personal Facebook and TJRWrestling on Facebook