TJRWrestling WWE Extreme Rules 2019 Preview
Welcome to the TJRWrestling WWE Extreme Rules preview. It is the 11th straight year where WWE has held an Extreme Rules event although the month has changed because it's taken place in April, May, June and for the last two years, in July. The concept behind Extreme Rules is to set up some gimmick/stipulation matches to make it feel different from a regular WWE show. This year, they only have a few of those types of matches, so they definitely didn't overdo it in terms of trying to spice things up a bit.
There are currently ten advertised matches with no plans to add anything more according to the Wrestling Observer, but they could always change their mind. I think you could make a case for Finn Balor vs. Shinsuke Nakamura and Kevin Owens vs. Dolph Ziggler being on this card, but maybe WWE is saving those matches for a bigger show like SummerSlam next month.
I think the lineup is better than what they set up for Stomping Grounds last month. The thing about Stomping Grounds was that even though the matches weren't that interesting going in, the work in the ring was pretty good and it exceeded the expectations of most people, including mine. For Extreme Rules, I think there are better matches "on paper" like Ricochet vs. Styles, Black vs. Cesaro, Kingston vs. Joe and Revival vs. Usos. Those four matches I mentioned all have the potential to hit four stars out of five (or higher) on my ratings scale, so when you have that many great matches on one show, then it's a reason to get more excited about what we will see on Sunday night.
There is also some behind the scenes intrigue for Extreme Rules because Paul Heyman was hired as the Executive Director of Raw while Eric Bischoff was hired as the Executive Director of Smackdown. In the two weeks since those announcements, Heyman has had his fingerprints on Raw a bit although he's not fully "in power" I guess you could say. Bischoff hasn't been at Smackdown and he said he's not even going to Extreme Rules because he's driving his family to his new home in Stamford, Connecticut, which is where WWE's headquarters are. The expectation is that after Extreme Rules, Heyman and Bischoff will both be more involved in their brands, but as we all know, Vince McMahon still has the final say on everything. What I do hope WWE does going forward is they stop the "Wild Card Rule" that they have largely ignored because both shows are better when wrestlers are exclusive to one brand. From a creative standpoint, it's probably easier to book the shows that way too. On this show, we have Raw's Samoa Joe and Alexa Bliss challenging for titles on Smackdown, so that's something I would like to see come to an end because there's enough talent on both brands that they don't need to have people crossing over every week. Anyway, we'll see if that gets changed on the road to SummerSlam.
I am running solo for this preview because my usual PPV preview partners, Mike Holland and Matthew J. Douglas, have been busy with work commitments.
(Note: All graphics are from WWE. The banner up top is courtesy of my friend Melo Man.)
Cruiserweight Championship: Drew Gulak (c) vs. Tony Nese
This should be a good match between two former allies. Nese is the former champion that lost the title in a three-way with Akira Tozawa when Gulak pinned Tozawa (as I predicted last month), which was done to set up this match. I expect this to be on the Kickoff Show, which will allow them to get 10-15 minutes to have a very good match that's competitive and fun to watch. The crowd usually gets into these matches towards the end. I'll go with Gulak for the win because there's no reason to take the title off him so soon after he won it.
Winner: Drew Gulak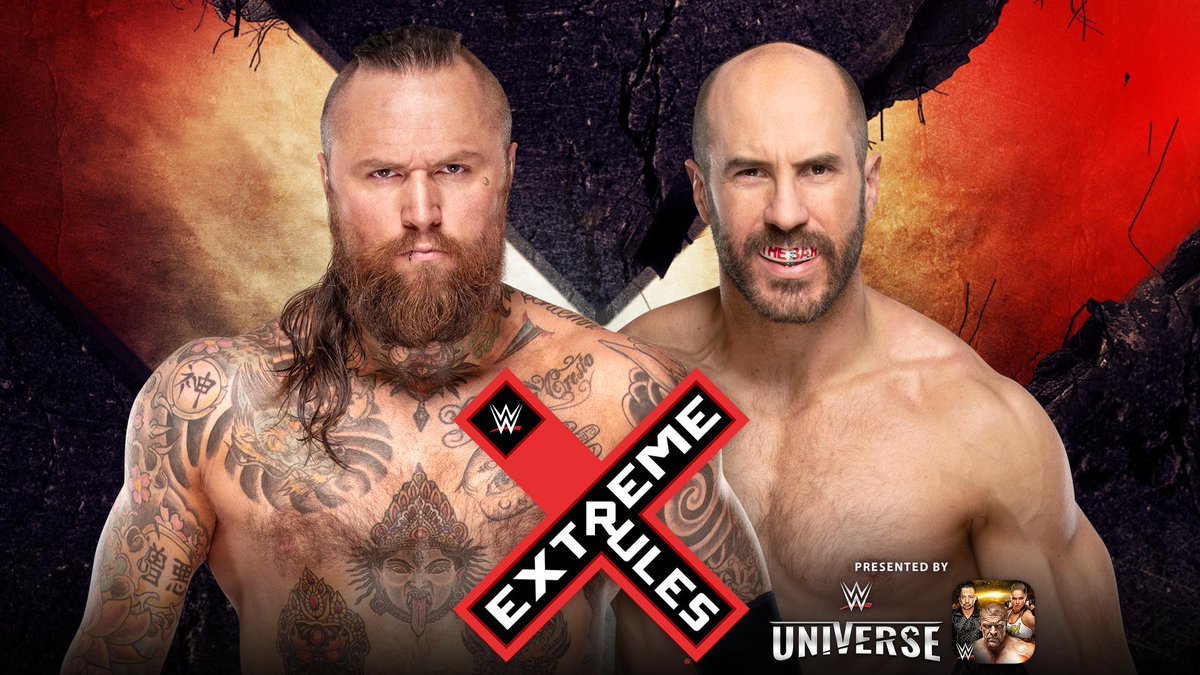 Aleister Black vs. Cesaro
I like this match a lot. It's the first Raw guy (Cesaro) vs. Smackdown guy (Black), but as we know, the brand extension is ignored now. There's not much of a story going in because Black sat in a dark room doing promos for two months about how he wanted somebody to knock on his door to fight him. We found out on Smackdown that Cesaro was the guy that knocked, so here we are. Black is from the Netherlands while Cesaro is from Switzerland, so I'm sure both guys are excited about having a hard-hitting European style of match.
If I was booking, Black would win every match he has for the first four months as a singles act. Build him up to be a big star. Black has already been on the main roster when he teamed up with Ricochet for months, but this also feels like a "debut" for him, so I doubt Black is going to lose. I just hope they get more than ten minutes to have an awesome match.
Winner: Aleister Black
Smackdown Women's Championship Handicap Match: Bayley (c) vs. Alexa Bliss and Nikki Cross
Note: Nikki Cross said on Smackdown that if they win the match, then she and Bliss will be co-champions. It would be like Laycool nine years ago.
The reason this is a Handicap Match is because Bliss has been dealing with a sinus infection for over a week, which caused her to miss Raw and Smackdown this week. I think a title change is a possibility because the co-Smackdown Women's Champions idea could be fun, but I would rather see Bayley hold onto the title. What they'll probably do is have Bliss/Cross dominate most of the match, Bayley makes the comeback and then Cross accidentally hits Bliss with a move, which leads to Bayley hitting her Bayley to Belly on Bliss for the pinfall win. That way, Cross can be apologetic towards Bliss, which would lead to Bliss using Cross for her own personal benefit for a few weeks more until Cross realizes what is happening.
It's also possible that Sasha Banks returns at this show to help Bayley win the match. That can lead to Banks/Bayley being on the same page for a while until Banks turns on her. I'd rather see heel Banks on Raw against Becky Lynch, but it makes sense to do Banks/Bayley too as a former best friends storyline. If Banks isn't back by this show (she has been in Japan in the past week) then it will probably be SummerSlam when she returns.
Winner: Bayley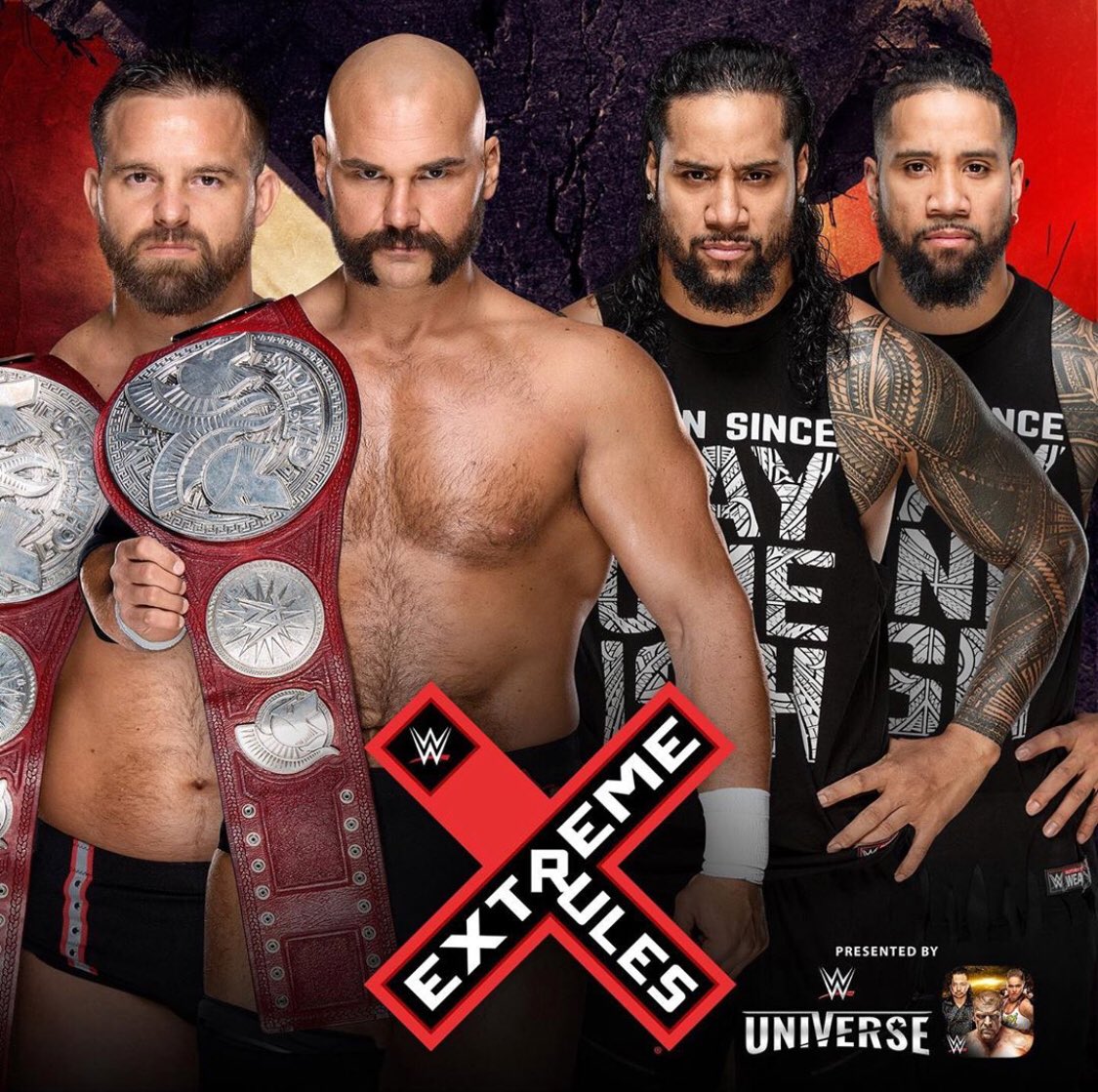 Raw Tag Team Championships: The Revival (Scott Dawson and Dash Wilder) (c) vs. The Usos (Jimmy and Jey Uso)
These teams have wrestled several times with The Usos winning in non-title situations, so I'm happy that they are getting a PPV match. I'm also glad that they got rid of some of the silly comedy bits that hurt this rivalry a few months ago. The Revival recently won the titles, which makes it hard to predict a title change. It's more fun when the face team is chasing the heel team in a scenario like this. I expect The Revival to find a way to win. A DQ result is possible too. I have had some readers contact me in recent weeks about how they saw these teams in matches at house shows getting around 20 minutes and those matches were outstanding. I'm not surprised by that. This is another match where people will be raving about how good it is if they get time to show what they can do. I'll go with The Revival winning in cheap fashion with a rematch coming at SummerSlam as well.
Winners: The Revival
Smackdown Tag Team Championships: Daniel Bryan and Rowan (c) vs. New Day (Big E and Xavier Woods) vs. Heavy Machinery (Tucker and Otis)
This match has sleeper potential to be very good. I really liked how the triple threat match on Smackdown between Bryan, Woods and Otis was put together. Bryan and Woods made Otis look like a star while Otis gets more comfortable every week. I'm glad that Heavy Machinery are not booked like jokes. I expect AOP to get back in the tag team scene very soon because they are healthy again.
It's tough to make a prediction here because my head says Bryan and Rowan retain because they are doing well as heel tag team champions, but my heart wants Daniel Bryan to get a singles push again going into SummerSlam. That means a title change makes a lot of sense. I feel like they put Bryan in a team to take it easy on his body for a few months. I think he'll go back to being in the WWE Title hunt or maybe the Universal Title if WWE continues to ignore the brand extension. I'm going with New Day to win because then they'll have the titles while Kofi Kingston also in WWE Champion (I guess I gave that prediction away), so it will be happy times for the New Day trio. If Heavy Machinery wins the titles then that's fine with me, but I would save it and keep building them up for a few more months.
Winners and New Smackdown Tag Team Champions: The New Day (Big E and Xavier Woods)
Last Man Standing Match: Braun Strowman vs. Bobby Lashley
The stunt angle they did on Raw where Strowman tackled Lashley through the LED boards was a cool moment that has helped this feud a lot. The match at Super Showdown wasn't good, the arm wrestling and tug of war competitions were boring, but once you tackle a guy and set off explosions, that makes a feud look a lot better. It was funny how WWE teased the idea that Strowman had a serious injury like a ruptured spleen (a serious injury) two weeks ago, yet now he's fine and having a Last Man Standing Match.
I think they are doing this kind of match to have Strowman lose without getting pinned. Strowman should be selling the injuries from two weeks ago while Lashley should be more healthy, which can lead to Lashley getting a much-needed win. I don't remember the last significant win that Lashley has had, so he's my pick to win this match. They can do a rematch with another stipulation at SummerSlam and Strowman should get the win there.
Winner: Bobby Lashley
United States Championship: Ricochet (c) vs. AJ Styles
This is the match of the night…if they get time. Yes, I have mentioned wrestlers having time to have a great match a few times because it's a major factor in terms of match quality. If they don't get at least 15 minutes I'll be surprised. Their two matches on Raw were both under ten minutes due to WWE's ridiculous "no wrestling during commercials" rule that they have followed for the last month. This time, in a PPV setting, they have the chance to have more of an outstanding wrestling match that fans expect from wrestlers as good as Ricochet and Styles.
I had a few people complaining to me about this match because they did it twice on Raw already. I don't mind that at all. The reason why they did it twice was to put Styles over, then have Ricochet go over and Styles turned heel, so now when they have the third match, not only is it 1-1 but there's more of a story with Ricochet wanting revenge for AJ's cheap attack on him. It's a good storyline that is designed to get Ricochet over more as a babyface on the rise that hopefully can be a PPV main eventer next year. I think Ricochet is outstanding, so the more screen time he gets, the better it is for everybody in WWE.
It's a tough match to predict because Ricochet has only had the title for about one month while you can make a case that Styles doesn't "need" it, so Ricochet going over makes a lot of sense. I don't like picking champions to have very short reigns either. However, Styles just turned heel with his buddies Gallows and Anderson watching his back, so it makes sense if Styles gets some help to win the match and the title. They can have Ricochet chase for a few months after that to keep the feud going. I'm not sure about this prediction at all, but I'm going with a title change.
Winner and New United States Champion: AJ Styles
WWE Championship: Kofi Kingston (c) vs. Samoa Joe
I already mentioned New Day winning the Smackdown Tag Team Titles to join Kofi as a champion in WWE, so that tells you I'm expecting Kofi to retain here. This feels like the first match in a series of matches between these guys. I'm not sure if the rivalry was just thrown together to give Kingston a fresh opponent because Joe could have been booked better in the build up to this match. Yes, Joe attacked Kingston multiple times to cause him to pass out in the Coquina Clutch, but Joe should have beaten some quality opponents going into this match. At least the promo segment they did two weeks ago was very good.
It should be a match where Joe dominates most of it, Kofi makes the big comeback and finds a way to win. Kofi has been booked so well as the champion with his only loss since WrestleMania coming against Joe in the tag team match a few weeks ago.
My prediction is that Kofi will probably lose the WWE Title at SummerSlam to Joe or Daniel Bryan or maybe even Roman Reigns. I just have a hunch there might be a 4-Way at SummerSlam. I don't have any info. It's just a feeling I have. Even Brock Lesnar is a possibility via Money in the Bank cash-in. I think by the time we get to the Smackdown debut on Fox in October, the WWE Champion is going to be Lesnar or Reigns. For now, I'll go with Kofi for the win.
Winner: Kofi Kingston
Extreme Rules Match for the Universal and Raw Women's Championships: Seth Rollins (c) and Becky Lynch (c) vs. Baron Corbin and Lacey Evans
Note: This is a one fall match for both titles. If Corbin pins or submits Rollins, then he is Universal Champion while Evans is Raw Women's Champion. If Evans pins or submits Lynch, then she is Raw Women's Champion while Corbin is Universal Champion. The other part of the deal is that if Corbin and Evans lose, then they get no more title shots at Seth and Becky.
Did you know Seth and Becky were dating? Even if you don't care, you probably know they are dating since WWE mentions it all the time. An Extreme Rules Match should mean that there are no tags needed and that they can just pair off to wrestle all over the arena. However, this is WWE, so they might have wrestlers wait for tags even though there are no rules.
I feel like this is an easy match to predict with Rollins and Lynch getting the win to move on from these boring rivalries. I think WWE realized the fans rejected Corbin and Evans as challengers, which is why they announce the "no more title shots" stipulation. Corbin and Evans also were not on Raw that much in the last two weeks. That tells me WWE is going to phase them out for a bit. I don't expect a great match. I just hope WWE has better feuds planned for Rollins and Lynch coming out of this show because Rollins and Lynch have both lost a lot of positive momentum.
Winners: Seth Rollins and Becky Lynch
BONUS: I don't expect Brock Lesnar to leave Extreme Rules with the Universal or WWE Championship. I know Paul Heyman teased it on Raw. Lesnar might be there, but I feel like Seth and/or Kofi will avoid losing their title. It might be SummerSlam when it happens (if it happens at all) or perhaps in October when Smackdown is Fox. It wouldn't shock me if WWE waited until next year either. Lesnar and Heyman are heels. They are supposed to lie. Fans shouldn't be upset about it when a heel lies. That's their job!
No Holds Barred Match: Roman Reigns and The Undertaker vs. Drew McIntyre and Shane McMahon
I feel like this is going to be the main event because The Undertaker's involved, Roman Reigns is a part of it and I expect their babyface team to get the win. The "No Holds Barred" stipulation is another way of saying "Extreme Rules" or anything goes, so again, this is another match where there shouldn't be any tags. They will be able to brawl all around the arena, which is probably good for The Undertaker at this point in his career.
I know there are reports that there are no current plans to do The Undertaker vs. McIntyre at SummerSlam, but to me, that's the obvious direction to go in after this match. Why would Undertaker return for Extreme Rules and not build to a match at SummerSlam? Perhaps the plan is to do Undertaker vs. Shane at SummerSlam, but I would rather see Miz beat Shane to end their feud if Shane is going to have a match. Another possibility for Undertaker at SummerSlam is Bray Wyatt, who could be returning to action as soon as next week.
They should have a decent match, but with Undertaker and Shane as two older guys, it would be foolish to expect greatness. Shane will probably do some crazy bump through a table at ringside or elsewhere in the arena. Elias will likely interfere, which could lead to The Miz or Kevin Owens to come out to stop him from costing Reigns/Undertaker the match since Miz and Owens have issues with Shane.
My prediction is Reigns pins Shane in a match that gets around 15 minutes. I think Roman will be in the WWE Title picture sooner rather than later, so getting the win in this match might set him up for that WWE Title push at SummerSlam or soon after that.
Winners: Roman Reigns and The Undertaker
BONUS TOPICS!
The Match I'm Looking Forward To The Most
I like Ricochet vs. Styles getting 20 minutes the most, but Black vs. Cesaro is right there too. I'll never get tired of Revival vs. Usos either.
The Match I Care About The Least
Seth Rollins (c) and Becky Lynch (c) vs. Baron Corbin and Lacey Evans. I like Seth and Becky a lot. However, these rivalries have done more harm than good for them. Nobody is going to look back on Seth vs. Baron or Becky vs. Lacey as feuds that were great for either champion.
Longest Match
Kofi Kingston vs. Samoa Joe. A few matches might go over 20 minutes. This is one of them.
Shortest Match
Braun Strowman vs. Bobby Lashley in a Last Man Standing Match. I just have a feeling it will be around ten minutes. Bayley's Handicap Match should be short too.
Excitement Level on a Scale of 1-10 (1 being low, 10 being high)
I'm at 7 out of 10 for this show. I like several of the matches as I mentioned in the introduction of this preview. One of the most frustrating parts about WWE TV in the past month are the shorter matches, so that makes me excited to see a show without commercials forcing the matches to be shorter. What prevents the show from being higher than a 7/10 is that the two main matches are tag team matches with similar stipulations. Neither match excites me that much.
Final Thoughts
I'll be back with a review of Extreme Rules on TJRWrestling.net live on Sunday night, so check it out during the show or after it's over.
Contact me on Twitter @johnreport with any comments or questions.
If you want to send an email, send it to me at mrjohncanton@gmail.com as well. Thanks for reading.