TJRWrestling WWE Extreme Rules 2018 Preview
John: Welcome to the TJRWrestling WWE Extreme Rules preview. The show takes place this Sunday, July 15 in Pittsburgh, PA. The start time of WWE PPV events have changed with MITB last month starting at 7pmET/6pmCT and MITB ran 4 hours, 15 minutes, so this one might go that long too since there are 10 matches on the main card. There's also a Kickoff Show one hour earlier at 6pmET/5pmCT.
Joining me for the preview are Kurt Zamora and Mike Holland. No Matthew Phillips this time due to work commitments.
(Note: All graphics are from WWE. The banner up top is courtesy of our friend Melo Man.)
A new match was added to the Kickoff Show on Friday afternoon: Sin Cara vs. Andrade Almas.
#ElIdolo @AndradeCienWWE and @SinCaraWWE will have their rematch this Sunday on the #ExtremeRules Kickoff, streaming LIVE at 6e/3p on @WWENetwork! @Zelina_VegaWWE https://t.co/UGzJab4Ydlpic.twitter.com/07GNJ7Oe1X

— WWE (@WWE) July 13, 2018
That should be a win for Almas just like on this past Tuesday's Smackdown. They had a really good match in about five minutes on Smackdown, so maybe they'll get more time in this match.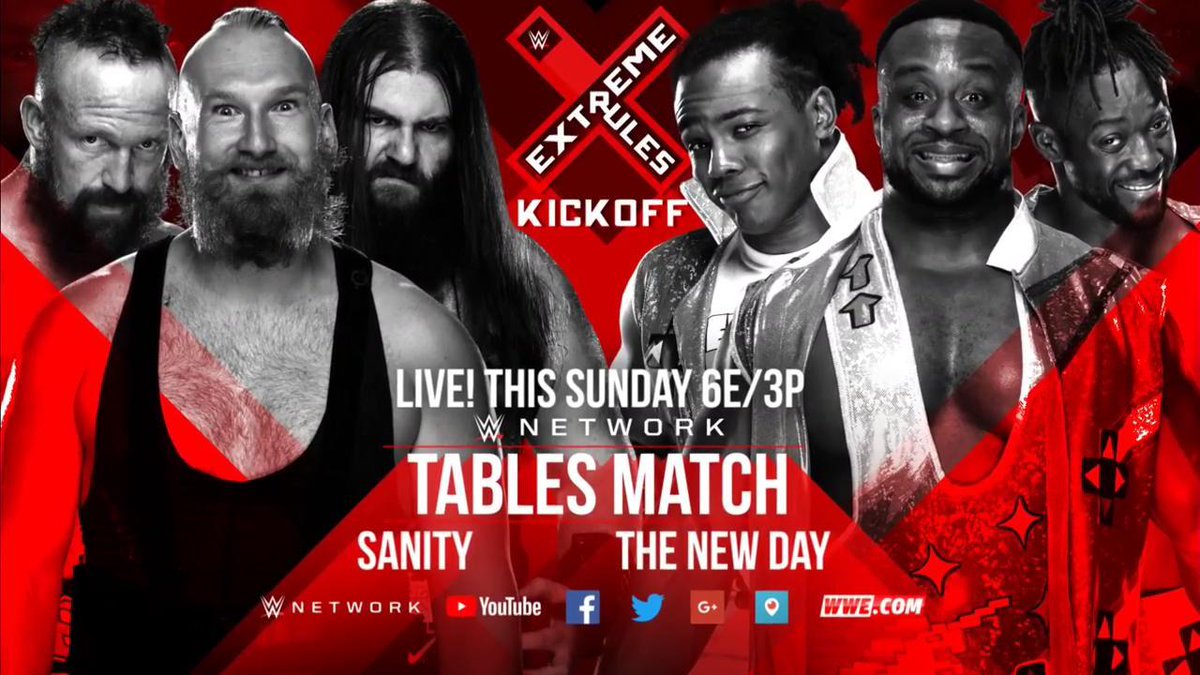 Tables Match:Sanity (Eric Young, Killian Dain and Alexander Wolfe) vs. The New Day (Kofi Kingston, Big E and Xavier Woods) (Kickoff Show)
Kurt: After a much maligned holding pattern for Sanity as they waited to debut on Smackdown, all's well that ends well with their first feud being against The New Day. Hardly a better way for a group to start and already led to a main event spot on this week's SD Live. Sanity is much better as a heel faction and never really seemed comfortable in their face run of NXT. I know some people feel The New Day have run their course, but I still find them highly entertaining. I just think they need to do something as separate entities and then come back together as needed. Sanity needs the win here more since they are new and need to be established. New Day needs to be given singles opportunities finally, so this should be an easy decision honestly.
Prediction: Sanity
Mike: There reaches a certain point in the lifespan of anything red hot in WWE's feeder program, NXT, where the clamoring of the masses to get someone to the big dance meets the reality that it won't end well when they inevitably do. Tag teams are perhaps more susceptible to this issue than anyone else, since there's rarely a lot for anyone but the chosen couple tandems to do every week without looking desperate. Such is naturally the case with Sanity, which outside of their ransom note text stylings has found very little to distinguish themselves since getting the call.
While we're a far cry from their gimmick reaching its zenith at Full Sail, this is still a tables match, and anyone reasonably familiar with gimmick stipulations knows what that means. Tables matches exist for two reasons: to allow the crowd the pure unadulterated joy of watching a fake table splinter tremendously as a result of a finishing move, and to make sure the wrong person doesn't have to eat a pinfall to come up short. This is a perfect fit for The New Day, where two of the three have been mulling singles runs for seemingly eons. Wouldn't want to be Xavier.
Winners: Sanity
John: I'll go with Sanity just on the basis of them being a new team that could use a win over an established group like New Day. I like Eric Young, Killian Dain and Alexander Wolfe together. They have built up a good chemistry and come off as a bunch of scary dudes, so it's time to put them over Big E, Kofi Kingston and Xavier Woods. I think it will be Dain putting Kingston through the table to get the win.
Winners: Sanity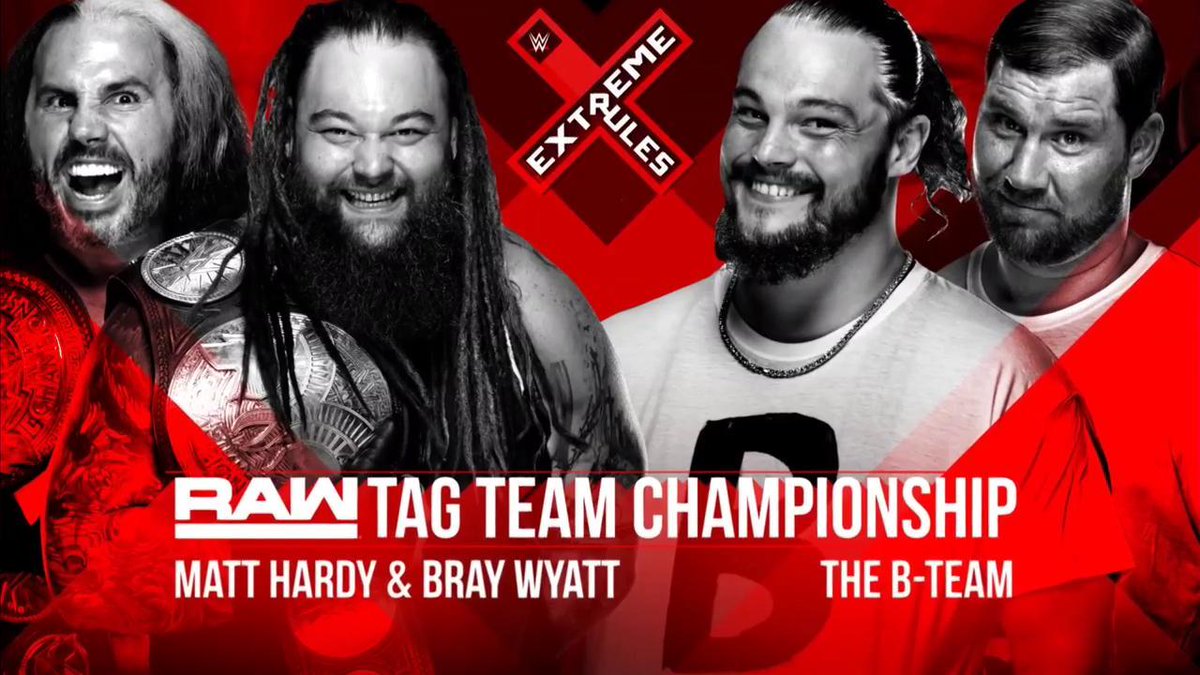 Raw Tag Team Championships: Matt Hardy and Bray Wyatt (c) vs. The B Team (Curtis Axel and Bo Dallas)
Kurt: The B Team creation was funny the first week it happened, just as a chuckle type thing, but the fact that they've somehow gotten a tag title match already is astounding to me. Axel hasn't had a tag team or singles match on PPV in over 3 years since he was teamed with Damien Sandow as the recreated Mega Powers. For Dallas, it's been almost two full years. I'm not saying they don't deserve an opportunity, but just not this quickly. Maybe this is how people felt when Jinder Mahal all the sudden found himself in the WWE Title match. If so, I apologize for anything negative I said to those people. The only thing interesting to me in this match is Bo and Bray facing off as real life brothers. It's needed to happen for a long time.
Prediction: Deleters of Worlds retain
Mike: The departure of The Miz during the "Loaning Lotto" (or whatever nonsense it was called which I refuse) had two very significant impacts immediately: It made Smackdown an even better show instantly, and it allowed The B Team to flourish. Both Axel and Dallas have had to suffer through their share of horrendous characters and gimmicks since they arrived, mainly due to the fact that they are minor variations on the same person dressed up differently. I'm not investing in something I've seen before over and over, and I'm fairly sure you aren't either. Matt Hardy and Bray Wyatt have achieved greater success since pooling their collective resources of crazy, so much so that they don't even require a team name. The staying power of this, however, is chancy.
Here's the problem. Just like WWE attempted to do when elevating Heath Slater and Rhyno to the title picture, once you've firmly established someone as comic relief it's killer to their long term goals. Neither of those individuals have done a darn thing since those salad days to merit interest, and that's the sad reality of being Carrot Top. The B Team is telling an incredible story and thusly have zero credibility to do so.
Winners (and STILL Raw Tag Team Champions): Matt Hardy and Bray Wyatt
John: It has been nice to see WWE attempt to try to elevate the "B Team" (B stands for "Best" in case you don't know) by giving them a bunch of wins on the way to earning this title match. I think their momentum will be stopped here because Hardy and Wyatt should hold onto the titles a little longer. The reason for that is because there are heel teams like Authors of Pain and The Revival that make a lot of sense as the next champions. If The B Team wins, there just aren't as many options for them to face. The champs retain.
Winners: Matt Hardy and Bray Wyatt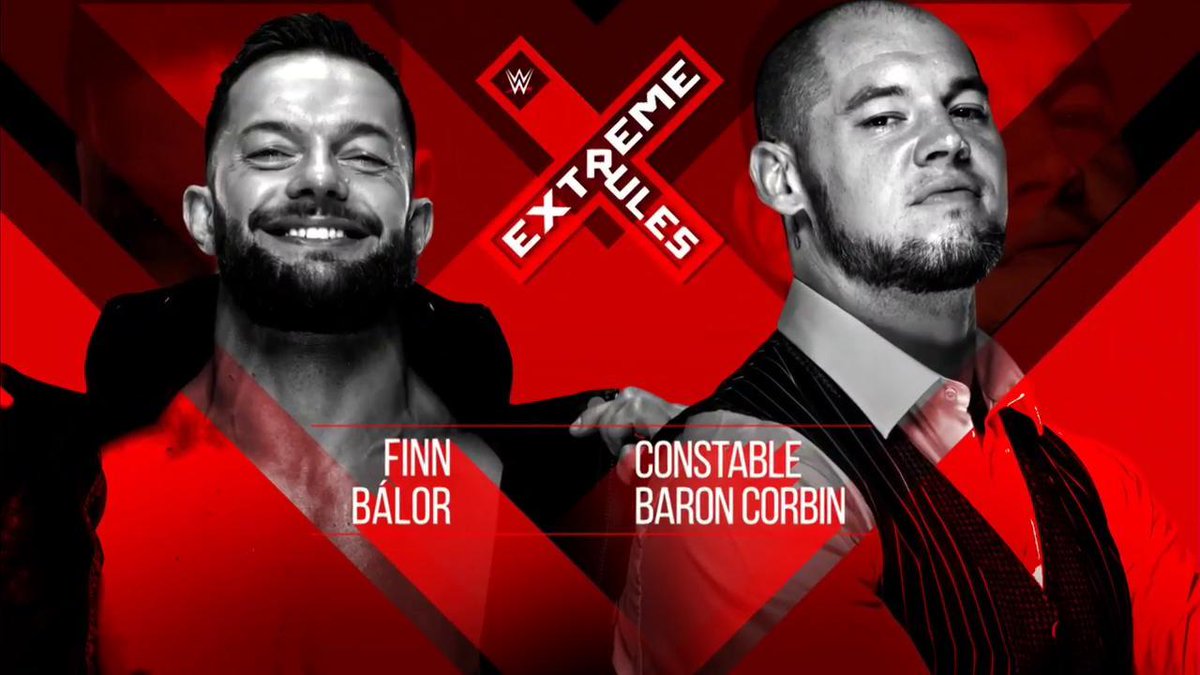 Finn Balor vs. Baron Corbin
Kurt: I love Zack Ryder. If you're a part of the "pull apart gang" with Ryder, Mike Kanellis, & Curt Hawkins, you're not necessarily in good standing with the company in my opinion. You look at who was and wasn't in that collection and you can see who WWE is trying to protect and whom they aren't. So to me, that says a lot about Finn Balor right now because Balor was involved in that brawling segment on Raw. Corbin gets a slight pass because we can at least logically conclude that he was trying to pull apart Roman and Lashley because that's what Stephanie McMahon would've wanted.
I thought after Finn's performance at the January Royal Rumble, he was on track for a massive 2018 and it just hasn't happened. He's had a good TV match against Rollins and the Triple Threat match at Mania was solid, but that's it. Has anyone ever forfeited the world/heavyweight/universal title and never received a rematch once they returned? No matter who defeats Lesnar for the Universal Title, if anyone ever does, Balor doesn't seem in line for a title shot any time soon. There's a ton of poorly booked superstars right now, but I think Finn would be at the top of my list.
Prediction: Baron Corbin (Just because he has a direction right now)
Mike: This is on the preshow, right? It has to be, since it's lost while even scanning the list of matches on a card stuffed with more options than a Choose Your Own Adventure. It's time to put Finn Balor on a milk carton because he's been lost for months. Any hope that the wrestling gods of fairness would get Balor back where he left off upon being injured claiming the Universal Title were dashed with the simple realization that Vince McMahon likes big guys, pal! Now Balor gets to push inspiring merchandise and smile like the cat who ate the canary while filling his dinner plate with shit on a shingle.
Baron Corbin is now the constable. The reason he's a constable is a trip to the Hair Cuttery and a wardrobe change. I'd much rather he just begin waving a truncheon and pulling off an off-off-Broadway English accent like Pirate Paul Burchill. It would be bizarre, but it wouldn't be this, and that's something. Corbin's allegiance to Stephanie McMahon and his attempts to foil Kurt Angle while ruining the show Kurt and Stephanie co-manage is all very hazy, but dammit, he's big, pal! At least Balor won't lose his smile.
Winner: Baron Corbin
John: My interest level in this match is pretty low. The creative team really wasn't that creative because this story was all about Corbin bragging about his size over the smaller Balor. It reminded me a lot of Big Cass vs. Daniel Bryan, which was not a good rivalry. They tried hard to push the story in the past few weeks, but the rivalry just isn't that interesting. I'll go with Balor because I think it would make sense to have him challenge for the Intercontinental Title, so it's better to win this match if he's going to be in a title picture.
Winner: Finn Balor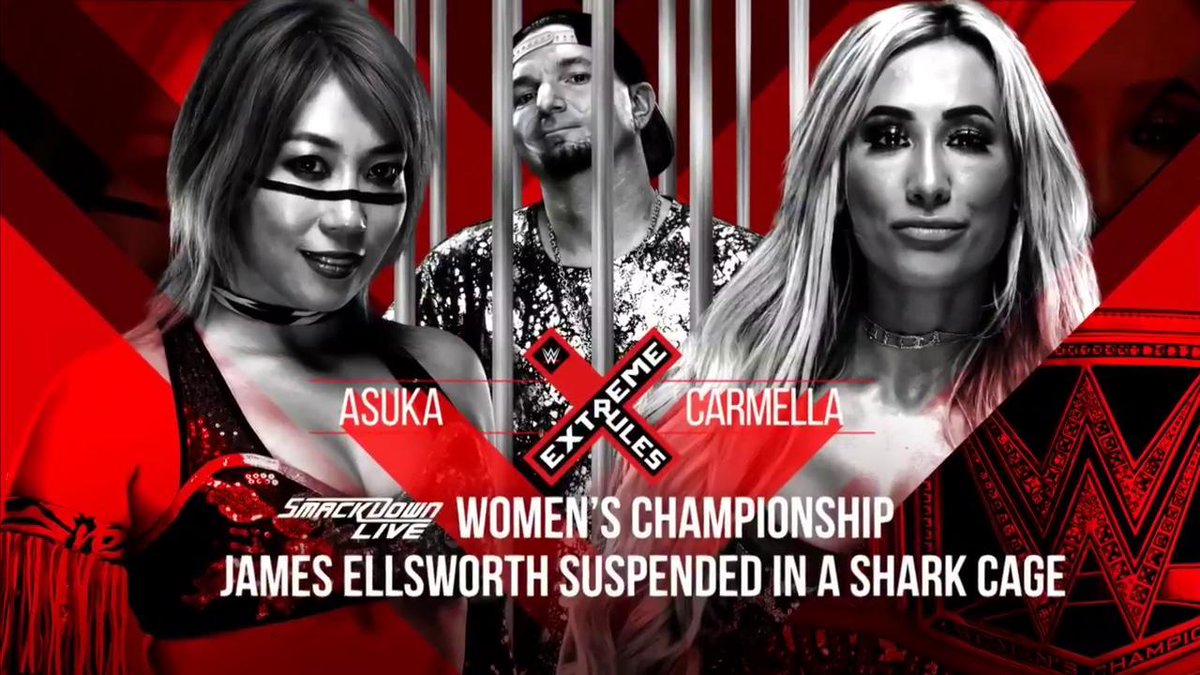 Smackdown Women's Championship: Carmella (c) vs. Asuka (James Ellsworth in a shark cage)
Kurt: Those action figure playsets with the shark cage must've been a real hit because this has become quite the gimmick for WWE in the last couple of years. I love James Ellsworth, have no problem with him being put back with Carmella, and really had no problem with the finish at Money in the Bank either. However, if WWE has any stock left in Asuka, she desperately needs the title now. She went from an undefeated buzzsaw who's now lost multiple times in three months and comes across like any other woman/superstar who gets easily distracted. She needs to regain some of her prestige and I think Carmella as champ has already run its course. As I said in the last preview, Carmella lost something once she became champion. Ellsworth being back has helped, but I still think it's time for a change here.
Prediction: New Smackdown Women's Champion, Asuka
Mike: It's fitting that WWE has brought James Ellsworth back in some ways, because desperately clinging to anything that was popular, no matter how oddly and briefly, has become the veritable hero of the day. I don't even consider Asuka and Ellsworth to be an intergender match, because Ellsworth doesn't belong in the same ring as the former NXT standout. In the same way, Carmella doesn't need Ellsworth because she's become a queen heel with him on the sidelines. She uses more odd fabrics than a textile factory, but I don't have to like her gimmick to appreciate the hell out of it.
When WWE elects to hang you from a shark cage, it's because they don't want you to be involved in the decision. It's like Jaws, when you forget that Richard Dreyfuss is still alive at the end because all the good stuff happened while he was out of sight. Except in WWE's version of that classic, Hooper escapes the cage and makes the shark explode by bodyslamming it. Of course, Ellsworth will interfere. Of course, that will mean that Carmella will unfairly defeat Asuka the formerly undefeatable again. By the time the Empress of Tomorrow wins, it will be next week.
Winner (and STILL Smackdown Women's Champion): Carmella
John: The shark cage stipulation suggests that there's no way Ellsworth is going to interfere, but there's a chance he can drop something from the cage to Carmella. I think they might do a spot like that where he tries to do that, but Asuka prevents Carmella from using the object and Asuka wins. They must go with Asuka here. If she loses another title match, even if it is controversial, she's going to look like such a loser. Asuka was on fire after the Royal Rumble and WrestleMania. Now? She's just another woman. A win here might help her get back on the right track. I don't think Carmella needs a long title reign. It's been fine for a few months, but it should stop here.
Winner and New SD Women's Champion: Asuka
United States Championship: Jeff Hardy (c) vs. Shinsuke Nakamura
Kurt: This is the match I'll have the least to say about since it's the match I'm least interested in. There's no story to this match. I also think it's a real miss on not pulling the trigger on a WWE Title run for Nakamura. This just reeks of a consolation prize for Nakamura. Hardy has some injuries that need to heal and so a title change just seems given.
Prediction: New US Champion, Shinsuke Nakamura
Mike: Things are running along great, and then I'm asked to pick the winner in a WWE Shinsuke Nakamura match. My answer is pretty much always Nakamura, and that's why I'm never batting a thousand in these previews. I don't know how I can possibly underscore the dire nature of Nakamura's booking any further except to say that him being bitten by a police dog and therefore keeping a largely low profile the last several weeks has actually been one of the better angles for him lately. And it's not an angle.
Jeff Hardy is a talented enigma and everything, I get it, but he's been a disaster outside of the wrestling ring. Time and again he's been given opportunities that others would kill for, and just as often we've been reading of his latest escapade on a police blotter rather than a backstage report. At a certain point it's time to stop the roller coaster and allow the human to address what amounts to a decade long call for help. Nakamura can't afford to keep losing at every single event on the calendar, can he? Here we go again. No hitting below the belt, WWE. Please?
Winner (and NEW United States Champion): Shinsuke Nakamura
John: The second Japanese Royal Rumble winner also should win this title because if Shinsuke Nakamura fails here like he did against AJ Styles so many times, he will lose a lot of credibility. I don't think Hardy really needs a title right now. H's popular with the crowd and he can have good matches, but let's see something different. I read something recently from a former WWE writer (I forget who) that mentioned that Vince McMahon loved it when a foreign heel was the US Champion because it's an easy way to get cheap heat. Think of Rusev as a recent example. I think that's going to be the plan with Nakamura too. Nakamura should have a good run as US Champion with plenty of solid babyfaces for him to feud with on the Smackdown brand.
Winner and New United States Champion: Shinsuke Nakamura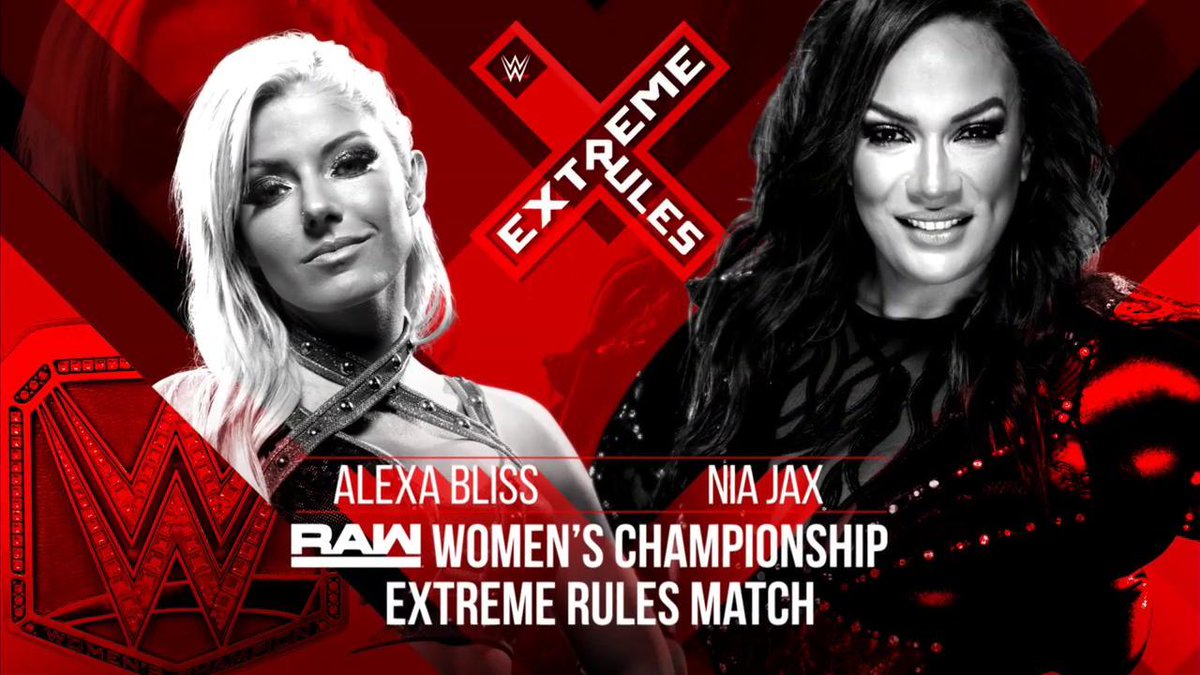 Raw Women's Championship Extreme Rules Match: Alexa Bliss (c) vs. Nia Jax
Kurt: You would think that the one match that has the stipulation of the show would be the most appealing, but alas that didn't happen. Poor Nia, she went from a monster push and really coming into her own, to now being just a placeholder for Ronda and her suspension storyline. As much as I love Ronda, and would never complain about WWE making her the biggest deal possible, I can't help but feel bad for Nia at the same time. This is a match we've seen multiple times and even an Extreme Rules tag can't make this feel special.
It's odd that Nia is going to go from definitively defeating Alexa at Backlash to now having to lose to her just two months later. That's WWE for you, though. A lot of people complained that Alexa is already back in the title picture and had such a big night at Money in the Bank, but I have no issues with it. She moves a lot of merchandise, she's a great spokeswoman for the company, she looks great, and has a believable character. She's not the best wrestler, but she more than makes up for it in other capacities.
Prediction: Alexa Bliss retains
Mike: If you're wondering why WWE picked this match to be the one in which to employ the Extreme Rules that the whole bloody show is named for, she'll be seated in the front row. While using a faux suspension in which Rousey still made advertised dates on house shows is about as ludicrous as it sounds, it matters not when it's an effective tension builder in a longer story which this clearly is. Rousey will be buying a ticket, which in the parlance of wrestling means hopping the rail and getting involved. It's more of a lock than her armbar submission.
The downer of this idea is that it overshadows this actual championship match, but the good news there is we've already seen Bliss and Jax multiple times and it's been pretty…how do I put this? Oh, right, bad. Unlike Rousey/Jax, where you really felt like you were watching something cool and interesting, Alexa and Nia don't pair well together, and it looks clunky and forced. Alexa getting an opportunity to use weaponry against Jax will hold your attention for a minute or two, but this is all a setup for what's next: Rousey utterly decimating Miss Bliss.
Winner (and STILL Raw Women's Champion): Alexa Bliss
John: I'm tired of this rivalry. I just don't care. Their first two PPV matches were just okay. They always seem to have chemistry issues due to the size difference. A lot of Bliss' offense looks too cheesy when she's in there with somebody as big as Jax. Making the match Extreme Rules is a way to make it stand out from their other matches, so perhaps it will be a lot better this time. I think Ronda Rousey's presence "in the first row" is going to lead to a hotter crowd that will want to see her get involved. I think the finish will be something where Rousey accidentally hits Jax with a chair or kendo stick and Bliss will capitalize to regain the title.
The match to do at SummerSlam is Rousey challenging Bliss for the title. This Bliss/Jax match is necessary because Jax is a former champion getting a rematch. Don't do a triple threat at SummerSlam. Make it a singles match at SummerSlam with Rousey beating Bliss for the title with all the NYC media there to get a lot of attention with Rousey winning her first title in WWE. It's not that complicated.
Winner: Alexa Bliss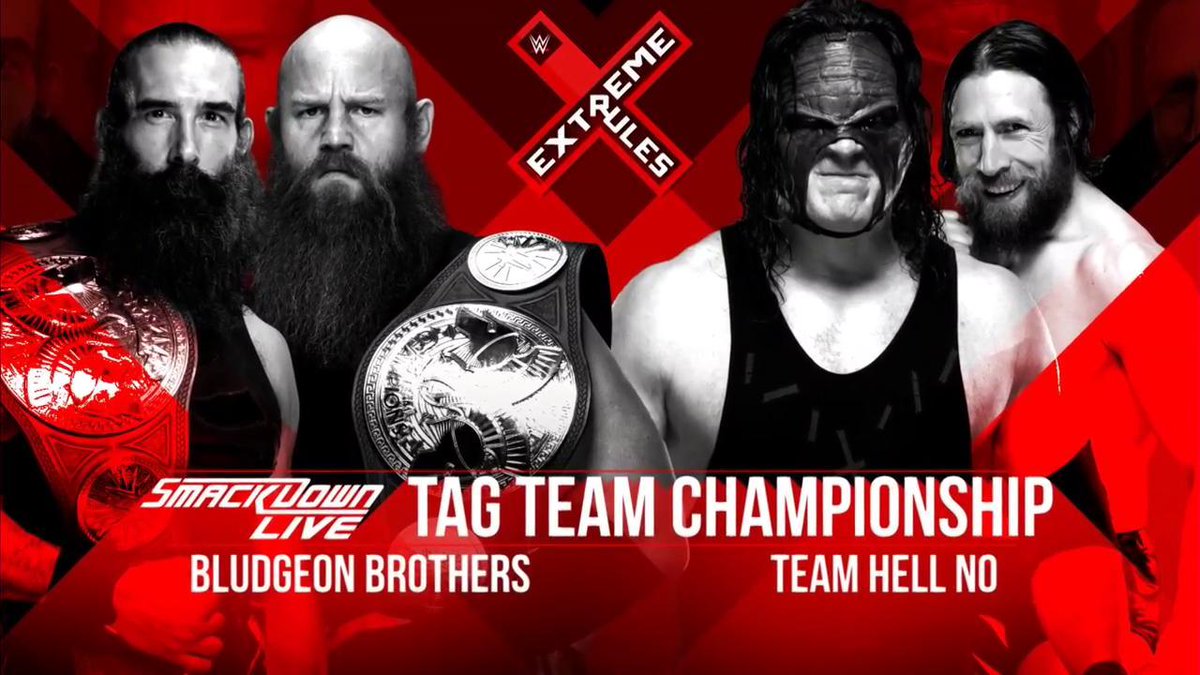 Smackdown Tag Team Championships: The Bludgeon Brothers (Harper and Rowan) (c) vs. Team Hell No (Kane and Daniel Bryan)
Kurt: Just when you thought Daniel's return couldn't get more odd with his first singles feud being against Big Cass, BY GOD THAT'S GOTTA BE… THAT'S GOTA BE KANE! Team Hell No is a funny concept and the two of them are naturally entertaining when together, but no one was clamoring for this reunion. Plus, everyone knows Kane is fixing to be mayor soon so this is nothing more than a short term plan. Perhaps Daniel really hasn't resigned with the company as this feels nothing more than a quick fix to keep Daniel involved in things until they decide whether he'll be around long term. A title change here would be detrimental for The Bludgeon Brothers, but I also think Kane turning on Daniel is too obvious and quite frankly dumb. Just have Team Hell No come up short, no issues between the two, and let Kane go off to his mayoral duties.
Prediction: The Bludgeon Brothers retain
Mike: I'll figure it was the first minute in the triumphant return of Daniel Bryan to a WWE ring as an active competitor that the clock began ticking on the reuniting of Hell No. While I adored the original odd couple run of Kane and DB, this hurried-up rehash hasn't done much for me. Bryan already had to suffer through a plodding and ultimately pointless feud with Big Cass, who couldn't even win his contest against future endeavoring, and this feels like exactly what it is: an excuse to keep the masses happy with retro good vibes while giving Daniel not much of anything to do.
Handing Hell No the belts would be an obvious choice, but as many have stated it's derailed by the political aspirations of Kane and the very likely possibility that he'll be holding political office shortly. Somehow that's not the oddest thing I've written today. The Bludgeons haven't exhausted Smackdown's tag team talent pool just yet, and I don't see them losing to a one trick pony, even when that pony does a very good trick. One could reasonably intuit that The Miz, with nothing whatsoever to do and a show on USA to push, intervenes. (Note from John: Miz is at a celebrity softball game Sunday night, so it's unlikely he can appear here.)
Winners (and STILL Smackdown Tag Team Champions): The Bludgeon Brothers
John: It's been fun to watch Team Hell No again. I liked the backstage skits they have had and some of the in-ring promos were good too. The matches have been fine because it's an easy formula with Bryan taking a beating for most of it, Kane gets the hot tag and you go to the finish from there. Kane is 51 years old, so it's not smart to have him work a lot. For all we know, this could be one of the last matches of his career since he's expected to be the mayor of Knox County, Tennessee on August 2.
I'll go with the Bludgeon Brothers winning due to the Kane factor. I don't expect him to wrestle that much longer, so having him win the titles seems like a dumb idea. If there is a title change then maybe the Bludgeon Brothers win them back the following Smackdown or the week after. Should they do a title change just to pop the crowd here? I don't think so. Keep them on the Bludgeon Brothers.
I'm ready for Bryan vs. The Miz at SummerSlam. I hope that happens.
Winners: The Bludgeon Brothers
Steel Cage Match: Braun Strowman vs. Kevin Owens
Kurt: The kickoff match and this one just shows how short term WWE books. Clearly someone on the booking team said, "Wait, it's Extreme Rules and we only have one gimmick match!" (I'm not counting Ironman, but you can if you want.) So then Vince went, "Well God Damn Pal, we need a cage match! And a Tables match!" and ta-da, now we have them. These two have been one of the lone bright spots on Raw. The port-a-potty spot didn't bother me as much as others, but I was completely turned off by it as soon as WWE had to so lamely release a press announcement in the vein of LeBron's announcement to the Lakers about it.
I'm excited to see what Owens can do without Zayn anywhere nearby, whether as an ally or foe, as it hasn't been this way for him in quite some time. Perhaps even ever, since he debuted in NXT against Zayn. This is an obvious result since they're going to keep Braun strong with the briefcase in his possession, but this still has potential to be fun.
Prediction: Braun Strowman
Mike: Did Kevin Owens know when he re-upped with WWE that he would be cannon fodder for whoever the company wanted to push instead? I'm sure he did, and he's likely laughing all the way to the bank. That laughter might be tested when he thinks of his recent trip to the lavatory courtesy of Braun Strowman, but that's where we are. Strowman's stubborn refusal to lose ever comes at the expense of KO, who has played the good soldier and remarkably only looked half the buffoon he's scripted to be.
If ever there was a time for Owens to defeat Braun, this would be it. The reason is the cage stipulation, which would allow for an obvious scenario where Strowman uses his super strength to propel Owens through a cage wall and to the floor, unwittingly costing himself the match. While that's absolutely a valid ending, it's not what happens Sunday. Owens's existence right now is tied to allowing Strowman to physically decimate him without ever gaining the upper hand, and that's perfectly understandable if the plan is to have the monster cash in his opportunity sooner rather than later. I expect this, like most of the feud, to be fun and underwhelming.
Winner: Braun Strowman
John: This has been such a weird feud. The story going into Money in the Bank was that Owens wanted everybody to work together to stop Strowman. They did it successfully for part of the match, but Strowman kept coming back and won the match. Strowman also threw Owens off a 15-foot ladder through a table. They followed that up with Strowman wrecking KO's car and then a week later, he shoved Owens off the stage while he was in a porta potty. Why is Strowman the face here? Owens barely did anything to the guy. I don't think WWE knows how to book heels properly anymore because they are seriously lacking in terms of great bad guys. Owens could be that, but he isn't booked that way.
Strowman should win this. I know it's possible that Owens could win in a fluke manner, but I wouldn't do that. Strowman may be the next Universal Champion (in my opinion he should be), so I would continue his positive momentum with a dominant victory here.
Winner: Braun Strowman
Intercontinental Championship 30-Minute Ironman Match: Dolph Ziggler (c) vs. Seth Rollins
Kurt: It's 2018 and Dolph Ziggler is guaranteed to get 30 minutes on a PPV. My mind is blown. I really thought Dolph was scorched earth and could never be restored to the level he belongs at, and yet here we are. I feel like I should send Drew McIntyre a Christmas Card for this. It sounds silly, but it honestly gives me hope for Zack Ryder, it's not a lost cause after all. Rollins is still the MVP of 2018 for me and this match will do nothing to change that.
I'm going out on a limb (the same guy that predicted Baron Corbin to win the Royal Rumble) and saying this will be the best match of 2018 under a WWE banner. I'm sure that's a kiss of death. It's a shame for Rollins because he would naturally be primed right now to move on from the IC Title and move up to the bigger title. Thanks to the predicament that Lesnar has the title in though, and the fact that Roman and Strowman are clearly in front of Rollins, that can't happen. I don't know where he goes from here, but I wouldn't have a title change here. They need to go all the way with Ziggler and McIntyre now.
Prediction: Ziggler retains (I'll say 2 falls to 1)
Mike: Let's begin with the obvious: Would I prefer this was an hour long ironman match? Not really. While those type of matches are really enjoyable to me, this card is on the long side already. Rollins and Ziggler are fully capable of telling a super compelling story in a half hour, and I think the pacing of the match and the falls will be helped by trying to get it done in that time frame. You can also elect to do an "overtime" session if you want to switch things up, a possibility I consider fairly likely here. It's a testament to both men that this is the debate we're having. The fact that it will be the best match on the show seems taken for granted.
It's also comforting that this could go either way. Ziggler finally has been booked like the real deal, and injecting Drew McIntyre into the mix has added another level of intrigue. If it feels like it's heading to the inevitable breakup, which in itself will produce a series of wonderful matches, at least we've got that to look forward to. While Rollins defeating Ziggler and regaining the belt would be just fine with me, Drew will likely get involved in the ultimate fall and allow this thing to roll on as long as it wants. By the time Rollins gets his revenge, it might be time for Shield mate Dean Ambrose to return from the DL. Then it really, REALLY gets good.
Winner (and STILL Intercontinental Champion): Dolph Ziggler
John: This will probably be the match of the night. If it's not, then I'd be very surprised. They have had a couple of long matches already where they showed that they are incredible shape and they won't get tired going 30 (or more) minutes. I hope the crowd is into the match. They might not make a lot of noise in the first half of it, but as it gets going the fans should get more into it.
I'm going with Ziggler winning after five falls. Ziggler gets the first fall, Rollins gets the second, Ziggler gets the third fall by countout perhaps by some interference from McIntyre, Ziggler gets the fourth fall to go up 3-1, Rollins gets one more and the last few minutes is Rollins in fury trying to tie, but he's too hurt to get it done. McIntyre can play in a factor in costing Rollins too. I like that story. I'm also ready for Rollins to be in the main event picture for the Universal Title, so it's fine for him to lose this match.
Winner: Dolph Ziggler (3-2)
WWE Championship: AJ Styles (c) vs. Rusev
Kurt: The product is bad, stories are bad, babyfaces aren't booked correctly, but there's one thing that genuinely makes me happy and that's seeing Rusev in a WWE Title match. A singles match at that! I don't care that he has a less than 0% chance of winning, all I care about is that he's getting a spotlight he so richly deserves. This isn't a shot at John Cena as much as it's just the truth when you look back on history, but it's really hard for someone to come back from the ashes of being burned by Cena after a program with him is over. Not many up and coming stars get done with Cena and come out the other side. Rusev is doing just that.
Rusev Day has been a huge hit and it's great to see the company throw him a bone like this. Now, just because there's no chance he will win, that doesn't mean this can't be a success for him. The one thing they still haven't figured out is whether he's a heel or face. They use him as a heel, but he got to this spot because of the face reactions he's been getting. So let's stop doing the two step and let's do what needs to be done, make Rusev a full-fledged face. Have Aiden English cost him the match somehow, and lead that to a match against English at SummerSlam. It's going to look like one step back for Rusev, but it'll be two massive steps forward if they commit to him as a true face and the crowd can really get behind him. If the Ironman match wasn't on the card, this would be the match I'm most excited to see due to the fresh matchup and great opportunity for someone that deserves it like Rusev.
Prediction: AJ Styles retains
Mike: Will it be Rusev Day at Extreme Rules? If there's any justice, sure. Rusev and his coterie have been entertaining us for months, and it was a nice surprise when he won the right to face AJ Styles here. I certainly didn't see that coming, which isn't surprising considering Rusev hasn't been booked to win much of anything since way back in the stone age. The issue for the Bulgarian Brute and his brood, though, is that the company still doesn't know how to handle a heel that is treated as a face by the audience. It's like they go into "Danger! Danger!" mode and flail their arms uselessly about like the Lost in Space robot. It's not that challenging, is it?
AJ's feud with Nakamura made it very clear WWE has clipped their wagon to him in a major way, and I won't complain about that. Styles has been a bit more subdued since then, but he's unparalleled in terms of his skill set and there's no reason to have him come up short until the exact right moment and opponent. No offense to Rusev, but he's not that. He will have his opportunity to impress several times throughout this match, but Styles is the face of the promotion and their latest video game. Need I say more? Samoa Joe awaits. The same result likely does too.
Winner (and STILL WWE Champion): AJ Styles
John: This is the most prestigious title on the line at Extreme Rules, but it does not feel like a main event match. Part of it is because it is Smackdown and the other part of it is that Rusev is a notch below a main event guy. A win here would help to legitimize Rusev as a potential main event guy. Do I expect it? No. Would I love to see it? Sure. I just feel like it's a bit of a reach.
They should have a good match that is competitive for 15 minutes with Rusev dominating most of it. Styles is great at selling and making the believable comebacks. I think Rusev will come close to winning a few times with the fans buying into it. In the end, I'll go with Styles to win.
What I would love to see is Samoa Joe appear after the match to attack Styles to set up SummerSlam since Joe has nothing else going on (other than attacking Tye Dillinger before Smackdown last week). Give us Styles vs. Joe at SummerSlam please.
Winner: AJ Styles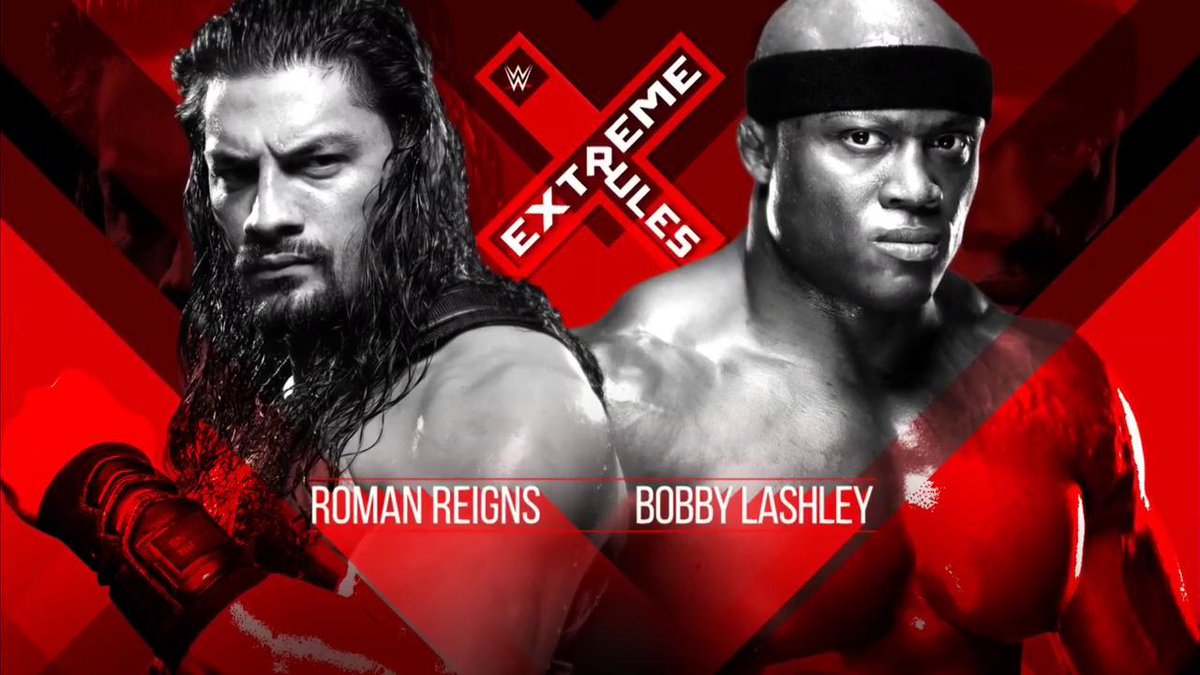 Roman Reigns vs. Bobby Lashley
Kurt: Speaking of mind blown, how about Lashley cutting some good promos during this buildup?? I don't think WWE knew what to do with Lashley at first, but this storyline has done a great job establishing him as a top guy and will help him moving forward. Until I see someone else do it, I still think Roman will be the guy to defeat Lesnar, the fans perception of Roman be damned. To me, it'd be an upset to see Lashley win here, but in the long run would really be the better decision. Maybe Ambrose comes back soon and The Shield can get a legit reunion this time, which would keep Roman away from Lesnar and let Strowman go after him since he's the guy who truly deserves it. Like I said though, until I see differently, I think Roman is the guy. Based on how well these two have played off one another during the hype for this match, this will be the best match on the card after the Ironman match.
Prediction: Roman Reigns
Mike: This feels to me like it's going on last at Extreme Rules. Ultimately, that's a bad idea, because somehow the world cares even less at this point about a match that should garner interest. Whether that's due to Roman still going over like a fart in church, Lashley's inability to make anyone forget that he was in December to Dismember, or the fact that Brock Lesnar is clearly and inevitably UFC bound is up to you, but what's evident is that this is just not really a big deal. Roman and Bobby haven't even really been able to act like they have a strong distaste for each other, with the exception of Monday's well-staged brawl which unsurprisingly appears to have been influenced by Paul Heyman.
I can't argue with the fact that a Lashley loss here hurts his credibility, but this is a countdown to Roman's coronation and therefore it's less relevant. Reigns has played the good soldier and lost in all the right (and some of the wrong) places and there's no need to have controversy hanging over his head prior to his probable showdown with Lesnar at SummerSlam. I'm not sure what Lashley does after this match, but we can at least be thankful it doesn't involve Sami Zayn.
Winner: Roman Reigns
John: I think this will be the main event and it's probably going to be a win for Roman Reigns. I think WWE has made a misstep in their storytelling because this should have been a number one contender's match or they should have stuck with the multi-man match to determine the next contender for the Universal Title. By not making a number one contender's match at Extreme Rules, it has hurt the importance of this show.
This match should be pretty good in terms of execution because I feel like Lashley has been a lot more comfortable in WWE in the last month. I think the build to the match has been one of the better builds on the show. Lashley wants to prove he can be a top guy in WWE while Reigns wants to show to the world that he is still the guy that can beat Lesnar, so he will beat anybody that steps in front of him including Lashley. I liked the brawling segment on Raw as well.
The story of the match could be the crowd, which is a common thing in any Reigns match as we all know. Will the fas completely shit on the match because they hate Reigns? They might. If they do that's a shame because I think these two could put on one of the better matches of the night and a match that might surprise people with how good it is. However, if the crowd shits all over it then that's all people are going to talk about. Will Vince McMahon actually listen to the crowd and turn Reigns into a Samoan badass heel that rips on the fans for the way they treat him? No. It's a shame.
This should be a win for Reigns in a competitive match that gets around 15-20 minutes. I think Lashley has a lot to prove and he's going to deliver even in defeat.
Winner: Roman Reigns
BONUS TOPICS!
The Match I'm Looking Forward To The Most
Kurt: Rollins vs. Ziggler.
Mike: 100% it's Ziggler/Rollins. Let those two guys shine because they both deserve it.
John: Ziggler vs. Rollins. I'm intrigued by Reigns/Lashley for being potentially great too.
The Match I Care About The Least
Kurt: Hardy vs. Nakamura.
Mike: Corbin/Balor.
John: Corbin vs. Balor
Longest Match
Kurt: Ironman by default.
Mike: Ziggler/Rollins, and I think it goes longer than 30. Overtime!
John: Ziggler vs. Rollins for 30 minutes.
Shortest Match
Kurt: RAW Tag Title Match.
Mike: Hardy & Wyatt against The B Team.
John: Shinsuke Nakamura vs. Jeff Hardy. Just a hunch.
Excitement Level on a Scale of 1-10 (1 being low, 10 being high)
Kurt: A 5. Solid matchups but the product is so bad, I'm not invested in anything.
Mike: I'll go with a charitable 6. The Ironman match is super appealing, and some of the other title matches look decent on paper. For so many matches, though, few of them feel like can't-miss. Next year will this even be a WWE show? It's not really Extreme Rules anymore.
John: I'll go with a 6 because it just feels like a slightly above average show with a few matches that should be awesome and several matches that don't interest me much. I don't have high expectations, but some of the matches could deliver in terms of being above average and that will help. It's not the worst PPV of the year by any means (that would be Backlash).
Final Thoughts
John: That's all for us. Thanks to the crew for joining me once again. I will write a live review of Extreme Rules on TJRWrestling.net on Sunday night.
Kurt – @KTankTMB
Mike – @DharmanRockwell
John – @johnreport
If you want to send an email, send it to me at mrjohncanton@gmail.com as well. Thanks for reading.