TJRWrestling WWE Elimination Chamber 2019 Preview
John: Welcome to the TJRWrestling WWE Elimination Chamber preview. As always, you can watch the show on Sunday night on WWE Network.
What stands out about this show to me is some big names aren't wrestling on the show at all (Rollins with a minor back injury, Lynch with a worked knee injury, Flair, Lesnar, McIntyre to name a few) while several titles have been ignored for weeks. I know that WWE is focusing on the "new" (if you forget 30 years ago) Women's Tag Team Titles on this show, but by adding those titles, it means there are nine titles on Raw and Smackdown. It's going to be very difficult to get every title on every PPV going forward, which is why I wish they stuck with the brand exclusive PPVs. Instead, we have to deal with periods where titles and great champions are ignored.
I was hoping there would be a Mysterio vs. Andrade match on the show since they had a couple of outstanding matches on Smackdown recently. However, as of this writing, neither guy is in a match. Perhaps WWE is saving it for Fastlane next month.
A positive thing about this show is that it looks like the WWE Championship will headline a WWE PPV for the first time since Fastlane last March, which was the last brand exclusive PPV. At least the most coveted championship in the company is back where it belongs in the main event.
Joining me for the preview are Mike Holland and Matthew J. Douglas.
(Note: All graphics are from WWE. The banner up top is courtesy of our friend Melo Man.)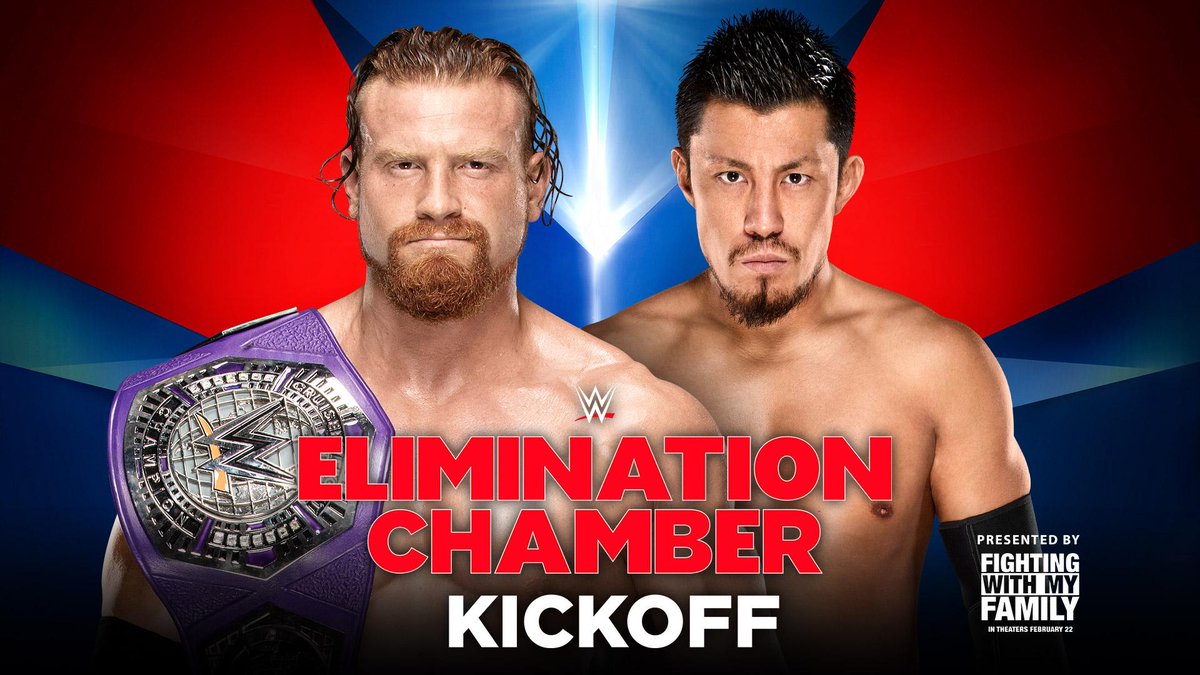 Cruiserweight Championship: Buddy Murphy (c) vs. Akira Tozawa (KICKOFF SHOW)
Mike: It feels like the movie Groundhog Day every time we discuss the state of affairs in the Cruiserweight Division and its impressive champ, Buddy Murphy. I'm not sure WWE had too many people convinced it was "bought in" on the cruisers from the get-go, and let's face it, they've never been presented correctly in McMahonLand. Murphy is a heck of a talent and a clear brand ambassador, but I'm not sure that's a selling point if very few eyes are on the brand. He's being built like a force, which is good, but doing most of his heavy lifting on pre-shows, which isn't.
I had a sneaky suspicion Murphy's run might end last month to Hideo Itami, which turned out to be incorrect as Itami had rightly sought greener pastures. Given that the other hottest thing to come out of 205 Live, Mustafa Ali, has been given a giant role on Smackdown (all the way to the main event prior to injury), you'd be hard-pressed to convince me that anyone else on the roster currently will be supplanting Murphy anytime soon. Tozawa is a solid hand and a former titleholder in his own right, but won't be winning here.
Winner (and STILL Cruiserweight Champion): Buddy Murphy
Matthew: I'm on vacation in Singapore (where I got to go to a Captain Marvel fan event on Thursday night!) so some of these may be quick. I've got a beach just minutes from my room that's waiting for me. These Cruiserweight matches are always good, and I doubt this'll be bad. I don't much know the story heading into it, because I don't keep up with 205 Live, but I can safely assume that the goal here isn't to get the title off of Buddy "The Body" Murphy.
Winner and Still Cruiserweight Champion: Buddy Murphy (because I have no reason to believe they're putting the title on Tozawa)
John: I watch 205 Live most weeks and I like the good matches, but I don't think they do well in terms of attracting new viewers. There just isn't anything that screams "must watch" to me. I really enjoyed the Nese vs. Dar match last week, though, so at least we get some great matches occasionally. Murphy is doing well as champion and I'm not sure who the guy is that will take the title off him. I doubt it's Tozawa. I think they'll probably save the title change until WrestleMania, so this is really just a competitive match with Murphy retaining.
Winner: Buddy Murphy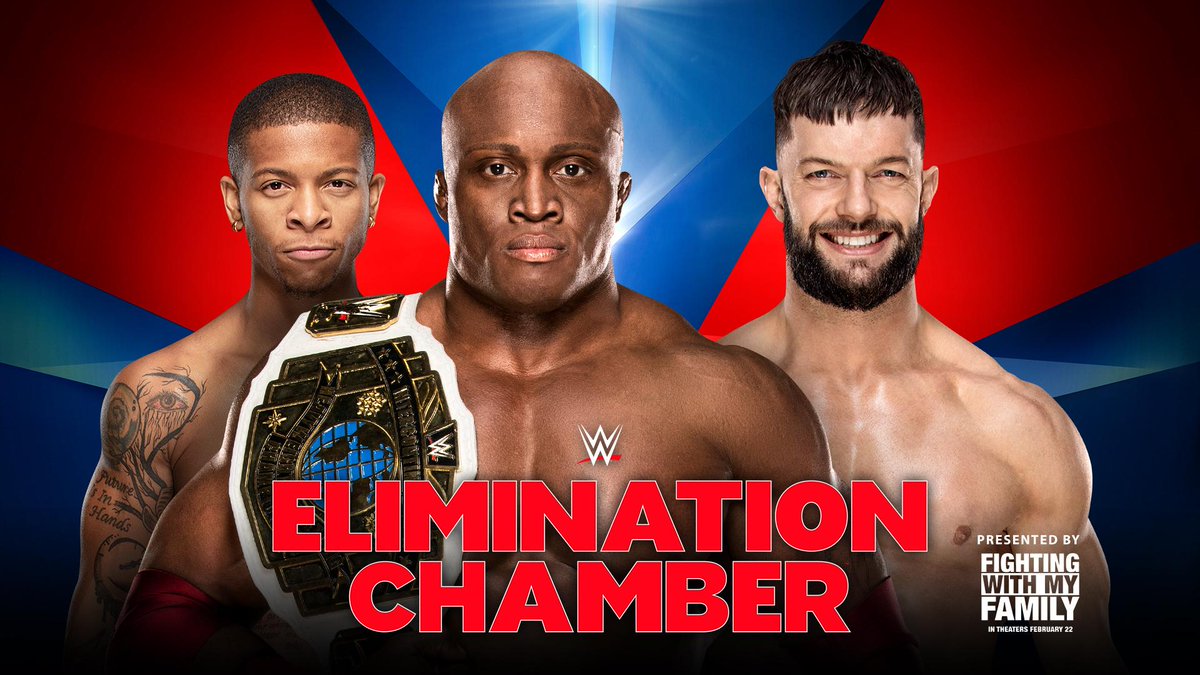 Intercontinental Championship: Bobby Lashley (c) and Lio Rush vs. Finn Balor
Mike: What a strange ride it's been for Finn Balor. Seemingly always on the outside looking in since his unfortunately-cut-short Universal Title reign, Balor's been stuck in development hell with largely meaningless feuds until finally getting an opportunity to go against Brock Lesnar in a game effort at the Rumble. I don't know that Brock is the best choice to play to Balor's strengths, but he acquitted himself well in a losing effort and finds himself rewarded with a shot at the Intercontinental Title held by the improved (but still dreadfully stoic) Bobby Lashley.
Lashley's decent, don't get me wrong, but I'm not feeling it week after week. Lio Rush is an admirable choice to hype him up, and he's performed the role well, but it's running aground in an Alberto Del Rio introduced by Ricardo Rodriguez situation where you're left wondering how much juice is left in the battery. The booking of this is odd indeed, as despite Balor having the numbers disadvantage it's being presented as a positive since he doesn't need to beat Lashley to win the belt. It could go either way, but I'll take Finn getting rewarded with a win and a rematch at Fastlane.
Winner (and NEW Intercontinental Champion): Finn Balor
Matthew: This match could very possibly be a way to move the Intercontinental Championship onto Finn Balor, without beating Lashley in the process. There are essentially two options I see here. Option 1: Finn fights valiantly but ultimately falls victim to the numbers disadvantage and loses, setting up a rematch for a later date, one-on-one. Option 2: Finn ends up beating Lio Rush to capture the Title, setting up a one-on-one match between Lashley and Balor for a later date. I will guess that the outcome will be the latter, throwing the fans a bone on what I'm thinking will be a show that is mostly about treading water.
Winner and New Intercontinental Champion: Finn Balor (because it gives us a little something to be happy about)
John: I'm not a fan of handicap matches for a singles title, but it's a way to set up a singles rematch. They can do something where Lashley wins because of the numbers game or Lashley loses because his partner Rush is the one that is beaten. Balor's great at selling, his comebacks are very good and the fans love him, so it should be an entertaining match.
Lashley just won the title recently, so I think it would be foolish to take the title off him so soon. Let's give him a run for a few months. Put the Intercontinental Title on Balor at WrestleMania where it might mean more. If they do it now then that's fine too, but I would wait two months.
Winner: Bobby Lashley (and Lio Rush)
Raw Women's Championship: Ronda Rousey (c) vs. Ruby Riott
Mike: While WWE has been booking Ronda Rousey versus Becky Lynch at WrestleMania for months now, the fact remains that Rousey is still the champion on Raw and therefore must defend in a series of meaningless matches until we get to the one folks are salivating over. I think WWE by and large has done a reasonable job in those selections, as they have to utilize Rousey's skills correctly. For the most part this strategy has delivered, and that is the one reason why this contest will be worth a watch. Ruby Riott is clearly talented and absolutely has what it takes to deliver another tough match, even if the conclusion is foregone.
And, naturally, it is. This is less about what goes down inside the ring than it is what Charlotte Flair, Vince's hand-picked opponent for Rousey at WM, will do at ringside while watching the action, as well as whether Becky Lynch will make an appearance to continue that storyline. (And that, too, is obvious…no way she doesn't show up to further antagonize the suits.) The fact that no matter what Riott does here will be pushed aside for the cameras to capture the three-sided staredown is unfortunate, but unavoidable.
Winner (and STILL Raw Women's Champion): Ronda Rousey
Matthew: Rousey will win. Ruby as one of the WWE's best in ring women all but guarantees this will be a fun match. Unfortunately, it'll be difficult to capture the attention or imagination of people watching because it only exists to run in place narratively.
I don't have anywhere else to fit this where it'd make sense, so I'll drop it here: If the rumors are true that the WWE wants to consolidate the two Women's rosters (which makes the most sense honestly) Asuka is all but assured to drop the Smackdown Women's Title to either Becky or Charlotte. I don't know what will happen, but it could be the way Becky re-inserts herself into that Wrestlemania main event to unify the two titles.
Winner and Still Raw Women's Champion: Ronda Rousey (because we know what her destiny is come Wrestlemania)
John: I know Rousey has had several competitive matches of late where she was taken to the limit by Sasha Banks at the Royal Rumble and then Bayley on Raw. If you go back to Christmas, she had a long match where she beat Natalya too. I get why WWE is doing that to try to show that other women can hang with her, but with WrestleMania less than two months away, it's time to make Rousey a killer again. She easily beat Liv Morgan and Sarah Logan on Raw. I think Rousey should beat Riott quickly too. If Rousey is booked in a way where she wins this match easily in five minutes or less then that's going to help her credibility as a dominant champion. It will also make it mean more at WrestleMania when Becky Lynch taps her out (yes, Becky will be added to Rousey vs. Flair). If Rousey takes something like 12-15 minutes to finish off Riot, it doesn't make Rousey look as good as possible. I'd book Rousey to win this in five minutes. They will also have Charlotte Flair at ringside for the match, so doing a post match angle where Flair and Rousey brawl at ringside is a good idea too.
It's a Rousey match, so it's a predictable outcome. I'll pick Rousey to lose at WrestleMania, but not before that.
Winner: Ronda Rousey
Smackdown Tag Team Championships: The Miz and Shane McMahon (c) vs. The Usos
Mike: This one has taken a bit of an unexpected turn, as news broke today that Jimmy Uso was arrested this week in Detroit and the WWE released a brisk statement saying he was responsible for his actions. Jimmy's brother Jey had his own issues with the law over one year ago, and faced no further punitive action from WWE, so it's likely not that big of a deal. That said, this kind of stuff never plays well. In addition to that offscreen drama, there have been major rumblings that the Usos are unhappy with their current roles and might be jumping ship to AEW. Does that lead to WWE rewarding them with putting the tag belts on them? Don't be so sure.
Competition is good for wrestling, and ultimately the Usos (like anyone else) will take the offer they feel is best for them. There is no question they have done an excellent job in the tag team scene the last several years especially. The McMiz team is one of those that was broken up before it came together, so it's just a matter of time. We've seen all of this before, and it was much better then. I do think they drop the belts before WM, setting up a singles showdown. I didn't see it happening here, and I definitely don't now.
Winners (and STILL Smackdown Tag Team Champions): McMiz
Matthew: Do Miz and Shane implode here? There's a chance, but I think it happens later. Usos will help deliver an amazing bout here because they always bring it. There will be teasing of some dissension between Miz/Shane, but ultimately, they'll prevail by nefarious means.
Winners and Still Smackdown Tag Team Champions: Team McMiz (because this show is mostly about treading water, as I indicated I would be doing once I'm done typing this)
John: I think the Jimmy Uso arrest in Detroit this week was a minor thing. I wrote about it here in case you missed it. The short version of the story is that Jimmy's wife Naomi was driving the wrong way because she probably didn't know the streets (they were in Detroit because Smackdown was in Toledo, so they flew home out of Detroit). The cops approached, smelled alcohol in the car likely because of Jimmy and Naomi wasn't charged with drunk driving. Jimmy confronted the cops and acted like he wanted to fight. He was arrested for disorderly conduct for acting like a dumbass and then he was bailed out of jail. While I'm sure WWE is disappointed in him for making a TMZ story like that, I don't think it's that big of a deal. With that said, I didn't expect the Usos to win the titles here anyway.
Since Shane and Miz just won the titles at Royal Rumble, I expect them to have at least one successful title defense before the split-up story starts. I feel like they'll lose the titles within a month or so, Miz will blame Shane, Miz will attack Shane and that sets up Miz vs. Shane at WrestleMania. That's where this feels like it is going. Miz is likely going back to Raw in the Superstar Shakeup in April since he's got the Miz & Mrs. reality TV show on USA Network while Smackdown is going to Fox in October, so it makes sense that he'll be on the USA show Raw. The heels will work on Miz most of the match, Shane gets the hot tag, The Usos screw up somehow and Shane/Miz get a fluky win with Jimmy taking the fall because of the minor arrest he had this week.
Winners: Shane McMahon and The Miz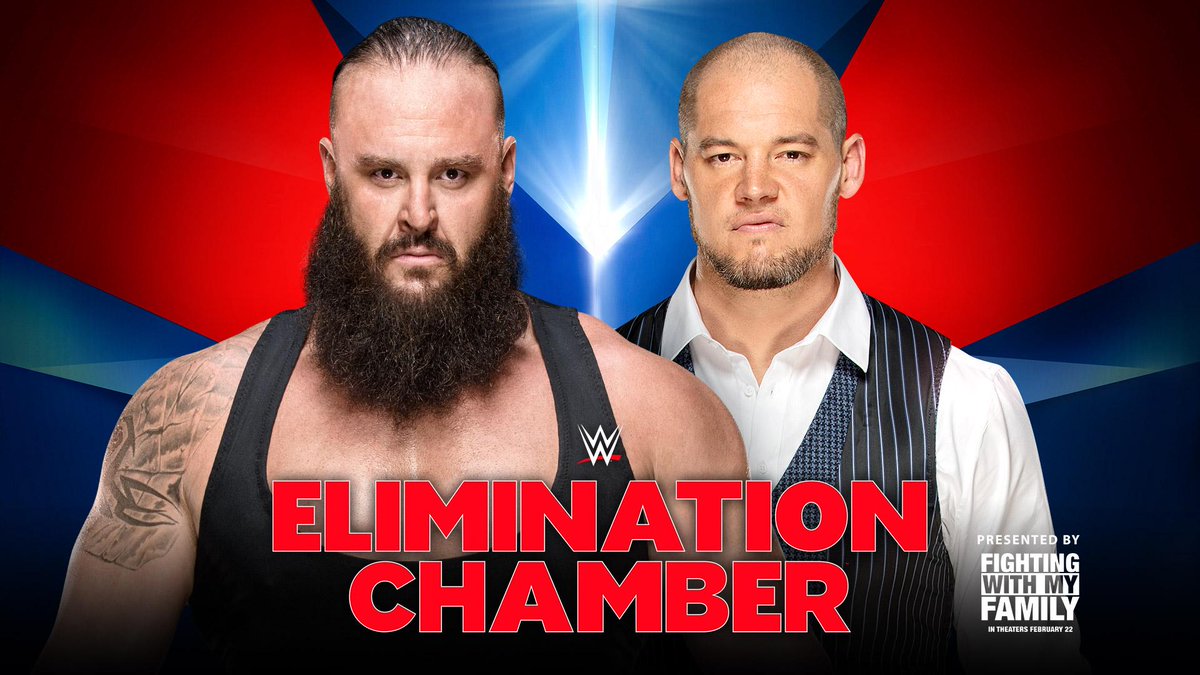 No Disqualification Match: Braun Strowman vs. Baron Corbin
Mike: Braun Strowman vs. Baron Corbin: Yawn. I'm not sure what else can be said about another showdown between Braun Strowman and Baron Corbin, except…enough already. Corbin has just been incessant since his removal as GM of Raw, and it appears to be one of those situations where the McMahons know how much most of us are annoyed by him and therefore just keep piling it on. Strowman, of course, has a legitimate gripe with how he was booked for quite a bit of the last year. While it's true nobody can be blamed for his injury situations, which caused massive plan changes on more than one occasion, it's also true that he was being presented as viable Universal Champion material and now is another sideshow giant.
WWE tipped their hand a bit with this match by making it no-disqualification, although frankly I doubt anyone expected Corbin was just going to show up mano a mano against Braun. Drew McIntyre is largely expected to be Strowman's WM opponent, so rearing his head here and costing Strowman the match plays right into that storyline. I wish I didn't have to say that Strowman losing so close to WM wouldn't affect his character, but that ship not only sailed, it came back around and into port.
Winner: Baron Corbin
Matthew: Ugh. I couldn't care less about this match. I know there will be interference by McIntyre and Angle and that the No DQ stipulation will lead to a clusterfuck finish. None of it matters that much. The feuds coming out of this will be Drew/Braun and Angle/Corbin.
Winner: Braun Strowman (because if he loses, he looks worse than he already has)
John: It was smart to make this a No DQ match because these guys having a regular match would be boring. At least if they can go out of the ring and break some stuff it will be mildly interesting.
I feel like the No DQ stipulation was announced to set up a cheap attack from Drew McIntyre to cost Strowman the win, so I'll reluctantly go with Corbin here. I say reluctantly because Strowman rarely loses (unless it's against Lesnar or Reigns), so picking him to lose is a bit of a risk. I just feel like the story sets up more for a win for Corbin.
Winner: Baron Corbin
Elimination Chamber Match for the New Women's Tag Team Titles: Nia Jax and Tamina vs. (Riott Squad) Sarah Logan and Liv Morgan vs. (Boss N Hug Connection) Sasha Banks and Bayley vs. (Fire N Desire) Mandy Rose and Sonya Deville vs. (The IIconics) Peyton Royce and Billie Kay vs. Carmella and Naomi
(Due to losses on Raw and Smackdown, the teams of Banks/Bayley and Rose/Deville will start the match as the first two wins.)
Mike: Nia Jax and Tamina vs. Sarah Logan and Liv Morgan vs. Sasha Banks and Bayley vs. Mandy Rose and Sonya Deville vs. Peyton Royce and Billie Kay vs. Carmella and Naomi: I find this match and the introduction of these titles to be highly interesting, mainly because I'm not sure the talent level even with both brands together is enough to support constant championship defenses. Don't get me wrong, the reintroduction (and it is most definitely a reintroduction, don't let the WWE's revisionist historians fool you) of tag belts for the women's side is overdue, but the title scene is already crowded and the difficult part comes next. WWE will have to work hard to make sure these don't become largely symbolic belts, and they don't have the best track record when it comes to such things. Here's hoping.
In any case, there's a decent amount to like here. I like that the heel teams have the numbers advantage, because it creates a very effective War Games scenario. We already knew that was coming to some degree since Bayley and Banks are booked to start the match. Even if you somehow avoided all the rumors of them being the inaugural champions, you have to know that slot means they are sticking around until the end.
I also like that some of the less-heralded teams will have an opportunity to do something relevant on a PPV, as both the Ilconics and the rest of the Riott Squad have floundered since their respective callups. Naomi's presence in this match serves as a counterpoint to Mandy Rose, so they cancel. The only legitimate threat on the heel side of the ledger in my mind is Nia Jax and Tamina, who have been built up in recent weeks as a threat. Should WWE care to throw a monkey wrench in the mix and swerve the feel-good ending, it would be easy enough to tap Nia & Tamina to win and then let the huggers get their gold at WM.
Further muddying the waters is Sasha Banks's injury status. You have to think that even though she's been cleared, she won't be called upon to take significant bumps in a match that really is all about that. You can't tell me nobody is worried that Nia will screw something up at this point, can you? All things considered, I like Bayley and Banks to win here. That can lead to a rematch with Jax and Snuka at Fastlane, and clear the path for Trish and Lita in April.
Winners: Sasha Banks and Bayley
Matthew: When I imagined crowning the first New Women's Tag Team Champions… this isn't what I had in mind. Good on them for the Elimination Chamber concept, which was a cool wrinkle to throw in… I just thought there would be more fireworks for this. I imagined Trish and Lita throwing their hat in the ring for an extensive tournament. I imagined Io Shirai and Kairi Sane being involved. I imagined teams forming to try to be the first ones to hold the new belts and I expected it to play out over a long period of time. I also imagined that it would have taken place right after Bayley and Sasha reconciled. What I got here feels very hurriedly put together. It feels poorly timed. It feels like it's lacking star power. It feels a little less cool than I wanted it to feel. But that's just because of my own lofty expectations.
Two teams, maybe three have a shot at this, and sorry Smackdown, they're all from Raw (not that it matters given the rumors I mentioned earlier). The Riott Squad has an outside shot at capturing gold on Sunday, but I think it's either Bayley and Sasha or Nia and Tamina. I leaned heavily toward Bayley and Sasha in my imagined scenario, as well as in this one, but with Dean vs Nia seeming to have lost interest, I could see the heels prevailing with Bayley and Sasha chasing heading into Wrestlemania. It just seems like the most Vince McMahon story choice. I expect Bayley and Sasha to be the last team eliminated, having lasted the entire match, only to be taken out by Nia Jax and Tamina.
Winner and our First New Women's Tag Team Champions: Nia Jax and Tamina (because we must first suffer before we can smile)
John: I'll give some bullet point thoughts on all the teams in this match:
Nia Jax and Tamina – A boring heel team that will be booked well due to being bigger than the other teams. They'll probably enter the match 5th or 6th to limit their time in the match and to give them the advantage. They might win.
Sarah Logan and Liv Morgan – A solid heel team that is young with a bright future. Down the road, I can see them holding the titles, but there's no need to put the titles on them yet.
Sasha Banks and Bayley – They are the biggest faces in the match, so the crowd should be behind them more than anybody else. They are definitely favorites to win even as one of the first two teams starting the match.
Mandy Rose and Sonya Deville – I think they work well together and are a team that can win the gold in the future as long as they stay together. It wouldn't surprise me if Mandy got a singles push post-WrestleMania (I am all for that, by the way), so that's why I'm hesitant in thinking they have a chance to win.
Peyton Royce and Billie Kay – If I had to rank the teams in terms of favorites they would be third after Banks/Bayley and Jax/Tamina because they are truly a team. Their careers will likely see them aligned as The IIconics. They have a chance to win for sure.
Naomi and Carmella – They are the second face team in the match that has four heel teams. They were just thrown together randomly because WWE remembered they needed another team. Even though they are both former Smackdown Women's Champions, I don't see them making it very far in this match.
I think this match could be bad. I like and support women's wrestling, but some of the women in this match are just average in the ring at best. Some of them are worse than that. Banks and Bayley will have to do a massive carry job to make this one interesting to me.
In terms of picking the winner, there are two ways this can go. I think the smart way is to put it on the babyface duo of Sasha Banks and Bayley in this match. They'll be the most popular team in the match by far, so it's what the fans will want. However, the other story is to put it on a heel team (probably the sleep-inducing duo of Nia and Tamina) and then have Sasha/Bayley get their crowning moment in two months at WrestleMania. Either way is fine I guess, but I think putting the titles on the face team of Banks/Bayley is the smart thing to do. They are my pick although I would say I'm about 55% on Banks/Bayley, 35% on Jax/Tamina and 10% on Royce/Kay as the winners.
Winners and New Women's Tag Team Champions: Sasha Banks and Bayley
WWE Championship Elimination Chamber Match: Daniel Bryan (c) vs. Randy Orton vs. Samoa Joe vs. AJ Styles vs. Jeff Hardy vs. Kofi Kingston
(Due to Orton winning a Gauntlet Match on Smackdown, he will enter the Elimination Chamber as the sixth and final entrant.)
Mike: Let's start with the good: this match will be the best of the night, in my view, and the way WWE built up Kofi Kingston as a viable challenger after his unreal performance on this week's Smackdown (seriously, if you haven't seen it, go watch it…I'll wait!) was not only effective but kind of inspiring. If WWE had the gonads to turn that into a title change here, it would make their product far more watchable. Since they don't, let's just appreciate that they made the best out of an unfortunate situation with Ali and allowed a guy who can shine in these type of showboat matches to get an opportunity.
This is a very solid group, and I wouldn't be surprised if Kofi ended up coming closest to unseating Daniel Bryan. Hardy is a non-factor, as we all know why he's in the match. Swanton off the chamber and into the infirmary, check. As for AJ Styles, he's always in the hunt, but remains without an obvious WM opponent for now. Cue Randy Orton, who gets the benefit of entering last and therefore can pick his spot to deliver the damage to AJ, setting up their rivalry. That could play out several ways, but the one I like best would be Styles putting on his usual clinic and Orton laying out Bryan with an RKO upon entry. Orton covers, but Styles rolls him up and eliminates him. Orton goes crazy, RKOs the living hell out of Styles, and Bryan picks up the cheap win. You've set the stage for later and allowed Bryan to win without pinning Orton. Perfect.
Lost in all of this, unfortunately, is Samoa Joe. If ever there was a match for his coming out party in the WWE, this is tailor made to be that. Unfortunately, however, I'm convinced that Joe is the odd man out in these situations, and this one will be no different. It will be status quo at the top as Bryan is the last man standing. A reuniting with Luke Harper and/or Bray Wyatt is not out of the question, obviously.
Winner (and STILL WWE Champion): The "New" Daniel Bryan
Matthew: This preview is all about Kofi for me. Sorry for those of you that like Styles, or Orton or Joe or Jeff Hardy. They're all great, but Kofi is my guy and I'm going to cape for him here. What we saw on Tuesday was the manifestation of everything I've been hoping for him for over three or four years. During his time with The New Day, he improved and proved that he had what it takes to command an audience. The New Day are one of the feel good stories of the wrestling world. Three friends who wanted to work together, given a gimmick that didn't quite work, and they made it into a huge deal. They became top merchandise sellers. They became the promo everybody wanted to see. They became must see TV. There have been a couple of moments where the WWE Championship was in flux where I threw out their names (particularly Kofi) as a dark horse contender. I've written extensively that the fans and workers alike at times needed a morale boost, and that Kofi w/New Day finding their way into the World Title picture would brighten even the biggest Scrooge's spirits. On Tuesday, the possibility of that becoming reality quadrupled in size! And now it's the only thing I want.
Here's what happens (or should I say, should happen): Bryan wins in the end with help from Rowan and a returning Harper. Kofi is the last man eliminated from the match when he can't overcome Bryan and his two behemoths. This sets up a match for Fastlane where it'll be Daniel Bryan, Harper and Rowan vs. The New Day where if The New Day win, Kofi gets a WWE Championship opportunity at Wrestlemania. New Day win at Fastlane and Mania it'll be The Planet's Champions Daniel Bryan with Harper and Rowan in his corner vs. The Ultimate Beacon of Consumerism and Merchandising Kofi Kingston with Big E and Xavier Woods in his corner. That's everything I want this Wrestlemania. I don't want Styles vs. Bryan 4 or 5 or 6. I don't want Bryan vs. Orton, or Hardy, or Ali, or Joe or all of the above. Bryan and his goons vs. Kofi and The New Day. It writes itself. It feels right. It feels good. Let us feel good about something WWE! MAKE IT HAPPEN!
Winner and Still WWE Champion: Daniel Bryan (because this show is mostly about keeping the status quo)
John: Let me start by saying that I absolutely love Matthew's booking ideas for Kofi Kingston and Daniel Bryan at this show, then Fastlane and at WrestleMania. I would love it to work out that way although I am hesitant to believe that WWE is going to pull the trigger on Kingston like that. Honestly, though, I have no idea who Bryan might face at WrestleMania, so anything is possible.
Just as I did with the women's match, some bullet point thoughts on all the guys.
Jeff Hardy – He has no momentum and I don't even remember the last meaningful win he has had on Smackdown. I think he's just there as a former WWE Champion that gives some credibility to the match. He might do a Swanton Bomb off a Chamber pod onto another wrestler, so that's something to look forward to.
Samoa Joe – I wish he won the WWE Title last summer because he deserved it. I'm not sure what the plan is with him now, but I doubt he ends up as champion here.
Kofi Kingston – Kingston is the X-Factor in the match after he filled in for Mustafa Ali last week and had a 60-minute performance in the Gauntlet Match that included three pinfall wins. Could they really go all the way with him in this match and put the WWE Title on him? I doubt it, but I think it's possible that he is the runner up in this match. If they can do it with Santino of all people earlier in the decade then Kofi could be in that spot too.
Randy Orton – He gets to enter the match at #6, so the announcers will be screaming about how he has the advantage in the match. I think the obvious scenario for him is that he gets pinned by AJ Styles and then after he gets eliminated, he hits a RKO on Styles. That can lead to Bryan or Joe or somebody else to eliminate Styles. It sets up the long-awaited Orton vs. Styles feud that is rumored for WrestleMania.
AJ Styles – I think it's possible that he's the runner up, but they could eliminate him earlier due to the Orton scenario I mentioned above. If they don't have him as the runner up then it will probably be Kingston in that spot. I think it's very likely that he's in the 1st or 2nd spot in the match and he'll have a great performance for most of the match.
Daniel Bryan – My pick to win from the moment it was announced. The biggest reason is because they just gave him his own custom WWE Title, so when you do that, it usually means there's going to be a decent length on the title reign. If not, why have him create a new title? I think it's very possible that Luke Harper returns in this match because he's officially cleared to return, so then you have a scenario with Harper attacking Kingston or Styles or whoever to help Bryan win. It also gives Bryan major backup in Rowan and Harper. I just think it's a good fit.
I'm going with Bryan to win and if he doesn't retain the title, I'll be surprised. The end of the night will see Bryan celebrating with the WWE Title while the announcers wonder if anybody stop him while he has Rowan and Harper watching his back. Look for this match to go 30+ minutes and I expect it to reach the four star level out of five. It should be an awesome match.
Winner: Daniel Bryan
BONUS TOPICS!
The Match I'm Looking Forward To The Most
Mike: WWE Championship match. Will pack plenty of punch even if the ending falls flat.
Matthew: WWE Championship Elimination Chamber.
John: It's easily the WWE Championship Elimination Chamber even though I feel like the winner is predictable. If they announced Mysterio vs. Andrade, I probably would have picked that.
The Match I Care About The Least
Mike: Corbin/Strowman. It's causing me to question the existence of a supreme being.
Matthew: Rousey vs Ruby only because its outcome is most certain.
John: Rousey vs. Riott. The lack of unpredictability hurts it.
Longest Match
Mike: WWE Championship match.
Matthew: WWE Championship Elimination Chamber.
John: I think the WWE Championship match will go 30-40 minutes, so that's my pick.
Shortest Match
Mike: Corbin/Strowman, mercifully.
Matthew: A match yet to be announced…but if I'm choosing from among these, Rousey/Riott.
John: Rousey over Riott should be under ten minutes.
Excitement Level on a Scale of 1-10 (1 being low, 10 being high)
Mike: Hard for me to go higher than a 5 here. I think the two main events will be strong, obviously, but the card is tilted so heavily towards them that the rest feels like a glorified weekly show. The other title matches aren't that compelling, and WWE continues to give talented workers like Asuka nothing to do. Please tell me we don't have another year of the Universal Title only being defended every fourth event?
Matthew: 6. It's all due to Kofi and New Day hype…this show is a bunch of nothing otherwise.
John: I'll go in between my buddies with a 5.5, which is low for me. I just don't think the card is that compelling other than the main event. They could have done a lot better for this show, but too many good wrestlers are sitting on the sidelines.
Final Thoughts
John: I'll be back with a review of Elimination Chamber on TJRWrestling.net live on Sunday night, so check that out during the show or after it's over.
Mike – @DharmanRockwell
Matthew – @MJDP_GSE
John – @johnreport
If you want to send an email, send it to me at mrjohncanton@gmail.com as well. Thanks for reading.