TJRWrestling NJPW Power Struggle 2020 Preview (Naito vs. EVIL, Ibushi vs. White)
Welcome to our preview for New Japan Pro-Wrestling (NJPW)'s next upcoming big show, Power Struggle. This show will be taking place on November 7th, and will be available exclusively on NJPW's streaming service, New Japan World. As someone that finally got around to subscribing to New Japan World, I can say with all honestly it was worth every penny/Yen.
There will only be six matches on this card, less than the typical NJPW card which normally features eight to ten matches. Then again, these are abnormal times we're in, so all wrestling companies have to adapt. And NJPW has done a great job of doing so. Though they're not selling out like they used to, they're still having fans go to live shows, albeit under much stricter conditions. But at least the company's making money through live gates again. And since NJPW never did anything dastardly during the pandemic (like axe a ton of employees and furlough many others while making record profits), I think NJPW really deserves getting more attention during this time.
So with that, let's break down the Power Struggle card.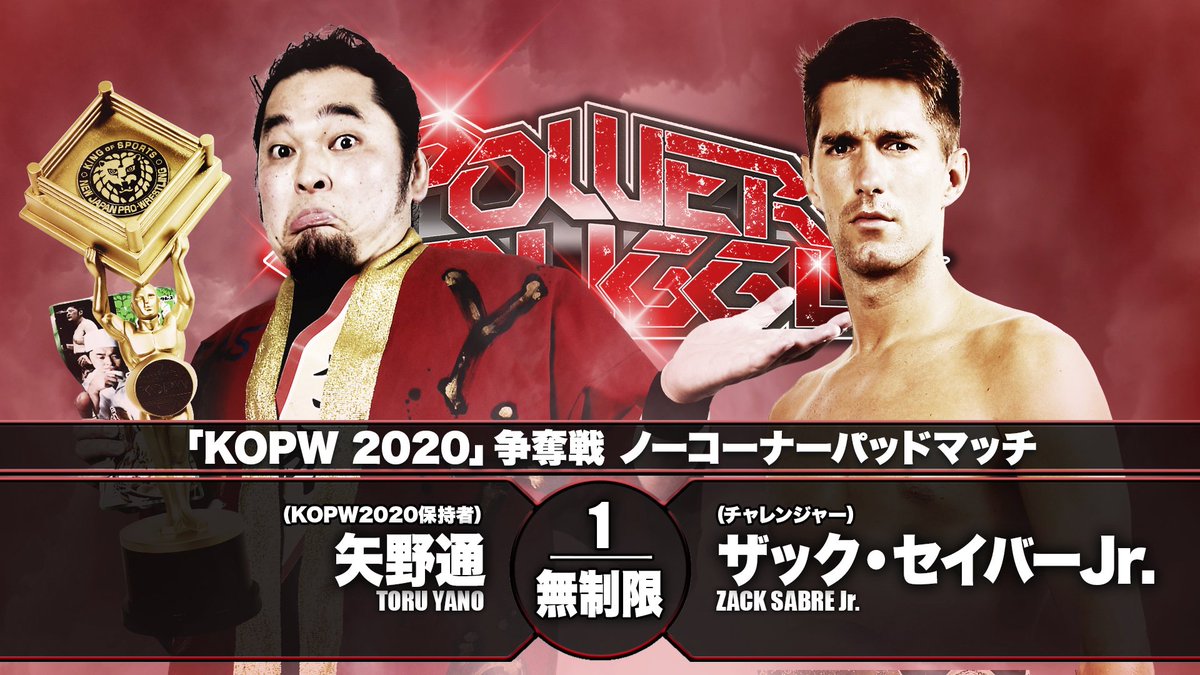 Toru Yano vs. Zack Sabre, Jr – singles match for the provisional KOPW Championship
The King of Pro Wrestling (KOPW) Championship isn't your typical wrestling title; instead, a provisional champion defends their 'provisional title' throughout a particular year. If the provisional champion makes it to the final NJPW show of the year, they then have an actual title match. And the winner of that end-of-year title match gets a trophy recognizing them as the king of pro wrestling for that particular calendar year. It's a unique concept, especially given that its current provisional champion is the most unique man in New Japan, Toru Yano.
The self-proclaimed 'Sublime Master Thief' is basically NJPW's version of Santino Marella, except funnier. He specialized in slapstick comedy-style wrestling and usually cheats to win. And yet he's actually a credible threat in big matches because these tactics bring him victory way more often than you'd think. But this time, Yano will be walking into a world of pain courtesy of British Daniel Bryan, Zack Sabre Jr.
ZSJ's relatively scrawny physique belies how dangerous he is. He's a true technical wizard and submission master. He knows how to stretch his opponent in such awful ways that he genuinely looks like he's contorting his opponents' bodies in ways other than which God intended. He's also humorless and mean-spirited, making him the perfect contrast to Yano's zany antics.
With NJPW determined to make this title mean something, I predict Yano weaseling his way to victory in this match. He'll probably distract the referee, hit a low blow, or score a surprise pin by pulling on ZSJ's tights to maintain his provisional title. As good as ZSJ is, he doesn't really need this title. He's better off where he is now: rubbing shoulders with other NJPW greats like Tanahashi, Ibushi and Suzuki.
Winner and STILL NJPW KOPW Provisional Champion: Toru Yano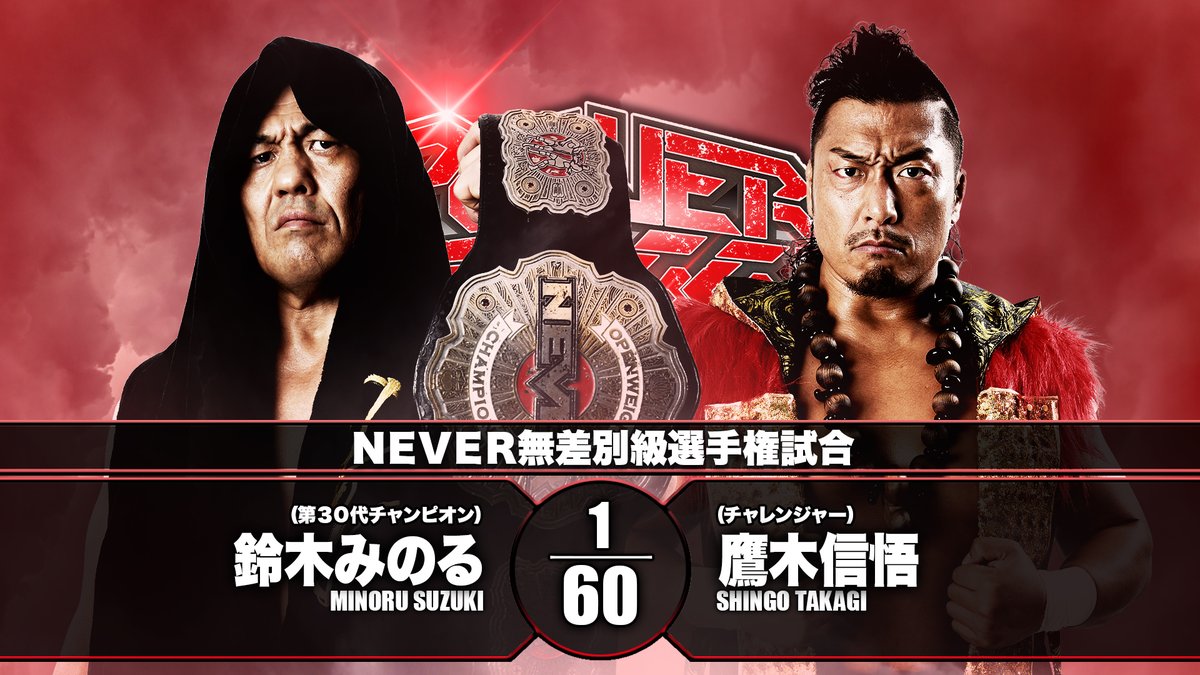 Minoru Suzuki vs. Shingo Takagi: singles match for the NEVER Openweight Championship
Hell yes. This will be a great match-up. Minoru Suzuki has been amazing this year, wrestling better at 52 years old than he has in many years. Yet despite his age, he still looks and feels menacing and credible as a threat. But he too has a major challenge in the form of Shingo Takagi. Takagi is another tough wrestler with a great sense of timing and a brutal move-set. I think this match will probably go under twenty minutes, but they'll pack a ton of action into that amount of time.
In terms of a winner, I'm going with Takagi on this one. I just think that a title change will occur to give Takagi some upward momentum. Of the two wrestlers, Takagi is younger and has more of a career with NJPW ahead of him. By winning, Takagi can add another feather to his cap while Suzuki can move onto another role, such as terrifying the new young lions or possibly doing cross-promotional dream matches.
Winner and NEW NEVER Openweight Champion: Shingo Takagi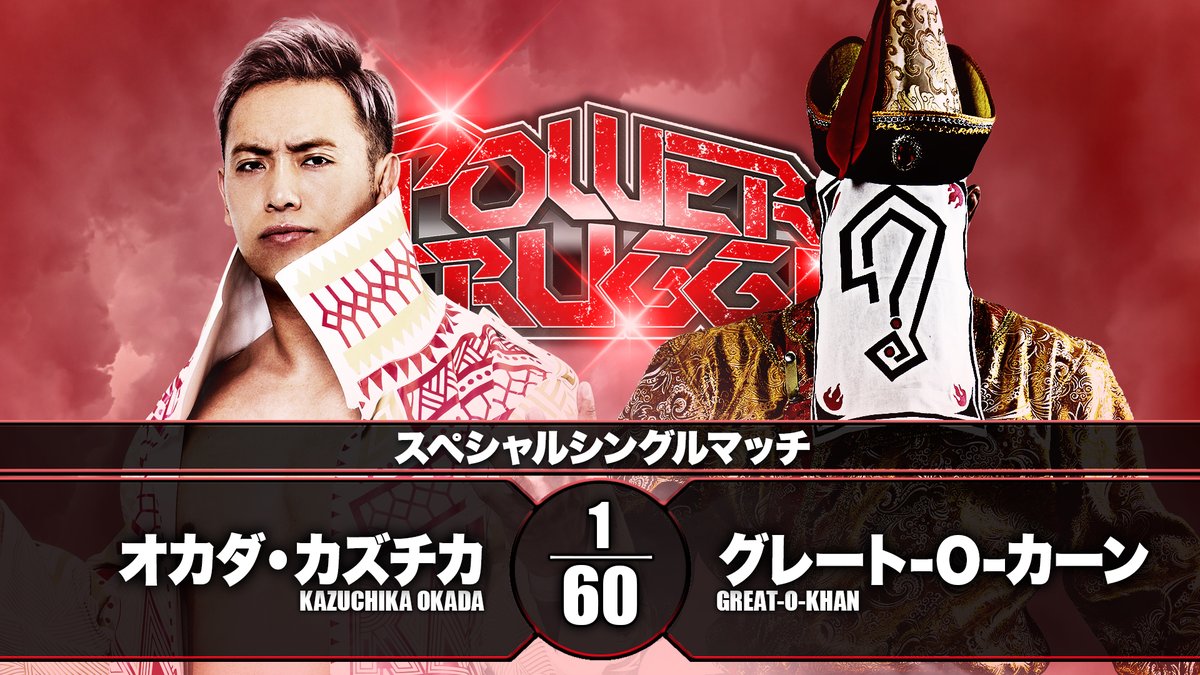 Kazuchika Okada vs. The Great O-Khan
For anyone that doesn't know, The Great O-Khan is Tomoyuki Oka, a recent Young Lion graduate that went on a foreign excursion and recently returned to New Japan. It's interesting that he's coming back to face Okada, given the similarities in their circumstances. Eight-and-a-half years ago, Okada returned to NJPW from his own foreign excursion, sporting a strange new look and over-the-top persona, and look where it got him. Now, O-Khan's doing the same thing. Except instead of being a self-proclaimed super-wealthy rainmaker, he's doing a throwback to the gimmicks of old, resembling a Mongol warrior of sorts.
On one hand, I think it will take A LOT of work from Okada to make this match into something great. I've seen some of O-Khan's matches in the UK, and he really does wrestle like he just woke up after being cryogenically frozen for forty years. His matches were kind of slow and plodding, he acted like a literal monster, and his finish – a diving Mongolian chop – looked weak. So Okada's really going to have to put his working boots on to make this work.
At the same time, I think it makes the most sense for O-Khan to win here. There is absolutely zero point of having him interfere in Okada's G1 match with Ospreay and then have him beat up Okada unless there was a reason for it. This isn't WWE, where angles and storylines get changed and dropped on a whim on a weekly basis. Gedo, NJPW's booker, has plans mapped out for so deeply and carefully that he's planning things two years ahead. Clearly he and others in NJPW see something in O-khan, which is why his first big match back will be with the man many call the best pro wrestler active today.
And while most people might not like the idea of Okada losing to such a strange throwback character, it's being done to build him up slowly. Because NJPW and its core fanbase have more patience, and there may be potential in this new gimmick of O-Khan's. It'll just take some time getting used to, like it was for Okada's Rainmaker.
Winner: The Great O-Khan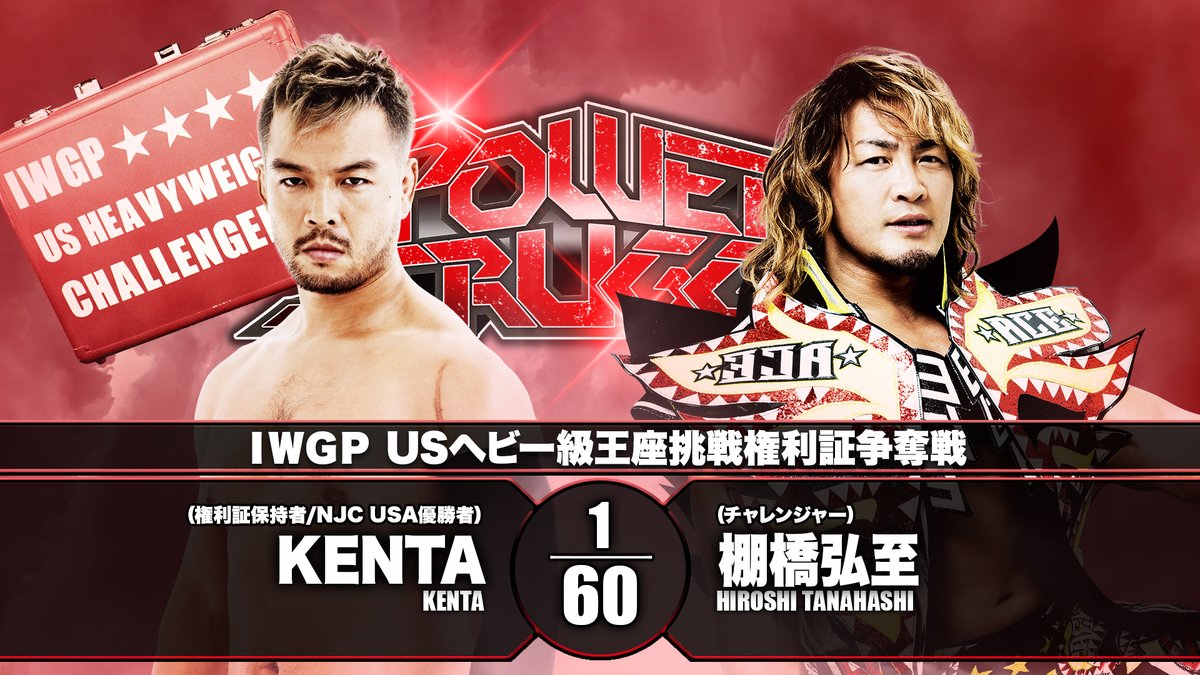 KENTA vs. Hiroshi Tanahashi – Singles match for the IWGP United States Championship challenge rights certificate
This is the only match that's actually hard to predict, since one can make a compelling case for either man to win.
KENTA won a tournament in August to face the IWGP United States Champion in a match for said title. It was basically a shortened version of the G1 Climax, but with the same prize at the end. The only problem here is that no one knows when KENTA will get his match because that belt's currently held by AEW World Champion Jon Moxley. Moxley can't travel to Japan given his AEW commitments, and KENTA is exclusive to NJPW. But KENTA does live in the US, which makes the possibility of him facing Moxley there more likely. But that issue's also compounded by Moxley's AEW contract requiring that he wrestle exclusively for AEW in the United States. So for this match to work, both Moxley and KENTA would have to go to Japan to have one match. Which also means Moxley would have to quarantine in Japan for 14 days, if he even gets allowed to travel to Japan at all. Yeah, it's not the clearest of situations.
Then there's the other possibility: Tanahashi beating KENTA and thus getting the briefcase to challenge Moxley. There's lots of speculation on the possibility of Tanahashi coming to the US to wrestle in a cross-promotional match, though nothing's set in stone. There have been rumors and teases about this, especially when Tanahashi congratulated Chris Jericho on the 30th anniversary of his debut. With the possibility of an AEW-NJPW working relationship forming constantly looming overhead, a match between Tanahashi and Moxley seems more desirable to more people. And to be honest, I have to agree with them.
As much as I like KENTA, I think Tanahashi would be a better choice of opponent for Moxley. He isn't as stiff as KENTA, which means that Moxley won't get brutalized wrestling him. He has also managed to become a bigger international star than KENTA, despite KENTA being quite possibly the biggest international star in all of pro wrestling between 2004 and 2007. And if there's one guy that can bring a title back from near-irrelevance and make it mean something again, it's Tanahashi. Don't get me wrong, KENTA's a great wrestler. It's just that he isn't someone I see making a long-term impact in NJPW. He's forever destined to be an outsider, a man without a home. He still has the association of being both a NOAH guy and a WWE guy, and he's aligned with the villainous Bullet Club. I don't see him as champion or as challenger for the title simply because he's overshadowed by Tanahashi in every conceivable way.
Winner and NEW IWGP United States Championship challenge rights certificate holder: Hiroshi Tanahashi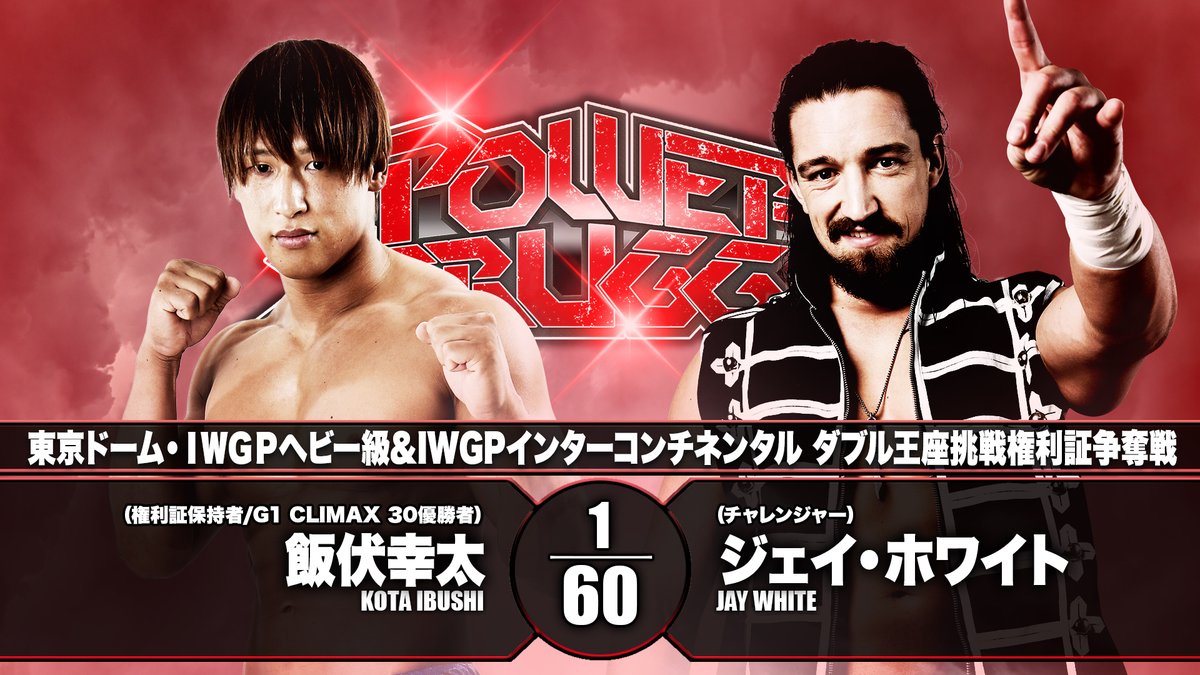 Kota Ibushi vs. Jay White – singles match for the Tokyo Dome IWGP Heavyweight and Intercontinental challenge rights certificate
And now we come to the most predictable match on the card, Ibushi vs. White. White got this match because of events during the G1 Climax tournament, and will now get his chance to claim the coveted Tokyo Dome main event spot. But this match is basically a guaranteed win for Ibushi, no matter what White tries to do.
NJPW FINALLY managed to get Ibushi to sign a long-term contract with them recently, after being more or less a freelancer for many years. He's also the biggest NJPW star not named Okada or Tanahashi, which makes his win even more likely. And since he won the G1 Climax, there's no way NJPW will book such a high-profile star to lose such an important prize so soon after winning it, or even at all for that matter.
The only prediction to wonder here is how crazy things will get. This is Kota Ibushi we're talking about. I've called him batshit insane before, and I think that moniker still fits him. He's still a crazy daredevil that hits insanely hard and takes sickening bumps despite being 38 years old. But necking himself seems to give Ibushi some sort of twisted pleasure, so one can expect lots of incredibly brutal head spikes in this match. I don't think it'll be the most brutal match by Ibushi's own standards, but it'll still be the most vicious match of the night, bar none.
Winner and STILL IWGP United States Championship challenge rights certificate holder: Kota Ibushi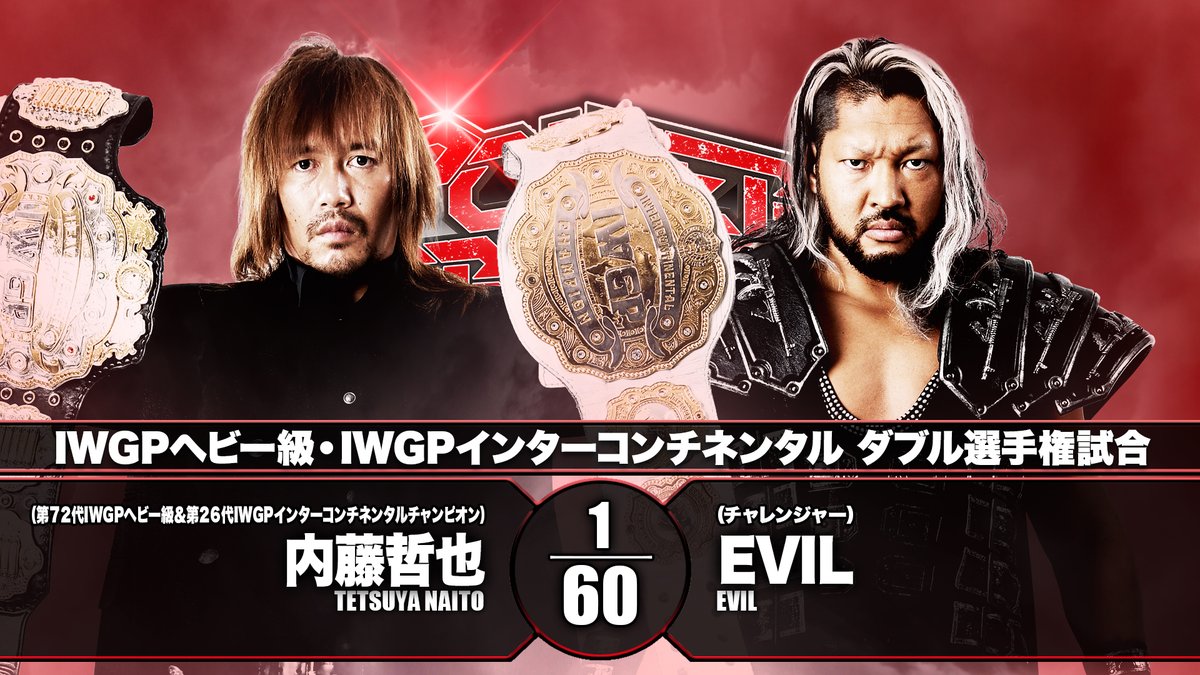 Tetsuya Naito vs. EVIL – singles match for the IWGP Heavyweight and Intercontinental Championships
I think it's fair to say that the EVIL experiment has come and gone. He made headlines when he betrayed Naito and joined Bullet Club (rendering KENTA's involvement with that group effectively pointless), but since then hasn't really shown himself to be considered a top draw. In NJPW, the being world champion basically means you're good enough to carry the promotion and are considered talented enough to be among the company's elite. Yet EVIL is neither of those things.
I can think of at least five other wrestlers that are both better wrestlers and have earned a title shot over EVIL (Goto, Suzuki, SANADA, Takagi and ZSJ all come to mind). Because of that, I think that Naito will make decisive work of EVIL at Power Struggle. Not only will this be another chance for Naito to get revenge on EVIL for his betrayal. It will also give Naito another chance to prove that he isn't a fluke champion. His first reign was short and meant more as a surprise. His second reign was marred by the coronavirus pandemic screwing up the entire wrestling industry. Now, with things seemingly going in the right direction (at ,east in Japan), Naito will beat Naito and look as strong as he possibly can for NJPW's upcoming Tokyo Dome show on January 4th.
Winner and STILL IWGP Heavyweight and Intercontinental Champion: Tetsuya Naito
That's all for today. Thanks for reading, and be sure to check out my reviews of five-star and almost-five-star matches, as well as my other series, 'Was it really that bad'.
For more info on NJPW Power Struggle 2020 check out NJPW's website and you can watch the show by signing up for NJPW World.