TJR: WWE Raw Live Event Ringside Review for 03/24/18 in Kitchener, Ontario
I attended the WWE Raw live event in Kitchener, Ontario on Saturday night. Kitchener is a city that's about one hour away from Toronto (usually more due to the insane traffic), which is where the WWE Raw crew was at on Friday night. Kitchener is a little over an hour from where I live, but I decided to make the trek to check out my second WWE Raw live event in the last two weeks. I wrote about the London, Ontario show here in case you missed it two weeks ago. Thankfully, I had ringside seats again (thank you Mickie James) and got some great pictures from the event that I will include in this review.
A friend in Kitchener (hey Adam Skinner how you doing?) let me know that this was the first time WWE has come to Kitchener in about 13 years. The building is over 60 years old, but it is home to the OHL's Kitchener Rangers and it was a lively crowd all night long. I would estimate the attendance at about 5,000 people or so.
The show started at 7:30pm and ran nearly three hours. Kayla Braxton was the ring announcer for the evening while Shawn Bennett and Darrick Moore were the referees.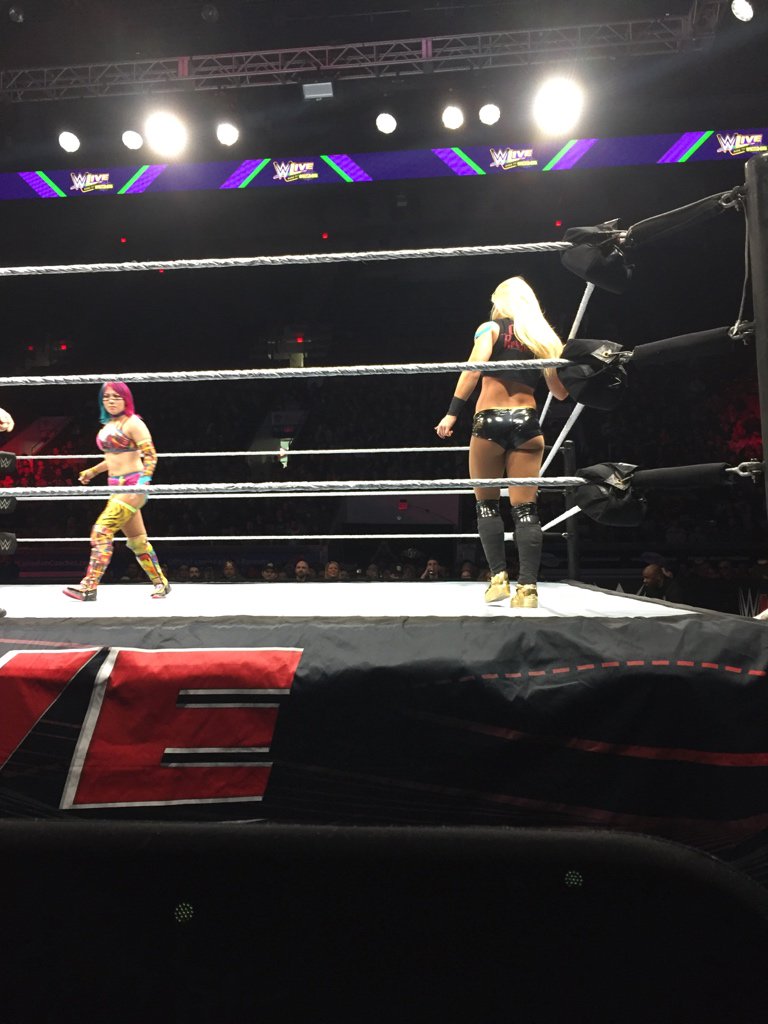 Asuka defeated Mandy Rose (w/Sonya Deville)
They had a solid match that went around ten minutes with Asuka winning with the armbar. Mandy showed off some good power moves throughout the match. The crowd was solidly behind Asuka although some male fans were cheering for Mandy with good reason. Sonya was pretty funny dealing with fans at ringside. The previous night in Toronto it was Asuka over Sonya, so this time it was Mandy's turn. This was my first time seeing Mandy in person and when they say somebody is hotter in person they are usually right, but she's hot on TV too. Bright future for her, for sure. No Paige with Mandy and Sonya.
https://www.instagram.com/p/Bguacpcgst6/?taken-by=wwe
The above clip of Asuka's stinkface was in the turnbuckle right in front of me, but you can't see me because I am to the right of the shot.
The Revival defeated Heath Slater & Rhyno
It's a sign of a hot crowd when they are so into a match involving guys not even involved in storylines. The chants for Slater with "He's Got Kids" were loud and fans were even louder chanting for Rhyno or "ECW" for him. Good tag team work from The Revival like usual. They worked over Slater for most of the match and Rhyno got the hot tag to a big pop. The Revival won with the Shatter Machine double team finisher.
Gran Metalik defeated Tony Nese, Ariya Daivari and Kalisto in a Fatal 4-Way
The story was that Daivari paid Nese to work with him, but then they got into it during the match and Nese gave the money back. This match drew "this is awesome" chants due to the fast-paced action including when Metalik hit a somersault dive over the top to take out the other guys. Metalik won with an elbow drop off the top rope after walking across the top. Post match, Metalik and Kalisto shook hands out of respect.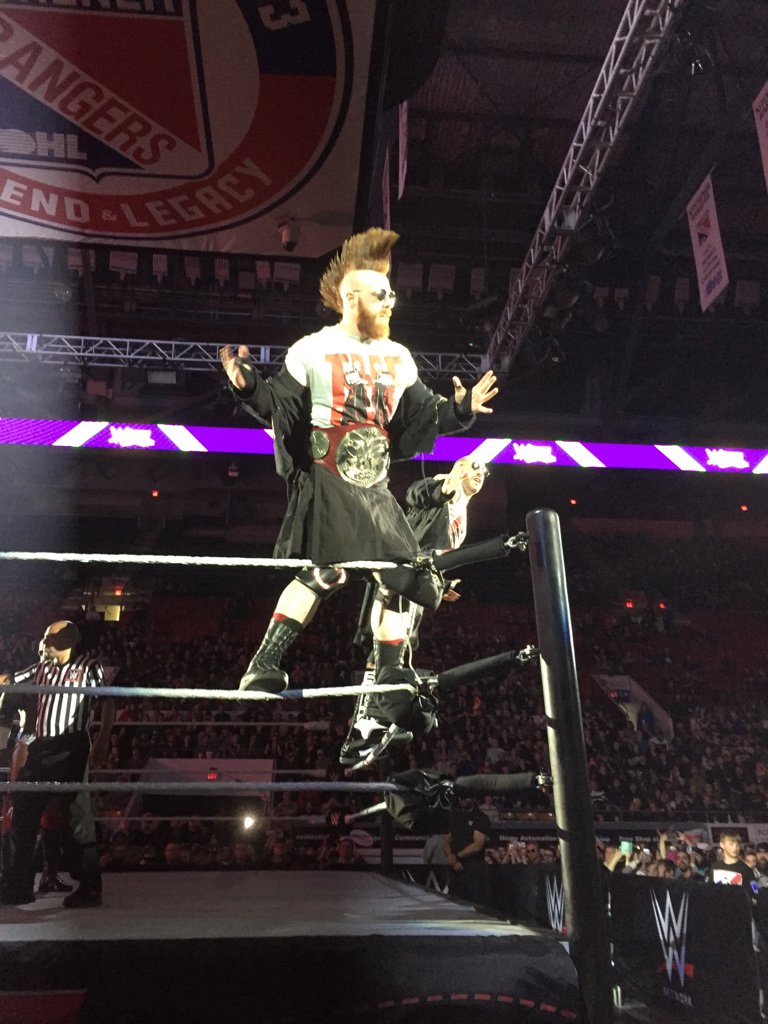 Raw Tag Team Championships: Sheamus & Cesaro vs. Titus O'Neil & Apollo vs. Luke Gallows & Karl Anderson
No Dana Brooke with Titus and Apollo because she was in a match later. There was an injury scare early on when Apollo did a kip up and hurt his right knee. He had to tag out of the match. A doctor went to ringside to check on him, but after stretching it, Apollo said he was okay. Apollo ended up working most of the time, so it was good to see the injury didn't slow him down. Sheamus and Cesaro did a good job of ripping the fans to get heat. Sheamus and Cesaro won with a double team White Noise with Cesaro jumping off the middle ropes while Sheamus held the guy (I forget who).
Goldust defeated Curt Hawkins
Two weeks ago when I saw Goldust he did a heel promo and wrestled Matt Hardy. This time he was a face. There were some funny moments with Goldust slapping Hawkins on the ass and Hawkins wanting a disqualification to give him a rare win. Hawkins also laid down since he knew was going to lose anyway and then did an inside cradle. Heels lie. Goldust ended up winning clean with the Cross Rhodes.
Bray Wyatt confrontation with Matt Hardy
Bray Wyatt walked out to no music and his usual ring gear. Wyatt said that he could never be deleted and that he was a God. Wyatt called out Matt Hardy, so Matt entered to his theme music and was wearing one of his "Woken" shirts along with jeans rather than his ring gear. Hardy wanted Bray to embrace the change and to be "Woken Wyatt." It looked like Wyatt might agree to it, but he ended up attacking Hardy. It was a quick battle that ended with Hardy hitting a Twist of Fate.
There was a 15-minute intermission.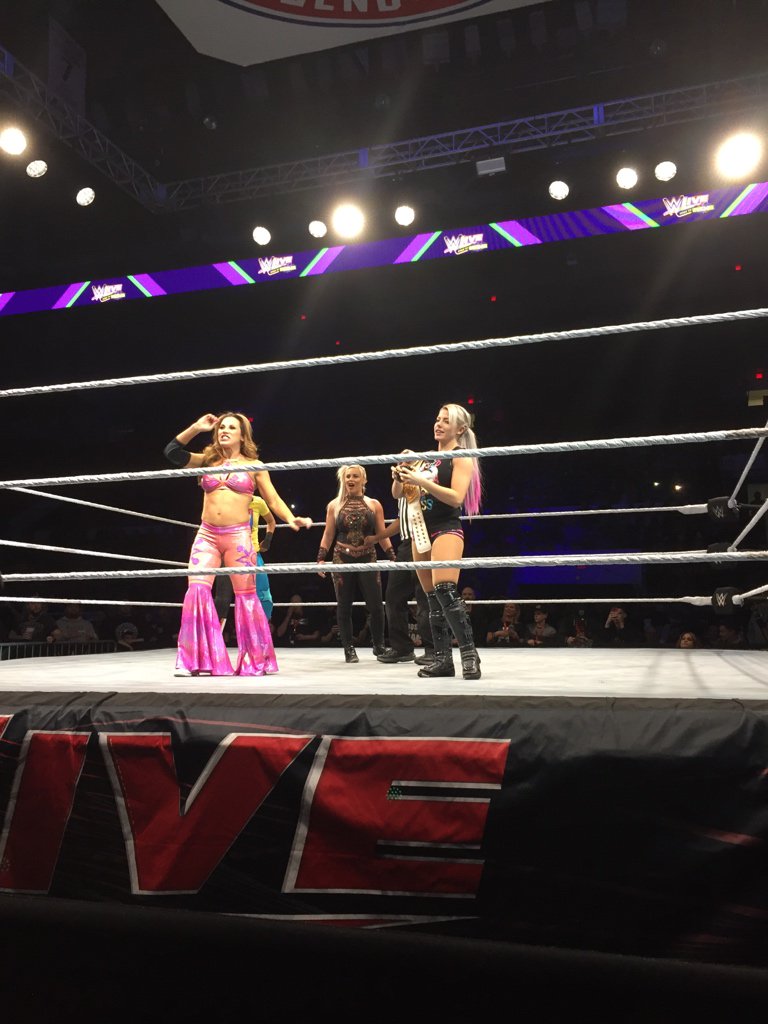 Alexa Bliss and Mickie James defeated Bayley and Dana Brooke
The crowd was loud for all four women, but I think more people chanted for Bliss and James. At least I did. I'm biased. There just isn't as much crowd support for Bayley as there used to be. The heels worked over Brooke for most of the match, Bayley got the hot tag. Bliss ended up winning for her team by hitting Brooke with a DDT while James held onto Bayley to prevent her from making the save. It was the third tag match won by the heel team on this show.
After the match was over, Alexa and Bliss attacked, so Nia Jax marched out for the save. Good pop for her. Jax went after Bliss, but she went away, so Jax hit James with a Samoan Drop. When Jax was about to leave, the crowd chanted for one more and Jax hit another Samoan Drop. That's the classic spot for the bigger wrestler.
Elias did one of his songs with the crowd really loud for the "Walk With Elias" bit and then they booed him heavily when he trashed Kitchener. He talekd about how he sold out Madison Square Garden last week, so this was a huge downgrade. Easy heat for that! Elias has become really good at pissing off the crowd. It's cheap heel heat, but it works. Finn Balor entered to stop his musical performance.
Finn Balor defeated Elias
It was a decent match with Elias working over Balor's left arm for most of it. Balor always sells that so well. It felt like the match was under ten minutes, but I wasn't timing it. Balor got the win with the Coup de Gras double foot stomp off the top rope. The crowd loved Balor.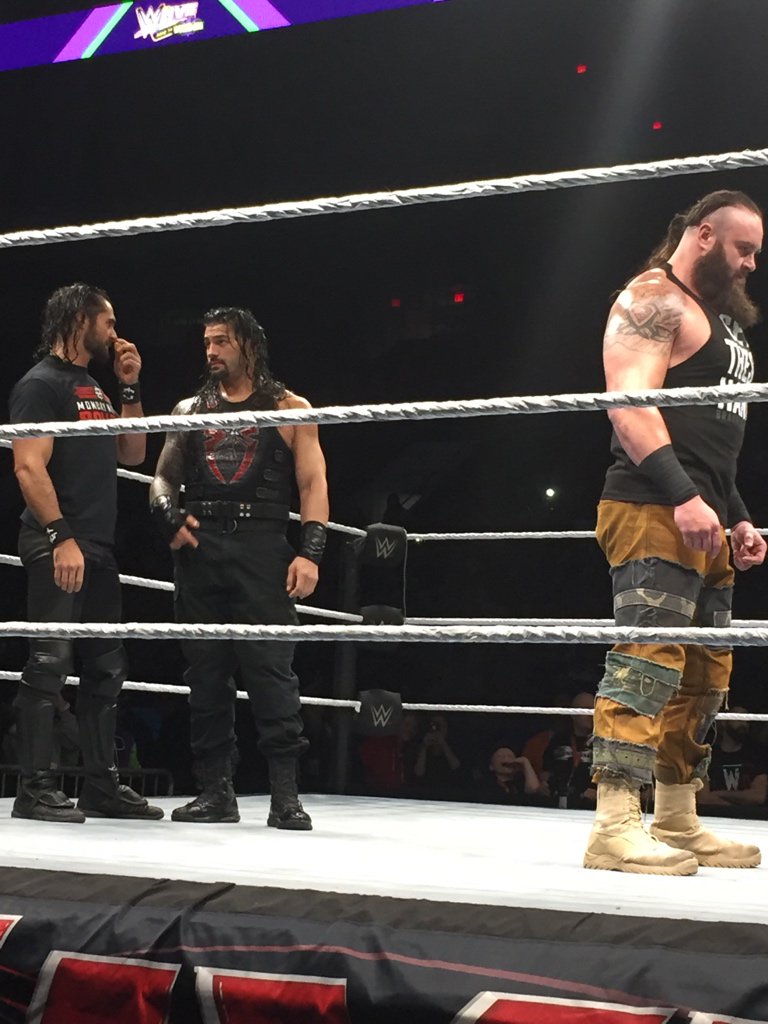 Rollins is not picking his nose here I swear. It just looks that way!
Braun Strowman, Roman Reigns and Seth Rollins defeated The Miz, Bo Dallas and Curtis Axel
Strowman got the biggest pop of the night, then Rollins and a mix for Reigns like usual. It was the fourth tag team match of the night and the only one where the faces got the win. Miz got some good heat early by taking a long time to take off his jacket while reacting to some fans that were calling a dress. The heels worked over Rollins for most of it. Rollins hit a suicide dive to take them all out on the floor. Reigns didn't spend that much time in the ring, which is probably smart since he's headlining WrestleMania and working a six-man tag at live events will keep him fresh. Braun Strowman got the hot tag, didn't sell much at all and got the win for his team with a Running Powerslam on The Miz.
At the live event I was at two weeks ago, the only difference in the tag match and the Elias match was that Balor was in the tag while Strowman faced Elias.
After the show, the three faces greeted fans at ringside by taking pics and signing autographs for some kids.
Final Thoughts
It was a fun show with a hot crowd and we had a good time. Like I mentioned earlier, Kitchener doesn't get a lot of live events and this crowd was so supportive of everything on the card that I hope they get at least one house show every year or even two of them. Four tag matches out of eight matches felt like a lot, but it's similar to what they did when I saw them two weeks ago as well. As I wrote in the other review, it's way to get more people on the show and it's easier on the bodies of the talents.
Thanks for reading.
Email: mrjohncanton@gmail.com
Twitter: @johnreport