TJR: Reaction to WWE Draft Part 1, Thoughts on Every Pick and Free Agent List
It's the day after the 2019 WWE Draft on Smackdown. My full recap of Smackdown is here in case you didn't read it. What I'm here to do is go over every pick that happened on Smackdown, plus take a look at the free agents and some brief thoughts on the wrestlers listed as available to be picked on Raw.
While watching and writing about Smackdown last night, I noticed that the order of the list of wrestlers announced for the draft was pretty much the same as what WWE had on their website although on the website it didn't list what show. A lot of fans got wind of it because half of the tweets I got last night were people pointing this out to me thinking I didn't see it. Trust me, I saw it and I thought WWE did a poor job of putting the list together because they made it so obvious. Anyway, it didn't go in exactly the same order that was on the list on WWE.com (you can see the WWE.com order that I posted on TJRWrestling on Thursday) the whole way, but it did go in that order for most of it.
For the Raw portion of the draft on Monday, WWE has changed it to an alphabetical order list, which I have posted at the bottom of this article.
Here the names that were drafted to Raw with my thoughts on all of them and where they might be headed towards the end of this year as well as on the road to WrestleMania in six months.
Monday Night Raw
Raw Women's Champion Becky Lynch
Congrats to Becky on being the first pick. I think it was obvious Lynch was going to be picked by Raw since she holds the Raw Women's Championship. Lynch was promoted a lot on Smackdown and was in the ring with The Rock on Smackdown last week, but that doesn't mean much in terms of the Draft. The good thing about Raw for Lynch is it's three hours long, so there's more time for promos and longer matches. It wouldn't surprise me if Lynch holds the Raw Women's Title all the way until WrestleMania. I'm not sure who her next rivalry will be, but Asuka is a good choice since Asuka beat Lynch at the Royal Rumble this year. Perhaps Ronda Rousey will return to face Lynch at WrestleMania. Triple H mentioned Rousey coming back yesterday, so it's certainly possible.
The O.C. (US Champion AJ Styles, Karl Anderson and Luke Gallows)
It was smart to keep this trio together on Raw. All three guys signed long term contract extensions to stay with WWE, so obviously they are going to keep being featured. Styles has had a good reign as US Champion because he can have a competitive match with anybody and he's believable in the role. I think Styles could go back to being a main eventer at any time as well. Anderson and Gallows are more relevant in this group with Styles than they would be on their own and they should be threats as a heel team in the Tag Team Division on Raw. I look forward to more fun times for The OC as a group.
Drew McIntyre
Is this the year where McIntyre finally becomes a regular main eventer? I hope so. There have been rumors that he will have a Universal Title feud with Seth Rollins, so maybe the time for that is now assuming Rollins remains on Raw with the Universal Title, which is what I expect. I hope Drew does break through to the main event level because ten years ago there were high expectations for him in his mid-20s. Now in his mid-30s, he still has plenty of time to become what a lot of us, including Vince McMahon, expected him to be a decade ago and that's a top guy.
Randy Orton
The master of the RKO, which may still be the most popular finisher in WWE, has been a Smackdown guy since the July 2016 draft. Going back to Raw will be a fresh start for him. Orton was a heel during his current run on Smackdown and perhaps he'll stay in that role, but it wouldn't surprise me if he went face. Since Orton is 39-years old and a nearly a 20 year WWE veteran (he started in developmental in 2000), the fans have a lot of respect for him, so if WWE feels like they need more faces on Raw then Orton might be a guy to fit that upper midcard face role in the near future.
Ricochet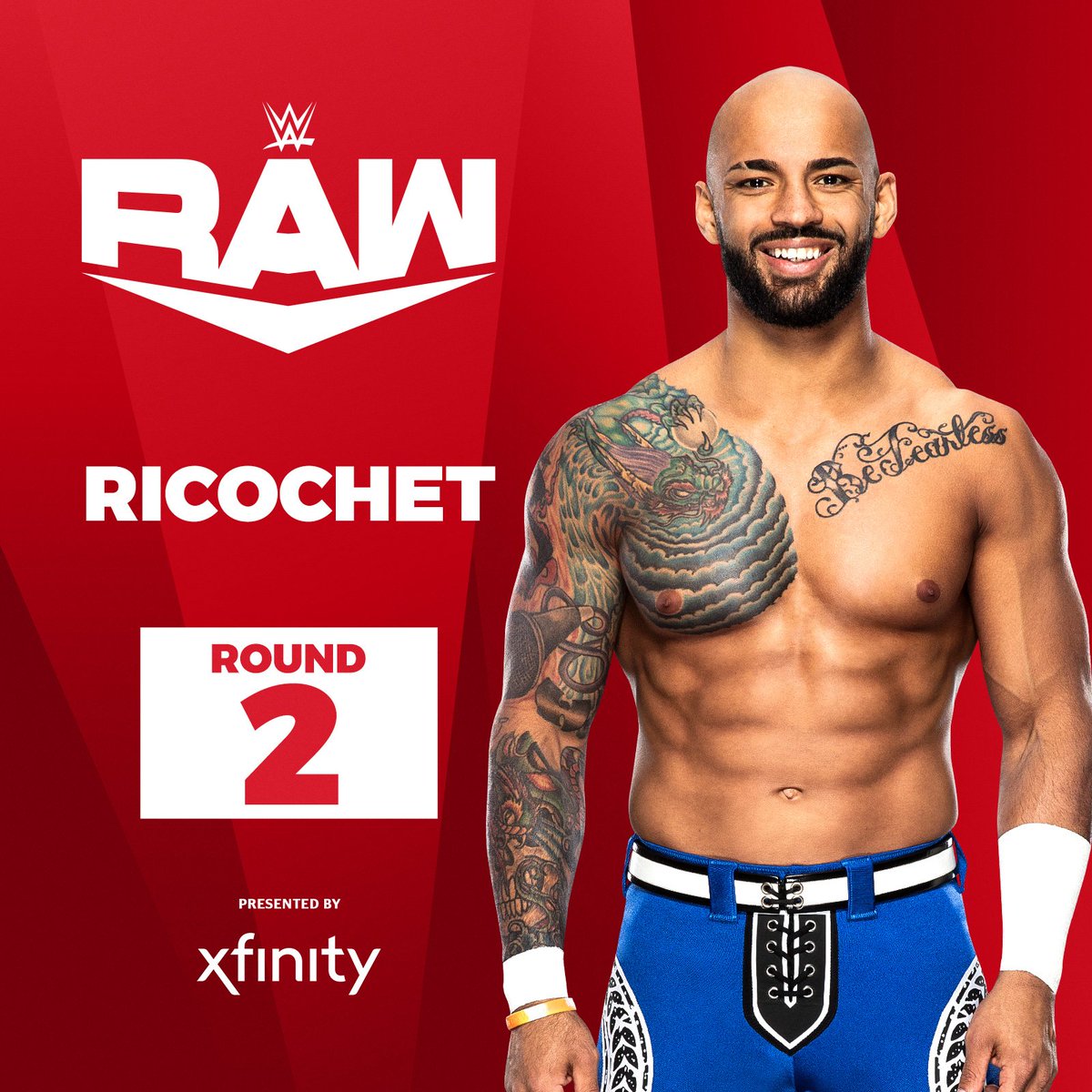 I think Ricochet is one of the few guys on the main roster that WWE needs to look at and figure out how they can make him a main event level superstar within the next six months. Ricochet has only been on Raw this year, so he's still fresh, but the booking is inconsistent. He traded wins with AJ Styles and then eventually lost the feud. He beat Cesaro most of the times they wrestled although it was not much of a rivalry. I hope there's a long-term plan for him because he's a guy they can build around because he's a natural babyface that the fans can really get behind.
Bobby Lashley
The big man has been out for a few months after elbow surgery in mid-July, but he should be good to go later this month or early November. Clearly, Lashley is locked in as a heel as part of the "cheating wife" storyline with Lana making out with Lashley while her husband Rusev watched from inside the ring. They don't have Lana on the list for Raw or Smackdown, but I assume she'll be paired with Lashley.
Alexa Bliss
It's a new era for Bliss because she's firmly entrenched as a babyface after being a heel for most of the last three years. Bliss has been on both shows, but Raw more than Smackdown. I think she'll continue to team up with Nikki Cross as a tag team and at some point down the road we might see Bliss as a heel again, but there's no rush. They are a good addition to the women's tag team division.
Kevin Owens
Last night, the @WWE digital team asked me for my thoughts after I was drafted to #Raw.

I gave them a very honest, heartfelt answer. They decided not to post the footage because I appeared to be angry.

I was angry. I still am.

Round 3…

Looks like I still have lots to prove.

— Kevin (@FightOwensFight) October 12, 2019
As you can see above, Owens was not thrilled about where he was picked. Me neither. He was drafted after Lacey Evans, for f**k sakes! She doesn't even know how to do a Sharpshooter twice. If he was a heel then they could turn the complaining into an angle, but as a face, there's not much you can do other than say that he's motivated to prove the doubters wrong. Owens has been fun as a babyface and I think he'll slot in well on Raw as one of the top three male faces on the brand.
Natalya
I feel like Natalya is like the glue of the women's division. She always has pretty good matches no matter the opponent. When she was against Becky Lynch, she more than held her own. She also put over Sasha Banks, which is what Banks needed. The feud with Lacey Evans was designed to make Evans look more credible and I think it worked to some degree. I think WWE values Natalya as a veteran wrestler that can work well with anybody she's in there with. Whether heel or face or in singles or a tag team, I like that she's involved to some degree even if she's not the top woman.
The Viking Raiders (Erik and Ivar)
They are future Tag Team Champions. It's a matter of when, not if. It might even be this Monday on Raw since they have a title shot. They work so well as a team with tandem moves and have a unique style to them that makes them stick out. I was a bit surprised when WWE made them a face tag team, but I think they'll be fine in either role.
Nikki Cross
It was smart to draft her with tag team partner Alexa Bliss because they can still work together as a babyface team that the fans like. The weird thing is they were picked separately even though they have been Women's Tag Team Champions, so why not just count them as one pick? It's not a big deal, but it's one of those little things that frustrates fans. Anyway, I think long term her or Bliss will turn on the other and they'll have a feud although that may not be for a few months.
The Street Profits (Montez Ford and Angelo Dawkins)
There aren't many wrestlers from NXT that were moved to Raw or Smackdown, but this makes sense since they are former NXT Tag Team Champions. Plus, Raw is lacking in terms of babyface teams and if the Street Profits are booked the right way, they can quickly become the best face team in all of WWE. I like their act, their promos are fun and they have developed into a damn good team as well. I'm genuinely excited about their future.
Friday Night Smackdown
Roman Reigns
The #BigDog is staying on #TeamBlue and I'll be defending the yard.
EVERY. FRIDAY. NIGHT. #SmackDown

— Roman Reigns (@WWERomanReigns) October 12, 2019
It wasn't a surprise that Reigns is still on Smackdown considering he is one of WWE's biggest names and Smackdown on Fox is a bigger show than Raw in terms of viewers. Since Reigns moved to Smackdown in April, he has not been in the WWE Title picture. I don't think that's an accident. I think WWE will keep him away until the new year, then he'll be a threat to win the Royal Rumble and sadly, I fear they might do Lesnar vs. Reigns at WrestleMania again. I wouldn't do it, but we know Vince McMahon loves it. It's been done enough for my liking.
"The Fiend" Bray Wyatt
There were reports that Fox wanted Wyatt and that Paul Heyman really wanted Wyatt to stay on Raw, but obviously somebody had to lose on where Wyatt would end up. I'm not sure what happens to his rivalry with Seth Rollins assuming Seth stays on Raw. A feud with Braun Strowman makes a lot of sense for Wyatt. Other than that, it's hard to predict things for The Fiend.
Sasha Banks
This will be the first time Banks is a Smackdown regular after being on Raw for over three years. After Banks lost her feud with Becky Lynch, which I did not expect since I predicted Banks to win the Raw Women's Title, Banks is now on Smackdown and I assume best friend Bayley will be with her. They will be the focal point of the division as heels while WWE will need to build up faces to go after them. There could also be a long-term Bayley/Banks feud that has been planned. One of them could turn face (I would guess Banks for that) before WrestleMania to set a WM match between them.
Braun Strowman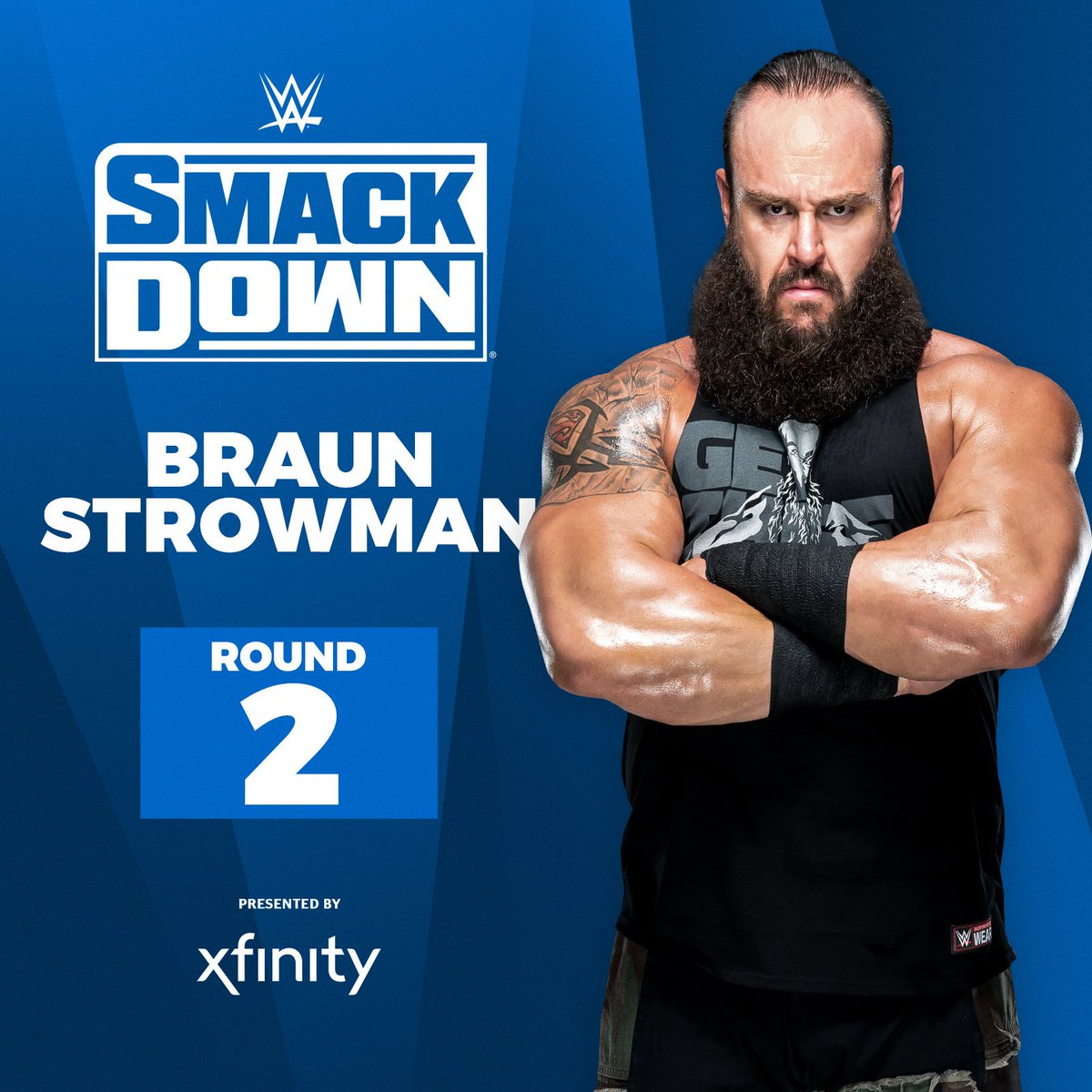 Here's another new face for Smackdown since Strowman was a Raw guy since he started to receive that monster push in July 2016. I'm hoping that they can find a way to have him break through to truly become a main event level guy and maybe win the WWE Title next year.
Lacey Evans
They have high hopes for her in WWE due to her military background and we all know Vince McMahon likes to push tall blonde women. I think her "sassy southern belle" gimmick is silly. Fans aren't going to take her seriously until they change her look. It is weird to think that of all the people on the WWE roster with so much experience and talent, Lacey managed to main event a PPV this year.
The Revival (Scott Dawson and Dash Wilder)
The current Smackdown Tag Team Champions are true heels that remind us what heels were like back when we were kids loving the business of pro wrestling. They're as old school as it gets. I like them as a main team to build around on Smackdown. What I'm sad about is they are no longer on the same show as their buddy Randy Orton because that trio fit well together. I would have liked to see more of that.
Lucha House Party (Kalisto, Gran Metalik and Lince Dorado)
Woke up and it wasn't a dream! #luchahouseparty got drafted to @WWE#FridayNight#Smackdown on #FOX! pic.twitter.com/kzJQKg83wX

— Lince Dorado (@LuchadorLD) October 12, 2019
I was surprised that they would draft these guys that are barely on television, but leave more interesting talents in the free agent pool. Perhaps there's a reason for those guys in the free agent pool. The LHP guys have a lot of talent, but I don't believe the creative team will ever push them that much.
Heavy Machinery (Otis and Tucker)
The babyface duo are fun to watch with Otis winning over the fans quickly and I continue to be impressed by Tucker. I think they are future Tag Team Champions, but as is the case with every tag team in WWE, there's no guarantee they will get consistent TV time.
List of Free Agents
The following people were not drafted last night. According to WWE, they are eligible to be signed to whatever roster they want. In other words, WWE will assign them to Raw or Smackdown at some point soon.
Cesaro
Humberto Carrillo
Akira Tozawa
Sin Cara
Eric Young
EC3
Chad "Shorty" Gable
Heath Slater
Drew Gulak
The B Team (Curtis Axel and Bo Dallas)
Tamina Snuka
Some quick thoughts on it:
Free Agent

— Cesaro (@WWECesaro) October 12, 2019
* Cesaro to NXT? I wonder if that's the plan, which is why they didn't draft him to a show. I'd love to see him against Adam Cole, Walter, Johnny Gargano, Pete Dunne and so many of the guys there. It's been a rumor and it might be a way to give him something fresh to do for a few months.
* They have featured Gable on TV regularly for a few months, yet they didn't draft him. Could he be a free agent going to NXT too? I don't know, but like with Cesaro there are a lot of potential great matches for him. I hope Gable gets a decent amount of TV time no matter what show he is on.
* Guys like Carrillo, Gulak and Tozawa have been on 205 Live mainly, so I guess this means they'll be on Raw or Smackdown. Carrillo is a guy in his early 20s with a bright future. I doubt Gulak or Tozawa will get much of a push, but they are serviceable veteran wrestlers.
* I don't see a rise in significant TV time for these people: Sin Cara, Eric Young, EC3, Heath Slater, The B Team and Tamina. Out of that group, I think EC3 is the most poorly used. Find him a tag team partner or some gimmick that gets him doing more.
Looking Ahead to Raw on Monday, October 14 for Part 2 of WWE Draft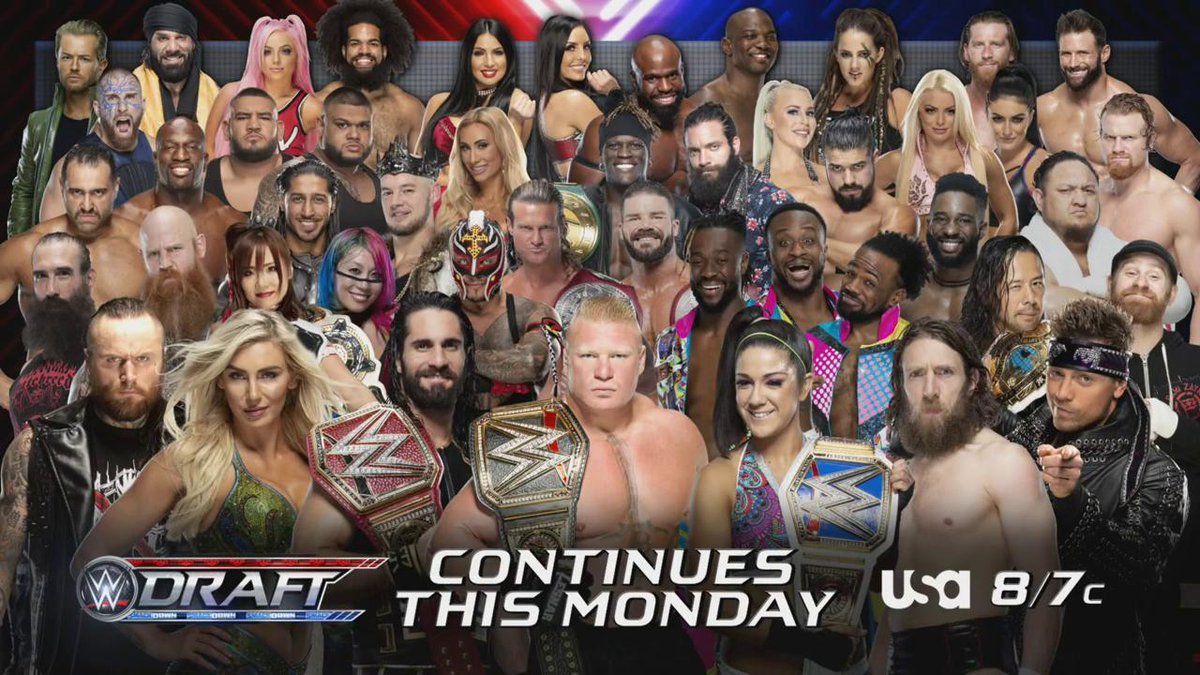 Here are the names eligible to be picked for Raw on Monday listed in alphabetical order on WWE.com.
Aleister Black
Ali
Andrade
AOP (Akam & Rezar)
Apollo Crews
Smackdown Women's Champion Bayley
WWE Champion Brock Lesnar
Buddy Murphy
Carmella
Charlotte Flair
Cedric Alexander
Curt Hawkins & Zack Ryder
Dana Brooke
Daniel Bryan
Drake Maverick
Raw Tag Team Champions Dolph Ziggler & Robert Roode
Elias
Erick Rowan
Fire & Desire (Mandy Rose & Sonya Deville)
King Corbin
Jinder Mahal
Liv Morgan
Luke Harper
Mojo Rawley
The Miz
No Way José
Rey Mysterio
R-Truth
Rusev
Samoa Joe
Universal Champion Seth Rollins
Sarah Logan
Shelton Benjamin
Intercontinental Champion Shinsuke Nakamura (with Sami Zayn)
The IIconics (Billie Kay & Peyton Royce)
WWE Women's Tag Team Champions The Kabuki Warriors (Asuka & Kairi Sane)
The New Day (Kofi Kingston, Big E & Xavier Woods)
Titus O'Neil
Some point form thoughts on this list:
– I think Rollins to Raw and Lesnar to Smackdown is a lock as the first two picks. They are doing Becky Lynch vs. Sasha Banks on Raw with Lynch representing Raw and Banks representing Smackdown. The winning side gets the first pick. Rollins is engaged to Lynch, plus he holds the red Raw Universal Title, so Rollins to Raw is the easy call. Lesnar to Smackdown makes sense too.
– Where things get interesting is when it comes to Charlotte Flair. She was listed third on the original WWE list (after Seth and Brock), which might mean Raw. However, Flair is now a face and Raw already has a top face in Lynch. Smackdown is without an obvious top face woman, plus I assume Smackdown gets Women's Champion Bayley along with her buddy Sasha Banks, so Flair can feud with them on Smackdown. Plus, Flair has promoted WWE's move to Fox more than anybody on the roster. They sent her out to LA to speak about WWE so many times.
There is a bit of a domino effect with Flair too. Since Flair is in a serious relationship with Andrade (they sure like to post about it on Instagram nearly every day), that would mean Andrade and manager Zelina Vega would be on whatever show Flair is on. That would also mean Vega's husband Aleister Black would be there too because WWE should not (and hopefully will not) break up a married couple. There were rumors that Raw's Paul Heyman really wanted Black, but he may not get him. Anyway, Charlotte's draft position is what I'm intrigued by the most right now.
– Daniel Bryan going to Raw would be a fresh start for him. He's been Smackdown only since 2016 as the GM of that show until he returned as a wrestler about 18 months ago. Bryan would do well on either show as a heel or face. To me, Bryan is the best male wrestler in all of WWE. That includes promos too. It includes everything. He can do it all and makes everybody around him better.
– Bayley winning back the Smackdown Women's Title likely means she is staying on the blue brand. It makes sense since her buddy Sasha Banks is also on Smackdown.
– I feel like New Day is headed to Raw with Kofi feuding with AJ Styles for the US Title after Kofi pinned AJ on Smackdown.
– Rusev to Raw makes sense to have the feud with Bobby Lashley while Rusev's wife Lana is supporting Lashley.
– I assume Asuka and Sane to Raw with the Women's Tag Team Titles. Does that make them Raw only titles or any show? I think it would mean Raw only. Anyway, now that Asuka and Kairi are heels, it makes sense to have Asuka feud with Becky Lynch as well.
– It wouldn't surprise me if Mandy Rose and Sonya Deville are faces on Smackdown. I think WWE wants to push both of them, especially Mandy, so a face turn makes sense in terms of the numbers on the show.
I'll leave it there. I don't want to go over every person. After the draft is finished on Monday, I'll go over the individuals in another column.
—
Thanks for reading. Go Los Angeles Rams, reigning NBA Champions #WeTheNorth Toronto Raptors and Toronto Maple Leafs. My contact info is below.
John Canton
Email mrjohncanton@gmail.com
Twitter @johnreport