TJR Blog: WWE Live From MSG Special October 3 Preview
This Saturday night at New York City's Madison Square Garden, WWE will be running a WWE Network special starting at 8pmET with Brock Lesnar taking on the Big Show in the advertised main event. The show is scheduled to air until 10:30pmET based on the WWE Network schedule, so it will run like a typical live event (they usually run 2.5 hours long) although obviously it's more important in MSG as well as airing on WWE Network.
It's important to remember that this isn't a PPV-like broadcast. It's a televised house show. Yes, it has that special feel since it's on WWE Network and it's in the "World's Most Famous Arena" but I doubt that WWE is going to run any major angles on the show. There might be a few things here and there. They might have some surprises too. I just don't think it's right to compare it to a PPV special or anything like that. Then again, the argument could be made that WWE PPVs don't feel that special anymore anyway.
I'm not sure who the announcers will be. My guess would be Michael Cole and Byron Saxton since they did the last Network special in Japan in July. They did commentary from the studio on that show, but this time they will probably be ringside.
While WWE hasn't announced the full card, they have announced six of the matches. Here's a look at those six matches (some of which are rematches of recent matches) as well as thoughts and predictions for each.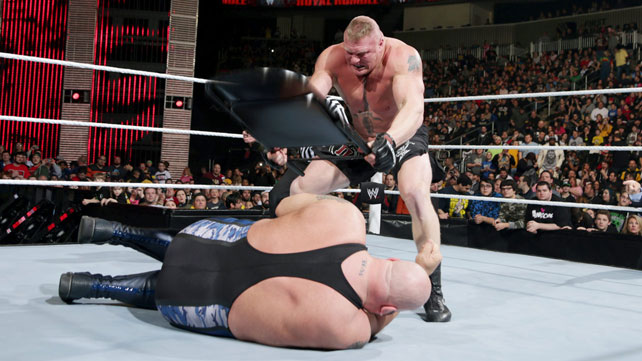 Brock Lesnar vs. Big Show
They spent a couple of weeks building this up to try to paint the picture that Big Show is a threat to Lesnar. Anybody watching the show knows that Show has no chance of winning, but it's the thought that counts. I think it was smart to put Lesnar with Paul Heyman on the show because the crowd deserves to see WWE's biggest star at the event and if Heyman is allowed to do a promo it should generate a huge reaction. These two have a history going back 13 years when Heyman turned on Lesnar to beat Show for the WWE Title at Madison Square Garden at Survivor Series 2002. This time around, Lesnar should win the match in about ten minutes. Maybe less. It doesn't need to take too long.
Winner: Brock Lesnar
Steel Cage Match for the United States Championship: John Cena vs. Seth Rollins
I'm not sure how many matches these two have had in the last few months, but it's a lot. Usually the matches are good and usually they end in the WWE Champion Seth Rollins losing, which is what I expect to happen here. Making it a Steel Cage Match will make it at least feel a bit different than their other matches. I don't really mind seeing them against each other. I just hate how much Rollins is booked to lose. This will be one of the best matches of the night and in the end, Cena retains his US Title.
Winner: John Cena
Tag Team Championship: The New Day vs. The Dudley Boyz
This is the only title match on the show where the titles may change hands, but I don't expect it to happen. It was noted by the Dudleys that it's been about 20 years since they started teaming up, so for them to return to Madison Square Garden for the first time in about a decade is pretty special to them. I think the New York City crowd will be very loud in support of them. I don't see the title change happening, though. The New Day should be long term tag team champions and I think having them lose less than two months after getting them back would be a big mistake.
Since the Night of Champions match ended in a disqualification, it would suck if they did another match with a disqualification ending. I just think that's the most likely thing. The rumor is that they will have a Tables match at Hell in a Cell at the end of October although that's not a sure thing. I'm picking The Dudleys by DQ to necessitate a rematch. After the match I fully expect one or even all three of the New Day guys to get put through tables to pop the crowd.
Winners: The Dudley Boyz by disqualification
Randy Orton vs. Sheamus
Oh no, not again! I'm so tired of this match and really don't want to see it again. They aren't bad performers by any means. It's just that is the most repeated match in WWE right now and I'm so sick of it. Orton wins again as Mr. Money in the Bank is made to look like a loser as usual.
Winner: Randy Orton
Intercontinental Championship: Kevin Owens vs. Chris Jericho
This is my favorite match on the card because it's fresh and new. They've actually wrestled a bunch of times at WWE live events in the last few months, but I haven't seen those matches, so it's going to be cool to see this. Jericho's actually celebrating 25 years since he started wrestling and is bringing old friends like Lance Storm and Don Callis (Cyrus from WWE in the late '90s) to celebrate the achievement with him. It could be the match of the night although with Cena/Rollins on the card that may be difficult. I still expect it to be an awesome back and forth match between two awesome Canadians that know what they are doing in that ring.
In the end, Owens is the full timer that's the IC Champ, so it's a rare win for a heel at a live event. We all know that Jericho doesn't mind doing the job, either.
Winner: Kevin Owens
Rusev vs. Dolph Ziggler
It's another match that regular WWE viewers are familiar. I'm not a fan of how Rusev has been booked in this feud, but he's the heel here and it's a live event, so Ziggler getting the win is the most likely scenario. They should have a good match since they are used to working together and Rusev's power offense works well with Ziggler's athleticism.
Winner: Dolph Ziggler
Others advertised for the event are Charlotte, Team Bella, Stardust, Kane and Mark Henry. Guys like Roman Reigns, Dean Ambrose, Bray Wyatt and others won't be there due to a WWE live event in Maine on Saturday.
I will be writing about the special live right here on TJRWrestling live on Saturday night, so check back in during the show if you're watching live or read about it after it's over. Like all WWE Network programs, it will be available on demand, so if you miss it live you can still watch it at your own convenience.
That's it for me. I'll see ya on Saturday for the live recap of this event.