The John Report: AEW All Out 2019 Preview
Welcome to the TJR preview for All Elite Wrestling's All Out pay-per-view. All Out takes place this Saturday night, August 31, in Chicago. It is the second official pay-per-view event for AEW following May's Double or Nothing show. They have had other events since then, but in terms of PPVs where they want fans to pay to watch it, this is the second official PPV. The name is similar to last year's All In pay-per-view run by Cody Rhodes and The Young Bucks, which led to them talking to Tony Khan, who is the owner of AEW now. Without All In last year, there may not be an AEW today.
The big news going into the show is that Jon Moxley is not going to be wrestling due to a staph infection in his elbow after he wrestled a lot in New Japan's G1 tournament. Moxley is out of action for about one month, so his much-anticipated match against Kenny Omega is off. Moxley will be back in action for when AEW is on TNT on October 2, so maybe we'll get that match on TNT or perhaps their next PPV later this year (no date on that yet). The replacement for Moxley is PAC (former Neville in WWE), so they found somebody that can have a great match with Omega although there's not a storyline going into it.
Since I know a lot of fans are thinking about it, I might as well address it. I don't think CM Punk will be there. I know he's doing Starrcast appearance with fans getting photos/autographs and a Q&A in front of fans, but I believe him when he says he has moved on from pro wrestling. Maybe I'm naïve to believe it. Perhaps he'll show up at the AEW on TNT debut on October 2 because that would be even more impactful. Just saying. Anyway, if he does show up I'll love it because I'm a fan of his, but I don't expect it.
It's tough to predict some of these matches because there hasn't been a TV show to build up the storylines. There have been previous AEW shows as well as Youtube videos, but for some of the matches, there's been very little of that. I'm disappointed that there's no MJF match because he's been a standout promo for them and a rising star as a heel, but he's not in a match for some reason. We could still see him on the show, though. When doing predictions, it's important to think of the storylines going in to try to figure out how things will end up. Without those storylines, it becomes a bit of a guessing game. I feel good about some of the predictions, but others are a legit tossup.
For info on how to watch All Out, check out this post on All Elite Wrestling's website because they've posted all you need to know no matter what country you are in. It looks like it will be B/R Live for me in Canada. Let's get on with the show.
(Note: All graphics are from AEW. The banner up top is courtesy of our friend Melo Man.)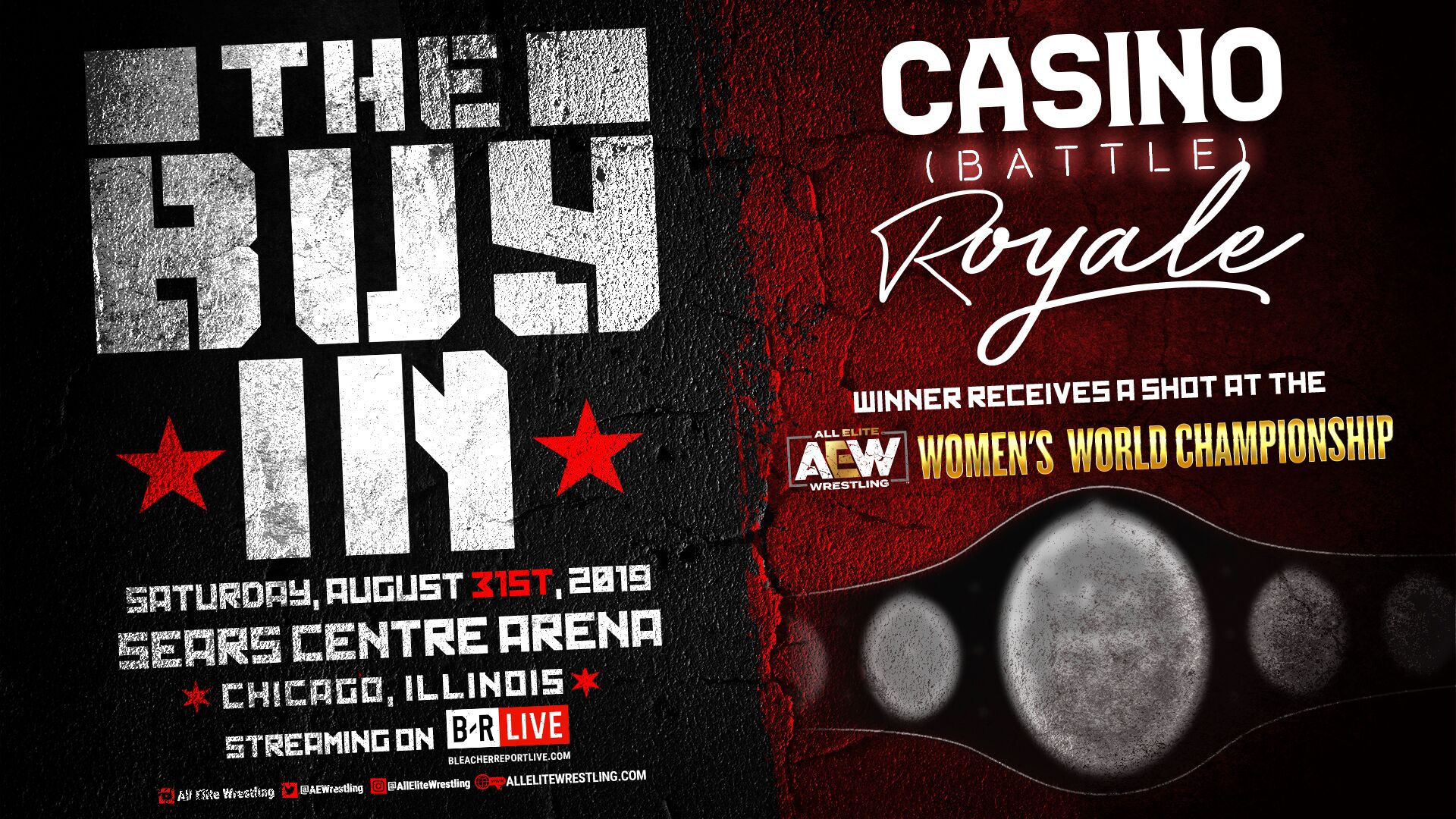 21-woman Casino Battle Royale (THE BUY IN PRE-SHOW)
Announced participants include: Nyla Rose, Britt Baker, Allie, Brandi Rhodes, Teal Piper, Ivelisse, Jazz, Big Swole, Sadie Gibbs, Awesome Kong, Shazza McKenzie and 10 others.
Winner will receive a match for the inaugural AEW Women's World Championship, scheduled for AEW on TNT on October 2
This the same concept they did at Double or Nothing with Adam Page winning that to earn a World Title shot, so it's only fair to do the same thing for the ladies. I think Baker, Rose and Kong should be considered the favorites although I like several others such as Allie, Ivelisse and it's cool that Jazz is there. Brandi has been working as a heel with Kong as a bodyguard for her, so they should have some fun moments. I'm going with Britt Baker for the win since she's been pushed in AEW advertising so far, she's well spoken, a legit dentist (sorry Isaac Yankem) and very talented in the ring too.
Winner: Britt Baker
Private Party (Isiah Kassidy and Marq Quen) vs. Angélico and Jack Evans (THE BUY IN PRE-SHOW)
The tag team division in AEW is deep already and they're going to be featured a lot, which is great to see because I'm a fan of tag team wrestling. I don't know that much about Private Party other than seeing a few matches. I know more about Angelico and Jack Evans. Both teams wrestle at a fast pace with some cool high spots, so it should be fun to watch. I'm going with Private Party to win because I think they could use the victory to help them win over some fans who don't know much about them yet.
Winners: Private Party
Luchasaurus, Jungle Boy, and Marko Stunt vs. SoCal Uncensored (Christopher Daniels, Frankie Kazarian, and Scorpio Sky)
I think this should be the opener for the PPV because the fans love the face team of Luchasaurus, Jungle Boy and Marko Stunt while SoCal Uncensored is a well-established act that knows how to put on good matches with anybody. Jungle Boy is a young guy that's the son of Luke Perry and he's got a lot of potential. I'm impressed every time I see him. The Luchasaurus act is a bit silly, but it's over. Stunt is really small and I admittedly don't know much about him. I'm leaning towards a SoCal Uncensored win with Sky pinning Stunt.
Winners: SoCal Uncensored
Riho vs. Hikaru Shida
They were partners on a winning six-woman tag team match at Double or Nothing in May. On the AEW website, they wrote that this is a "singles bout that many joshi enthusiasts have been clamoring for." I trust them when they write that although I don't know many joshi enthusiasts. Riho has stood out to me. She won at Double or Nothing, she won at Fyter Fest in a triple threat match and I think she'll win here too in order to continue her momentum.
Winner: Riho
Best Friends (Chuck Taylor and Trent Beretta) vs. The Dark Order (Evil Uno and Stu Grayson)
(Winners receive a first-round bye in the AEW World Tag Team Championship tournament.)
The AEW World Tag Team Championship tournament should be great, so this is a nice way to kick it off with the winners getting a bye. I was impressed by The Dark Order at the Fight for the Fallen show while Best Friends are fun to watch as well and I've seen them a lot more. They should have a pretty good match with both teams working well together. I'm going with The Dark Order for the win just because I think they are more of a heel team and AEW needs to build up some heel acts. A lot of wrestlers in the company are cool heels that get cheered sometimes, so they need to push some true heels like The Dark Order.
Winners: The Dark Order
Cracker Barrel Clash: Darby Allin vs. Joey Janela vs. Jimmy Havoc
It's called a "Cracker Barrel Clash" because it's sponsored by the Cracker Barrel restaurant. I assume it's going to be a hardcore match with weapons involved because that's the style that three guys like to wrestle. It will also make it feel different than everything else on the card. They lost as a trio at Fight for the Fallen and Janela lost to Jon Moxley at Fyter Fest. Janela could really use a win since AEW has talked about wins and losses being important with how they book shows. If Janela loses again, it's going to make him look like too much of a loser and he seems to be a guy that they want to feature. Any of them could go over and it would be fine, but I'm going with Joey.
Winner: Joey Janela
Escalera De La Muerte (Ladder Match) for the AAA World Tag Team Championships: Lucha Brothers (Pentagón Jr. and Rey Fénix) (c) vs. The Young Bucks (Matt Jackson and Nick Jackson)
It's the only match on the card where a title is being defended although it's the AAA titles in Mexico rather than an AEW title match. These teams, who are made up of brothers, have wrestled many times before and they always have great matches together. One of the complaints that I have had when watching their matches is that they ignore the tag team rules for about ten minutes because they want to get their highspots in. I think a Ladder Match stipulation gives them a chance to have an outstanding five-star level match. Why? Because they can ignore the tag team rules in this match! That's perfect for them.
I expect them to get around 20 minutes, the crowd is going to go crazy for everything they do and we are going to see some incredible moves from both sides. Nick Jackson really stands out to me for some of the things he can do in the air while making it look easy. Pentagon is a vicious striker. Fenix is great in the air. Matt Jackson is a very well rounded, complete wrestler that is also great at highspots. I'm going with the Lucha Brothers to win because I don't think the Young Bucks will wrestle outside of AEW anymore, so it makes sense for the Lucha Brothers to retain. I know AEW will work with AAA in Mexico, but I don't anticipate a title change here. I think there's a very good chance that the Young Bucks are going to be AEW's first Tag Team Champions in a few months. This match has a very good chance of being AEW's best match so far and a match of the night contender.
Winners: The Lucha Brothers
Cody vs. Shawn Spears (with Tully Blanchard)
(Note: Cody will get to pick somebody to be in his corner. Nobody has been announced yet.)
This has been built up well with Spears attacking Cody with a chair shot to the head at Fyter Fest two months ago. The chair was gimmicked, but since the bottom part of it caught Cody's head, it cut him open and Cody had to get 12 staples to close the wound. Ouch. It's a classic wrestling feud with Cody and Spears having a history of partners (back in OVW in the mid-2000s), then Cody went on to have a more successful career while also helping to launch AEW, so Spears is the jealous former friend trying to prove himself. Adding Tully Blanchard to the story is a nice touch since Cody's dad Dusty Rhodes wrestled Tully dozens of times in their careers. I think Cody's ally in the corner will be Dustin Rhodes, but I'd prefer MJF. If they go with Cody's mentor Diamond Dallas Page it would be fine too. It could be Brandi Rhodes as well.
It's a huge match for Spears, who recently got married to WWE's Peyton Royce. No wonder he smiles a lot. Look at her! Anyway, I expect a pretty good match with a hot crowd because the story is so strong. Clearly, Cody values a strong story going into his matches since he's got this one and the match with Dustin at Double or Nothing that had people crying when they reunited after a bloody battle. As for the winner,
Winner: Shawn Spears
PAC vs. Kenny Omega
Is it okay if I write Pac instead of PAC? I think it is. I'm looking forward to seeing what the former Neville can do as a fill-in for Moxley. There's no storyline between them, so that's going to hurt. The good thing is they are veteran wrestlers that are very capable of having outstanding matches. As far as we know, Pac hasn't signed a deal with AEW yet because he really likes working for Dragon Gate. I'm sure AEW wants him and they will pay him a lot of money, so it wouldn't surprise me if he's exclusive to AEW soon. I'll go with an Omega win here since his feud with Moxley will be one of main rivalries in October when AEW is on TNT. Omega should win this and if he doesn't, I would be surprised.
Winner: Kenny Omega
For the Vacant AEW World Heavyweight Championship: "Hangman" Adam Page vs. Chris Jericho
There are a lot of interesting factors with this match to crown AEW's first World Heavyweight Champion. Jericho is the biggest name in AEW, who is 48 years old while Page is 28 years old. Jericho will celebrate 30 years in the business later this year while Page wasn't even alive. Jericho has won over 20 titles in his career from his days in WWE, WCW and NJPW to name a few while Page hasn't won a major title in pro wrestling yet. It's an interesting dynamic because AEW will have the choice of putting the title on the more established name like heel Jericho or they could go with the younger face in Page, who has a very bright future ahead of him.
I'm going with Jericho to win. I think it makes more sense to put the title on the more established guy who the average wrestling fan will be more familiar with. When AEW on TNT debuts, they'll have a lot of press tours to do, so they can send Jericho out there holding the title and promoting the company. Yes, Jericho is a heel, but that doesn't mean you have to go with Page. The right way to do it is to have Jericho win the title here, then Page can try to get another match against him and maybe Page wins the title at AEW's next PPV later this year or early this year…whenever they take place. I expect them to have a lot of time (around 15-20 minutes) and it should be a very good match. Jericho's my pick, but it's not a sure thing either.
Winner and New AEW World Heavyweight Champion: Chris Jericho
BONUS TOPICS!
The Match I'm Looking Forward To The Most
The Lucha Brothers vs. The Young Bucks in a Ladder Match. That's going to be amazing. If Moxley vs. Omega was happening I would have picked that.
The Match I Care About The Least
21-woman Casino Battle Royale. I'm not a fan of battle royals.
Longest Match
Cody vs. Shawn Spears. I can see it going over 20 minutes.
Shortest Match
Best Friends (Chuck Taylor and Trent Beretta) vs. The Dark Order (Evil Uno and Stu Grayson). Every match is probably going over ten minutes.
Excitement Level on a Scale of 1-10 (1 being low, 10 being high)
I'll go with an 8 out of 10. Great card from top to bottom. I have enjoyed the previous AEW shows. I expect three or four matches around the four-star level while nothing should be that bad.
Final Thoughts
I'll have a review of All Out on TJRWrestling.net most likely on Sunday night, but it might be Sunday morning.
Follow me on Twitter @johnreport if you aren't doing so already. If you want to send an email, send it to me at mrjohncanton@gmail.com as well. Thanks for reading.