The Four Horsewomen: The Most Valuable Team in WWE? – by Mike Sanchez
This Sunday at Clash of Champions, there will be two WWE Women's Title matches that will see Bayley defend her Smackdown Women's Championship against the nine-time champion, Charlotte Flair. On the same show, "The Man" Becky Lynch will defend her Raw Women's Title against a rejuvenated Sasha Banks.
I doubt either match will top the bill as the 'Main Event', but I'm looking forward to them and predict both contests will be of very high quality. All four participants have been showcased well on TV in recent weeks, and they're all excellent athletes who will undoubtedly deliver on the night. I'll save any predictions, as I'm honestly happy with any outcome. It got me thinking, are the Four Horsewomen of WWE the most valuable team in the company? And are they collectively carrying their entire division?
Step back in time to 2018 and there was one woman who sat on the top of the WWE Women's pyramid – Ronda Rousey. Rousey was an excellent and shrewd acquisition by WWE. They signed probably the most well-known female MMA fighter ever and one of UFC's biggest stars in their history. She'd suffered defeats at the end of a stellar career in UFC and looked to take the next step in her life. WWE saw this opportunity and swooped to pick up this star attraction. I was one of those fans who was very excited to see what WWE would do with such a talent and though I, like many others, had reservations about her ability to learn how to be professional wrestler, she picked it up as naturally as Kurt Angle did when he arrived. Sometimes talent shines through and if you've got it, you've got it.
The issue with Rousey being top of the pile – and being a very credible, dominant and believable champion from SummerSlam to WrestleMania – was that it stifled the rest of the roster. Over on Smackdown, Asuka was being pushed, but the momentum behind Charlotte, Becky and others means she stood on unsteady ground and soon lost her title before slipping down the pecking order. Rousey, however, stood firm and fended off all challengers until the momentum behind a reignited Becky Lynch in the early part of 2019 saw the champion toppled and off our screens to hopefully take time with her husband and start a family. Therefore, post-Wrestlemania, the new guard had been dethroned and the Four Horsewomen began to rise again.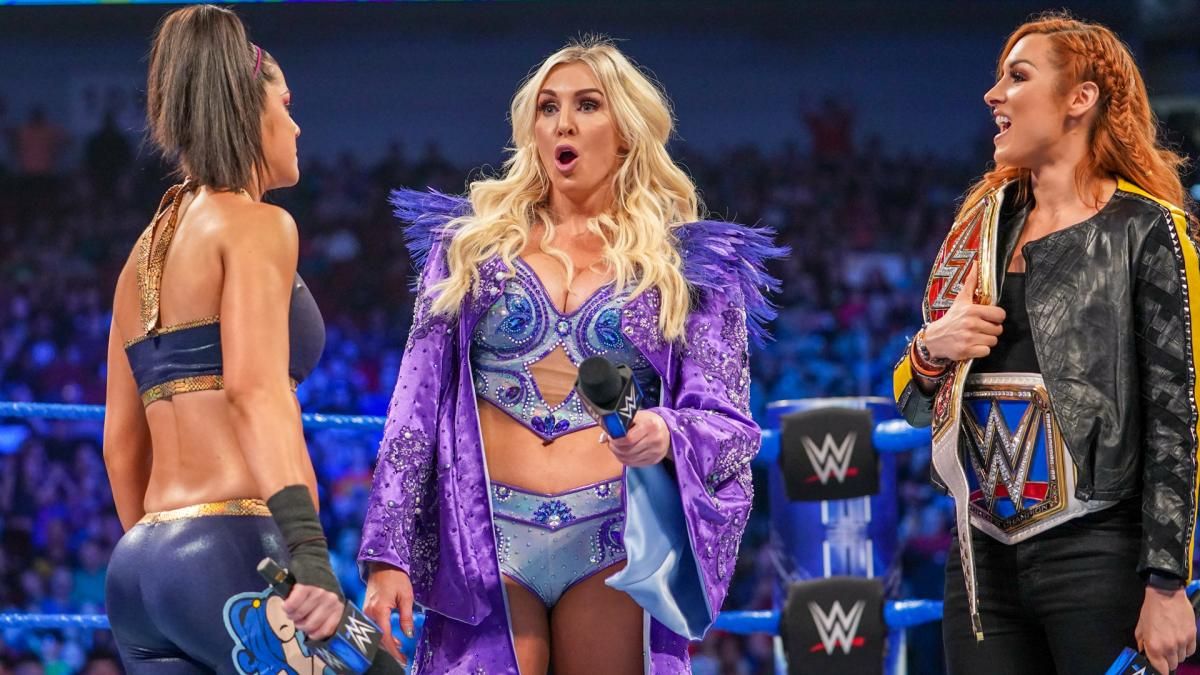 Becky Lynch was at the forefront of this rise and although she dropped the Smackdown Women's Title to Charlotte Flair (who held the belt for just under five minutes before Bayley cashed in her Money in the Bank briefcase), Lynch has been a mainstay on Raw and like Rousey before her, has defeated all challengers. The introduction of the Women's Tag Titles allowed the women's division to breathe and expand outside of two titles, however they haven't been as successful as WWE would have liked and the lengthy reigns with minimal defenses haven't helped either. Only in recent weeks did WWE move away from the 'newer' women in the company holding the titles and opted to put them on the more recognizable faces on the roster. Alexa Bliss has done a fine job in pushing the titles and bringing Nikki Cross along for the ride, but even that hasn't jostled the top tier of women wrestlers form their position.
To be fair to WWE, they have tried to improve the division; Natalya has been superb in putting over the other women and they've given Lacey Evans a fair crack at the whip, although her push appears to be on the wane of late. The IIconics (Billie Kay & Payton Royce) were given the Women's Tag Team titles, capturing the new belts from the inaugural champs, Bayley and Sasha, Banks at Wrestlemania. The IIconics held the titles for 120 days, yet I struggle to recall any of their defenses. Asuka disappeared from the title picture and has yet to return, while others on the roster such as Ember Moon, Tamina, Mandy Rose, Liv Morgan and Sonya Deville have rare forays at the top of the women's card if any at all. WWE seems firm on the idea that the trusted members of that roster are Becky Lynch, Charlotte Flair, Bayley and Sasha Banks.
That isn't a criticism of WWE at all, but the fact is they're blessed with four of the most talented women in professional wrestling right now. Each has their own unique look, style, move-set and approach. They're way above average than most on the mic, although I think Bayley is bottom of that small list, but improving. That being said, Bayley and Lynch are natural faces in the company. Bayley has a connection with younger fans and has a huge following from children and young girls in particular. She's smiley, colorful and playful. Her recent descent to the dark side notwithstanding, she is a draw for a big demographic of the WWE fanbase.
Lynch was catapulted into the next level after her fracas with Nia Jax (and attack on Rousey that same night) that saw 'The Man' character be born. Her unending quest to be crowned champion was a well thought out story that carried over several months and culminated in her victory at Wrestlemania. Her recent engagement to Seth Rollins (arguably the biggest name on Raw right now) only serves to raise her profile both inside and outside of WWE.
Both Charlotte Flair and Sasha Banks took a back seat post-Mania and didn't enjoy the push their former NXT colleagues did. Charlotte is not someone who can be kept quiet or away from the spotlight for too long. She's arguably the most talented of the group and has the pedigree and championship history to prove it. She's a natural heel who comes across as arrogant, entitled and determined, yet is a fully believable champion and every bit as dominant as Lynch or Rousey.
Sasha Banks has returned from a hiatus to become her best persona, a heel. Banks is a popular character, but her best work is as the bad girl foil to a babyface. Her NXT run was spectacular and she is a great worker. I believe WWE is doing the right thing by pushing her in that direction once more. It's apparent that WWE is focusing on the foursome going into 2020 with little to stop their momentum. They're a tight-knit group and I don't foresee anyone challenging their spots anytime soon.
What does the future hold for the Four Horsewomen? Are they set to be dominant for the next five years or more? I think they're comfortably top of the pile for now, but WWE aren't daft and know they'll need to bring through the next group of women to challenge them, rather than rely on another Ronda Rousey. NXT is the breeding ground of great talent and none more so than their women's division. Though perhaps not just yet, WWE can't be far away from considering main roster debuts for Shayna Baszler, Bianca Belair, Io Shirai, Rhea Ripley, Mia Yim and more.
The present may belong to the Four Horsewomen, but the future is far from certain. It's up to them to continue to prove they're the best and we know they're up to the challenge.