The AEW Week in Review – 8/28/21
It's Saturday, and you know what that means. Welcome one and all to the latest installment of the AEW Week in review here at TJRWrestling. Coming off a massive success for the company with the debut of CM Punk, his debut scored the highest rating for the company period since the debut episode of Dynamite, all eyes were going to seemingly be on AEW this week to see what the follow up would be. Let's jump right into how this week went for AEW.
Best Match: As you'll see later in the column, there wasn't a terribly lot to like in this week's programming. They were running red hot ever since they got back on the road on July 7th, so maybe they were due for a letdown. You wouldn't think that letdown would be immediately after the biggest moment in the company's history, though. Nonetheless, the best match this week was the Tag Team Eliminator Tournament finals that took place last night on Rampage between Jurassic Express & The Lucha Bros. The Lucha Bros have been my favorite tag team since the inception of AEW, so I'm really happy to see them be a focus of the tag team division again. However, I think everyone thought coming off the way they lost their tag title shot last week against the Young Bucks, that this tournament was built around getting Jurassic Express a rematch. Consider me quite surprised to see the Lucha Bros pull off the big win after an absolutely incredible match between these two. For a 13 minute match, they packed a TON into it, and our fearless leader John Canton gave it 4 stars. I would agree with that rating, and you can't help but think that if they got to do it again and got somewhere in the 15-20 minute range, they could push five stars for sure.
The only thing I wonder after this match is why has AEW refused to let Jungle Boy win a big match. He's something like 0-5 in title matches and besides going the 10-minute distance with Chris Jericho back in late 2019, and perhaps winning the battle royal at Double or Nothing this year, never comes through with the big one. AEW fans are going to have a longer leash than most on things like this, and Jungle Boy is easily one of the most popular acts in the entire company. However, perception is reality, and to me at least, the perception is starting to be that Jungle Boy can't win the big one.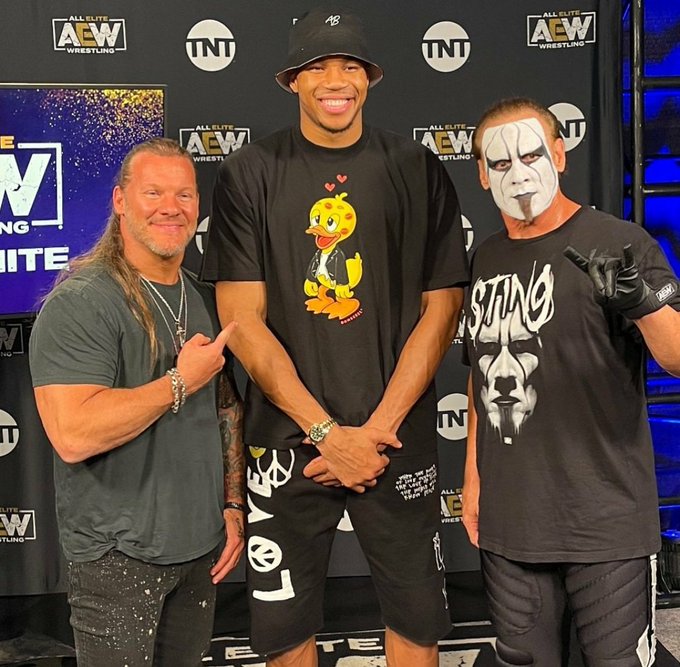 Best Moment: Again, not much to pick from this week. It was great to see CM Punk in the ring again, especially with Tony Schiavone. Both guys who swore they were done with the business, and now Tony is basically a beloved national treasure (LOIS RULES!), and CM Punk is the hottest thing going in wrestling already. For this week though, I'm going to go outside the box and say it was seeing NBA World Champion and former two-time NBA MVP Giannis Antetokounmpo (John Canton always calls him "cousin Giannis" since he's Greek too!) showing up this week on AEW social media as he was in attendance for both the Dynamite and Rampage show that was in Milwaukee.
Even with a moment such as huge as CM Punk coming into the company, this is still a company that's growing and hasn't been around for two years yet. When you get huge stars/athletes/pop culture icons showing up and liking what they see, that's a big deal for the company. It gives them legitimacy. It was cool to see Giannis really enjoying himself during Rampage when they showed him on screen, and the videos that were circulating this week of him hamming it up for the crowd after being presented with an AEW World Title. You can check out a longer video below.
Critique of the Week: I'm just going to say the entire structure of Dynamite this week was my biggest critique. There were reports this week that Dynamite had to change a lot due to plans with Gangrel falling through (probably for a segment with Christian and Omega), one member of 2.0 having the birth of a child, and even two positive Covid tests that changed a match.
All that aside, I still can't justify why you had Malakai Black and Brock Anderson as the main event of the show, and then double down by having the last shot of the night being Lee Johnson standing tall in the ring "defending" the honor of The Nightmare Family. Now, I'm not one of those that thinks they made Malakai look weak by leaving the ring. Far from it. Malakai is conniving and picks his spots. We all know he's going to murder Lee in his assault on the Nightmare Family. That's not the issue. Nor is it the thought that Malakai is being presented as a big deal on TV. I love that. This just shouldn't have been the main event.
I know Dynamite's structure is for there to be a hot match to start the show, but at the very least I would've flipped Orange Cassid/Matt Hardy for this match because at least OC/Hardy had a rivalry going on and both are big names in the company, much more so than Brock Anderson. Hell, I don't think anyone would've complained if Punk had closed the show with his promo. AEW doesn't typically close shows with promos, but it is Punk, so I think it would've been justifiable. There just had to be a better way to layout this show to where it didn't look like a throwaway show.
Not to mention the Gunn Club vs. The Factory match that somehow made Dynamite, even though that's the exact match that Dark & Elevation were created for. I'm sure this will be a one-week thing, and as Billy Bob Thornton said in Bad Santa: "They can't all be winners." I just have to call it as I see it in a given week.
Some major matches coming up on #AEWRampage this Friday at 10/9c on TNT and on #AEWDynamite NEXT WEDNESDAY at 8/7c on TNT from Chicago!

Tune into @tntdrama NOW to watch #AEWDynamite LIVE! pic.twitter.com/QR4imywAF0

— All Elite Wrestling (@AEW) August 26, 2021
Looking Ahead: As I said, this past week was probably just a one week thing as when we look forward to this week's Dynamite, we already have two matches that will be better than anything on last week's show. Not included in the video attached, that was announced last night, Jurassic Express & Lucha Bros vs. The Elite (Young Bucks & Anderson/Gallows). That should be a crazy match for sure.
We finally get the rematch, and arguably the first actual match since the first one had to be stopped prematurely, between FTR and Santana & Ortiz. We don't know what type of FTR we'll got after the graphic news and photos came out on what actually happened to Cash Wheeler's arm. Obviously, we all hope that Cash is close to 100% and has the ability to get back to 100% after that freak injury. This was a rivalry that a lot of fans were dying for, especially those like me that are huge tag team wrestling fans. So hopefully they can have the classic match that I know both teams want to have. This week's shows will both be taking place back in Chicago as it's All Out week.
Rampage next Friday has already been announced to have Darby Allin take on Daniel Garcia after Garcia's sneak attack on Darby this past week.
This week in Vlogs: This was a big week for the vlogs, so much so that Sammy Guevara put out two! The cool thing about this week's vlogs was seeing the different perspective of CM Punk's debut. On BTE they had video from backstage as Punk was getting ready to walk out on stage. It was great seeing his reaction to the pop when his music hit, coyly asking people, "for me?" That's a fun moment to be a part of. On Sammy's second vlog, he's up in the rafters where Sting & Darby would've been and hearing the pop from that perspective was mind-blowing. It's SO LOUD! It's a moment that we'll never forget, so getting to see different angles makes all the more special. As a side note, go out of your way as well to check out this video that AEW posted from the production truck, seeing how that entire opening moment of Punk's debut came together. It's truly fascinating, even if you have no idea what they're saying to the camera crew.
BTE didn't have much to it besides that opening scene with Punk, there was a lot of Young Bucks & Kenny dialogue. There's a funny skit going on with Leva Bates and Peter Avalon for long-time BTE fans.
Sammy's original vlog on Tuesday was all about his proposal to his long-time girlfriend Pam. Following along on how chaotic that day was for him in his hometown of Houston was neat to see and feel a part of it all. The special vlog on Friday that has the CM Punk footage, had some hilarious footage from the Astronomicon that Sammy, Darby, Tay Conti, & Charlie attended. I highly recommend checking out this vlog.
That's it for this week! I know we're all ready for All Out, so this week coming up should be great. Be sure to hit me up on Twitter, @KTankZamora, and let me know what you think and what you want to see discussed in these weekly recaps. Thanks for checking out the column once again. As always, don't do anything I wouldn't do… but if you do, name it after me.