The AEW Week In Review – 8/21/21
It's Saturday, and you know what that means. Welcome one and all to the latest installment of the AEW Week in Review here at TJRWrestling. What was surely the biggest week in AEW's history, has concluded with one of the best and biggest moments in pro wrestling history. CM Punk is officially All Elite! Let's jump right into it this week.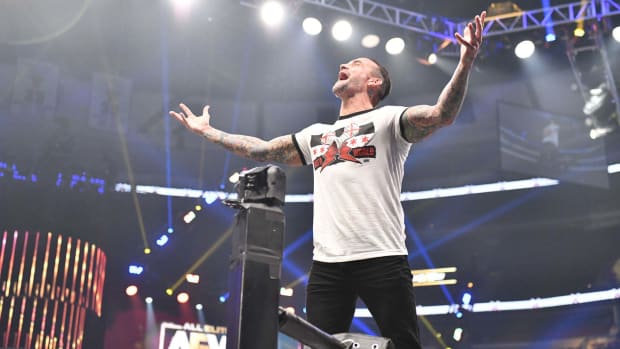 Best Moment: We're going to flip Best Moment and Best Match this week, because clearly as you're enjoying your weekend, everyone is talking about the debut of CM Punk to AEW on Rampage last night. I have seen a lot of cool moments in pro wrestling. I've seen a lot of great debuts in pro wrestling. Chris Jericho showing up in WWE. Scott Hall invading WCW. Last night's explosion of emotion from the sold out United Center in Chicago for their Hometown Hero, I think has to go to the top of my list now. I've watched it at least ten times and every single time when "Cult of Personality" officially hits, the roar that crowd gives, I've gotten goosebumps every time.
If you listen to the Conrad Thompson podcasts, he has a saying that I'm paraphrasing here: "When pro wrestling is bad, it's bad. When it's good, it's great. But when it's great, there's nothing better." That's how I felt watching that entire segment for the first time last night. There is nothing better than seeing fans come together for something they all equally wanted, and getting it.
I also appreciated how happy and at peace Punk looked. We all know what happened 7 years ago and all the issues that have stemmed from that moment. Until these AEW rumors started gaining serious steam about a month or so ago, I think the majority of us had accepted he was truly done with pro wrestling. For him to even acknowledge that, that he had to leave for his physical, mental, emotional well-being. That says a lot. We take for granted that these larger-than-life competitors can handle anything. It's good, beyond anything else, to see him happy and healthy and ready to take on the world. Taking on the world starts with taking on Darby Allin. That match was made official for All Out in two weeks. That is going to be something truly special.
Best Match: Since CM Punk took 20 minutes of the fastest 60 minutes in wrestling (I'm not complaining by the way), the three matches on Rampage were all very short and to the point. Even Jurassic Express vs. Private Party, which had some stakes behind it, went just 10 minutes. The options all revolve around what was one hell of a Dynamite episode from Houston, Texas. I was there live and I thought Sammy Guevara vs. Shawn Spears was an incredible battle for a feud that's been raging for three months now. Especially with Sammy's hometown fully behind him. One could argue there were too many nearfalls, and I wouldn't disagree, but it was still great.
Jurassic Express and Young Bucks had a big match feel to it. Jungle Boy is due for a big win, as he's come up short multiple times now in title matches. It would lend to believe that they're going to win the tournament and get the Steel Cage match against the Bucks at All Out.
Being there live, Jericho and MJF felt like a big-time match. It was PPV caliber without a doubt. Singing Judas acapella was something I'll never forget. Truly an incredible, organic moment as a pro wrestling fan. However, this is my column, and I'm undeniably biased, so the winner this week is the Texas Tornado Match between Sting and Darby Allin vs. 2.0.
I have been a "Lil' Stinger" for 32 years now. I couldn't wrap my mind around the fact that he was going to be wrestling again, and I was going to get to be there live. I loved the fact that AEW made it such a big deal, even sending out a press release with TNT, talking about how special it was that he was wrestling on TNT for the first time in 20 years. While the match was fun, and obviously Sting just blows us away with what he's doing at the age of 62, I'm picking this match because it got me on TV!
I knew I had gotten really good seats as soon as we got to them that night. I didn't realize how good however, until about 15 minutes before the show when all of the AEW camera crew and AEW security were meeting literally two feet in front of us, talking about how "they're going to be fighting right here and make sure to catch them around the corner." I'll admit it, I was freaking out. My hero was going to be wrestling TWO FEET IN FRONT OF ME?! Sure enough, Jon Moxley & Eddie Kingston make their entrance right next to me, the match starts and they come right back over to our area. What proceeds to happen, I'll never forget in my entire life. I was screaming my head off for Sting, literally clueless to anything around me. Then I felt something graze my right ear and this is how it looked on TNT.
@DarbyAllin just jumped over me while @Sting was wrestling. It'll never get better for me at a wrestling show. 🤯🤯🤯🤯#AEWDynamitehttps://t.co/1mwNwApDlA

— Kurt Zamora (@KTankZamora) August 19, 2021
Critique of the Week: There's really not much I can say for this week. Punk's moment was perfect. Jericho putting over MJF was outstanding. Maybe the overwhelming numbers advantage of The Elite is getting a little tired, but after Omega lost last week & thinking the Bucks are losing at All Out, it's not like they're not getting what's coming to them still. I mentioned the numerous nearfalls that Spears and Guevara had. I do think it's a little ridiculous that Spears kicked out of a massive guardrail bump, followed by a 630 splash that looked like it impaled him, but that's going to happen in this era of pro wrestling. Mr. TJRWrestling John Canton gave Dynamite a really high score this week too, so that shows you he loved the show too.
Looking Ahead: AEW will have both Dynamite and Rampage from Milwaukee, Wisconsin this week. Rampage will be taped for the first time. Dynamite doesn't look nearly as stacked as it has over the last month to six weeks, but when you have CM Punk now, that more than makes up for it. Milwaukee is only an hour and a half from Chicago, so it will be a hotbed for Punk fans again. The Tag Team Eliminator Tournament continues with The Lucha Bros vs. Varsity Blondes, and the winner of that will take on Jurassic Express on Rampage in the finals. I think the match I'm most looking forward to is Malakai Black vs. Brock Anderson. Obviously, this should be an easy win for Black, but it's always great to see him in the ring, and I'm just interested in how they're going to use Brock as a pawn in this story that Black is weaving with Cody and The Nightmare Family.
THIS WED (8/25), @CMPunk makes his first #AEWDynamite appearance from the @UWMPantherArena in Milwaukee!
PLUS:
– #MalakaiBlack (@TommyEnd) v @BAndersonAEW
– #LuchaBros v #VarsityBlonds
– @orangecassidy v @MATTHARDYBRAND
– @jmehytr v @Thee_Red_Velvet
🎟 » https://t.co/UN1cNj1kQqpic.twitter.com/s2aoShRWK7

— All Elite Wrestling (@AEW) August 21, 2021
This Week in Vlogs: BTE this week was all about The Elite in Pittsburgh. No skits for Hangman or The Dark Order besides Brandon Cutler catching Evil Uno and Stu Grayson arguing with Colt Cabana about the dissension in the group, and Cutler getting punched by Colt for it. The Dark Order is at odds with each other based on how Evil and Stu handled "helping" Hangman by giving him what he wants and letting him go against The Elite alone. There was not a lot to this episode, there was some funny dialogue with Omega & The Bucks, a lot of recap videos from the two shows in Pittsburgh, and another Ryan Nemeth skit that has become a fast forward for me.
Sammy Guevara's Vlog was much more entertaining, mainly focusing on Fuego Del Sol's big moment on the debut episode of Rampage last week. If you follow the vlog, you know that all of this happened for Fuego simply because of how he has been portrayed on this vlog. It was a very cool, "full circle" type moment to watch unfold in this week's episode. There was a very funny skit with QT Marshall parodying the news we've heard about the changes within NXT, and a funny skit about Virgil using Sammy Guevara's hotel room without his knowledge.
That's it for this week! I hope you enjoyed everything AEW gave us as much as I did. Be sure to hit me up on Twitter, @KTankZamora, and let me know what you think and what you want to see discussed in these weekly recaps. Thanks for checking out the column once again. As always, don't do anything I wouldn't do… but if you do, name it after me.