Survivor Series Improved This Week and John Cena's WWE Future – by Mike Sanchez
Last week I wrote about the veterans helping out the main roster due to untimely illnesses in WWE, and how their experience and skill kept the big WWE machine moving along, especially considering they were embarking on a big tour of Europe. This week saw more last minute changes, stars dropping out (or being sent home) as well as some twists and turns in various title pictures. Though it's been difficult at times to keep up with all these changes, one thing's for certain; Survivor Series looks way more interesting than it did a couple of weeks ago.
Firstly, let's address the biggest news this past week; AJ Styles is the new WWE Champion on Smackdown. I won't go into too much detail here or how this will affect Smackdown Live going forward, as our fearless leader John Canton wrote a great piece on the Comeback – I'd encourage everyone to read it. In regards to Survivor Series, I worried about how Brock vs Jinder Mahal match could be billed as a main event. Nothing other than Brock steamrollering over Mahal was foreseeable to me. Now that AJ is in that match, my interest has gone up by 100%. I don't think we have anything to worry about with AJ Styles; he'll deliver in the ring and give us a great match. A lot depends on Brock, though. Will he let AJ have offense and will he 'be up' for this match? Hopefully the WWE creative team can put together something special.
Another title switch this past week saw The Bar (Sheamus & Cesaro) take back the Raw Tag Titles from Dean Ambrose and Seth Rollins. I get why this was done, but if the two Shield members had to drop the belts purely to be involved in a non-title match at Survivor Series, surely the Tag match for Raw could've been a number one contender's match? Then again, WWE have been shoving it down our throat that every champion on each brand will go against their respective counterpart from either Raw or Smackdown Live. In that sense, perhaps Sheamus & Cesaro are due a long run (until Wrestlemania?) before they give up the titles once more. Could a return for The Revival be on the cards for early 2018? I'd like to see them involved at some point, or have Gallows and Anderson pick up momentum by challenging for the belts? Perhaps even a Jeff Hardy return could spark some life into a Raw Tag division that's been cruelly curtailed by injury this year?
The biggest surprise for me was the inclusion of John Cena on Team Smackdown. With Kurt Angle leading team Raw, I fully expected Shane McMahon to captain the blue team, but we now have Cena also thrown into the mix alongside Shane. His inclusion throws up some questions and possibilities going forward that should have us intrigued. Firstly, with both the Royal Rumble and Wrestlemania on the horizon, WWE will start to get their long-term plans in place for their biggest stars, and Cena, despite his part-time status on TV, is still one of their biggest stars.
Will Cena (who seems to switch between each show at will) be involved in one of the Heavyweight Title pictures? I say no, purely because it's looking pretty certain we're getting Brock vs Roman for the Universal Title as a Raw main event at WrestleMania. On Smackdown it makes little sense to have Cena face Styles for the belt. As great as that would be – and they've put on some clinics in recent years – the only reason Cena needs the belt would be to improve his record as a champ. Smackdown doesn't, or shouldn't, need to rely on Cena to help carry the brand. They've got Nakamura, Roode, Owens, Zayn and Corbin on their books, so surely the Rumble and Mania should present an opportunity for WWE to give one of those guys a shove into the title picture.
So what does WWE do with Cena come WrestleMania? Let's take a look at some feuds he could be part of based upon the Raw team at Survivor Series: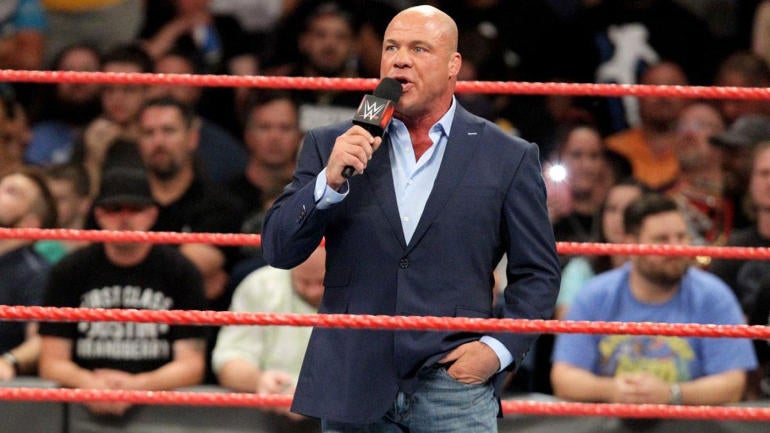 Kurt Angle – Could the GM of Raw be involved in a program that would last several months? Possibly, yes. They could announce the match and as both men are faces, have little physical interaction in the lead up, with perhaps a scuffle towards April, building hype for their showdown. Perhaps both men will want it just for pride or for the challenge aspect of the match. I really think this could be a spectacle as Mania is now missing the annual Undertaker match, so Angle vs Cena could be a winner.
Jason Jordan – Son of Angle. I think a feud with Cena may be too much too soon. Jordan doesn't currently strike me as a man who can defeat Cena, especially fairly. Perhaps there could be a brief fight between these two that could pave the way for Angle to be involved down the line? Who knows?
Braun Strowman – Although a feud with Strowman would be quite new, I think there are long-term plans in place for Raw's monster. A dally with Cena could give him something to do and a win over him would further boost Strowman's high profile. For Cena it would be a feud to only elevate Braun, nothing more. To have Cena go over wouldn't make sense and could derail any momentum Strowman has been gaining in recent months since his title loss to Lesnar.
Samoa Joe – This could be a tasty match-up. Joe is in the wilderness somewhat on Raw. With the Shield reunited and Brock fixed as the champ until Mania, Joe is out on a limb. He needs something to occupy his time until Brock drops the belt and new feuds can begin. I'm expecting his future match with Balor to be above average and possibly a show-stealer down the line. I think if Cena had a program with Joe, it could work well.
Finn Balor – Though roughly the same size as Cena (or at least a few inches shorter), I don't think Balor would work. Face vs face matches can be great, but there would be nothing at stake for either man. A Balor loss wouldn't help his character at all, nor would it elevate Cena in any way. Perhaps if the Demon was brought into play, and Cena approached the match seriously – i.e. no jokey promos, acknowledging Balor's talent and style – perhaps the pair could come up with something. Going forward, I can only see a Balor win being the sensible outcome after a long, hard-fought match.
In closing, I think the changes to the card in recent weeks have only served to make Survivor Series more exciting. The PPV is set up differently than others and should remain as such. We know what we're getting with this show – groups facing one another and champions vs champions. It promises to be a great show and I hope it lives up to the hype.
—-
What do you think? Are you looking forward to Survivor Series? Has AJ becoming champ given his match with Lesnar another dynamic? What about Cena? Is this just a bit-part for now, or will seeds be sown for a feud leading to Wrestlemania? I'd love to hear your thoughts. As always, thanks for reading.