My WrestleMania Week In Dallas & The NXT Takeover Experience by Kurt Zamora
I admit it, I'm still tired six days later. When Wednesday rolled around and it was time to write the NXT Spotlight, I could only thank them for making the episode nothing more than a Takeover: Dallas recap. I just didn't have the energy. That's why you're not reading my normal Spotlight this week. (Apollo Crews did defeat Elias Samson if that is something that grabs your attention.) This is the effect that the "Grandest Stage of them All" can have on you.
This was my fourth WrestleMania that I've been fortunate to attend, but in many ways this felt like the first because of how huge everything was. I attended 25-27 before deciding to put my funds to other excursions I wanted to accomplish, but those three were NOTHING compared to the machine that rolled into my hometown last week. Wednesday through Sunday, it was non-stop, and no matter where you turned, WWE was there to remind you that that they were taking over.
There were tons of other things going on too though, non-WWE wise. You couldn't help but keep yourself occupied. I'm going to take you on post-diary trip of what my week was like, what I did and did not like, and what surprised me.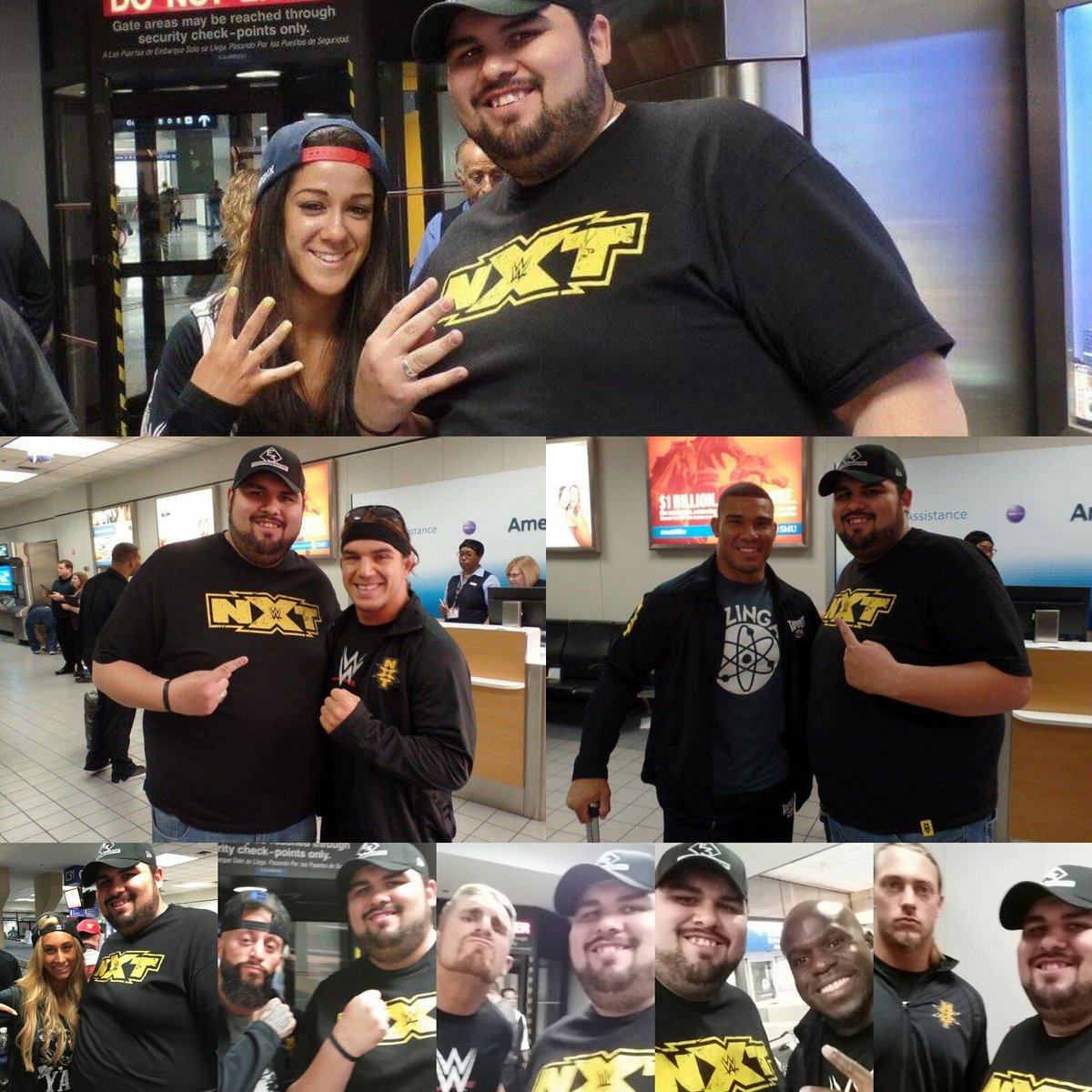 Wednesday – The NXT Experience Rolls into Town
After some autograph signings and WWE Superstars rolling into town Wednesday morning, I was notified that the entire NXT Roster was coming into town Wednesday evening. I figured since it was Wednesday and not many of the travelling fans would be in town, this would be a lowly attended gathering to greet the Yellow and Black at the airport. I was wrong. They were rockstars.
A group of 35+ fans at least (I lost count eventually) were there to get a glimpse of all the NXT stars. As someone that covers NXT and truly has an emotional investment in so many of these guys and women, I could not have been more impressed with how incredible they all were to meet. Even after a flight that was in the air an extra 90 minutes due to storms in the area, they came off that flight and were genuinely excited to see and meet all of us.
It was a madhouse, but as you can see in the collage above, I was able to meet all the big stars besides Finn Balor, who I believe was sick as a dog that day. I caught a glimpse of him as trainers were huddled around him and he looked like death. Besides the pictures above, I was also able to meet The Vaudevillians and two of the trainers, Terry Taylor and Adam Pearce. I can't say enough nice things around everyone. I wasn't able to meet him as he was the last one off the plane, but a few fans did get Shinsuke Nakamura and he seemed to be enjoying the fans for the quick few minutes he was available. NXT is by far the hottest thing going right now, I've never seen anything like that before.
Thursday – WWE Superstore Opening & NWA Parade of Champions
While Axxess wasn't opening until later that evening, the WWE Superstore at Axxess was opening that morning with signings from The Usos and Paige during the day. The Superstore was incredible. Every shirt, every size, and more random collectibles than you'd know what to do with. I had already spent my allocation for merch within a half hour and that was after putting items back. It was incredible. They taped a segment for Swerved with Braun Strowman that seemed pretty funny. I was able to meet The Usos before I left for the NWA show and they were both really good guys.
The NWA show was a joint production from local indy company IHWE and the National Wrestling Alliance. The IHWE is really trying to make NWA prominent again in the Texas area. This was a fun show that drew a legit sellout of between 5-600. Great crowd for them. The show had the likes of Charlie Haas, Shelton Benjamin, Rob Conway, Lance Archer, Ray Rowe, Rodney Mack, & Jim Cornette on it, along with legends like Ricky Morton, Bobby Fulton, Marc Lowrance, Black Bart, & Bill Apter making appearances throughout the night. The show was paced perfectly and they really went above and beyond to make it look like a special show.
Friday & Saturday – Wrestlecon
Wrestlecon is a dream come true for a lifelong fan like myself. It's surreal to walk up and down the rows of vendor booths and just think to yourself, "Hey, there's Road Warrior Animal. Hey, there's Tully Blanchard. Hey, there's Scott Hall & X-Pac." If Barry Windham and Trish Stratus has been a part of the guest list, I would've been able to complete my bucket list of wrestlers I've wanted to meet.
The organization of this event was top notch and I literally could not find anything to complain about if I tried. One of my favorite parts of Wrestlecon didn't even involve meeting someone. It was the fans. Clearly, some of the lines for the guests signing were going to be quite long. Sometimes there were tight quarters trying to walk past people and trying to figure out where the end of the line was to get to someone. Not once did I see anyone ever get angry or be rude or a hassle. Everyone was friendly, funny, and willing to help anyone who wasn't sure where to go. I loved seeing that. This was a lot of fun & I highly recommend it for anyone going to Orlando next year.
Friday – Axxess
This event is honestly the only complaint of the weekend I had. (Besides just wanting more time to be able to do more things around town). Everything about Axxess is oversold. From the General Admission to the VIP & Premuim signings. It was really sad to see. The reason I went on Friday was because Sting was the Premium signing that night. I'm not afraid to admit it, I paid $190+ fees to meet him. I justified it by the fact that he's my all time favorite wrestler and the fact that I figured there would be a hard cap on tickets for him sold so that everyone that paid that excessive price would get a true meet & greet experience with him. I was dead wrong and I will never do it again.
Chris Jericho was before Sting and was signing from 5-7pm. At 6:45pm, it was clear that Jericho was going to go well past 7pm to get through everyone. The handler from WWE that was helping Jericho clearly knew it too. So it was at that point that anyone left in line got rushed, and I do mean rushed, through the line. People would shake Jericho's hand before getting their item signed and told to turn for a "professional photo-op". Yes, there were a few of those people who only had themselves to blame as they didn't get into line until very late, but there were those that had been in line for quite a while and waited for their moment with Y2J, only to be limited to a few seconds on stage. It was very disappointing.
I was able to get a fair amount of time with Sting, but it was still a hassle. For anyone attending Axxess in the future, I would strongly advise against it. The lines to meet superstars take forever, my wife waited an hour in line for Darren Young and Zack Ryder, and beyond that there's not much else to see. Even getting to see something as cool as the Elimination Chamber takes an hour to get in line to get a photo-op with a superstar.
Friday – NXT: Takeover Dallas
Clearly, since I write the NXT Spotlight here for TJR, this show was my true WrestleMania. All five matches were going to be phenomenal in my eyes and I could not wait to feel the energy in the crowd. I was not disappointed. I wish I had taken a picture of the line to get in the building after I got done meeting Sting. It wrapped the length of the Convention Center, TWICE. It was incredible. Luckily the line moved quickly and smoothly and we were in our seats right before the Crews/Samson match was taped.
John is going to have a full review of the show and I'll have opinions on the matches as the upcoming episodes of NXT come through, so I'll just make this part an overall opinion of the show. WOW. That's my opinion. The venue, albeit small and they easily could've sold 5,000+ more at the American Airlines Center where Raw and Hall of Fame was, was nonetheless perfect for the show. Slightly smokey, vintage looking and feeling and the crowd was right on top of the action. I was in the dead last row of the building and as you can see above, I still had a great sightline to the in-ring work. Aries and Corbin was really the only disappointment on the show, but the other four matches were simply tremendous. The roar when American Alpha won the tag titles was one of the greatest ovations I've ever heard live. I could literally FEEL the anger of the crowd as they yelled and chanted towards the trainers trying to clean up Samoa Joe's blood. It was an experience I will never forget. I've been fortunate to attend a lot of great wrestling shows live and this may be my all time favorite show I've ever been to. Nakamura vs. Zayn immediately went to the Top Three live matches I've ever seen, along with Undertaker vs. HBK at WrestleMania 25 and Edge vs. Benoit vs. Guerrero vs. Angle at a Smackdown Taping in December 2002. (Which you can see for only $9.99 on the WWE Network.) Between this show and their arrival in Dallas 48 hours before, it was clear that this is NXT's world and we're just living in it.
Saturday – Hall of Fame
As a whole, I'm not a fan of the Hall of Fame these days. Inductees run far too long and the crowd hijacks the show when they do go too long. However, I made a pact to myself that I would see four inductees live" Stone Cold Steve Austin, The Road Warriors, Sting & Randy Orton. (Zack Ryder too if I'm ever that lucky. Fingers crossed!) So when Sting was announced, I had to go. I must say, I was pleasantly surprised with this year's show. Minus Stan Hansen going far too long, sorry if that offends anyone, I thought this was actually a perfect Hall of Fame. The crowd was respectful all night and there were no ridiculous chants or hijinx from them. All the inductees were fun, engaging, and entertaining. Even as someone who was there for Sting, I couldn't help but get emotional during The Freebirds induction. They had the perfect ceremony. If you haven't seen their induction, go do so immediately. It was beyond well deserved. Seeing my hero Sting get inducted and officially retire was the perfect ending. I know it wasn't easy for him, but it was the right decision.
Saturday- JR's One Man Show
Immediately after the Hall of Fame, we walked a few blocks down the road to see Jim Ross' One Man Show at the House of Blues. JR managed to have three complete sellouts over the weekend with 1400 fans at each show. The crowd was rowdy as you'd expect for a show that started past 11pm on a Saturday night. JR told a lot of great stories with a lot of humor. I really enjoyed his solo portion. Our special guest was Rob Van Dam which got a huge pop from the crowd. However, I felt the show derailed at this point. It was still fun, but between the fact that only people in the first couple rows could ask questions, drunk fans coming up to the front of the stage to draw attention to themselves and trying to get those onstage drunk, it just didn't have a great flow. RVD did have some impassioned answers, especially when talking about his relationship with Vince McMahon. There was a really cool moment near the end though when Hurricane Helms and Jeff Hardy showed up to the surprise everyone, even Jim Ross himself. Jeff even answered a couple questions and said it was a certainty that he and Matt would come back to WWE one day.
Sunday – WrestleMania
Based on all the various polls and forums I've read since Sunday, I realize I'm in the minority with the following statement: I loved WrestleMania.
I thought considering how the injuries greatly affected the card, WWE hit a home run with what they had available. Sure, it was long and it's hard to keep everyone's attention for six hours. Yes, sticking to their guns and having the show end with Roman Reigns as champion wasn't the best idea, but dammit I thought it was an awesome show. I can fully understand how the live experience didn't translate to TV if you watched it on the Network. There's something incredible being in a crowd of almost 100,000. The roars and gasps and ovations that come from a crowd that big is really something to behold. Those that are mad about some of the results on the show really should just take a step back. AJ Styles losing adds intrigue now that he's #1 contender to Roman. No one will remember The New Day lost, they're going to remember the huge box of life-sized Booty-O's cereal they came out of.
As for the veteran presence on the show, everyone was up in arms that we didn't know what their roles were going to be on the show but then when their roles were established, everyone got mad that they buried the younger talent. I'm sorry, but if you're ever in the ring with The Rock, Stone Cold, HBK, & Mick Foley, you're never going to be buried. That is a prime opportunity for anyone. Is it going to be an issue for WWE in 3-5 years when these legends will no longer be around to call upon? Yes, it will. That's a different issue for a different day though. For this one night though, it was incredible to see everyone come out and do what they did. I cannot explain how loud the pop Stone Cold got was either. Loudest pop of my life.
Shane and Undertaker could've cut five minutes from their match and it would've been so much better, but that's nitpicking. The jump from Shane, even with everyone expecting it, the gasp from the crowd was surreal when he finally launched down. Just insane. Lastly, my true "WrestleMania Moment" was seeing Zack Ryder come down with the Intercontinental Championship. I don't care if it was just for a shock value, it was an amazing moment. The reaction from the crowd was truly moving too, because it was clear that everyone was happy for Ryder and how hard he worked to get to that point. I will never forget that moment for the rest of my life.
This will more than likely be my last WrestleMania, unless they come back to Dallas, just due to how expensive the weekend has become. So if you're going next year, be forewarned you're going to have to donate an organ to get the funds together. I kid. Sort of.
With that said, I couldn't have asked for a better WrestleMania experience. I really enjoyed everything and getting to meet a few of you guys who came up to me and said hello. I even got a transaction completed between one of my readers, Victor and a friend of mine so they could get to the NXT show on Friday. So thank you to everyone that stopped me and said hello or gave TJR a shoutout. I even finally got to meet our fearless leader John Canton this weekend and hang out with him finally. It's crazy that this thing we call Pro Wrestling brought us together a few years ago online and brought us to become really good friends. It was great to finally meet you bud! WrestleMania truly is the "Grandest Stage of them All" and for a week in Dallas, Texas, WWE stopped at nothing to prove it. I give them kudos for that.