Looking Back at 2017 TJRWrestling Staff Predictions
It's the end of another year, which means it is time to go back to January 2017 and check out what the TJRWrestling staff predicted about what might happen in the wrestling business (mostly WWE) this year. Each writer was tasked with coming up with five predictions. Some of us predicted things that weren't obvious while others went the obvious route. What I'll do below is paste in the predictions from every writer, offer my quick grade about if it happened or not and then give them all a final score out of five. In some cases, there will be half a point, which I'll explain as I go. Some writers are no longer a part of the team (their choice, not mine), but I'll still include them.
If you're wondering, nobody predicted Jinder Mahal being WWE Champion for six months. Who would have seen that coming? It came out nowhere.
Our 2018 predictions will be posted next Friday, January 5. It will be a massive column like every year, so be on the lookout for it. Let's get to it.
Kurt Zamora
1. Triple H will compete at an NXT Event
Nope. Didn't happen although he did take part in an angle with Seth Rollins back in January.
2. Zack Ryder will turn heel upon his return
Sorry. His partner Mojo Rawley did the turn.
3. NXT will air on Cable TV at some point in 2017
I'll give it to him because one episode of NXT aired on USA Network earlier this month.
4. The first-ever women's Ladder/MITB Match will happen
Correct. There were two of them too.
5. Eva Marie will be a Women's Champion
She should have been. Sadly, she was released. The All Red Title Reign never happened.
Kurt gets 2 out of 5.
Steve Melo
1. KURT ANGLE WILL FINALLY RETURN TO WWE
It's true. It's damn true. At the time we didn't know if it would happen, so it wasn't an easy prediction.
2. TYE DILLINGER WILL DEBUT ON THE MAIN ROSTER
He did and hasn't done much.
3. ROMAN REIGNS WILL FINALLY TURN HEEL
Nope. Not yet. Who knows if he will?
4. THE REVIVAL WILL DEBUT ON THE MAIN ROSTER
They sure did, and injuries slowed them down, but hopefully it's a better 2018 for them.
5. WE WILL FINALLY GET TRIPLE H VERSUS SETH ROLLINS
It happened at WrestleMania, so this is true.
Steve gets 4 out of 5. I think he went for some obvious things because NXT talent going to the main roster is easy to predict. Triple H vs. Rollins was also easy to call. I'm tough on him because we're close friends lol.
Mike Sanchez
1. Kurt Angle will return to WWE and have a World Title match
I'll be nice and give him the full point since Angle did return.
2. AJ Styles will be traded to Raw
A lot of people thought that would happen. Maybe next year.
3. A NXT Match will be featured on one of the 'Big Four' WWE PPVs
It didn't. Maybe it should have.
4. Charlotte Flair will lose & win the Women's Title at least four times in 2017
Not that much.
5. Roman Reigns will go full heel on everyone, and it'll be great
Nope.
I think Mike went for some tough ones. I'll give him 1 out of 5.
Steve Cobble
1) Hulk Hogan Returns to WWE Programming for a Retirement Program
Nope. Didn't happen, brother.
2) Nakamura beats John Cena to become WWE Champion
A nice thought, but no go.
3) Tye Dillinger to Headline a NXT Takeover Event
He did not.
4) Ricochet debuts in NXT
Not this year. Very likely in early 2018.
5) Finn Balor Turns Heel and Reunites the Bullet Club
That didn't happen either.
Tough one. That's 0 for 5 for Steve. He went for some risky stuff.
Rey Moralde
1- Enzo and Cass win the Raw tag titles at WrestleMania
Nope. They probably would have if the Hardys didn't return at WrestleMania.
2- Gallows and Anderson get traded/drafted to Smackdown, and the Club gets reformed
That didn't happen although it sure would have helped them.
3- Big E breaks off from the New Day on Raw after WrestleMania
No split yet.
4- Baron Corbin wins Money In The Bank
Bingo. He did.
5- The Revival will go to Smackdown after WrestleMania and win the tag titles from American Alpha
They went Raw and no titles yet due to injuries.
BONUS- Asuka doesn't lose the women's title until NXT: Brooklyn III (Ember Moon). She then debuts on the Smackdown after Summerslam.
She headed to Raw and didn't lose the NXT Women's Title.
Rey got 1 out of 5.
Mike Holland
1. Miz will win the WWE Title
A nice thought, but it didn't happen.
2. Shinsuke Nakamura debuts at the Royal Rumble and goes to Smackdown Live
I'll give him half a point since he got the Smackdown part right.
3. Bobby Roode spends the majority of 2017 as NXT Champion
Roode won the title in January and held it for 203 days, so that gets a point.
4. Kurt Angle will not appear in the WWE in 2017
That's wrong.
5. Cesaro will win the Universal Title
Another nice thought, but it didn't happen.
Mike got 1.5 out of 5.
Matt Corton
1. Braun Strowman will win the Universal Title (or World Title if he moves to SmackDown)
I think he should have, but it didn't happen.
2. At least one major Raw star will move to SmackDown
That's pretty vague. It's right since several of them like Kevin Owens and Charlotte Flair went to Smackdown.
3. Mick Foley will be removed as Raw GM
Correct because it happened before WrestleMania.
4. No new WWE in-ring shows will be scheduled
Since the Mae Young Classic took place this year, I can't give it to him. Also the WWE UK show, but it was not a regular thing.
5. SmackDown will start to regularly eclipse Raw in terms of viewing figures
Nope. It didn't happen.
Matt gets 2 out of 5.
Hank McAllen
1. Samoa Joe will win the Intercontinental Championship
He did not, but it might happen soon since he's feuding with Roman Reigns.
2. Shinsuke Namakmura will win the WWE World Championship
Not yet. I'd love to see it happen.
3. Ricochet /Prince Puma will sign with WWE and join the NXT roster
It's likely in January or February, so doesn't count yet.
4. John Cena will finally turn heel
Far from it. Still very much a face.
5. NXT will become a two-hour show
It did not although some episodes did run more than 60 minutes this year.
Sorry Hank, but that's 0 for 5. I did like that he tried some stuff that was out there and not easy choices.
Brandon Lasher
1.) Shinsuke Nakamura will Win A Secondary Title on the Main Roster
It hasn't happened yet.
2.) Baron Corbin Wins The Money in the Bank
Good call. I think he was the favorite, but it wasn't obvious.
3.) Bayley will Defeat Charlotte for the Raw Women's Title at WrestleMania 33
It probably should have happened there, but they did it on a Raw in February. So it's a no.
4.) The WWE will have a Tournament and New Brand in Asia
Not yet. Perhaps in a year or two.
5.) Enzo & Big Cass Will Break Up
He got that right. Nice one.
That's 2 out of 5 for the Lash Man.
Max Grieve
1. Mark Henry or Kane wins the André The Giant Battle Royal at WrestleMania
It didn't happen. I doubt anybody would have predicted the Mojo Rawley win!
2. Samoa Joe and The Revival win main roster gold
Not yet.
3. Evie joins WWE and wins either the rumoured women's tournament or the NXT Women's Championship
She signed in December 2016, so I can't give that part to you. Was in the tournament, but did not win. She wrestles under the name Dakota Kai.
4. Raw cuts ties with the cruiserweight division
Nope. Still going.
5. WWE announces SmackDown Live will be extended to three hours
That didn't happen either. I'm glad about that.
That's 0 for 5 for Mad Max, but again he took some risks there.
Mark McAllen
1. Shinsuke Nakamura will win either the WWE World or Universal Championship
Not yet. Perhaps in 2018.
2. There will be five different Cruiserweight Championship holders this year
Sorry buddy, but there were four: Neville, Tozawa, Enzo, Kalisto.
EDIT: I stand corrected because Rich Swann started the year as champ, so it is five and he gets a point.
3. John Cena will not become a 17-time World Champion (which would break Ric Flair's record)
He's not there yet, but won #16 in 2017, so Mark gets a point.
4. Goldberg will wrestle a WWE PPV post-WrestleMania 33
That didn't happen. Stopped at WM33.
5. Braun Strowman will win the WWE Universal Championship
No. I think he should have at No Mercy, though.
It's 2 for 5 for Mark.
Marc Madison
1. Wyatt Family implosion when Erick Rowan returns
There was a Wyatt Family implosion because of Randy Orton, so I'll give him 0.5 for that.
2. John Cena defeats The Undertaker at Wrestlemania
It didn't happen this year. It might happen in 2018.
3. Finn Balor returns and turns heel
No heel for Finn.
4. Samoa Joe is called to the main roster
That was an obvious one, so he gets a point.
5. Brock Lesnar will cost Goldberg his chance at a championship at Wrestlemania
No that because they fought for a championship at WrestleMania.
That's a 1.5 out of 5 for Double M.
Matthew J. Douglas
1. Dean Ambrose will Turn Heel by the Year's End
Nope, but I think it's possible in 2018.
2. The New Day will Disband
Still together. I'm glad they are and also surprised that they are.
3. Sami Zayn will Win a Championship
It hasn't happened yet on the main roster.
4. Cesaro and Sheamus Won't Make it to Summerslam as a Tag Team
Incorrect. It is a bit of a surprise that they are still together. Doing well as a team.
5. The Miz's Rivalry with Daniel Bryan will Culminate in a Lengthy Feud with Shinsuke Nakamura (That John Canton Will Name Best Feud in the 2017 Johnny Awards Column)
It didn't head in that direction because Miz was moved to Raw post WrestleMania.
That's 0 for 5 for MJD.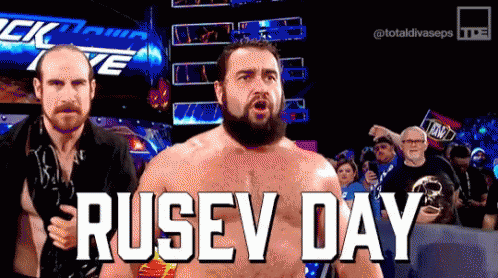 John Canton
1. All three members of New Day will win singles titles
That didn't come close to happening. They are still a tag team although Xavier Woods is in the US Title tournament.
2. Rusev will win the Universal or WWE Title
What this shows is that I was a believer in #RusevDay long before it was even a thing. I wish it was him that got the WWE Title push instead of Jinder Mahal.
3. AJ Styles will have at least two pay-per-view matches against Shinsuke Nakamura
That didn't happen although they were a part of the Money in the Bank match, which was great.
4. Kevin Owens will turn face
Still a heel. Maybe he'll turn in 2018, but when I think about it now he's too good of a heel to turn him face.
5. England will host a main roster PPV for the first time since SummerSlam 1992
That didn't happen even though they held a NXT Takeover in December 2016. This prediction did help me win over the England fans, though. Bloody hell!
I guess that's a 0 for 5 for me. Most of my picks were bold, so that's why they sucked. Picking easy ones doesn't interest me.
Final Thoughts
Congrats to Steve Melo aka Melo Man for getting 4 out of 5 and being the winner this year.
I think in general we did pretty bad, but it's also fair to say that WWE programming can be boring at times. We predict things that we want to see and would excite us as fans, yet it ends up being the same thing year after year.
On behalf of the entire team here at TJRWrestling, I just want to say we miss you Eva Marie.