The John Report: WWE Payback 2017 – 15 Questions & Answers
The next WWE pay-per-view is called Payback, which features the WWE Raw brand. The last brand exclusive PPV was Fastlane in early March, which was also a Raw show. Why is Raw getting back to back exclusive PPVs? I have no idea, but that's how it is. It takes place this coming Sunday, April 30 at the SAP Center in San Jose, California.
This is a column idea that I did a few years ago for a few PPVs, I really liked it and I brought it back earlier this year. The goal for this one is to do it one week before the show takes place.
Here's a look at the lineup for Payback.
Roman Reigns vs. Braun Strowman

"House of Horrors" Match: Randy Orton vs. Bray Wyatt

Seth Rollins vs. Samoa Joe

United States Championship: Kevin Owens vs. Chris Jericho (Whoever wins that match will take the US Title with them to Smackdown Live.)

Raw Tag Team Championships: The Hardy Boyz vs. Cesaro & Sheamus

Raw Women's Championship: Bayley vs. Alexa Bliss

Cruiserweight Championship: Neville vs. Austin Aries
A match that is not official yet is Dean Ambrose vs. The Miz for the Intercontinental Title. I think that's very likely going to be on this card as well.
The reason I go with 15 questions is because the first ten questions are specific to the matches on this show and final five are five general questions I can use for any PPV. Let's get to it.
1. What stipulation should there be in the Reigns vs. Strowman match?
There are a lot of stipulations they can choose and they might go with an Ambulance Match since Strowman's attack on Reigns a few weeks ago put him in an ambulance. If it was up to me I'd go with a Last Man Standing match. Those matches are usually very physical with a lot of weapons and you can tell a better story than putting somebody in an ambulance. I've always found the Ambulance Matches to be boring.
They could also make it a Street Fight, Falls Count Anywhere or No Holds Barred too. These guys have been wrestling eachother for a few months at live events, so the chemistry is there between them.
If it's a regular match it would be disappointing since we got that at Fastlane in early March. I'm going with Last Man Standing as my pick, but I think they might do an Ambulance Match instead. That's just my guess at this point.
2. Is it possible that Strowman might win his match against Reigns?
I think Strowman should win and he will win. I know that sounds crazy since Reigns barely loses any matches, but Strowman has a lot of momentum on his side.
There are reports out there suggesting that Strowman is likely going to face Brock Lesnar at the June or July Raw PPV – we don't know what one yet. If that's the case then Strowman can brag about how he beat Reigns leading up to Strowman getting that title shot. If Reigns wins this match, then what? Are they going to do Lesnar vs. Reigns? That seems unlikely considering it's probably going to main event next year's WrestleMania.
3. Do we know what a "House of Horrors" match is yet?
No idea. I'm not sure if they are going to do it in the ring or do it beside the entrance ramp area or make it a match where they fight in a "house" that has all kinds of crazy stuff in it like insects that we saw during their WrestleMania match.
There's a chance this match could suck too. I remember last year when they did the Asylum Match between Dean Ambrose and Chris Jericho where they went way too long because they made it a point to use every weapon. They went nearly 30 minutes and it was one of the most boring matches of the year even though I like both guys a lot. The concept failed miserably, which is why they haven't brought it back.
4. Will the "House of Horrors" match be for the WWE Title?
I thought it was, but now I'm leaning towards a no. Check out this graphic.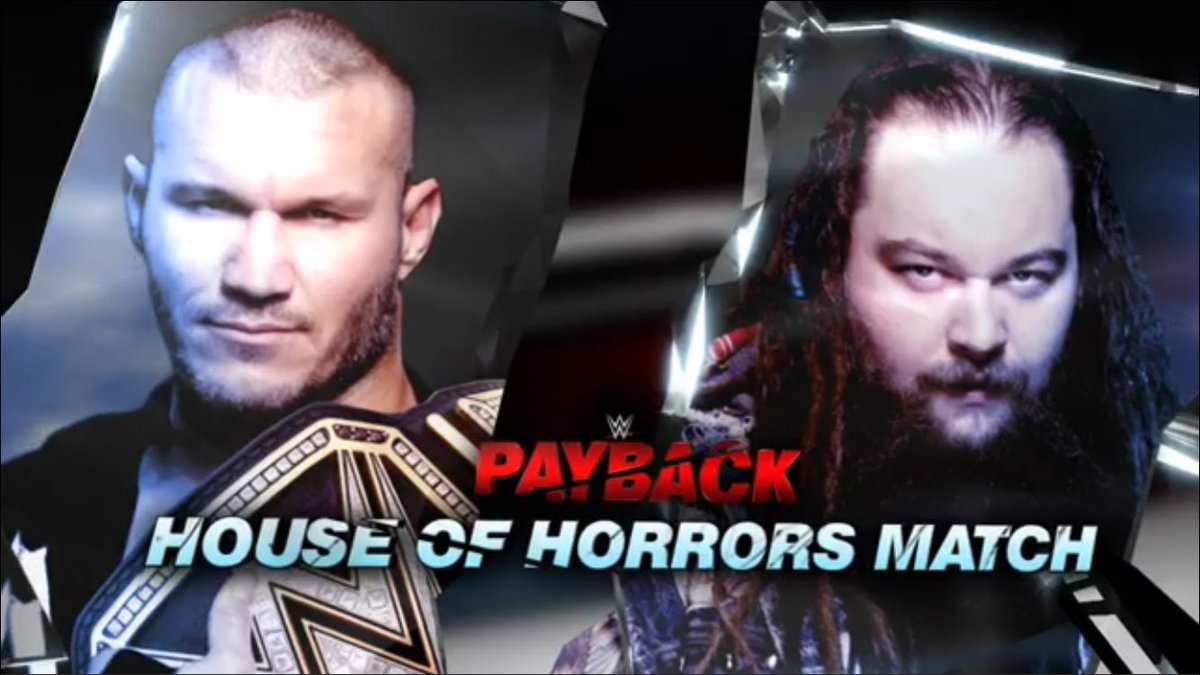 There's no mention of the WWE Championship, which is held by Randy Orton, being on the line in this match. For the other title matches, it specifically mentions the gold being up for grabs.
If you check out the WWE.com article about this match they use a pic of Orton without the WWE Title while not mentioning if the title is on the line. When they set up the match the idea was that Wyatt was getting his rematch at the WWE Title. Now that Wyatt is on Raw, it appears as though the title shot is gone, but the match is still going forward. This makes me think that Wyatt going to Raw was decided late in the process of the Superstar Shake-up because there were rumors it would be AJ Styles going to Raw instead of Wyatt.
Welcome to WWE, where things aren't explained well and the audience is often time left confused. We're used to it by now. It doesn't mean we like it, though.
To summarize all of that, I think the WWE Title was on the line when they set up this match. However, now that Wyatt is on Raw and Orton is still on Smackdown, WWE Creative changed their mind and now there's no title on the line.
5. Will this be the first of many Seth Rollins vs. Samoa Joe matches or just one match?
I think it's the start of something long term between them. This feels like a rivalry that started when Samoa Joe debuted on the main roster at the end of January, hurt the knee of Rollins and it was on hold a bit since they built to Rollins vs. Triple H. Now that it's a rivalry in the rear view, the focus can be on Rollins and Samoa Joe.
The finish for this match could go either way. They could opt for a Rollins win leading to a Joe attack after the match is over. Another option is Stephanie McMahon makes an appearance to show that she's back after the Rollins "attack" at WrestleMania, which would lead to a victory for Joe. No matter who wins, I think they're going with a multiple PPV plan here.
I'll save my official pick for Friday, but right now I'm leaning towards the Joe victory idea.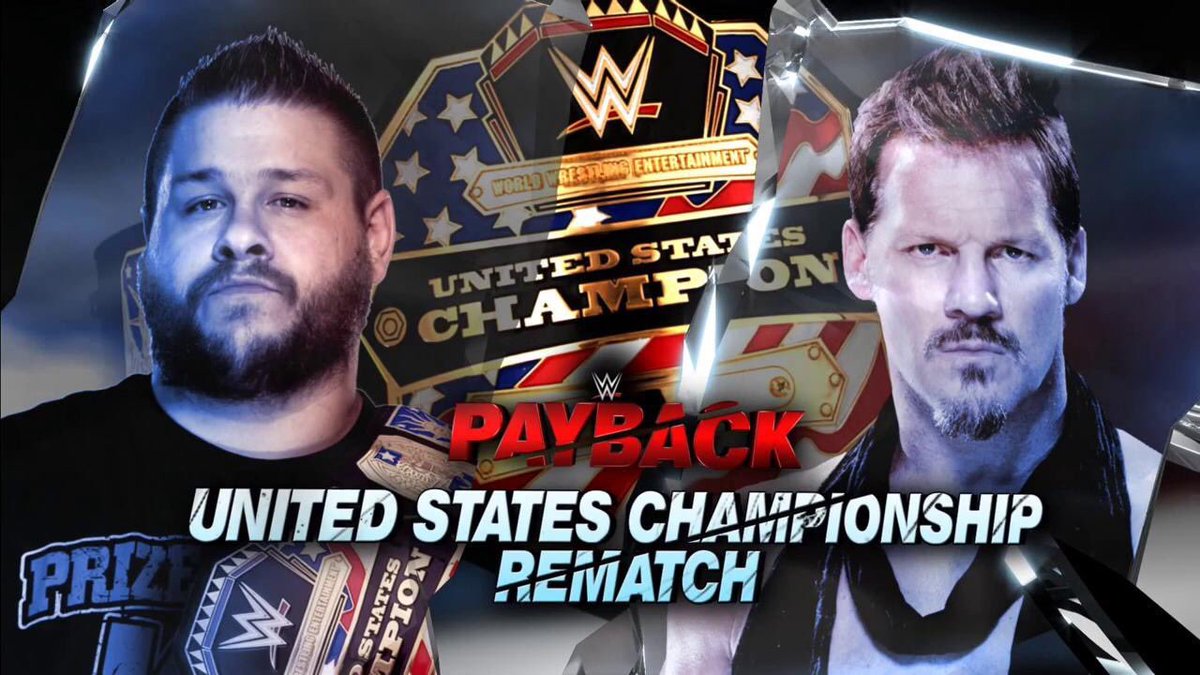 6. Is it a bad thing that there are three WrestleMania rematches on the card? (Orton/Wyatt, Owens/Jericho and Neville/Aries)
It's fine. It doesn't bother me because I'm used to it from years of watching WWE PPVs. The PPV that follows WrestleMania always has rematches because some WWE stories don't end at WrestleMania. In some cases rivalries do end, but not all the time.
What sucks about two of the rivalries is that Orton/Wyatt and Owens/Jericho have both lost a lot of steam since the guys are on different shows now. Meanwhile, Neville and Aries have had a lot of chance to build it up more since they get time on Raw plus even more time on 205 Live. I know 205 Live isn't that popular, but they have been doing a good job of building to this rematch.
They need to do something on television this week to build to Owens/Jericho more even though they are on separate shows. The momentum they had two months ago is gone now and that's a shame.
7. Are the Hardys winning their match the biggest lock on the show?
Yes, it is. Sometimes I want to ask myself easy questions. This is one of those times.
I doubt the Hardys are going to lose the titles in their first PPV title defense. It should be a really good match, though. They should hold onto the titles for a few more months, at least until Dash Wilder is healed from the broken jaw injury in two months so that The Revival can take the gold from them.
8. Could Bayley fall victim to the hometown curse against Alexa Bliss?
The "hometown curse" is just a term people use because WWE tends to mess with the fans by booking wrestlers to lose in big matches in their hometown. Payback is in Bayley's hometown of San Jose.
I'll give you an example. Remember last year's Hell in a Cell event in Boston? Sasha Banks, who is from Boston, defended the Raw Women's Title against Charlotte Flair in the main event – the first women's HIAC match ever and the first time women headlined a WWE PPV. Most people thought Banks was going over. Nope. Charlotte did. The show ended flat and was a bit disappointing. There are many other instances of people losing in their hometowns as well.
It's possible that Bayley could lose the match because Alexa Bliss was moved to Raw, essentially in a swap for Charlotte, as the top heel woman on Raw. This could be WWE's way of showing that Bliss is better than the current Raw girls. I don't think the title is going to change hands, though. The long-term story is Bayley holding the title until Banks turns heel to beat her for it possibly at SummerSlam or a show before that leading to a SummerSlam match between Bayley and Banks.
By the way, Bliss won the match on Raw last week in Columbus, Ohio, which is her hometown.
I feel like what I wrote above makes a lot of sense, but it's hard to predict WWE's booking of the Raw Women's Title because it has been weird for several months now.
9. Are they doing Dean Ambrose vs. The Miz again because a title change is likely?
It feels that way. Why else do the match? They did this rivalry on Smackdown earlier in the year with Ambrose beating Miz for the title. I figured the next step was for Ambrose to drop the gold to Baron Corbin at WrestleMania, but WWE opted not to go that route due to the Superstar Shake-up moving Ambrose to Raw along with his title. That didn't happen.
I think WWE likes putting the IC Title on The Miz because he's better with a title than he is chasing a title. Since he's one of the better heels in WWE with a manager (his lovely wife Maryse) that can help him interfere in matches, he's the right guy to be carrying a title.
Ambrose can drop the title to Miz and move on to some other feud on Raw. That Shield reunion is probably coming within a few months.
10. Should Finn Balor be in a match on this card?
Absolutely. He's the biggest name missing from the show. If they find a way to get him on the card then they will probably shoot some angle on Raw this week and set up a quick match that way. Balor was healthy several weeks before WrestleMania, but they didn't use him, which I thought was a mistake because it would have been a nice reward for him after he worked so hard to get back in the ring after shoulder surgery.
There should have been a plan in place for Balor to have a match at Payback. If he's not on the card at all it would be a disappointment.
11. What match has been built up the best?
The two that stand out the most are Reigns vs. Strowman and Rollins vs. Joe.
I think Reigns and Strowman has received the most TV time, they have a long history going back a few months and did that big angle a few weeks ago where Strowman sent Reigns to the hospital. I want to see if Strowman is going to get the win like I think or if Reigns will find a way to get the victory like he did at Fastlane.
As for Rollins vs. Joe, that's a match I've been looking forward to for a long time. Rollins must keep improving in terms of playing to the crowd and acting like a face. Joe is the right kind of heel for him to be against. I think it can be an outstanding match.
Rivalries like Owens vs. Jericho and Orton vs. Wyatt have lost a lot of the momentum they had prior to WrestleMania.
12. What will be the longest and shortest matches?
It's a tough call because there isn't one match that stands out as going very long as in 25+ minutes. I think a bunch of them could be around 20 minutes with nothing going longer than that. The Reigns/Strowman match at Fastlane was around 17 minutes, so I think they might go a few more minutes this time and get around 20 minutes.
I think Bayley vs. Bliss will be the shortest. It may be under ten minutes. I like Bliss as a performer, but having an entertaining long match is not a strength of hers right now.
13. What will be the best match?
There are so many matches that have the chance to be the best: Reigns vs. Strowman, Rollins vs. Joe, Owens vs. Jericho, Hardys vs. Sheamus/Cesaro and Neville vs. Aries. All of them should hit the three-star level (out of five), which means a good to very good match. I don't know if anything is going to clearly top four stars, but it's possible depending on time.
If I had to pick one I'm leaning towards Rollins vs. Joe as the best. The others are all pretty close, though.
I don't expect Orton/Wyatt to contend for the honor of best match since it will be more of a gimmicky match that could be bad.
14. Will there be any title changes?
There may be none, but I think The Miz is most likely to take the IC Title if the match is official, which I mentioned above.
Another one that is possible is Austin Aries taking the Cruiserweight Title from Neville. I don't think they are going to do it because booking Neville as a long-term champion is the better move. An Aries win is a possibility, though.
Alexa Bliss winning the Raw Women's Title is also a possibility. However, I'm probably going with Bayley in that one because of the potential long-term rivalry with Banks.
15. How excited are you about Payback on a scale of 1-10 (with 1 being low, 10 being high)?
I think it's a pretty good card that I would rate a 7 out of 10. It sucks that the Universal Title isn't a part of the show because Brock Lesnar's the absentee champion, but that's something we got used to in 2014 when he was WWE Champion. It doesn't bother me that much because it's really about the talent in the other matches more than anything else.
The last three weeks of Raw have been above average, so I'm optimistic about it being a good show. Payback has a solid mix of fresh matchups and rematches that I think most fans are interested in. It has the potential to be a much better show than Fastlane was, that's for sure.
—
That's all for now. I'll be back during the week with Raw and Smackdown reviews early in the week as well as a Payback Preview on Friday. Next Sunday I'll write a review of Payback live, so it's a busy as usual with a PPV coming up.
If you have any comments or questions, please feel free to contact me using any of the methods below. Thanks for reading.
John Canton – mrjohncanton@gmail.com
Twitter @johnreport
Personal Facebook and TJRWrestling on Facebook