The John Report: WWE Extreme Rules 2017 – 15 Questions & Answers
The next WWE pay-per-view is called Extreme Rules, which features the WWE Raw brand. It takes place this Sunday, June 4 at the Royal Farms Arena in Baltimore, Maryland and you can watch it on WWE Network of course.
This is a column that I've been doing about a week before an upcoming PPV to discuss the key matches and storylines while also offering up some ideas on what WWE could do creatively to get people more excited about the show this week.
Here's a look at the lineup for Extreme Rules.
Fatal 5-Way Extreme Rules Match to Determine #1 Contender for the Universal Championship: Roman Reigns vs. Bray Wyatt vs. Finn Balor vs. Seth Rollins vs. Samoa Joe

Raw Tag Team Championships – Steel Cage Match: The Hardy Boyz vs. Sheamus & Cesaro

Raw Women's Championship – Kendo Stick on a Pole: Alexa Bliss vs. Bayley

Intercontinental Championship: Dean Ambrose vs. The Miz – The title can change hands on a disqualification.

Cruiserweight Championship – Submission Match: Neville vs. Austin Aries
That's it for official matches right now. I will discuss other possible matches later.
The reason I go with 15 questions is because the first ten questions are specific to the matches on this show and the final five are five general questions I can use for any PPV. Let's get to it.
Is this show hurt by the absence of the Universal Champion Brock Lesnar?
Absolutely it is. Fans want to see the best performers wrestling on pay-per-views and Lesnar, as the Universal Champion, is the biggest name on Raw. For him to not even wrestle at the show makes it feel like an event that's not that important the same way Payback didn't feel like a big deal last month. There's something missing when your top guy isn't on the show.
The good news is that Lesnar is scheduled to be at Great Balls of Fire (try to say that without laughing) on July 9 and SummerSlam in August. I don't know the rest of his 2017 schedule, but there have been reports that he will appear on WWE TV more often this year.
If Braun Strowman wasn't out with an elbow injury, would this lineup look different?
Yes. That injury changed Extreme Rules (and Great Balls of Fire next month) completely. The lineup would have likely been Strowman vs. Reigns for the third time, Rollins vs. Joe in a rematch and Balor vs. Wyatt, which was teased last month. Instead, WWE decided to stick the five guys into one match because they didn't know how else to structure the card. A lot of us criticize WWE a lot and with good reason, but in this case I think they made the right call by having a Fatal 5-Way main event that should be outstanding.
It's important to remember that plans can always change at any time in WWE, especially when a key performer is out with an injury.
Is Roman Reigns the least likely winner of the five men in the 5-Way match?
He is. It's rare to say that Roman Reigns is least likely to win a match, but that's the reality of the situation. There is very little chance that WWE will have him win leading to a match against Brock Lesnar at Great Balls of Fire in July. Of course, since there's five guys in the match and only one fall for the finish that means Reigns like won't be the guy getting the win, nor will he get beat.
If they made it an elimination match then Reigns would have to be beat by somebody. Don't think WWE failed to think about that. It's all about protecting Reigns as we all know.
Since Roman Reigns is unlikely going to win the main event, who should win?
I think Finn Balor would be the best choice. The good thing about Lesnar is he's a tweener that would match well with a face or a heel. Balor's got the story where he was the first ever Universal Champion, he was forced to give it up the next day and he never got another shot at the gold. If Balor were to win this match to earn the title shot it would shut up those fans that say he should just be given the shot. Maybe it should be given, but I'd rather see people earn it. Plus, Lesnar vs. Balor is a first time ever match that a lot of people would want to see since Balor would be the smaller underdog in that scenario.
I'm fine with Seth Rollins, Samoa Joe and Bray Wyatt as options as well. Rollins has been in the ring with Lesnar before, but their lone singles match didn't not have a finish (thanks to The Undertaker). Wyatt had a brief feud with Lesnar that didn't lead to a match. Joe and Lesnar have no history. That's a match that a lot of people want to see, though.
I think all five guys in the 5-Way match will get a shot at Lesnar at some point over the next year, so whoever doesn't get it at Great Balls of Fire will get it later this year or early next year. If I had to pick one right now then I'm going with Balor.
Is it a good thing when four of the five announced matches are rematches?
I don't think it's good because so much of it feels like a repeat. Fans that aren't that excited about the product will look at that undercard and wonder if WWE even cares about doing fun things anymore. Remember when Vince McMahon announced the Superstar Shake-up with the promise of "fresh matchups?" It's less than two months into it and they are already proving it was a lie.
What we need more than anything is a fresh creative team on the Raw brand because that show is so stale right now.
Will Jeff Hardy do a spectacular dive off the top of the cage?
I assume so. I know some people are mad that it's not a Ladder Match, but as I noted in my Raw Deal review last week it makes sense to avoid the ladders since they just did it at WrestleMania and also because Smackdown has Money in the Bank later in June.
There will probably be a spot in this match with Jeff jumping off the cage with a cross body block type move onto the heels. I think doing a Swanton Bomb off the top of the cage would be a little too risky.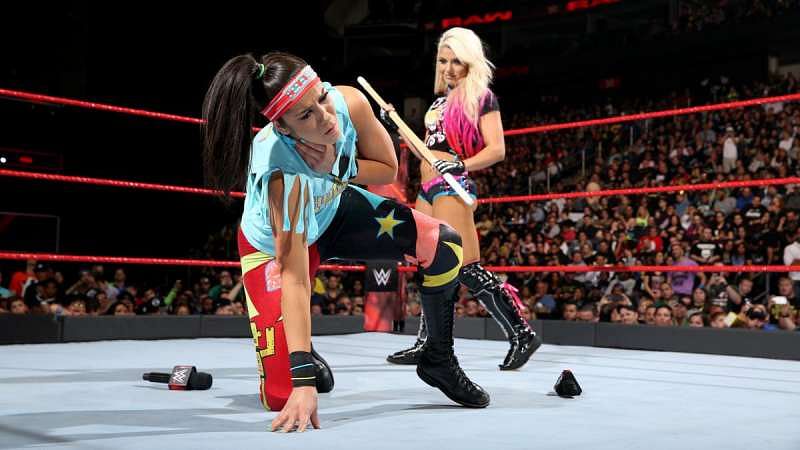 Is it ever a good thing to have an "on a pole" match?
I'm not a fan of the concept. It's stupid. Pro wrestling can be pretty stupid in general a lot of the time, but when you put an object "on a pole" it only adds to the stupidity. There haven't been many "on a pole" matches in history. You know why? Because the gimmick sucks. Some questions have easy answers, my friends.
The funny thing about "on a pole" in this case is that Alexa Bliss is about five feet tall. They can't put that kendo stick up very high on the pole because she won't be able to reach it.
I like how they have built up the kendo stick as a big weapon in the last couple of weeks. I just think it would have been better if they just had "Kendo Stick Match" where they put them on the floor and the women had to grab them. Making a weapon a key part of a story is fine. Putting an object "on a pole" is the kind of thing that makes people want to turn off the show.
Is it time for The Miz to win the IC Title back?
Yes it is. I thought Miz should have won it back when they had the IC Title match on Raw. That disqualification finish was lame. It doesn't make me more excited for this match either. From a logic standpoint, if Maryse were to "hit" her husband lightly and the ref saw it, that would disqualify Ambrose and give the IC Title to Miz. I have the feeling they will do something cheap like that.
Miz is a very good IC Champion that puts over the title well every time he has it. Ambrose really doesn't add much to the title.
Will Austin Aries win the Cruiserweight Title on his third try?
I'm leaning that way. I liked their WrestleMania match a lot even though it was on the pre-show. The rematch at Payback wasn't as good and had a weak finish that was done to set up this third match. Since they are having a third match, I think Aries might win the title. I'm not a fan of a title change because Neville is doing amazing work right now and has a lot of credibility as a cocky heel champion. Taking the title off him right now doesn't help much at all.
The cruiserweight division is stale right now. There's no spark or sense of excitement about it even with WWE trying to promote it heavily.
What other matches may be added?
They need to add a match or two for sure. I think they might do Goldust vs. R-Truth, which is why they had Goldust turn on Truth a few weeks ago. Might as well get a PPV match out of it, right? It could be saved for the next PPV as well.
Also, Alicia Fox and Noam Dar in a mixed tag match against Sasha Banks and a partner seems like a strong possibility as well. (Note: They announced Fox/Dar vs. Banks/Rich Swann officially on Monday afternoon.)
As for the Kickoff Show match, they could always put on a cruiserweight tag match to help fill some time.
What match has been built up the best?
I'm going with Hardys vs. Cesaro/Sheamus because it built off their last match at Payback well. The Hardys won that match clean, Cesaro/Sheamus were upset about it, turned heel with a post match attack and now we see the match again except this time in a steel cage. It's been good for the tag team division.
The main event has just had an average build since it's just five guys thrown together for a title match. There's no story there.
What will be the longest and shortest matches?
I think the Fatal 5-Way match is going at least 20 minutes and maybe 30 minutes, so that's my pick.
The shortest match among those announced will probably be Bayley vs. Bliss. If they add other matches, like Goldust vs. Truth, then I think that would be the shortest.
What will be the best match?
The Fatal 5-Way match should be outstanding. It could be one of the best matches of the year. I think the Raw Tag Team Title match will be great as well.
Will there be any title changes?
I think Miz winning the IC Title from Ambrose is the most likely title change. It's possible Aries could get the Cruiserweight Title from Neville too.
How excited are you about Extreme Rules on a scale of 1-10 (with 1 being low, 10 being high)?
It's about a 5.5 out of 10. I'm looking forward to the 5-Way match a lot because I think it can be one of the best matches of the year. The rest of the lineup isn't that interesting because there are so many rematches. I don't really look forward to anything on the undercard. I just shrug my shoulders and hope that the performers move on to something else that's more exciting.
The problem with Raw is not a talent issue. It's a lack of creativity by the creative team that should be better at their jobs. I know injuries suck and Lesnar's absence hurts, but they need to improve what they're doing.
—
That's all for now. I'll be back during the week with Raw and Smackdown reviews as well as an Extreme Rules Preview on Friday. Next Sunday I'll write a review of Extreme Rules live.
If you have any comments or questions, please feel free to contact me using any of the methods below. Thanks for reading.
John Canton – mrjohncanton@gmail.com
Twitter @johnreport
Personal Facebook and TJRWrestling on Facebook