The John Report: 20 Questions and Answers About WrestleMania 33
This Sunday night on April 2, World Wrestling Entertainment presents WrestleMania 33 from Camping World Stadium in Orlando, Florida. It's the biggest wrestling event of the year with a lineup of at least 13 matches and possibly more than that. You can watch it all on WWE Network.
The Kickoff Show is set to begin at 5pmET and the PPV portion will start at 7pmET with a run time of about 4 hours, 30 minutes. That means WWE expects us to sit there for 6 hours, 30 minutes to watch this show. I get the feeling that a lot of fans will skip the Kickoff Show, but with such a loaded lineup there will probably be a few matches on there.
What I'm here to do today is go over some things about the show one week before it airs. My plan was to post this on Sunday morning, but a lot of college basketball and a fun night out meant I had to delay that. Since this is getting posted well before Raw, that's all that really matters because my idea for this is to ask the questions that WWE fans are thinking while doing my best to provide the answers as well.
Here's the WrestleMania lineup.
Universal Championship: Goldberg (c) vs. Brock Lesnar

WWE Championship: Bray Wyatt (c) vs. Randy Orton

The Undertaker vs. Roman Reigns

United States Championship: Chris Jericho (c) vs. Kevin Owens

AJ Styles vs. Shane McMahon

Triple H vs. Seth Rollins – Rollins has to sign the contract on Raw this week. If you go to WWE.com it's not listed on there, but it's going to happen.

John Cena & Nikki Bella vs. The Miz & Maryse

Raw Women's Championship: Bayley (c) vs. Sasha Banks vs. Charlotte Flair vs. Nia Jax

Intercontinental Championship: Dean Ambrose (c) vs. Baron Corbin

Smackdown Women's Championship Match: Alexa Bliss (c) to defend against all Smackdown women who are available to compete including Mickie James, Becky Lynch, Natalya & Carmella.

Cruiserweight Championship: Neville (c) vs. Austin Aries

Raw Tag Team Championships: Luke Gallows & Karl Anderson (c) vs. Enzo & Big Cass vs. Sheamus & Cesaro

Andre the Giant Battle Royal – Participants announced so far are Big Show, Mojo Rawley, Apollo Crews and Curt Hawkins.

Also, The New Day will serve as hosts for the event.

The Usos could defend the Smackdown Tag Team Titles as well.
So many matches. It's going to be a really long night, my friends.
The reason I chose 20 questions is because I did 15 for a regular show like Fastlane earlier in the month. With more matches for WrestleMania, there's more to talk about. I didn't want to think of 33 questions for it, so 20 is a nice number.
There will be a big preview with predictions for the matches later in the week. This is more about topics relating to the show. The last five questions are five general questions I can use for any PPV while the first ten questions are specific to this event. Let's get to it.
Will Goldberg vs. Lesnar last longer than their Survivor Series 2016 match?
I think so, but I don't know what kind of match Goldberg can have. He has been protected so much since his return. When it comes to WrestleMania, though, that's the time where you have to give the fans a little more, I think. It would be smart to start the match with Lesnar avoiding the Spear early to show he learned from it and build up to a more normal match more.
If I had to guess I think they'll go 5-10 minutes. A match that goes 15 to 20 minutes is unlikely since Goldberg is 50 years old with not a lot of matches under his belt in the last six months. I don't see Goldberg as a guy willing to take a lot of suplexes. It would be foolish to expect him to go 15 minutes like a typical main event.
Is this Goldberg's last match?
I think his limited performances have shown that he's not going to be one of those guys that will keep coming back for more. He wanted to have at least one match for his son to see. Then he did the Royal Rumble, Fastlane and now WrestleMania. There's not much else out there unless WWE can find an opponent for him.
I know the phrase "never say never" is popular in wrestling, but I think this will probably be his last match. I think he'll be the headline name for the Hall of Fame next year unless they go with Daniel Bryan for it since Bryan has the New Orleans tie in since he main evented WrestleMania 30 in New Orleans.
Would it be a mistake to take the WWE Title off Bray Wyatt?
Yes, it would. Wyatt hasn't defended the title much since he won it at Elimination Chamber in early February and taking the title off him at WrestleMania would be the wrong decision. I like Randy Orton and the story they've done has made this match feel much more important than it was six months ago, so that's what is important.
This feels like a feud that can last a few months. They don't even have to put the WWE Title on Orton. Keep it on Wyatt for a long time and build him up as a credible champion. He needs it more than Orton does.
Is it possible that Braun Strowman could get involved in the Reigns/Undertaker match?
Strowman has had a rivalry with Reigns for the past two months that hasn't been resolved yet. Last week on Raw, The Undertaker hit him with a Chokeslam even though Strowman did nothing to him. I don't think WWE is going to add Strowman to the match to make it a triple threat because Undertaker would likely prefer a singles match. However, I do think there's a chance that Strowman may have a role in the match.
What makes me doubt his involvement is that most Undertaker matches are basic one on one matches without interference. It's what he prefers and he certainly has enough power to dictate how things might go for him at the biggest show of the year.
If Strowman helped Reigns win then it wouldn't lead to the kind of reaction that WWE wants. If Strowman helped Undertaker win then Strowman would probably cheer that. That's why I wouldn't involve Strowman in the match.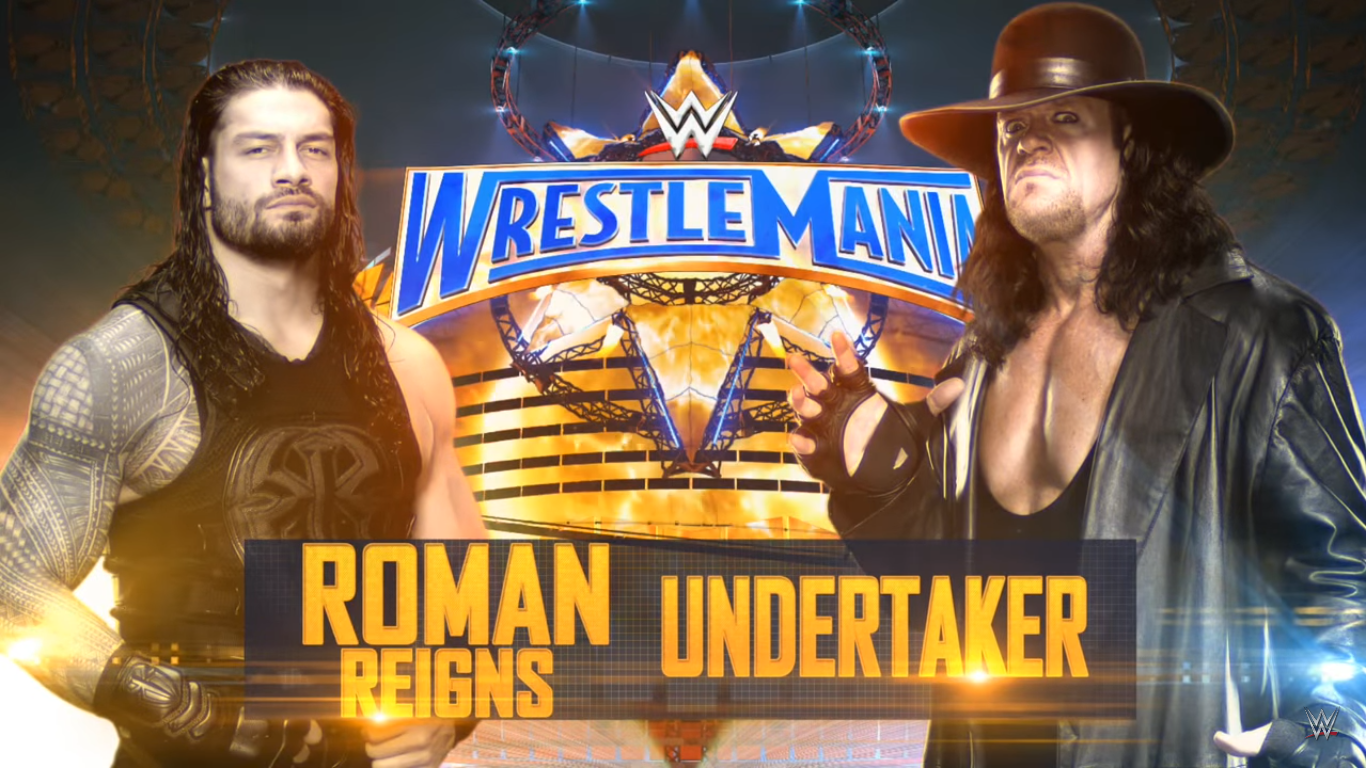 Could this really be the end of The Undertaker's in-ring career?
I wrote a story about the concern over The Undertaker's health after he was seen limping around a lot backstage at Raw. He has had a lingering hip issue that he had surgery on last fall, but he may need another operation soon. Now that he's 52 years old (happy birthday to him last week), it would make sense for him to decide this is the end of his career.
There was a story from last year about how after he beat Shane McMahon, he left his gloves in the ring and walked away because he thought that was the last match. However, here is one year later for one match at least.
Whether he wins or loses on Sunday, I think it's fair to say that The Undertaker won't be on Raw the next night. We may not know if he's officially retired until March 2018 because the reality is, he probably doesn't know right now either. It's not like he's the kind of guy that will talk about it publicly either.
If I had to put a percent on it, I'd say there's about a 60% chance that he's done after this match.
I'll save my Reigns booking ideas for the preview, but I did write a long piece about four different Reigns/Taker booking scenarios a few weeks ago.
Has Jericho vs. Owens elevated the US Title?
I think this feud, because it's a marquee feud at WrestleMania, has certainly helped the prestige of the US Title. I know that Jericho hasn't defended the title that often (his last televised defense is well over 30 days ago), but knowing that title is up for grabs for a good feud like this is a positive thing. There were some years where the US Champion was completely ignored, so at least now we can say "hey at least they are doing something with the title."
I know some fans that think they don't even need the title in this feud and that's true. I just think it helps because the heel Owens wants to take something away from the face Jericho. It means there's more at stake and also raises the status of the title due to the status of the performers.
Is it disappointing that AJ Styles is wrestling a part timer like Shane McMahon?
I would have preferred seeing Styles against somebody like Finn Balor or Shinsuke Nakamura. I can see why WWE went in the Shane direction because Vince wants to get his son on the show and Shane has been featured on TV for over a year now. Shane's a popular, well known figure. Shane also has a history of doing risky things to make a match more interesting. I think Styles and McMahon are going to have a very entertaining match with a few moments that make us say "wow." It will end up being better than most people think.
I don't know if I would call it disappointing, but I would have liked to see AJ in a bigger match after being the best performer in WWE in 2016.
What's really disappointing is that nobody in WWE has told Shane McMahon to stop throwing punches. I like you Shane, but please man no more punches! They look terrible!
Is there reason to worry about Seth Rollins' health?
There's a bit of a concern for him, but we should trust WWE knowing what they are doing here. I think WWE is having him do the match with Triple H because Seth's doctors are confident that he can get through it. By making it an unsanctioned match they are saying that weapons will be allowed. If they do that then they can have a shorter match, perhaps have Rollins grab a hold of Triple H's sledgehammer and beat him with that.
I don't think it would be wise to have Rollins bump through a table or anything like that. Keep it simple as a match that goes under ten minutes and hopefully Rollins is elevated after the win.
Will John Cena propose marriage to Nikki Bella at WrestleMania?
Let me preface this by saying that this is a question that I have been asked as much as anything in the last week. I'm not sure why people care if John and Nikki get married, but apparently they do. They have lived together for a few years with John making her sign a contract just to live with him because the dude is f'n rich and that's what rich dudes should do, I guess.
As for my answer, I think he will propose marriage to Nikki after they win at WrestleMania. It was teased heavily last week by Miz and Maryse when they did their John and Nikki parody. They have probably planned it from weeks ago, which is why the match is happening. The Total Bellas/Divas cameras will be there too and it may get mainstream press as well. Cena's already been divorced once and told Nikki no marriage and no kids, but people always change their minds. Plus, E Network would probably pay for the extravagant wedding, so that's another perk for John and Nikki. Tough life.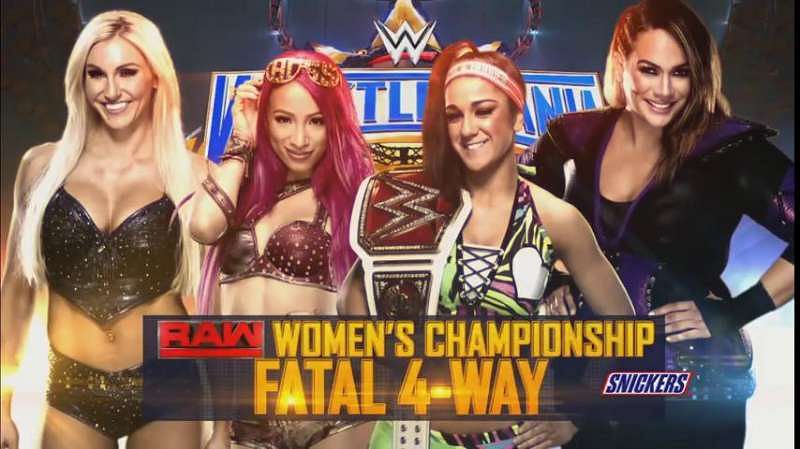 What women's match is more interesting?
I think mutli-people matches are more difficult because you never know if the talent is going to be used in the right way. As of this writing, we still don't know what kind of match the Smackdown Women's Title match will be or how many women will be involved.
Adding Nia Jax to the Raw Women's Title match will likely hurt it in terms of quality. Singles matches are better than triple threats and triple threats are better than four ways. By doing a four way, it gets Raw's four main women on the show, but it doesn't mean it's going to be a great match or top what the three women did last year.
I want to be excited about the Smackdown Women's Title match. The problem is, until we know what type of match it is, it's hard to know what to expect.
As of right now I'll say the Raw women's match is better, but they did make a mistake in putting the title on Bayley too soon. Her coronation should have been at WrestleMania. Since they did it too early, crowd reactions for her have gotten worse.
(Editor's Note: It was announced by WWE this afternoon that the Raw Women's Title match will be an elimination match, so that should help the quality of the bout.)
Who is more likely to lose their title: Ambrose or Neville?
Dean Ambrose is because Baron Corbin is a star on the rise that would benefit greatly from holding the WWE Title. I liked when Ambrose won the IC Title from Miz because it was clearly done to have Ambrose put over Corbin. Since Ambrose has a lot of credibility as a main event level talent that's been a WWE Champion, it will mean a lot for Corbin to beat him for it.
Neville's match with Austin Aries is something I'm really excited about. The build has only been a few weeks, but in terms of overall talent these guys are outstanding. I don't think Neville should lose the title yet, though. He hasn't had it that long. Let him keep it for a few more months.
Is this where Enzo & Cass finally win WWE gold?
I think so. They are challenging for the titles against heel champions and they are the most popular team. Adding Cesaro & Sheamus to the mix doesn't really help the match in terms of the quality, but it gets everybody on the show, which again is something very important to WWE.
The creative team already made a mistake with Bayley getting her title too soon. If they don't put the titles on Enzo & Cass at WrestleMania then that would be a mistake as well.
Who would be the best choice to win the Andre the Giant Battle Royal?
Braun Strowman is the first name that comes to mind because it would fit his persona as an unbeatable big guy that is the next "great giant" in WWE. Two other names that stick out are Finn Balor making his televised return from injury and Shinsuke Nakamura making his WWE main roster debut.
I don't think winning a battle royal is that significant in 2017. In the old days it meant a lot more. Fans don't care about it as much these days.
Is the show hurt because of WWE's willingness to get as many people on the show as possible?
Yes, I think it is. Look, we all know why they want to have 13 or 14 matches. The roster is huge, so they want to get as many people on the show as battle. I have no idea how many people are going to be in that battle royal, but it's likely the entire cruiserweight division (except for Neville and Aries) will be there to fill up the ring. "Hey short guys, run into Braun and he'll launch you over the top to the floor! Fun!"
Despite my gripes about it, I know it means a lot to the performers to be in the ring at WrestleMania. For many of them, it will be their first time and that's the cool thing about it.
Any big surprises?
I think an appearance from Hulk Hogan is very possible. There may be some uncomfortable situations for him if he's backstage at WWE event, but I think enough time has passed that WWE may be willing to bring him back "home" so to speak. Now that he's 63 years old there's not much that he can do physically other than pose for the crowd. Asking him to bump or do offensive moves wouldn't be wise. Since the babyface New Day group are "hosting" the show then it would make sense to have him appear with them in some sort of comedy skit and it should draw a big ovation.
There could be cameos from guys like Steve Austin and Shawn Michaels like last year. Austin made it clear he doesn't want to get physical since he hurt his shoulder last year. Former Raw GM Mick Foley could be involved also.
The Rock always manages to show up and find some role as well. I saw he commented a few weeks ago that he would try to be there.
Another big surprise possibility are Matt and Jeff Hardy. Their ROH deals likely expire the day before WrestleMania, so WWE could opt to bring them back that night. I think waiting until Raw or Smackdown may be better.
I think Kurt Angle will just be on the stage for the Hall of Fame honor. He'll probably be in some angles after WrestleMania.
What match has been built up the best?
A lot of them have good build because they feel like fresh matches in some cases. There are also matches that feel like the conclusion of a major feud.
At the top of my list for best build would be Jericho vs. Owens. The fact that they were booked as "best friends" for about six months, then Owens attacked him in a major way and Jericho showed up to cost him the Universal Title was an excellent story. I don't recall the last singles match they had, so it will be fresh when they do battle at WrestleMania.
I have liked Orton vs. Wyatt a lot. Long story there as well. There's certainly more interest in this match than when they first feuded six months ago. That's the point of the long build.
The Rollins/Triple H match has been built up well because of their history going back three years. If Rollins was healthier they probably could have built it up more.
I'm not that enthusiastic about Goldberg/Lesnar. They have barely done anything to get me excited about it. Other matches like Reigns vs. Undertaker and Styles vs. McMahon have only had a few weeks of build.
What will be the longest and shortest matches?
I think Jericho/Owens or Wyatt/Orton will be the longest match. I'll go with Jericho/Owens as my official pick. If Rollins was healthier then I would pick Hunter/Rollins because of Hunter's affinity for having longer matches at WrestleMania.
Shortest match will probably be Lesnar vs. Goldberg. I have more confidence in that prediction just because Goldberg is involved.
What will be the best match and worst match?
I think if Seth Rollins was healthy enough to have a regular match then his match with Triple H would be the best. However, I'm going with Owens/Jericho and Styles/McMahon as the best. I think Owens and Styles will have major chips on their shoulders since they were long term champions that are in midcard matches. Both guys have a lot to prove against veteran opponents.
If Neville/Aries gets 15 minutes they would have the best match, but I don't think they'll go that long.
As for worst match, that's probably Goldberg vs. Lesnar because it will be one of the shorter matches. It's not about match quality with them.
The Smackdown women's match could be bad if there's too many women involved. We still don't know what kind of match it will be.
Will there be any title changes?
I think title changes are very likely on this show. The three that stick out the most are Brock Lesnar winning the Universal Title, Kevin Owens getting the United States Title and Baron Corbin leaving with the Intercontinental Title. If Corbin doesn't win here then he will do it soon. After that, Enzo & Cass winning the Raw Tag Titles makes a lot of sense as well. That's four.
If they changed the Smackdown Women's Title and put it on a veteran like Natalya or Mickie James I'd like that a lot. I don't think any of the other titles will change hands.
How excited are you about WrestleMania on a scale of 1-10 (with 1 being low, 10 being high)?
It's a solid 6.5, which is good, but not great.
I think this show could be like WrestleMania 31 two years ago. That card didn't seem like it was going to be that great on paper, but the booking of the matches was well done and there was a memorable moment with Seth Rollins leaving with the WWE Title that I enjoyed. I hope it's a better show in reality than it is on paper. It's up to WWE to let their talents get the proper time to show what they can do.
I'll be watching and writing a live review at TJRWrestling.net because I won't be there this year. Let's get through the rest of the week first.
—
If you have any comments or questions, please feel free to contact me using any of the methods below. Thanks for reading.
John Canton – mrjohncanton@gmail.com
Twitter @johnreport