Indy Wrestling In The Pandemic Era: A Live Perspective by Kurt Zamora
Seven months ago, as 2020 was still just beginning, I was having the time of my life during Royal Rumble weekend in Houston, Texas. The Rumble is my favorite WWE event of the year, it was my second one to attend live, and we had fairly good seats on the lower level. Add to that, I happened to be staying in the same hotel as a lot of the WWE roster. I got to meet a lot of great superstars and had incredible memories to take home with me, with the thought this was the start of a great year. Of course, the day of the Royal Rumble, Kobe Bryant was pronounced dead, and that should've been a huge red flag of what the year had in store for us. The COVID pandemic hit in early March, and as we know, everything shut down. No concerts, no sporting events, no live pro wrestling.
It was during the pandemic that something called, "The Independent Wrestling Expo" was announced, in a venue about 40 minutes west of my house. It's a venue that MLW has run twice, so I knew it well and at the time of the announcement, I think we all felt by the time the end of August rolled around, we'd be good to congregate and enjoy wrestling with other fans again. The lineup looked fantastic too, talent abounds over TWO nights of wrestling action. You had Brian Cage, Lance Archer with Jake "The Snake" Roberts, & Shawn Spears from AEW. You had Gangrel, Chris Masters, Rodney Mack, & Jazz from the Attitude Era that everyone relishes. You had Jacob Fatu, Brian Pillman Jr (at the time of announcement), Injustice, & Alex Hammerstone from MLW. Looking for good women's wrestling? They had Jordynne Grace and Thunder Rosa. If that wasn't enough, EC3 fresh off his WWE release was announced, Matt Sydel, Ace Austin & Mad Man Fulton from Impact Wrestling, along with New Japan star Jeff Cobb & NWA World Champion Nick Aldis. Not only did this give me something to look forward to while stuck at home, but this had the looks to be one hell of a weekend.
Of course, as the pandemic would have it, it became clear that August was going to roll around and there would be no real change in circumstances. Would indy wrestling shows be allowed to carry on when the likes of WWE and AEW couldn't find ways to have fans in the crowd? My skepticism grew with every passing day. The thoughts of not being able to get a group of people together, along with the question of how many of these wrestlers would even feel it was worth potentially risking their health for random indy shows in a city called North Richland Hills?
Fighting Words Promotion kept promoting it, though. They had CDC safety guidelines in place to put everyone at ease. Rules such as socially distanced seating, setting the arena for only 50% capacity, and not allowing outside items to be brought in to be signed in hopes to limit cross-contamination. The wrestlers could bring in their own items to be signed. Everything made sense and it gave me a little bit of hope. Then, the first indy show post-pandemic that I was made aware of, happened. Warrior Wrestling based in Chicago Heights, Il held "Friday Night Lights" on August 7th.
#SocialDistancingpic.twitter.com/DeobjA1Cp3

— Warrior Wrestling (@WarriorWrstlng) August 9, 2020
This above picture made the rounds on Twitter, and when I saw it, it made me believe we could get back to doing indy shows again. Wrestlers that aren't under a big contract somewhere, could start making money again. Wrestling fans could get together and celebrate something together again finally.
With the shows in my area scheduled to be this weekend, I went ahead and purchased my tickets on Wednesday and hoped for the best. The first big takeaway, there weren't that many no shows. Jeff Cobb was the biggest name not to make it for his scheduled appearance on night two. King Mo of MMA (and Impact?) fame, was the other one. The second big takeaway, perhaps the pandemic had an effect on the crowd. Friday night had a sparse crowd, probably about 100 people. The sports complex they ran is broken up into 3 areas: An indoor soccer arena, an ice hockey arena, and another multi-use arena. The latter is where MLW runs and has drawn 1100 or so fans both times they've been here. The indoor soccer arena is where the Expo took place, even socially distanced, could probably hold 500 people, which is what a typical indy show with a big draw would do in this area. VIP Wrestling runs in the same area and has brought in the likes of Pentagon Jr, Cody Rhodes, Keith Lee, Ricky Starks, Sammy Guevara before they all went on to their AEW/NXT fame, and would routinely draw 500+ people.
A crowd of 100 people seems light, but you have to start somewhere. Saturday night had at least double that, and the most important thing for both nights, the crowd was very vocal and clearly thirsty for live action to immerse themselves in. The first night, as a lot of indy shows will, had issues. The bottom rope broke twice, the second time leading them to just forego the rope altogether for the second half of the show. There were audio issues as the house speakers weren't playing the entrance themes very loud and the ring announcer's microphone had a lot of feedback. The funniest part of the night to me was seeing the ring announcer start the night in a full suit, then dropped the jacket, then lost the tie, then untucked the shirt, before finally just forgoing that and announcing in a sleeveless shirt. The match of the night was Lance Archer taking on local talent "The Young Gun" Chandler Hopkins. Jake "The Snake" Roberts came out with Archer, and you would think Archer would be the heel based on how his run with Jake has been on AEW, but not on this night. Jake smiled and played along with the babyface reaction he and Lance got and everyone was on their feet for this one. Lance is a local prodigy, I saw him live for the first time 17 years ago when he was known as Shadow, so everyone here is really happy for his success. Despite the hiccups though, I couldn't help but smile because in a way, it was still a sense of normalcy again.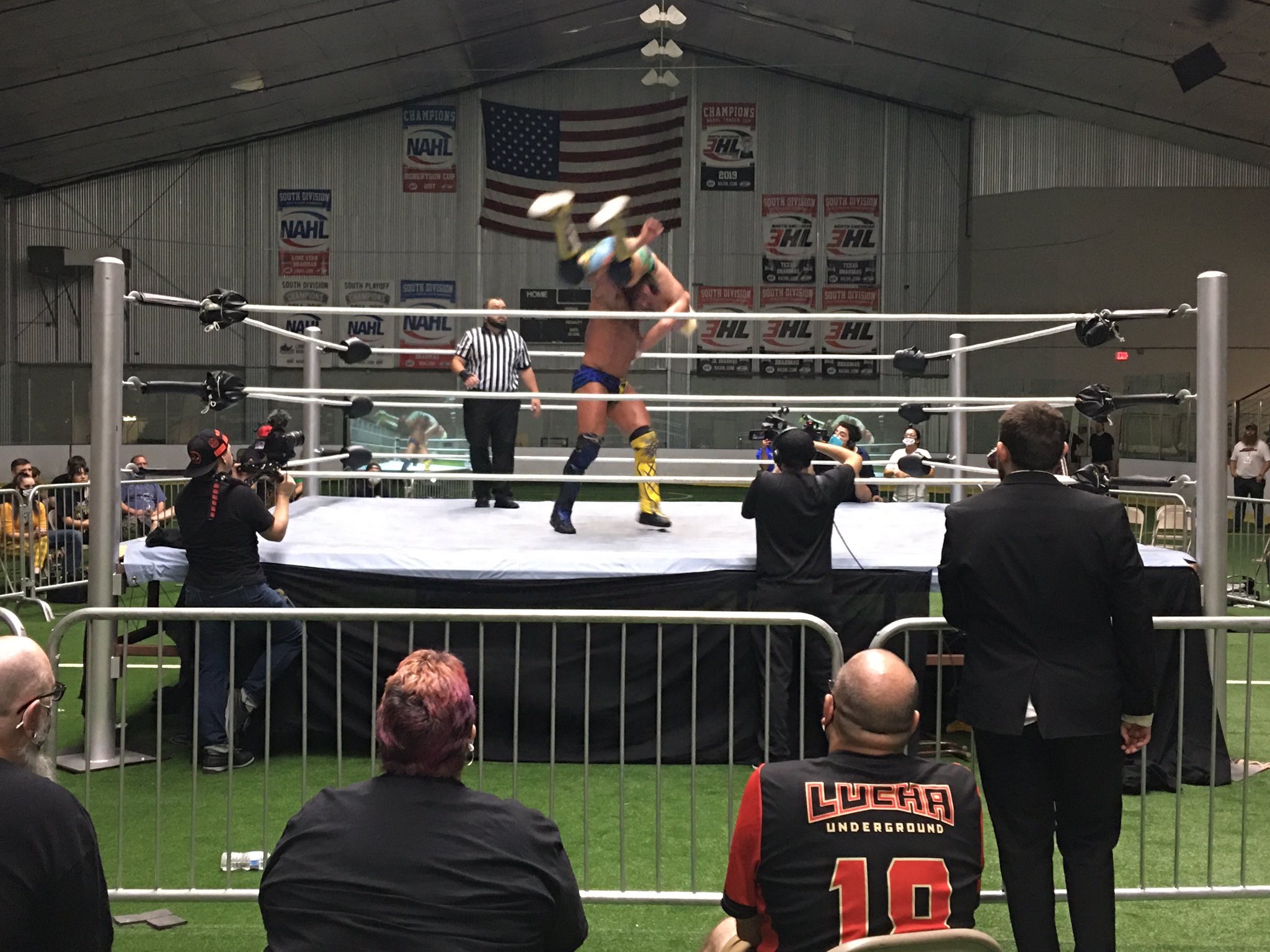 Night two, however, was everything I hoped it could be. It really felt "normal" again. The Expo was being broadcast on FITE TV, so because of that, they had to shuffle the card and we started the night with a pretty fantastic "dark" match, as Shawn Spears took on Brian Pillman Jr. I'm such a huge fan of Pillman. I was able to meet him at the merch tables later in the night and became even bigger of a fan. He's incredibly humble, thankful for the opportunites his dad's name has given him, and determined to make it work. Everything I heard about him and his desire to make it in the business, is 100% true and I wish him nothing but the best.
Brian Cage had the match of the night against Sam Adonis. They pulled out all the stops, leading to the inevitable "this is awesome" and "fight forever" chants. It really was a fantastic match, and again fun to see Cage portray the babyface with his current heel persona on AEW. I got to meet Cage as well and another very nice, soft-spoken guy. For those wondering, everyone wore masks and as I stated earlier, all items autographed were provided by the wrestlers. So it all felt comfortable and safe.
Gangrel, who was announced only as a special guest for the autograph signing, came out as a mystery partner for a tag match, which got a huge reaction. The lights went out and The Brood music hit, so the memories of the greatest entrance ever ran through everyone's mind. Chris Masters still looks in fantastic shape and the Masterlock Challenge still hits the right note. Jacob Fatu, another in the long line of the Samoan Dynasty, is a huge star in the making and it speaks highly of MLW that they were able to recently resign him to a deal. The act of Injustice, Myron Reed, Jordan Oliver, & Snoop Strikes, are highly entertaining and incredibly athletic in the ring. Strikes recently left the group in MLW, but they're all acts to be on the lookout for. Grace and Thunder Rosa both proved why the women's revolution isn't just relegated to WWE. Not to mention the local talent that stood out like Moonshine Mantell & Nobe Bryant, who had a successful run in All Japan last year, and got to close out the weekend by challenging for Nick Aldis' NWA World Title.
That's my insight on what a post-pandemic wrestling show looks and feels like. It was a fun and exciting night on night two especially. Who knows when it will happen again this year, but seeing the likes of Cage talk about how good it felt to be in front of a crowd again, & Alex Hammerstone being reminded how much he loves to wrestle, it's clear the wrestlers needed this just as much as the fans did. Whether there was 100 or 1000, it's all for the love of the business. Whether you're in Florida and able to now attend one of AEW's tapings now, or live in an area that happens to be having an indy show coming up, support your local wrestling. They need us more than ever now. We can all come together and make the most of a bad situation.
(Credit to @PWInsider & @WrightWayPhotography on Instagram for the main photo.)