Five Overlooked Matches from WWE TLC by Zander Rodriguez 
World Wrestling Entertainment's annual showcase of hardware is coming soon to a streaming device near you. Despite being one of WWE's newer annual events, it is often one of the most anticipated due to the promise of gimmick matches that will inspire shock and awe in the audience. In spite of a few clunker pay-per-view shows, it has persevered and is a flagship of WWE's yearly lineup of network events.
WWE Tables, Ladders, and Chairs has been home to great car crashes of matches such as the triple threat tag team spotfest ladder match of 2015, and to technical classics like AJ Styles vs. Daniel Bryan in 2018. Unfortunately, as great matches rise to the top of our collective memory, great matches also get forgotten about as time goes on.
The following five matches have taken place at the event, but are sorely overlooked.
5. Goldust & Cody Rhodes vs. Rey Mysterio & Big Show vs. The Real Americans vs. Ryback & Curtis Axel for the WWE Tag Team Championship – TLC 2013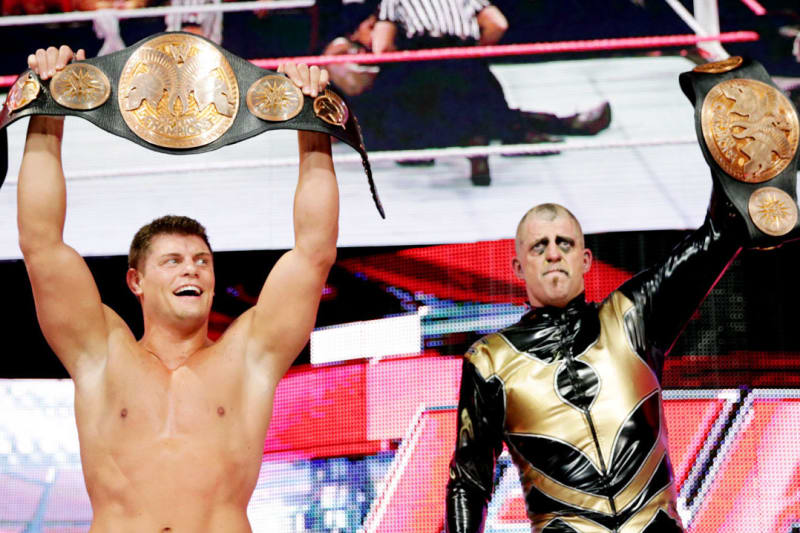 Before being the hottest free agent in wrestling and before he was one of the hottest executives in wrestling, Cody Rhodes was in one of the hottest tag teams in the WWE with his half-brother Goldust in 2013.
Showcasing a handful of great workers, it's no wonder that this match turned out as good as it did. But it is a wonder why it is not talked about more often. It's not perfect by any means, but it doesn't deserve to be forgotten. Multi-team tag matches are a good way to have several mini-matches contained within one match to potentially test out feuds and rivalries. This match featured great chemistry between Rey Mysterio and Cody Rhodes akin to their also underrated match at WrestleMania 27.
It's odd to think that on a card featuring Randy Orton vs. John Cena, a Shield match, CM Punk, and Daniel Bryan, the best match prominently featured Rybaxel.
4. Big Show vs. Sheamus: Chairs Match for the World Heavyweight Championship – TLC 2012
While there were better matches on this night, they aren't as wrongfully overlooked as this chairs match between these two competitors.
While probably most remembered for Big Show's comically oversized chair whipped out toward the end of the bout, fans forget that there is actually a pretty good brawl buried preceding that hilarious use of prop comedy. Both men bring it in this contest, especially Sheamus, who pulls off some impressive feats of strength on the giant™ Big Show. It's especially impressive since the chairs match stipulation isn't often looked to for putting on excellent matches. While this match isn't excellent per se, it is a very good fight.
Considering that two and a half years later, one of these men would get "please retire" chants, while the other would get "You look stupid" chants, it shows how forgetful we can be as wrestling fans.
3. CM Punk vs. Alberto Del Rio vs. The Miz: TLC Match for the WWE Championship – TLC 2011
In the first pay-per-view title defense of CM Punk's legendary 434-day reign with the WWE title, CM Punk had the prestigious honor of wrestling The Miz and Alberto Del Rio in a car wreck of a tables, ladders, and chairs match at 2011's edition of the TLC event.
That is meant in the most honorable of ways, a car wreck match can be very entertaining, and this one definitely is. Featuring all three men putting on their bumping boots, they put on one hell of a match that sent the fans home happy after they had to watch a 50-year-old Kevin Nash wrestle a few matches prior. Even Del Rio's manager, Ricardo Rodriguez, got in on the action, taking a particularly nasty fall from a ladder through a table.
While it is one of the few matches that would feature Punk in the main event slot of a pay-per-view during his reign, it started things off on the right foot.
2. King Sheamus vs. John Morrison: Number One Contender's Ladder Match – TLC 2010
Ladder matches tend to be very, very good. Sheamus was in the often-hated "King" gimmick given to the winner of that year's King of the Ring, scepter, crown, and all; and Morrison was basically a parkour shaman at this point. Despite any gimmicks, loved or hated, a ladder match will often make the fans extremely happy.
This was a true clash of styles, Sheamus has his style of brawling with stiff strikes, and John Morrison is a high-flying workhorse, and they blend together perfectly. Morrison beautifully sells all of Sheamus's offense, and there are plenty of creative spots utilizing Morrison's superhuman athleticism. Sheamus, a large man even in the land of the giants that is the WWE, even goes crashing through a ladder positioned at ringside. It's an absolutely fantastic match overlooked by the wealth of great matches that we've become accustomed to over the past decade.
Never mind the fact that these two are practically killing themselves for a chance to wrestle The Miz in 2010.
1. Christian vs. Shelton Benjamin: Ladder Match for the ECW Championship – TLC 2009
There was a time during the WWECW run where Christian was the champion of the brand and was putting on seemingly weekly classics with the likes of Tyson Kidd and Zack Ryder on free TV that no one was watching. To say that he was carrying the ECW brand would be an understatement of the likes that saying AJ Styles is okay at wrestling.
When he was given the ladder match spot at the inaugural TLC pay-per-view event, he and Shelton Benjamin stole the show. Two experts of the ladder match type are expected to put on a great match, but this match was incredible, and is often swept under the rug by WWE, being that it was contested for the title of their red-headed stepchild of ECW on Sci-Fi and Christian and Shelton Benjamin are in the match. But as always, Shelton takes a big bump off of a ladder, so it's worth watching just for that.
The match is absolutely wonderful, full of the drama and high spots one would expect from two competitors of this level. They worked well together to create not only the most overlooked match on the TLC pay-per-view ever, but perhaps the most overlooked ladder match of all time.
TLC may not be one of the major pay-per-views on the WWE event schedule, but it's still one that I look forward to every year. It always promises to have at least one good match on the card, or at the very least, an exciting one.