Drew McIntyre – Finally a UK WWE World (or Universal) Champion? – by Mike Sanchez
I'm unsure if those outside of the United Kingdom shores are aware of this, but there's been a new wrestling show on TV over here called WOS (World of Sports) Wrestling on ITV. It's hosted by Stu Bennett (formerly Bad News Barrett) alongside Alex Shane and SoCal Val. It's a fond throwback to old school British wrestling and is on at the traditional Saturday afternoon time slot. The arena is small as is the roster, but the simplicity of the storylines and the crowd reactions to the family-friendly show is wonderful nostalgia. The wrestlers may not be stellar names around the world, but they do include Will Ospreay and Harry Smith aka Davey Boy Smith Jr. It's fair to say that British wrestling is slowly reaching new heights and the breeding grounds for new talent are popping up across the country.
The growing success of this new breed of British wrestlers can be seen in the great WWE UK Championship tournaments that have been very popular, as well as the continued success of the "Bruiserweight" Pete Dunne, who is the WWE UK Champion. On the WWE main roster over the years we've see my fellow countrymen and women in the form of Paige, Wade Barrett, Davey Boy Smith, Paul Burchill, Drake Maverick, Jack Gallagher, William Regal, Neville and down in NXT there's Killian Dean and the vastly-experienced trainer Robby Brookside (fellow Evertonian and scouser) and his daughter Xia Brookside who is competing in the Mae Young Classic Tournament. One name that is missing is Drew McIntyre. I have always been a fan of his, back when he was Vince McMahon's chosen one on Smackdown about a decade ago and entered the arena to the epic 'Broken Dreams' song.
Quick side note for those who don't know, Great Britain is England, Scotland & Wales. The United Kingdom consists of England, Scotland, Wales and Northern Ireland – not the Republic of Ireland who are a proud and great nation in their own right. Therefore, their WWE champions cannot be counted as being UK-based, so for Finn Balor, Becky Lynch and Sheamus, they're Ireland's own.
Drew McIntyre, hailing from Scotland (born in Ayr), could be the first WWE Heavyweight Champion (or Universal Champion on Raw) in the coming years. His debut on WWE TV in 2009, saw him begin brightly in what would be only a relatively brief stint in the company. He came in as a hard-hitting, tough outsider who played his character wonderfully. The move to have him pictured on the roster as Vince's 'boy' drew heat from the fans and it certainly helped his career. He won both the Intercontinental Title and WWE Tag Team Titles (with Cody Rhodes) before his career stalled somewhat and he found himself bouncing between Smackdown and Raw before a quick stint in the revamped NXT. He returned to the main roster as part of 3MB (3 Man Band) alongside Jinder Mahal and Heath Slater. Though that faction was fun at times, it was a drop in McIntyre's profile. No more gold followed and after being beaten up by The Shield and Brock Lesnar among others, he was released from WWE in 2014.
Reverting back to his real name, Drew Galloway, he competed on the indie circuit for another three years, being a part of the ICW, PWG, TNA and Evolve rosters where once again, he managed to pick up more gold. He also tasted success in promotions outside of these, where he faced off against other then-unknowns (to many WWE fans, anyway) such as Johnny Gargano, Tommaso Ciampa and Uha Nation (Apollo Crews).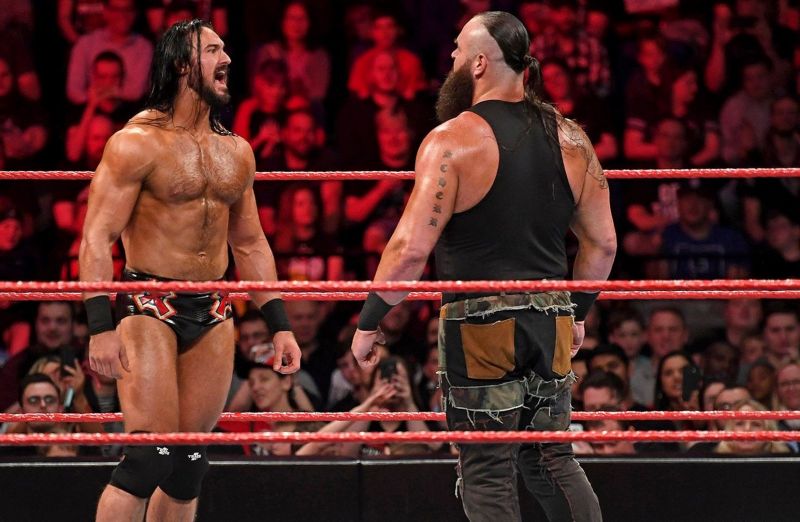 Now back in WWE, I believe the creative team have played his return perfectly. His wealth of experience meant that his return to NXT wouldn't be long, but the impact he had would be felt in the WWE. He quickly became the no1 contender on NXT and defeated Bobby Roode at NXT Takeover Brooklyn III to become the NXT Champion. It wasn't long after that (after recovering from a biceps injury), that he was quickly brought up to the main roster and aligned with Dolph Ziggler. I think this is a really smart move by WWE, as it changes how McIntyre carries himself in WWE, from being the loner in his previous stint, to being part of a team capable of winning championships and taking on the best (no offence Heath & Jinder). This has since been proved in them capturing the Raw Tag Team Titles and feuding with the ever-popular Shield group of Seth Rollins, Dean Ambrose and Roman Reigns.
Tag Teams inevitably break up at some point and I'm very intrigued as to where this storyline is headed. McIntyre being a heel since his WWE return (and during most of his first run) has him perfectly placed to become the good guy in all of this. He's big, tough and very talented and more than believable as a WWE Universal Champion. He looks like a match for anyone – including the Shield, so perhaps in 2019 we'll see Drew McIntyre break away, be the good guy the WWE Universe is crying out for and be the first UK-born WWE Heavyweight Champion. Maybe then the fans will cheer whoever carries the red belt, and there'll be a new dog in the Monday Night Raw yard. Believe that.