In Defense Of WWE 205 Live by Mitch Nickelson
Many of you may not be aware of this, but 205 Live is fantastic. Yes, this WWE Network-exclusive brand that occasionally (and admittedly awkwardly) invades Monday Night Raw with their odd purple ropes is routinely one of the best hours of wrestling weekly. However, according to the lists of most watched WWE Network programs, many do not know this because most people are not watching. If that's you, shame on you. Shame! You should be watching and I'm here to tell you why.
Before stating my arguments for why you should add yet another hour of wrestling to your weekly viewing, I'll point out the obvious negative to this show: the crowd. People already don't watch, so when it goes to air immediately after SmackDown Live much of the live attendees simply don't know what's happening in front of them. They're also tired because they've just sat through a couple of hours of wrestling beforehand. WWE probably needs to consider changing how they present this brand but if you can get past this one issue then you'll adore the show.
That's enough of the negatives because this is a positive article. Here are a few reasons why you need to make 205 Live a can't miss show.
The Title Feud
Neville and Austin Aries are currently engaged in the best feud from any brand on WWE today and it's not even close. That is my personal opinion but I don't think I'm that far off base making that claim. Heel Neville is so good at what he does. His very scowl oozes disdain, making him the perfect centerpiece of the show. Plus, even though he's really good he doesn't steal the crowd love from babyface opponents. He's the bad guy and is treated appropriately, which is refreshing.
Austin Aries, an extremely polished all-around performer who knows the health benefits of a proper banana, has wrestled Neville twice so far for the title. He lost at WrestleMania but won at Payback, although only by DQ. Neville cleverly put his hands on the referee before inevitably tapping out to Aries' Last Chancery. It seems inevitable that Austin will finally win the belt on a third meeting and he totally should. He's a very likable performer whose charisma makes him the perfect person to chase for the top prize on the show.
These two are some of the best wrestlers in the company and it's more than just because of cool flippy spots (although Aries does do a sick suicide dive through the lower ropes and Neville's Red Arrow is always beautiful). These two have clearly defined characters and their friction is easy to follow from bell to bell. Like many of the angles on 205 Live, there's a clearly presented story here for anybody to follow and invest in.
It should also be noted that the Cruiserweight Classic winner and first Champion, TJP, has recently been integrated into this feud. It's fair to say that Perkins has not been utilized very well since the show's inception but his recent alliance with Neville has done wonders for him. He'll do the champ's bidding but there's obvious resentment there. Neville's quick to cut him down and point out his faults, which is a dynamic that can only last so long before imploding. This tertiary dynamic shows how good Neville and Aries are that they can also revitalize other characters that have previously been struggling.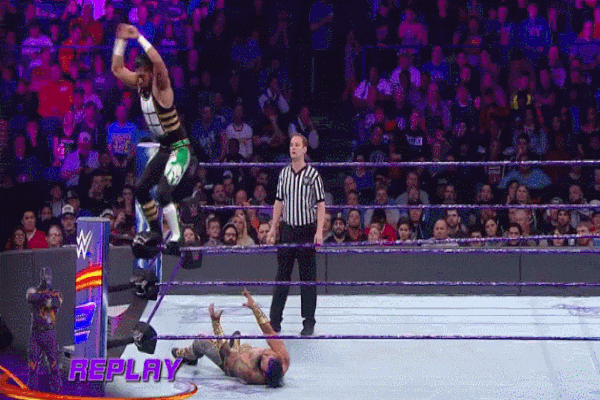 No Shortage Of Athleticism
Being a cruiserweight-themed show, there are certain expectations for these wrestlers. The term 'cruiserweight' immediately brings to mind the WCW-era of wrestling when talent like Blitzkrieg and Psicosis were showing audiences moves that many had never seen before. I'm in no way making the claim that 205 Live is putting on matches that feature a plethora of never before seen moves, because they're not, but they do have several fantastic athletes.
The first person worth singling out is Mustafa Ali. His moveset is so fluid and flawless. When he dives through the ropes to roll into a neckbreaker on his opponent, it's gorgeous. Also, his inverted 450 off of the top rope has to be one of the best moves in all of WWE today. It's Red Arrow-good and is always a top highlight of the night.
Here's a video game-style gif from @WrestlingArcade from when Mustafa Ali showed Drew Gulak what he thought about his recent protests…
Much to @DrewGulak's dismay, #205Live is NOT a "no fly zone"…
Allow @WrestlingArcade and @MustafaAliWWE to demonstrate! pic.twitter.com/sdaTfZm4lJ

— WWE Universe (@WWEUniverse) April 27, 2017
The other person I'd like to praise is Tony Nese. That man has a ridiculous physique, making him capable of performing any power moves against any of his opponents in a dominant fashion. To match his strength, he can also fly through the air with the best of them. He's chiseled and can move with the greatest of ease.
There's a recency bias going on for me because I'm mostly focusing on Nese and Ali because they competed in a singles match against each other on the most recent episode. It was a good example of my argument based on the big spots. There was a huge tope by Mustafa out of the ring, a springing moonsault by The Premier Athlete, and a corner Powerbomb reversal by Ali into a hurricanrana. These guys are human highlight machines, and they're not alone. Considering other performers like Cedric Alexander, Lince Dorado, and Akira Tozawa are also on the roster, there's plenty of potential great matches in the waiting.
Speaking of Tozawa…
Lessons Learned
It's hard to imagine that two men can work together week in and week out for months on end and it not get tiring. With the interactions between Akira Tozawa and The Brian Kendrick, their story has not gotten tiring. In fact, it keeps getting better and better.
The angle between these two began when Kendrick wanted to take the 205 Live newcomer under his wing but Akira wasn't interested. Because of his refusal, Brian eventually started teaching his foe certain lessons that mostly were directed violence or bits of interference that caused Tozawa to lose matches. If you're wondering how long this feud has been going on, here's Kendrick talking to Tom Phillips backstage in February after teaching his second ever lesson…
Brian is right that beating somebody to a pulp before a match even starts certainly is a good way to get somebody's attention. Kendrick kept getting the upper hand for many weeks, messing with Tozawa incessantly. More recently, Tozawa has been giving Brian lessons of his own. This has given Akira way more depth than simply "guy who yells a lot," which he'll need in the long run.
It's not every day that WWE can run an angle like this for so long and it keep getting, but this one has. Along with the title feud, this has helped give the show some much needed identity. I look forward to seeing what the next lessons will be.
In Conclusion
Since its inception, 205 Live has called itself "the most exciting hour on television." That may have been a debatable claim in the very beginning but they've been making a solid argument for quite a while. I've highlighted just a couple of feuds as well as some of the best examples of the stellar athleticism, but there's so much more to love about it. Jack Gallagher's quirkiness as well as the crazy couple in Alicia Fox and Noam Dar are also worth a look. Even Drew Gulak's anti-high flying shtick is interesting. There's just so much to enjoy about this show.
If you haven't been watching, have I convinced you to give it a try? If so, leave a comment below or hit me up directly on Twitter @MitchNickelson. Also, I'll go ahead and plug my podcast before you go. I was formerly trying to do something more YouTube-based but since that revenue has dried up, I've transitioned back to the podcast world. I'm all about the dollars, people. Click HERE to listen or on the embedded Tweet below to check it out!
Listening to Mitch Nickelson Radio Ep. 1 by Pro Wrestling Dot Biz https://t.co/zqxLmXiYDT

— Mitch Nickelson (@MitchNickelson) May 12, 2017