Adrian Street: You May Be Pretty, But I Am Beautiful – biopic review by Mike Sanchez
This past weekend I was copied into a Tweet by @FilmAdrian (Official Adrian Film) a company who had made a feature length biopic of the UK wrestler Adrian Street. Last year I wrote an article on this great site about the WWE mini documentary about Adrian Street and @FilmAdrian got in touch with me to say they were currently working on the feature length biopic. I followed them and earlier this month it was released on several VOD platforms including Amazon Prime Video, Google Play, Comcast and many more, with others to be added. I rented the doc on Amazon for less than £5 and settled down to watch.
Produced and directed by Joann Randles (@JoannRandles), the biopic is very much a UK production and sadly didn't have any contributions from any of the current WWE talent or promoters. There were contributions from Stu Bennett (formerly Bad News Barrett) and many from the iconic Mick Foley, which more than made up for the lack of WWE presence as Mick spoke a lot throughout and, demonstrated a strong fondness for Street and his achievements, becoming emotional at times when speaking about him.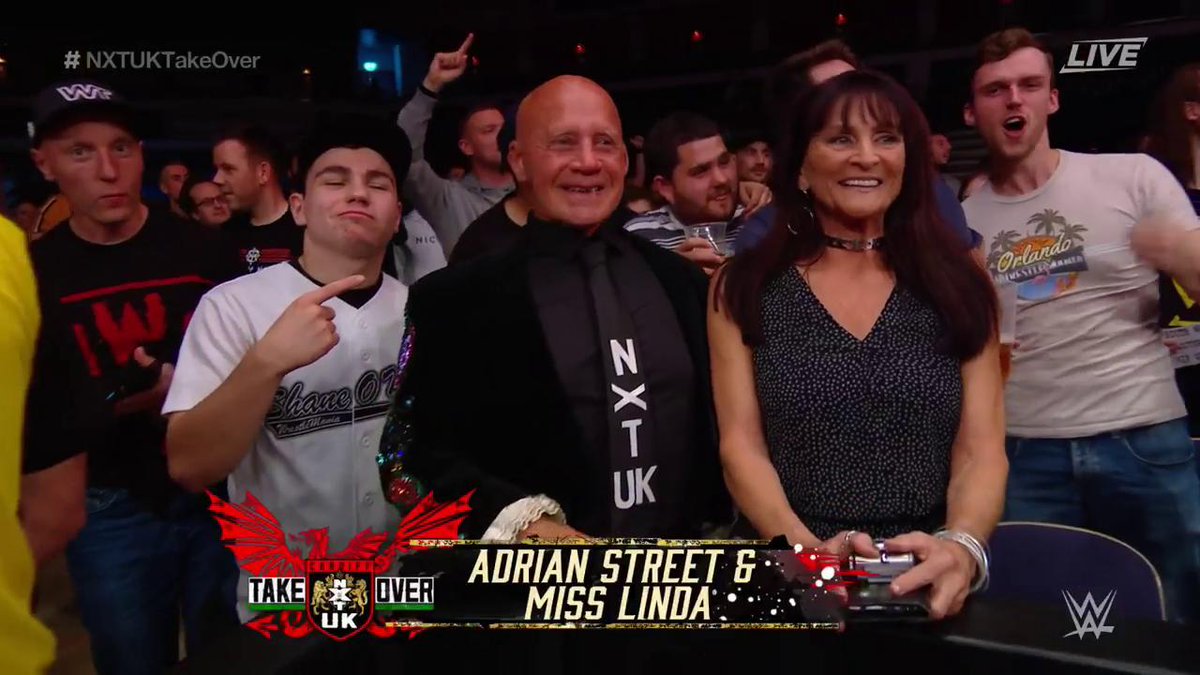 The show begins with Adrian Street's young life and his upbringing in the extremely working-class area of Brynmawr, Wales. Street was born in 1940, during World War Two and even though times were tough across the UK as a whole then, the end of the war did not bring prosperity and income into the traditional mining towns scattered across Wales. The close-knit communities struggled to get by. Street's sister, Pamela Gordon, recalls the days of tin baths placed in front of open fires in their childhood home. Street tells us of meeting his father for the first time just before his fifth birthday. His father had been captured during WWII and spent years in a Japanese PoW camp before being released. Street acknowledges that he and his father never really bonded during his life.
The young Adrian Street grew up poor, yet never allowed it to stop him from dreaming. He would be fascinated by the bright colours and decorations he'd seen in movies, television and literature of the Native Americans, large feathered headdresses and bright clothing. Indeed, so enamoured with their look he was, on his first day in junior school, he arrived bare-chested and sporting war paint and a homemade headdress, complete with feathers. The image of a Cherokee Chief, just as he always imagined. He was instantly sent home to change, but the flamboyant persona was there at an early age.
As Street grew older, he became interested in bodybuilding and a chance discussion with a friend who liked professional wrestling, led to him deciding that his career was destined to be in the squared circle. Stu Bennett tells how many young men had their lives laid out for them in those days. Their father worked in the mine, so would the son and that would be that. Change coalmine for docklands, shipyard, etc and the expectation was always the same. Adrian Street had other ideas and had no intentions of following in his father's footsteps. As he says himself; "The last thing I wanted to do was work in a coal mine. It's dark down there and I needed a spotlight."
Street ran away from home at 16 and headed to London. There he would make money by posing for bodybuilding magazines – many of which are shown on the doc and he was a good-looking dude back then. Street continued his dream of becoming a professional wrestler and after much hard work (remember, this was back in the 1950's when wrestling was very protected), he eventually made his debut in August 1957. Street tells us how his debut went, but in a nutshell, he won by dislocating his opponent's shoulder. On purpose. Street was not a man to be trifled with and that is a running theme throughout the documentary. Street was and still is, a very focused and determined man. He did not want to settle for second best and wanted to be number one. Regardless of what he set his mind to. Street worked hard to master his craft and recognised that he needed to continue to evolve. As he says, "I was a good wrestler in a land of great wrestlers." A Canadian wrestling reporter saw Street in action and began to refer to him as the 'Nature Boy' due to the similarities he shared with the legendary Buddy Rogers.
The documentary is interjected throughout by commentary and snippets of Street's life and career by people who knew him back in the day and present-day wrestlers and promoters from around the UK. His son, Adrian Street Jr tells tales of growing up with this superstar dad and how kids living on their street expected him to be rolling in money, but that was never the case. It is around this point that Street's wife, Linda, tells of how they took a chance on doing music. I will admit, I really didn't know too much about this, and found it very interesting. Street was way ahead of his time and capitalised on making money from his fame at every opportunity. They would sell copies of their music in the arena after the shows. Adrian Street was using his own song, sung by him ('Imagine what I could do to you') to enter the arena. Way before anyone else did.
Street's persona continued to evolve, and his costume and theatrics grew ever more exuberant. His grew his blonde hair long and wore it in bunches. He wore lipstick and leather, painted sparkling butterflies on his face and pranced around the ring. In an era when homosexuality was frowned upon and discouraged, Street embraced this more flamboyant side of himself and turned it up to 11. He would blow kisses to opponents, taunt them with double entendres, mocking their masculinity or calling into question their skills in the ring. This didn't transcend well with many fans who saw Street as an outsider who didn't conform with modern day society. He and others tell of fans punching or kicking them at every opportunity, one even managed to get into the ring and crack Street with a walking stick, splitting his ear in half. No matter what they did, Street never stopped. He'd just do it more and more. If a fan gave him abuse on the way to the ring, Street would jab them in the eye as fast as anything quipping 'don't be cheeky' in the process.
As British Wrestling began to decline in the 1970's, Street knew he had to move on. Big Daddy and Giant Haystacks were the big names even though they were terrible wrestlers. Street even went as far to say he was embarrassed that Big Daddy was classed as a British wrestler. In 1981, Adrian and Linda made the move to the United States and began to travel the many territories. Here we are treated to many clips of him wrestling Randy Savage prior to the WWF taking a firm foothold on pro wrestling. With Linda as his valet, Street carried on where he had left off, but this time to a new audience. His character was put to the test when he began to work the deep south territories. There he flourished and amped up his antics even more. Foley talks candidly about how risky that was, yet Street overcame the odds to become a beloved figure in that part of the states.
Throughout the documentary, the contributors all acknowledge how much they believe Adrian Street impacted wrestling and how much of a pioneer he was. I really don't think his impact and trailblazing is recognised as highly as it should be. Street was Glam Rock before Glam Rock was a thing. Street was a man wearing lavish, outrageous clothes and makeup in a world of wrestlers dressed in boots and trunks. He wore lightning flashes on his face before Bowie became Ziggy Stardust and his bespoke outfits were almost purchased by Elton John before he found out Street owned them. He was an androgynous character way before anyone had heard of Goldust and the word pioneer, does not do him justice. Street briefly returned to Wales once he'd succeeded in wrestling, leading to the legendary impromptu photograph with his clearly startled father. The contrast on this picture as to what could have been and what it means to achieve your dreams.
Wrestling has always borrowed from what worked in history. So much of what Adrian Street did worked and it is only fair that his successes are copied in the true wrestling tradition. What is a shame is that he isn't as highly revered by all wrestling as he should be. One of the biggest compliments I can think of for Adrian Street was that his gimmick, his style, his personality would work in the most brutal time in professional wrestling, the Attitude Era. Street would have flourished. He was a genius ahead of his time who could slot in at any period in the last 50 years. One commentator says that Street should be put into the WWE Hall of Fame and I agree wholeheartedly.
I'd highly recommend you catch this biopic. You will learn so much about someone who gave so much to the industry and should be recognised as a true great. It'll give you an understanding of old school British wrestling and an insight into a character who should be remembered as a true icon. I'll leave you with a quote from the great man himself:
"My dream was to be the best professional wrestler I could be. And I was." – Adrian Street.
If you want to know more, here's some Twitter handles below to follow:
@FilmAdrian
@JoannRandles
You can watch the trailer of the biopic below.