7 Thoughts On AEW All Out 2021
AEW All Out is in the books and it certainly was a memorable show. We had surprises, title changes, plus debuts galore. Most of the matches were good.
I felt the Women's Battle Royal was flat aside from a few hot moments, but that is to be expected from battle royals. Paul Wight and QT Marshall was the waste of time I thought it would be. However, I guess it was a good buffer match to calm the crowd down between CM Punk/Darby Allin and the main event. I feel like the match served no purpose other than to get Wight back in the ring. In watching All Out (read the John Canton review here), there are seven things I want to address.
#1: RUBY SOHO MAKES HER AEW DEBUT AND WINS THE BATTLE ROYAL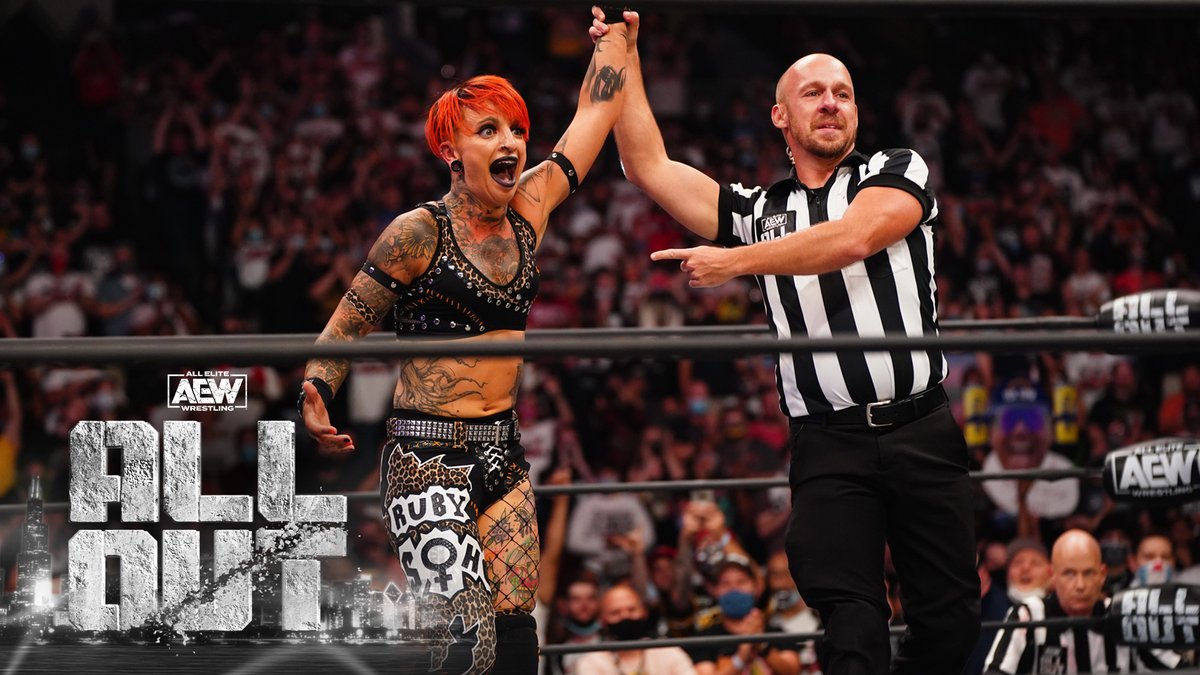 This brought a smile to my face. Ruby is one of the few additions I felt AEW needed because they have very few relatable babyfaces. Ruby fits that mold and hearing the reaction when she came out was a thing of beauty. I could tell she was overwhelmed by it and I'm glad she found her way back to another big-time promotion after WWE released her.
The battle royal was what it was, but I am happy Ruby got her time to shine. I picked her to win in our preview of this show because I felt her debuting here was a lock. The only downside is that Britt Baker is on such a roll as AEW Women's Champion that it is hard to envision her losing any time soon. Ruby Soho is almost guaranteed to lose her first title match. However, it is still a great moment for her and I'm glad she is getting the spotlight she's deserved for along time.
#2: LUCHA BROTHERS WIN THE AEW WORLD TAG TEAM CHAMPIONSHIPS
#ANDNEW! The #LuchaBros are the #AEW World Tag Team Champions and the @Now_Arena is going bananas!

How to order #AEWAllOut: https://t.co/29mWMw2Ivspic.twitter.com/uhZXh1u7RV

— All Elite Wrestling (@AEW) September 6, 2021
This one surprised me. I figured when Proud 'n Powerful defeated FTR that they were setting them up to win the titles in their hometown at Arthur Ashe stadium in New York. However, the Lucha Brothers deserve this win. I have said multiple times that they were one of the most misused tag teams in AEW since day one, so I'm glad they finally got their time to shine.
The match was off the charts. They pulled out all of the stops. Rey Fenix jumped off the cage because of course he did. There were the usual moments of no selling and ridiculousness that I've come to expect from Young Bucks/Lucha Brothers matches, but overall I thought it was a great match and a great way to put over the Lucha Brothers. Now let's see what they do with them because the last 10 months with Young Bucks as champions hasn't done a whole lot to elevate the rest of the division.
#3: CM PUNK WINS HIS FIRST MATCH BACK IN 7 YEARS
The Best in the World! @CMPunk wins in his first match back in 7 years! #AEWAllOutpic.twitter.com/SOpg6VsYWL

— All Elite Wrestling (@AEW) September 6, 2021
People know my feelings on CM Punk by now. No need to get back into it. That being said, he looked about as good as you'd expect after being gone for seven years. Was it one of his best matches? No, but I didn't expect it to be. Darby Allin looked great in defeat but man, he is going to end up retired or a vegetable in five years if he doesn't slow it down and rethink some of those spots. The spot where Punk threw him into the turnbuckle and he bounced off the post and flew to the outside made me cringe. You don't need to do all of that to get over.
CM Punk wrestling in tights was weird to me. Not sure If that's permanent or a one-night thing. CM Punk hit the GTS for the win, but I'm sure most expected that. Darby getting "Let's go Darby" chants IN Chicago while facing CM Punk should tell you all you need to know about how over this kid is. If he can just stop with the idiotic bumps he takes every match, he will have a long and successful career. Regardless of the support for Darby, All Out was about CM Punk. I've enjoyed his run so far. Now that he's got his first match back, I need the fire CM Punk back. The "Happy to be here ahh shucks" CM Punk was good for a few weeks, but it didn't really move the needle. If Punk has to turn heel then turn the man heel. However, CM Punk smiling and kissing up to the fans and respecting his opponents is NOT the CM Punk that is going to make AEW better.
#4: KENNY OMEGA RETAINS THE AEW WORLD CHAMPIONSHIP
The pendulum of momentum swings back and forth between @KennyOmegamanX & @Christian4Peeps – #AEWAllOutpic.twitter.com/z1O1tgh3H9

— All Elite Wrestling (@AEW) September 6, 2021
As expected by virtually everyone, Kenny Omega defeated Impact World Champion Christian Cage in the main event to retain his AEW World Title. The crowd wasn't as loud as you'd expect. I think it was a combination of them not buying into this match and them saving themselves for what's to come. The match was fine. It wasn't a classic. but it was great seeing that Christian can still go. Who knew a year ago that both Edge and Christian would have main evented their respective company's biggest shows in the same year? It is truly remarkable what the last year has done and I am happy as a fan of both guys.
As far as Kenny Omega, he is now the longest-reigning AEW World Champion of all time but, like The Young Bucks, hasn't really elevated anybody in the process. I think I'm ready for "Hangman" Adam Page to return and take the title off of him. Having Adam Cole and Kenny Omega in The Elite is bound to cause problems. They're both leaders and Alpha males so it is only a matter of time before one of them, likely Kenny, turns babyface and Kenny Omega vs Adam Cole is a money match that should be saved for Double or Nothing or next year's All Out.
#5: CHRIS JERICHO KEEPS HIS CAREER ALIVE
.@IAmJericho wins! His #AEW career is alive and well! #AEWAllOutpic.twitter.com/rEIAVL5hFU

— All Elite Wrestling (@AEW) September 6, 2021
I don't think there was much doubt here. Chris Jericho isn't retiring yet. I do think he is probably going to slow it down a bit. He has been put through the ringer the last two months with the Five labors. I still don't know if anything was accomplished. MJF is 3-1 against Chris Jericho. What is stopping him from calling this a fluke and continuing the feud? This rivalry has gone on way too long. I feel like the ending opened things up for another match. I think both should move on, though.
An MJF/CM Punk feud feels like a natural feud that should happen but I'm not sure I would do that just yet. MJF isn't really hurt by the loss but eventually, you have to start giving him some big wins on pay per view. MJF lost last year to Jon Moxley at All Out. He defeated Cody Rhodes at Revolution 2020 and Chris Jericho at Full Gear 2020 but other than that, he's had big losses to Jon Moxley, The Inner Circle, and the Young Bucks. He's 0-3 on PPV this year. That has to change moving forward if we are going to accept MJF as a main event guy in 2022.
#6: ADAM COLE IS ALL ELITE
.@AdamColePro has reunited with #TheElite! pic.twitter.com/8muA1RBBg9

— All Elite Wrestling (@AEW) September 6, 2021
In a move that many expected, Adam Cole is All Elite. It makes no sense to me why you would debut both Cole and Bryan Danielson on the same show. I have a feeling that uncertainty around future shows may have had something to do with it. After Kenny Omega successfully dispatched of Christian Cage, The Elite hit the ring and it went about as you'd expect until the music of ADAM COLE flared up. The crowd lost it as Adam Cole joined AEW. He walked down to the ring as The Elite acted surprised. Then he superkicked Jungle Boy and joined The Elite as expected. I thought it was the wrong move. One of the things I criticized WWE for was they never went all the way in to the untapped potential of a babyface Adam Cole. Maybe AEW will in due time, but for now, The Elite gets stronger. The Elite is giving me NWO vibes where they just start adding members to the point of insanity. All of these guys have a history with the Bullet Club so I will allow it. If they start adding guys that had nothing to do with the Elite or Bullet Club, then I may call them out on it. Even Cutler and Nakazawa have a history with The Elite.
It's good to see Adam Cole on my television again, but it is disheartening that it won't be for WWE. I think Adam Cole was probably their biggest loss of the year simply because he is only 32 years old. Bryan and Punk only have a few years left at most. Adam Cole has at least 10 years left as a top guy. That is the part that bothers me. I don't usually criticize WWE for releases or when people leave after their contracts expire because I usually don't see them as talents WWE needs on their roster. Adam Cole is the exception and I feel like WWE is really going to regret letting him go. It may not be right away because I feel like he is going to be playing second fiddle to Kenny Omega for awhile, but when that split happens, Adam Cole will be THE top heel in AEW.
#7: BRYAN DANIELSON IS ALL ELITE
BRYAN DANIELSON IS #ALLELITE 😱🤯

(via @AEW)pic.twitter.com/0Dim8Bhm73

— Bleacher Report (@BleacherReport) September 6, 2021
In another move that many expected, Bryan Danielson is All Elite. Just when you thought it was over with Adam Cole joining The Elite, the music of Bryan Danielson brought the crowd to its feet. The "YES" chants rang out as Bryan Danielson hit the ring and cleared the heels along with the help of Jurassic Express and Christian Cage. It seems as if Bryan's first feud will be with Kenny Omega. Or maybe it's Adam Cole if Hangman returns soon? Either way, the rich get richer as Bryan Danielson joins an already loaded roster in AEW.
Do I think WWE should have kept him? Yeah, but I'm not as upset about it as I am Adam Cole. Bryan is not going to be wrestling full-time for 3 to 5 more years. He wants to finish his career wrestling in NJPW and having these dream matches in AEW. It is a good signing but eventually, you have to wonder how Tony Khan will manage all these talents. I think Adam Cole was the better signing, but Bryan Danielson will definitely help them as a top babyface going forward
In Closing
All Out was a pretty good show from top to bottom. Was it the best PPV of all time? No. I don't think it was the best AEW PPV of all time. Was it a damn good show? Yeah, it was. The debuts of Bryan Danielson and Adam Cole made it extra special in addition to CM Punk's first match in seven years. Now we will see how the momentum shifts. Everybody thought ratings would skyrocket after CM Punk's debut and they did for Rampage. Then it kind of just put them back to where they were before. They're running out of big names to sign so this may be their golden opportunity to take that next step. If their ratings stay around the same level then you have to start to wonder what they can possibly do to bring some of those lapsed fans back to the product. It is a great time to be a fan of All Elite Wrestling, that's for sure. Let's see if they can keep up the momentum.
===
Thanks for reading. I'm very active on Twitter @GiftedMoney talking about wrestling among other things, so feel free to message me on there with any thoughts or comments.