5 Best Current Tag Teams In Wrestling by Mitch Nickelson
Hello, my name is Mitch Nickelson and I like tag team wrestling. Actually, I like all sorts of things about wrestling, but since I've decided to commit to a semi-regular list series based around my thoughts on current wrestling, tag teams are the focus of the day. There's also a companion YouTube video that I've made based on this very article, so feel free to check that out HERE or at the bottom of this page if you like that kind of media.
For this countdown, I've decided to focus on who I think are the most exceptional duos among the current landscape of tag team wresters. I have a bias towards the more mainstream promotions, but a couple of non-WWE teams did make my cut. Obviously, this is a subjective list so you might think differently than me. Feel free to debate and comment all you want.
Before getting started, I'd like to throw out an honorable mention to The Decay. I've really enjoyed what Crazzy Steve and Abyss have done in Impact Wrestling over the past year, but since The Hardyz left the company, they haven't really been catching my attention much. That shows the importance of a good dance partner. I can see me getting excited about them once again but for today, they've missed the cut.
5. War Machine
The team of Hanson & Raymond Rowe has been a duo making waves in Ring of Honor over the past few years. Their Viking/warrior look and burly beards establish quite the presence, and they're more than capable in the ring. It's also impressive that Hanson will occasionally leap off of the top rope to hit opponnents with a senton outside of the ring, a feat that should be improbable for a 6'4" 260 pounder. War Machine's somewhat brief ROH feud with Shane Taylor & Keith Lee was a big standout for me in recent months, mostly because of everyone's size and agility. I wish those series of matches lasted longer.
Thanks to that cozy ROH/New Japan relationship, War Machine made their presence known across the Pacific. Their work in NJPW is transforming them from "the talented Ring of Honor guys you really should be watching" to "the talented New Japan guys you're finally aware of." Hanson & Rowe defeated Tenzan & Kojima for the IWGP Tag Team Championships on the recent Sakura Genesis card in a fantastic contest, earning them their greatest accolade yet.
Before appearing in NJPW, I wondered if WWE would ever have any interest in these bearded behemoths. Now that they've been killing it on the much larger Japanese platform, WWE would have to be blind not to have them on their radar.
4. #DIY
NXT might be a waning brand compared to where it was a year or two ago, but you couldn't tell that any momentum was lost if all you were watching was the tag team division. Tommaso Ciampa & Johnny Gargano have been tearing it up alongside their usual cohorts of The Revival and The Authors of Pain, putting on a Match of the Year Candidate at every NXT TakeOver event. Personally, I'm one of those people who called the #DIY vs. Revival contest from TakeOver: Toronto the best match of 2016 – sorry Sami and Shinsuke.
On one hand, it's a shame that DIY aren't getting the main roster call-up alongside Dawson & Wilder. They're every bit as good as them and there are a bunch of salivating Monday and Tuesday matchups waiting to happen (DIY vs. Cesaro & Sheamus – yes, please!). On the other hand, they are guaranteed to remain feature players on NXT. They also give The Authors of Pain highly experienced opponents for Akam & Rezar continue to hone their craft with. TM61 will eventually be healed up, and then the DIY call-up rumors can properly commence.
I don't feel that every tag team needs the eventual split up and singles feud against each other, but these guys have shown that there's a series of great singles matches waiting to happen. Ciampa & Gargano met during last year's Cruiserweight Classic and it was a STIFF encounter – possibly the best non-Kota Ibushi match from that tournament. I hope they don't break up for a long, long time but when do, there's plenty to look forward to.
3. The Young Bucks
It seems like wrestling fans either enthusiastically love or hate what Matt & Nick Jackson bring to the ring. There's not many who remain on middle ground. Since they're number 3 on this list of mine, you can easily figure out where I land in this debate.
The Young Bucks know how to turn any match into a raucous party, Superkicking their spot on the card into a guaranteed show-stealer. They recently had a huge feud on that briefly spanned across a couple of promotion with Matt & Jeff Hardy and it was great. The Bucks were the perfect team to cap off the final chapter of Matt & Jeff Hardyz' pre-WWE Broken saga, making ROH's Supercard of Honor to be a can't-miss show from the WrestleMania 33 weekend. Outside of their recent tango with the Hardyz, they've also been wrapped up in the Adam Cole/Kenny Omega Bullet Club battle.
The Bucks are still in the early stages of a two year Ring of Honor contract, which makes it a little saddening that all of the trash that gets talked between them and The Revival will not be paying off any time soon. Matt & Nick always bring excitement, wrestling a fast-paced spotty style. You can expect a great match every time they're on screen, which is why they're one of my favorite tag teams in the current wrestling scene.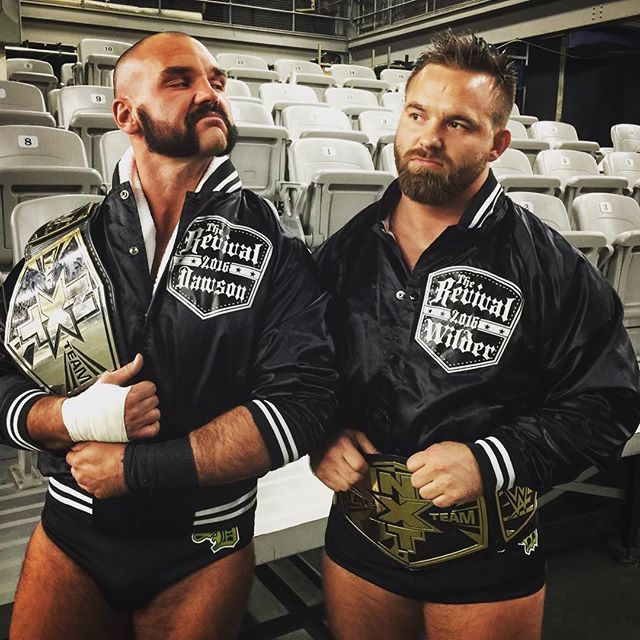 2. The Revival
The NXT Tag Team division has been holding strong thanks to more than one team (and DIY were given their credit a couple of entries back) but one team stands out as the breakout stars. Scott Dawson & Dash Wilder of The Revival are bringing an old school feel to the modern tag scene This is mostly thanks to their commitment to sound psychology along with their old school bruiser look. Scott Dawson even retweeted an @allan_cheapshot gif on Twitter that featured a collection of Arn Anderson spinebusters, affectionately calling him "Dad" in his comment – so they're on board with the comparisons.
After competing in a pretty legendary string of matches, they've now been called up to the main roster. With the Hardyz already on Monday nights as the champions, we've suddenly got a hot division. If WWE allows these mechanics the same opportunities to wow crowds like they did on NXT, the Raw tag division could experience one of the best runs in quite a while. Let's just hope they don't end up lost in the shuffle like American Alpha have been for much of their run so far on SmackDown.
1. The Hardy Boyz aka The Broken Hardys
I've missed out on the vast majority of TNA/Impact's history, only starting to watch them full time shortly before the Destination America move. Jumping in at this time placed me well ahead of "Big Money" Matt Hardy, so I've been riding the Broken Hardy wave since well before its roots. It's been a fun story. Matt's a man who blamed his brother for his loss of Championship gold only for the bond to be reformed in battle against The Decay. Their ridiculous universe has been ever-expanding all across the world with their Expedition of Gold, only to be somewhat abandoned for their triumphant WWE return at WrestleMania 33… or perhaps it was fulfilled at Mania? I'm unsure what the canonical interpretation is here.
While other teams on my list like The Revival and #DIY are putting on technically superior matches, no pair has me more engaged than Matt & Jeff Hardy. Even the off-screen drama with Impact that's keeping much of the Broken shtick at bay is fascinating, giving me another reason to want to root for them. When the time comes for WWE to finally embrace that side of their personas or (in the case that Impact wins the legal battles) create their own unique version of it, it'll feel like yet another long-awaited arrival. The Hardyz have many layers to why they're such over babyfaces, a level of complexity that most other acts could only dream about creating.
The Hardy Boyz are the best current tag team in all of wrestling – at least, that's my opinion. What do you think? Who are the most exceptional pairs (and Freebird trios) today?
Let me know your thoughts by commenting below. You can also hit me up on Twitter @MitchNickelson and I'll chat it up with you over there. Thanks again for checking out my first contribution to TJRWrestling in a while. Also, thanks to John Canton for always supporting my stuff when I reach out.
As promised in the introduction, here's the video version of this list…
https://www.youtube.com/watch?v=UIlP482Ehjo&feature=youtu.be